With 2018 knocking our door, it's time to recap our learnings and plan ahead for the things we want to achieve during next year. Personally, I'm a huge bookwork; basically, I read everything that comes on hand (even bad material).
"The more that you read, the more things you will know. The more that you learn, the more places you'll go." ― Dr. Seuss, I Can Read With My Eyes Shut!
Cheers to that! All my great ideas -if there is such thing, came from reading. The same applies to all of my writing. Recently I learned that in order to love and be loved in a proper manner, you have to adore yourself, first. So if you are a marketer (or an entrepreneur), this holiday treat yourself in the way it deserves and get yourself some of these books.
This is the first part of this buying guide (I decided to publish it last minute). This post is by no means sponsored by any of the writers, but I fully endorse all them!
1. "They Ask You Answer"
by Marcus Sheridan
Sheridan's strategy is based on two fundamental assumptions: your customers are smart readers who want you to educate them and your best resource for doing so (the internet) is free.
Marcus Sheridan managed to to lift his failing pool company from the brink of bankruptcy to become one of the largest in the country, after he using content marketing.
Assuming that customers are smart readers that want to be educated for free, his book shows how to become the authority they're looking for and address their fears and expectations.
2. "Non-Obvious 2017"
by Rohit Bhargava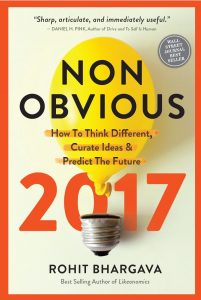 Rohit Bhargava has been tracking trends since 2011 in the areas of culture and consumer behavior, marketing and social media, media and education, technology and design, and economics and entrepreneurship.
This book showcases five new trends—such as passive loyalty, and moonshot entrepreneurship, and teaches the reader all the necessary skills necessary to cut through the noise and identify the emerging trends that people miss.
3. "SEO for Growth"
by John Jantsch and Phil Singleton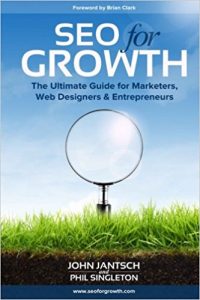 Google is the King of web traffic and acquisition, and it's natural for companies to question their SEO game really is. John Jantsch and Phil Singleton put their years of experience and research to work for their readers, to show us how to manipulate the new rules of SEO and maximize our results.
4. "Hug Your Haters"
by Jay Baer
Jay Baer writes somewhere inside the book:
"Far too many businesses care too little about retention, placing much emphasis on outbound marketing and the attraction of new customers, with comparatively little attention paid to the customers they've already paid to get"
Complaining customers actually give you a huge insight on growth.
The book identifies the two types of haters that businesses come face-to-face with, what they really want and how to find the golden win-win solution.
Plus, it's full of case studies and some of them will give you some tears of laughter.
5. "Pre-Suasion"
by Robert Cialdini Ph.D.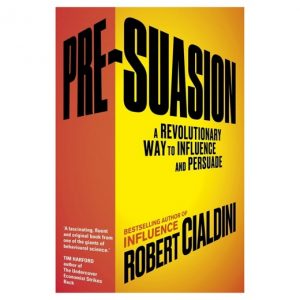 According to Cialdini, in order to persuade someone, you need to do more than change their mind; you need to change their state of mind.
Inside the book, the writer guides us on how to get people in the right mindset, in order to make it more likely for them to agree with you. There are amazing tips and technique that we can use to convince people, even before we open our mouth.  
6. "Get Scrappy"
by Nick Westergaard
Inside this book, Nick Westergaard, preaches the message you want to hear: that you can do what you can't. He provides an entire system for scrappy marketing, starting with the things you mustn't oversee, how to use less to do more.
Overall, this is a fully practical guide on how to do big things when you have little money or time.  
7. "What Customers Crave"
by Nicholas Webb
Nicholas Webb wants to put you in the mindset of rethinking your customer service and the ways you target your customers.
Instead of a demographic based strategy, the writer focuses on the importance of knowing your customers love and hate. Customers starve for amazing experiences and you can only offer them that if you know what they like or dislike.
This book offers the reader the opportunity to learn how to use different customer touch points to create an amazing experience, and how to identify different customer types.
8. "Invisible Influence"
by Jonah Berger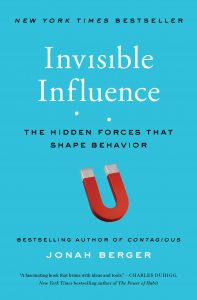 We are all subject to the power of social influence. We don't have as great control over decision making as we like to think we have.
We all are subjects to invisible influences on our behavior, but by identifying what those are can help us get some power back in our hands. The writer unveils what subtly shapes our behavior and how often this is a positive thing.
9. "Hacking Marketing"
by Scott Brinker
The digital field is an ever-changing variable in the vast universe of sales, and people tend to use overused techniques that are outdated the moment when more than one businesses use them.
The writer identifies five digital dynamics (speed, adaptability, adjacency, scale, and precision) that have transformed, and showcases the way of making them work for you.
This book is a practical guide to creating your own marketing processes and how to adapt when the tools and trends available change.
10. "Digital Sense"
by Travis Wright and Chris Snook
Marketing today is all about customer service, and our age is the age of opportunity.  
The writers constructed a whole new marketing system based on two frameworks:
The Experience Marketing Framework

The Social Business Strategy Framework
This way they're aiming to help us understand and exceed customers' expectations at every stage of the buyer's journey while getting all team members on board.
Make sure to come back for Part 2!
Apostle is a pure-blood Marketer. His job is to find a way when ostensibly there is none. Planning and executing A/B Tests, Email & Content Marketing along with alternative marketing techniques based on human psychology, all for the sake of customer success.