Why the heck I wrote an article about growth hacking tools
Editor's note: Last year I published this article about Growth Hacking Tools. It instantly became one of the most popular articles on our Blog, with your response and comments being more than overwhelming. In the world of Growth Hacking, things change at an extremely fast pace. So, without any further introductions, I present to you the Reloaded version of "Growth Hacking Tools: A Survival Guide"!
I'm a tool freak. And it recently occurred to me, that even though I've written about my favorite Zapier automations or chrome extensions I haven't done anything about the growth hacking tools I've used, or still am using.
There's a vast majority of web based software out there (it's already an overcrowded industry), and I've caught myself getting very excited every time I use something new and awesome, but in most occasions I end up disappointed – I know that many of you share the same feelings as me.
That's why I decided to give you:
The #GrowthHacking Tools You Need To Survive In The #Marketing Jungle.
Click To Tweet
In this buyer's guide you'll find the best growth hacking tools for:
These are the best growth hacking tools I've tried so far. Some are for free and others are a bit expensive, but all of them are worth buying!
Choose wisely.
Want To Learn How To Hack Growth Using Tools?
Get Early Access To Our New Online Growth Hacking Course!
Analytics
|$49/mo-$399/mo with a free 30-day trial|
 If you got tired looking all those metrics from all those different sources, it's time for you to move to Geckoboard. Create your dashboard and have instant access to the metrics that matter the most.
Pros:
Simple Interface
Great Customer Service
Advanced Graphics
Cons:
Limitations when building a board with an Excel Sheet.
Could have more visualization graphs
|Free & Premium Accounts|
 I think that the GA platform needs no introduction or further explanation. If you have anything to do with digital marketing or a company with an Internet presence, you are already familiar with it. Overall, this is the flagship in the growth hacking tools arsenal.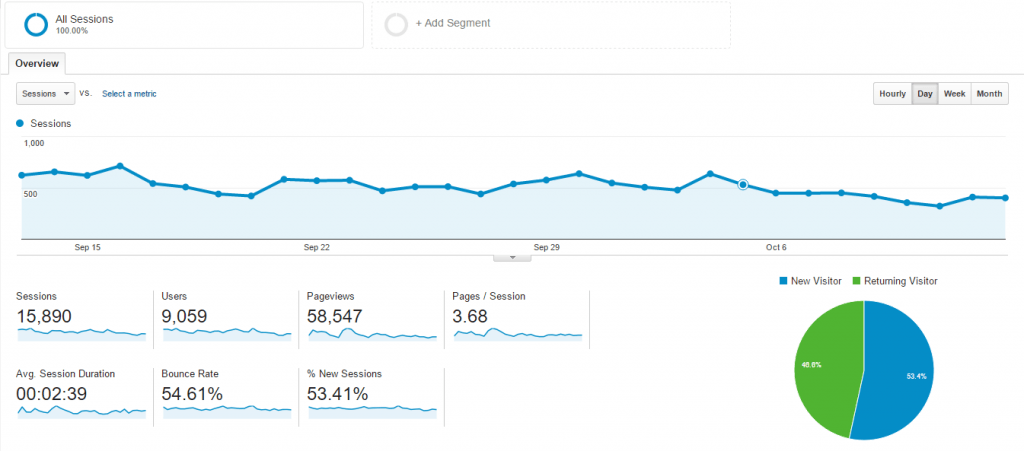 Pros:
View site visits, conversions, and conversion rate by source, medium, campaign, keyword, and/or content.
Real-Time Data.
Easy comparison among conversion attribution models.
Cons:
It doesn't calculate the Average Time On Page
Doesn's link with other popular advertising channels (eg. BingAds).
Doesn't make any recommendations based on data.
Bad customer service.
|$0-$2K/mo|
That's another analytics tool that could rock your socks off. Build customer funnels and learn more for your users by the way they navigate through your website. Precision is everything, and this growth hacking tool provides it generously. Don't miss you chance!
Pros:
Easy funnel creation and great visualization.
Awesome segmentation and visualization of segments in different types of graphs and time frames.
You can create different user profiles for each user, helping you on customer support as you can display their whole activity on your website.
Great customer service!
Cons:
Poor instructions on how to integrate it with other platforms.
Data export, only by using the API. Export in Excel would be nice.
It's a bit expensive.
There's a restriction on the time frame of how you can visualize your data in the Funnels (60 days).
|$200/mo-$2K/mo|
 Here we have another infamous analytics tool. You can get a deeper look into your conversion funnels and user behavior on a multi-session basis.
Pros:
You can easily identify holes in your sales funnel.
Really great dashboard.
User tracking by channel.
Cons:
Limited reporting (in some occasions )
|Open Source|
This is a great open source alternative to Google Analytics. Literally you can do anything that you could do on the Google platform. So, if you're looking to move out of GA, Piwik might be a suitable solution.
Pros:
Customizable widgets for different bits of analytics data.
Rich visitor log section.
Both bounce rate and time on site included in the visitor actions table.
Cons:
Buggy WordPress integration.
It's difficult to navigate between monitored sites.
|$199+/mo with limited free functionality|
I would call it the absolute spy of the web. The tool can give you accurate information on any website or mobile app. There's even a free version with limited functionality. Extremely useful when building a list of possible collaborators for a project and looking for the biggest sharks out there.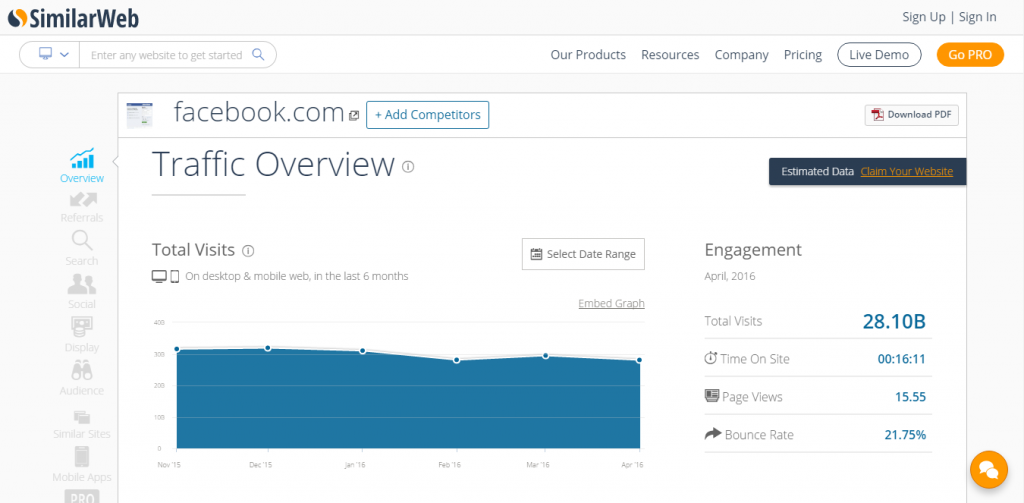 Pros:
Very easy to use.

No account required for the free version.

Easy comparison of a website to its competitors.
Cons:
Only one month's data on the non-paid plans.

Can provide incorrect category classification on websites with not much content.
Growth hacking tools are for growth hacking what running shoes are for running; You can do it without them, but using them makes it easier to do it right.
Content Marketing
|14-day trial, Starting from $49/mo|
Have you ever found yourself so tired from the creation process of an article, that you don't want to even think about distributing it? Well, it happens to everyone. That's why Sujan Patel  & Colin Mathews decided to create this platform. Now you can just drop a link and let ContentMarketer get back at you with contact information about all the people you've mentioned in your article. From there you can email them, directly from the platform and let them know about you mentioning them. Piece of cake!

Pros:
Cuts the outreaching time and effort to 1/5.
Build an influencer contact list in seconds.
Cons:
It's still in BETA, so it surely lacks its full potential.
|30-day trial, $40 once off|
I think that Noah Kagan introduced me to Scrivener sometime ago. From the time I installed the trial, I never looked back. A pure growth hacking tool for your content creation. You can build enormous posts by dividing them into chapters and then compile them into one piece. Make sure you try it!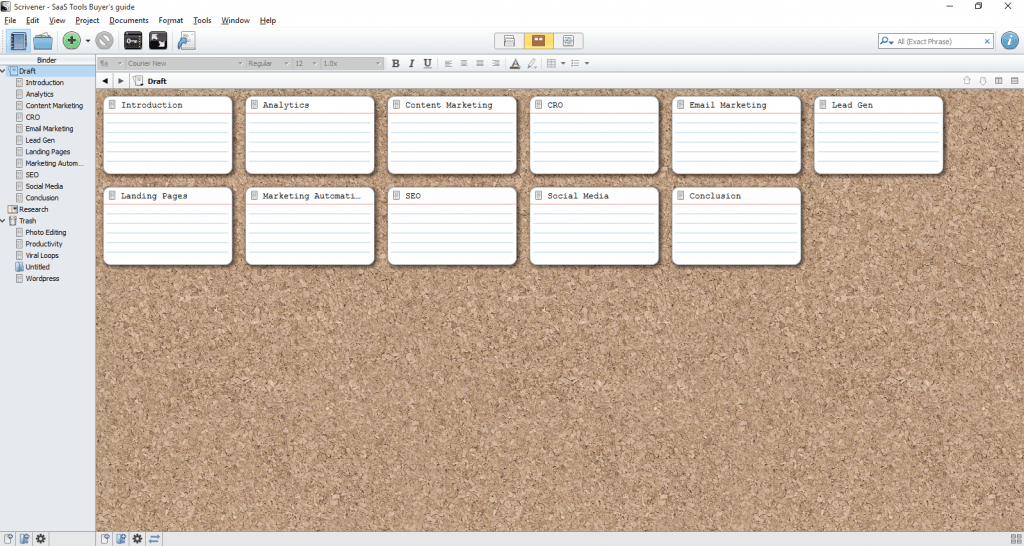 Pros:
Super powerful.
Makes long article generation, seem easier.
Cons:
|14-day trial, $99/mo-$299/mo|
BuzzSumo is a Web-based software program that crawls the Internet for content based on the search queries you give, providing tons of interesting data based on your results. You can discover hot topics in your niche (that's where content ideas might come from) and find influential people.
Matthew Barby created an excellent video on how you could use BuzzSumo. It's a great place to start!

Pros:
You can save a ton of hours of time curating content and identifying hot new stories.
Helps to identify the top people within any niche.
Cons:
The Influencers reporting functionality is limited to Twitter.
The "Users that shared" feature in the content discovery reports is also restricted to tweets.
|FREE|
Although it's still in BETA, this growth hacking tool is fully functional. It's usage it's rather simple. You can take any link from your blog posts and drop it in Onalytica. The tool will analyze it and give you all the twitter profiles from influencers relative to your article's subject.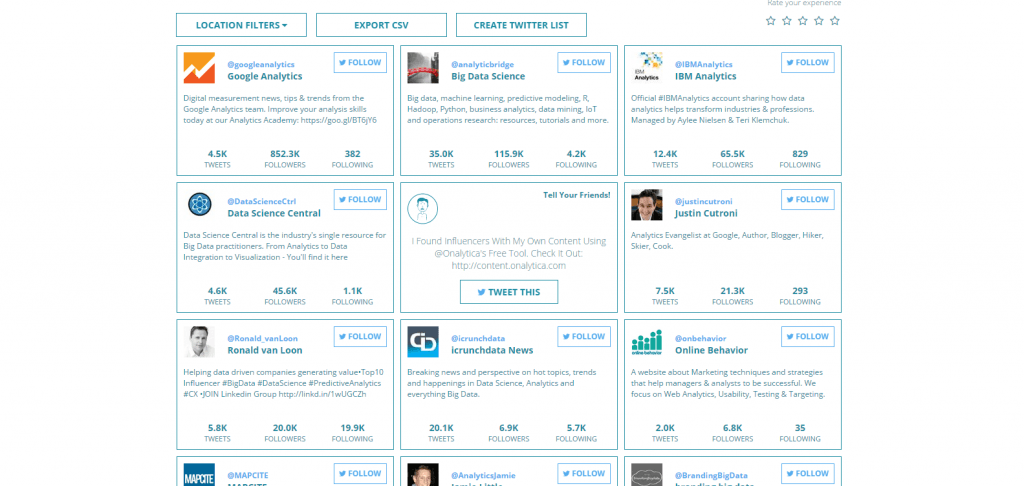 Pros:
Provides a very simple way to find influential people on your article's subject.
It's free (for now).
Cons:
|Free, $29.95/mo-$139.95/mo|
 In my article about the Chrome extensions for every marketer and growth hacker, Brian Jackson commented: "I wouldn't have a job without Grammarly plugin lol.". Well, I wouldn't have one either. Check your spelling, grammar and phrasing everywhere on the web.
Pros:
It saves you from humiliating spelling/grammar mistakes.
Cons:
Nah, there's nothing wrong with it!
|Free|
 Subscribe to the best RSS feeds via Feedly and get notified whenever a new article is out. I mostly use it for reading new articles from my favorite blogs and curating content.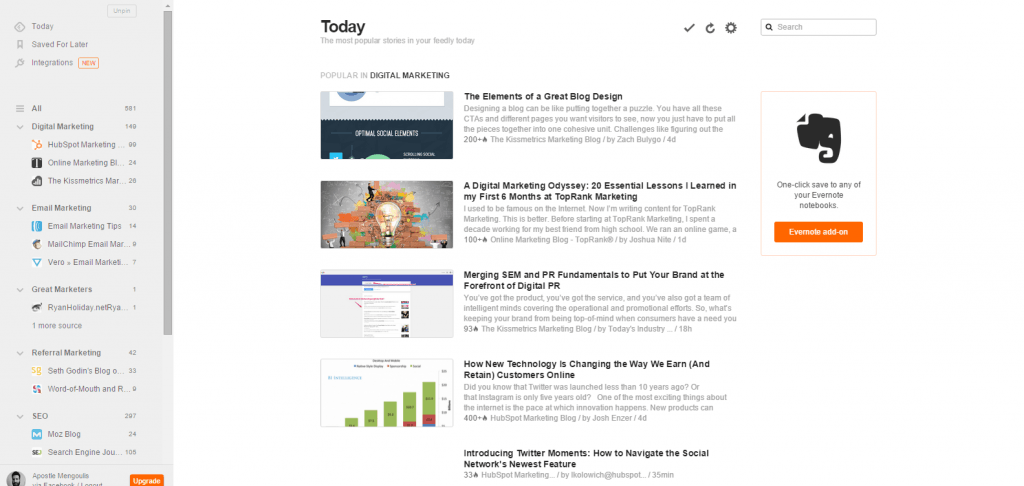 Pros:
Your favorite content gathered in one place.
Cons:
You can't read your articles if you're offline (for the mobile app version).
|14-day trial, $29/mo-$249/mo|
 Ninja Outreach is a growth hacking tool used for influencer marketing, allowing you to search for different bloggers and influencers based on various search queries, organize the outcome into lists, and then directly contact them (via email) using templates you build.
You can see how to use it for social prospecting in this video by Dave Schneider:

Pros:
The ability to take care of prospecting, list management and outreaching within a single tool.
Great Result filtering.
Prospect group listing.
Cons:
Lack of ability to track different campaigns.
The filters could be more accurate.
Conversion Rate Optimization
|$9/mo-$99/mo billed annually|
The welcome tagline of Crazy Egg's website does not lie. It is the leader of visual website analytics. This growth hacking tool will help you make site optimizations based on user activity through the usage of its simple (yet amazing) heatmaps and scrollmaps.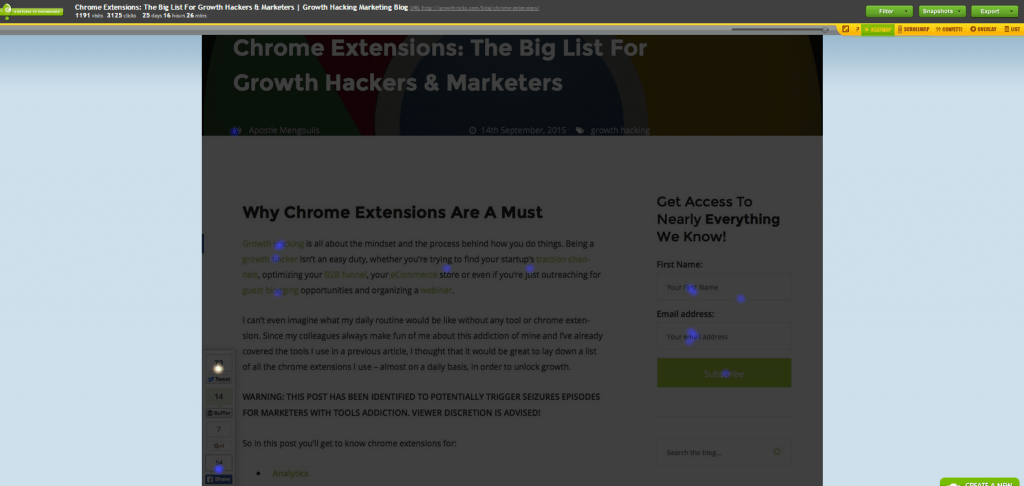 Pros:
Shows exactly where users click on a page.
Easy to use.
You can see the percentage of users actually view the different areas of your pages.
The "page camera" feature is amazing.
Cons: None
|Free starter plan|
Built A/B tests through an amazingly easy editor and find the versions of your website that are truly engaging. This growth hacking tool allows your to set your baselines without any advanced knowledge and has a beautiful dashboard to track your goals.
Pros:
Easy learning process.
Excellent forum support.
Easy modification of already existing pages in the editor.
Cons:
The modification editor generates lines of javascript code which may interfere with frameworks you might use (It really messed a login page for a platform built with Ember.js).
Report on data across multiple campaigns is challenging.
|Free|
My new favorite tool. After you install their script, SmartLook starts recording the behavior of all the users that visit your website. It then provides you with a video where you can see your website and your visitors clicking around and going through different pages. If only we could learn what they think as well!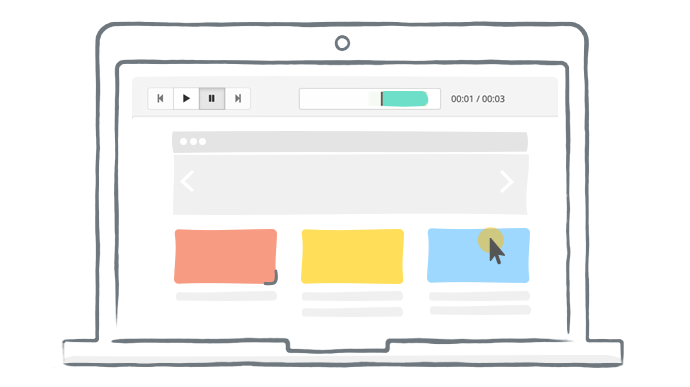 Pros:
Easy to setup and use.

Free for life.
Cons:
No analytics or other insights on the visitors available.
Want To Learn How To Hack Growth Using Tools?
Get Early Access To Our New Online Growth Hacking Course!
Email Marketing
|$0/mo-$35/mo|
 There are a lot of email marketing tools out there, but (in my humble opinion) nothing outranks Mailchimp. Send blast campaigns to your subscribers, and optimize everything thanks to the simplistic report provided by the service.
 Pros:
Simple design.
Analytical tracking.
They have an awesome blog which you can use as a resource.
The existence of great pre-made email templates.
It has humorous vibe (I love the chimp giving a Hi5!)
 Cons:
It could be a little confusing for a starter.
It doesn't include transactional emails.
|Starting at $20 for 25.000 emails sent|
 Mandrill is a prodigy child of Mailchimp, designed to send transactional emails (a feature loudly missing from Mailchimp itself) via API or SMTP. You can use Mandrill to code and send emails triggered by specific actions on your website or app (someone gives his/her email address and you have to send him a download link).
(Update: On April 27, Mandrill became a paid MailChimp add-on.)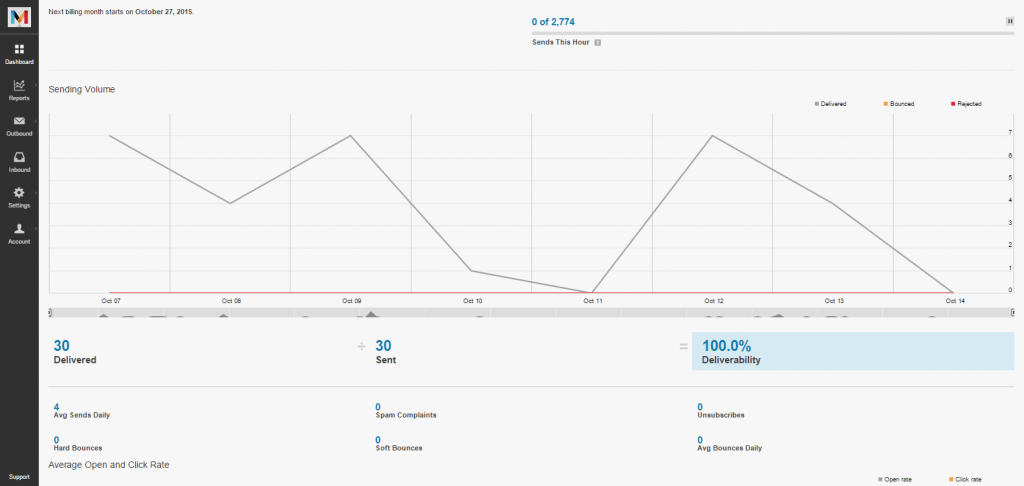 Pros:
Amazing dashboard and interface.
Affordable pricing.
Simple setup process.
Cons:
Not many integrations available.
Average support.
|$25/mo-$2320/mo with free 6-month plan for startups|
If you're looking for a decent alternative to Mailchimp, then Moosend is the way to go. Their recently updated platform can serve all your needs when it comes to Email Marketing and Automations. Did I also mention it's cheaper than most solutions out there?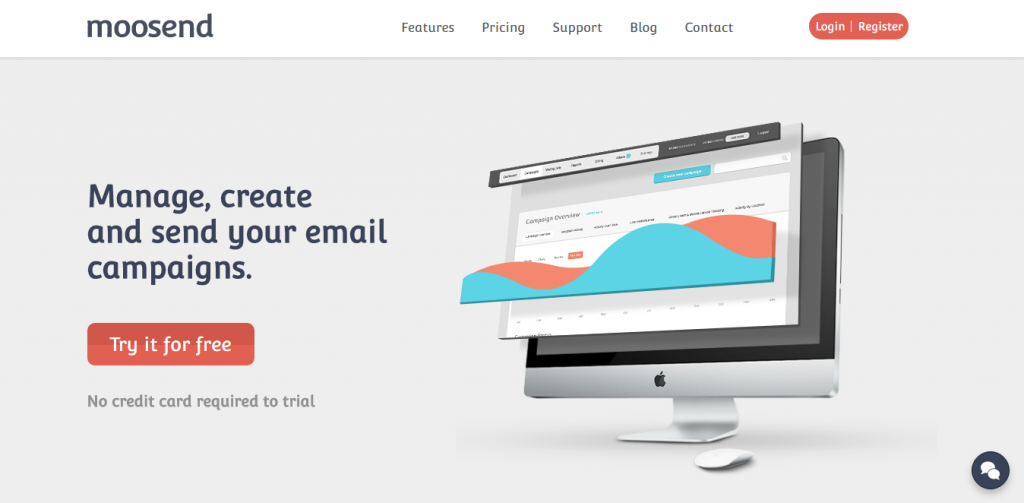 Pros:
Ready to use Email Automation templates.

Beautiful, real-time analytics.
 Cons:
A bit complex email editor interface.

Not many integrations with third-party services.
Lead Generation
|Starts at $49/mo|
More or less, this growth hacking tool does what its name states; it creates viral loops. I've tested it last week, and by the first impression, I can say it's pretty good. You can find and instantly use campaign templates inspired by great companies, like Dropbox, Airbnb, and Mailchimp. It's no coincidence that it was used by Lemonstand for their ebook launch: "50 shades of growth".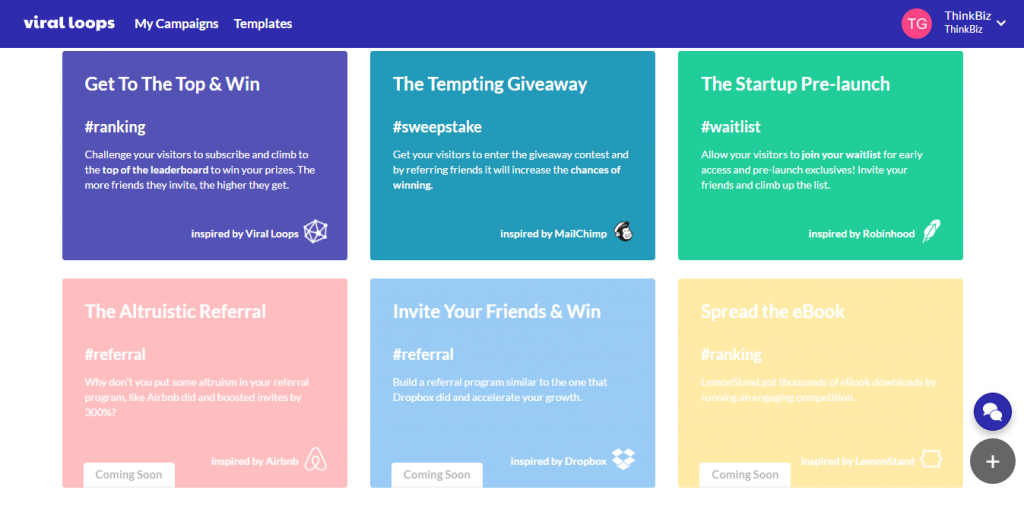 Pros:
Easy to set up.
It comes with a ton of pre-made campaigns.
It's suitable for pre-launch campaigns, referral campaigns, and competitions.
It is developed by a top notch growth hacking agency specialized in viral marketing.
Cons:
Integrations with other services like Google Analytics, Intercom and Slack are not yet available.
|Free version with limits. Paid starts from $29/mo|
Appocalypsis is an Online Service which gives you a Set of Website Add-ons such as Popups, Opt-ins, Forms, Countdowns etc. that can help you convert your Visitors. Create the Add-on, Personalize it, Create User Segmentation and then Measure the results via the built-in Analytics Dashboard. The value extracted by the use of this service is Time Saving, Increased Conversion, Thorough Analytics, Ready made Reporting etc.
Pros: 
Ease of Use.
Purely awesome support.
No Programming Skills Required.
100+ Templates to Choose from.
Powerful Analytics to help you convert your users.
Cons:
New service, therefore, might be slightly buggy.
Lacks some automatic integrations with well-known services such like Google Analytics and Hubspot CRM.
|Free plan, $10/mo-$100/mo|
You probably already know it or already using it. It's more like a tool for everyone, rather than just a growth hacking tool. Capture emails from your blog or website with pop-ups (yes they still work!)and exit intent windows. Need proof? The exit intent window on our blog converts from 4%-5.5%. Give it a thought.
Pros:
It's ridiculously easy to set up.
It has its own analytics and heatmaps built-in.
You can choose between different themes (only one if you're on free plan)
Cons:
I would be an A-hole if I was asking for more.
|Free plan, $12/mo-$83/mo|
It's probably the second most popular Growth Hacking tool (after Google Analytics). It allows you to create popups and bars that attract the attention and give you the results that you want. It's no surprise that it's the brainchild of Neil Patel.
Pros:
You can create beautiful forms in no time.

Simple and fair pricing plans.

Great integration with other platforms to extract data.
Cons:
Not many kinds of templates available.
|$49/mo-$299/mo|
If you've ever been to the GrowthRocks website, you'll have noticed a widget on the bottom left that says "Let's chat! We're online.". Well, Chatlio is the tool behind it and a way for us to get a fair amount of leads per day from people who visit our website. When someone uses the chat, we get an instant notification on our Slack channel, prompting us to reply to the visitor and effectively turn him/her into a customer. It has plenty of features available, but I'm not going to waste your time with it. Just go and check it out.
Pros:
The widget is mobile friendly.
Great documentation provided.
Cons:
Requires a bit of technical knowledge to get going.
Landing Pages
|30 day trial, $49/mo-$199/mo|
A growth hacking tool does what growth hackers can't afford (chronically) to do on their own. And growth hackers need landing pages; one for every campaign. Unbounce allows you to build landing pages (mobile included) in minutes.
Pros:
Easy landing page creation.
Easy testing between variations.
Customized experience for our varied user segments
Many integration options.
Cons:
Sometimes the edit page looks different than the preview.
It could include some deeper analytic metrics.
The conversion tracking doesn't synch quite well with Google Analytics.
|$25/mo-$199/mo billed annually|
 I've mentioned above the importance of landing pages in growth hacking. So, LeadPages growth hacking tool is also a landing page builder (a rather famous one)that doesn't require a single line of code.
Pros:
Easy and quick to build a landing page.
It comes with over 80 templates.
LeadPages hosts all your pages.
It's Facebook compatible.
Cons:
It's difficult if you want to create your own templates.
You can't create a membership website.
Marketing Automation
|$0/mo-$125/mo|
 I've written a whole article on how we used Zapier to automate our growth in the past. For me, Zapier is the ultimate growth hacking tool as it allows you to automate nearly anything without having to be a programmer. How awesome is that?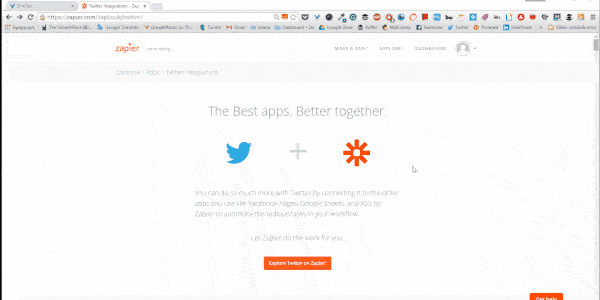 Pros:
Automation without API knowledge.
Awesome interface.
Easy to set up.
Cons:
There's no such thing as enough template Zaps.
|30 day trial, $4/mo-$2.4K/mo|
Autopilot is a new kid on the block, but it's already established in my operation routine. You can add the from your CRM or your subscribers into lists and add them to marketing journeys. It's a growth hacking tool with many appliances, from automated onboarding and sales emails.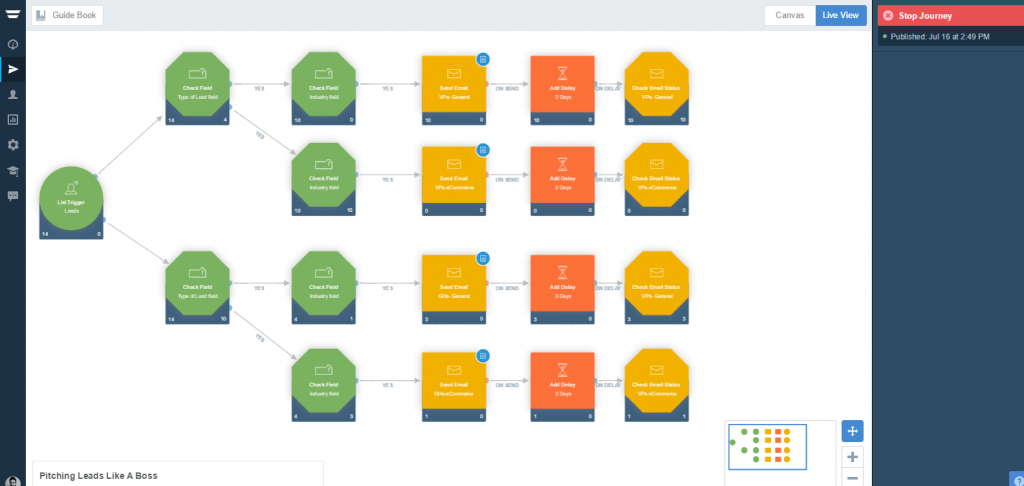 Pros:
Great interface.
Simple logic.
Kick-ass support.
Cons:
Lack of integration with other CRM platforms (eg. Hubspot CRM)
|Free|
IFTTT is almost the same with Zapier, with the difference that it better for personal task and social media automation.  Plus, IFTTT includes mobile app integration such as "Whenever I add a new Contact, mark it in my Google Calendar". Did I mention that it's totally free?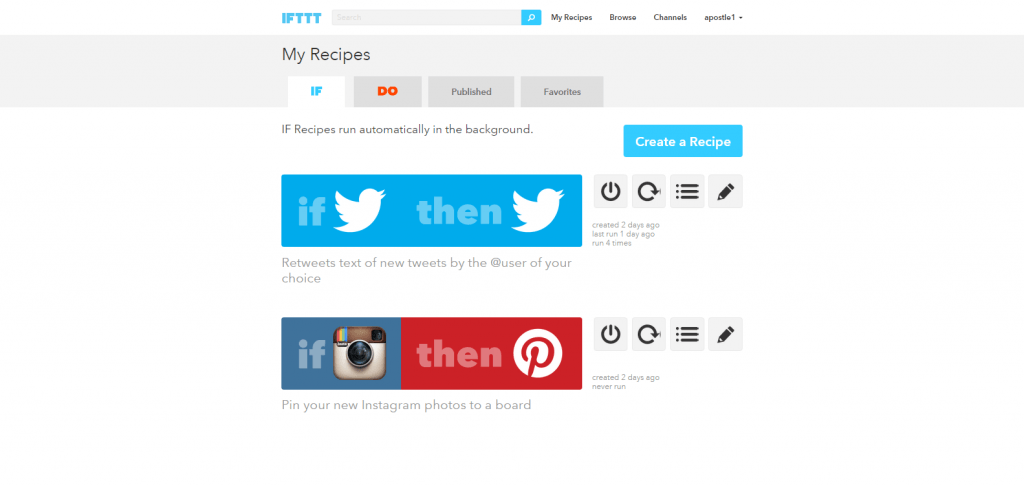 Pros:
It's totally free.
Setting a recipe up is child's play.
You can automate your everyday life schedule, thus make it easier.
It's great with social media.
Cons:
It doesn't include such sophisticated actions as Zapier.
SEO
|$0/mo-$399/mo|
I wasn't been familiar with Ahrefs till Tim Soulo got aboard. Since the time, our team got its hands on it, Ahrefs became an RPG for our growth hacking tool set. You can drop any link on it, and get all of their backlinks and filter them.  Keeping an eye on your profile or doing a full audit, made easy.
You can see how to find the best content of your competitors using Ahrefs:
Pros:
Amazing filtering capabilities for backlinks and referring domains.
The "new" and "lost" report. Epic!
Cons:
I'd like it to get a UX update.
It lacks on-page optimization tips for specific keywords.
Domain authority isn't as accurate as I could be.
|$99/mo-$599/mo|
Moz is one of the most valued and integrated research tools for digital marketing.You can check for technical errors or give a look on the technical suggestions it provides and improve your site's looks in the eyes of Google. Since you get the data, you can get creative and take it to another level.
Pros:
A great community
An even greater blog.
On-page optimization recommendations.
The crawl diagnostics report.
The keyword ranking report.
Cons:
Lacks of top-notch social media analytics.
There's limitation on data (3 competitors, 5 campaigns, and 10,000 randomly selected pages / month for the diagnostic crawler).
No Paid Search Analytics.
Limited Integration with Other Analytics Tools
|$69.95/mo-$549.95/mo with limited free results|
SEMrush is probably the most powerful SEO tool for if you're looking for Competition analysis. It can provide you with access to the keywords that your website and your competitors' websites rank, as well as an estimation of website traffic based on that data. It can also provide you with backlink information, as well as information on Paid Advertising.
Pros:
Very easy batch export of thousands of keywords for which your competitors rank.

Find competitors based on your domain and keywords.
Cons:
Not the best solution if you're looking for Keyword Research.

Some smaller countries are excluded from the analysis.
|$99/mo-$249/mo with free 30-day trial|
If you are looking for a tool to use in on-page SEO optimizations and website Health Checks, we have the perfect solution right here. While the abilities of Raven SEO extend from PPC to Social analytics, its SEO features really pop out.
Pros:
Cons:
Results from your first crawl can take a few hours to populate.
Social Media
|$0/mo-$250/mo|
No introductions needed for Buffer. In my previous post, I gave you an introduction to the chrome extension for Buffer. Overall, what Buffer does is to schedule your social media posts. Simple as that.
Pros:
Simplistic design.
Pro version is inexpensive.
Analytics for tweets with a showcase of potential exposure, clicks, and retweets.
Cons:
No bulk upload feature.
No way to see things like mentions and new followers.
|$0/mo-$149/mo|
Snip.ly is an A+ class growth hacking tool. You can take any article (from any source) and add your CTA on it. This way you can bring more traffic to your website by simply posting great articles on your social media accounts.
This is how Hubspot uses it:
Looking for search marketing software? Check out these third party reviews http://t.co/MSapAs4hyA pic.twitter.com/1oSCQtdoKi

— HubSpot (@HubSpot) June 15, 2015
Pros:
Easy
Quick
Drives traffic to your website, using other people's content.
Cons:
|$15/mo-$600/mo|
CoSchedule untied my hands. Since I've integrated it with WordPress, I schedule all my social media posting for each of my new articles and let it do its magic.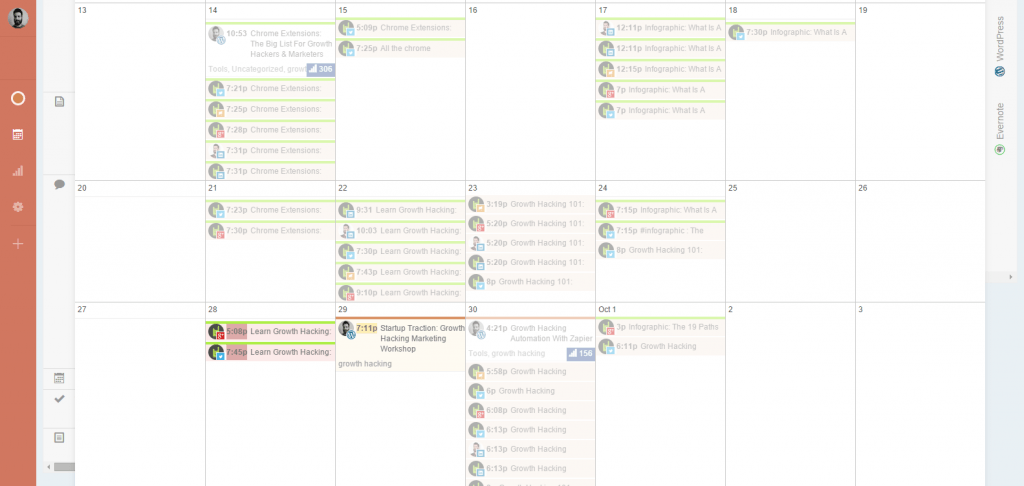 Pros:
Easy interface.
Great experience.
Cons:
Want To Learn How To Hack Growth Using Tools?
Get Early Access To Our New Online Growth Hacking Course!
Conclusion
Growth hacking tools are for growth hacking what running shoes are for running; You can do it without them but using them makes it easier to do it right.
I always keep an eye on for new experiences so, if you're using a growth hacking tool you think it's worth mentioning add it in the comment section along with a short description and its pros and cons. I'm definitely going to try it out and add it on my the article's update.
Until then,
Keep hustling!
Apostle is a pure-blood Marketer. His job is to find a way when ostensibly there is none. Planning and executing A/B Tests, Email & Content Marketing along with alternative marketing techniques based on human psychology, all for the sake of customer success.