With the recent coronavirus pandemic,
remote work is now en vogue.
And so are many
remote working tools.
You may not be affected by the virus per se but you are most likely affected by its impact.
And so does the economy and every business out there. From The Big 5 to the smaller family businesses, remote working has become pretty much mandatory.
So how does this endeavor look thus far for a growth hacking agency like ours?
And what kind of remote working tools do we use to make it possible?
The Right Team
A good tool is useless in the hands of a bad operator. 
Therefore, before the tool, comes the human. 
And when it comes to the kind of people we want to work with at GrowthRocks, I do look for different skills depending on the position.
But there is one specific quality that I'm looking for regardless of position. And that is work ownership. The ability to take ownership of your work.
Work ownership is a trait that every growth hacker should have.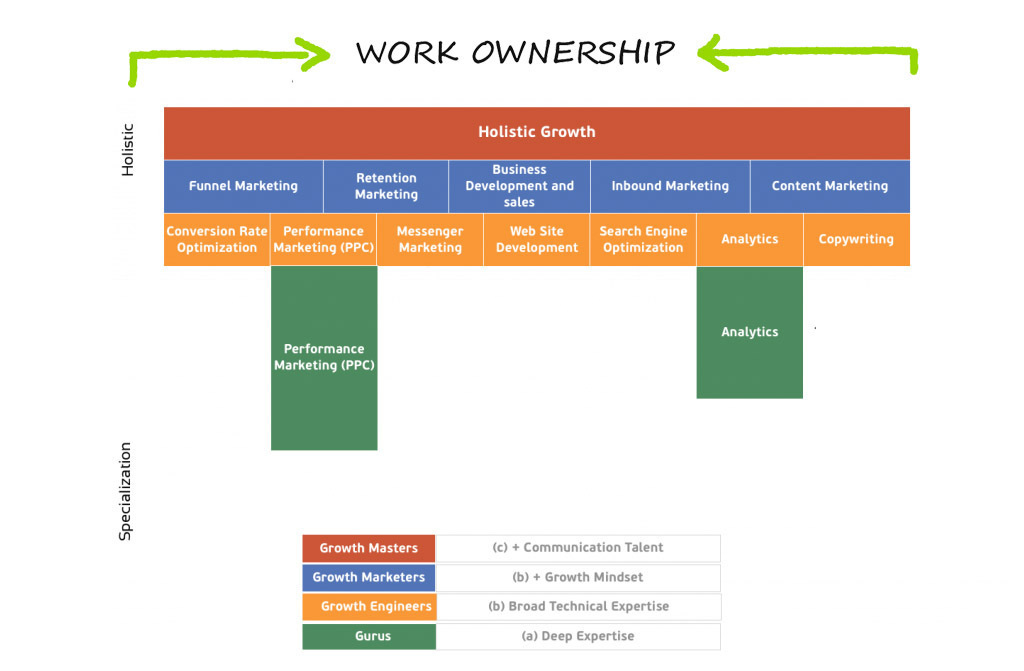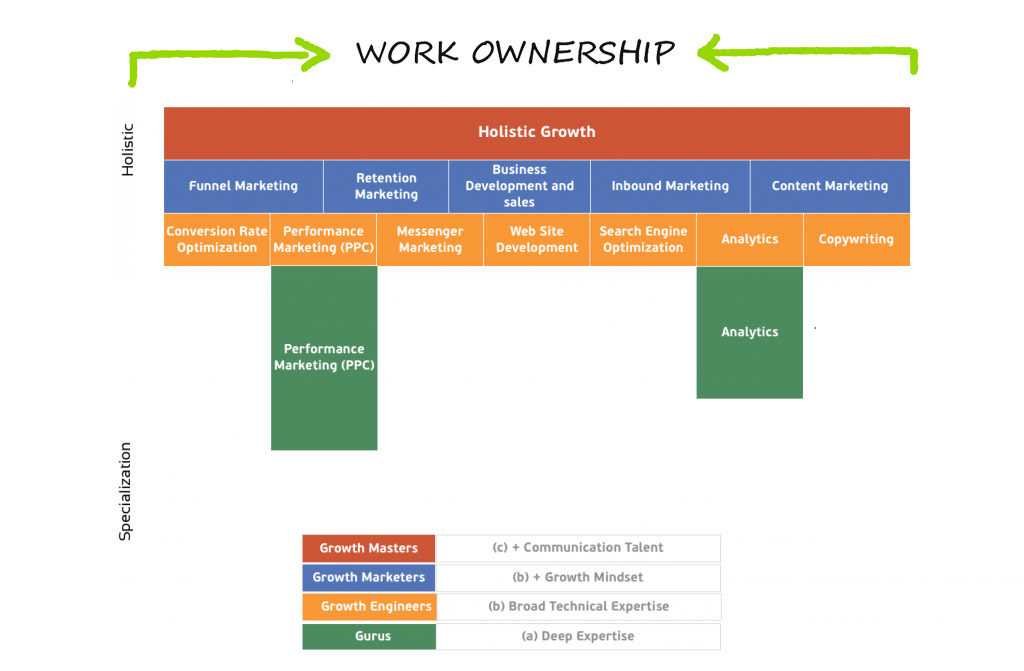 That said, before the pandemic, the structure of the company was not conventional. 'Non-conventional' was the kind of company we wanted to have and it was indeed the kind of company we managed to build.
Taking ownership is about 3 things:
Taking the initiative

. If you think that something has to be done it is you who is going to set the wheels in motion. So take the initiative and proceed.

Being the decision-maker.

You have the plan and you need to know what has to be bone. You call the shots. And if something doesn't go according to the plan, be as proactive as you can and transparent with your communications. 

Being responsible for the result.

Regardless of the outcome, you are responsible for the end result.
From as early as the employee's onboarding, we try to transfer as much ownership as we can.
Essentially, work ownership is about having more freedom and more responsibility. Also, work ownership is the best way to build trust.
And for me, work ownership means that, thankfully, I don't have to micro-manage my employees.
Finally, for our remote work endeavor, it means that what needs to be done, will be done – no matter if we are all together in our office or if everyone is in their home.
Now, let's get down to the remote working tools the GrowthRocks teams use, shall we?
Remember when I said that I don't like micro-managing? That's because every employee is the manager of their own self. So how do we do that?
Gwork is a platform dedicated to improving your employee productivity. This platform builds the profile of the employees according to parameters such as:
Tasks status (Completed, started, due, overdue, delivery speed)

HR Data

Sales Data

Net Promoter Score (NPS)

Employee evaluation

Team activities
And note this: There is no need for any human to collect all this data!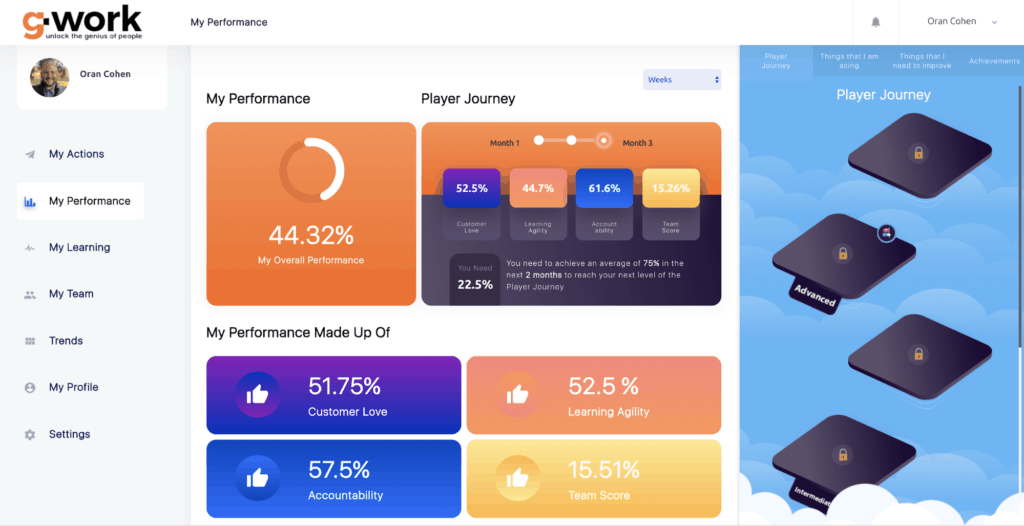 Gwork effectively allows employees to see what they're doing well and in which areas they might need improvement. Not only that but it shows them how they can improve on a weekly basis, with practical actions.
Furthermore, Gwork has a Reporting Dashboard that is fully integrated with different systems, to get information and data daily.
Ultimately, this tool can be the assistant of every employer and employee alike. It's all about transparency, guidance, and performance.
Email, chatbot, on-site widgets – as an agency we have many different contact points.
But just because we are digital doesn't mean that we shouldn't use traditional means. Hence our two phone numbers appear at the footer of our Homepage. Anyone who prefers a phone call over an email they can, well, can just give us a call.
So what happens now that there is no one in the office?
Does our phone just ring all by itself in a cold dark room?
Of course not!
We have ToolFree Forwarding installed.
Now, whenever new leads call us, their calls get automatically transferred to the smartphone of our sales rep.
And that's how we answer our calls anywhere – for a little over $20 a month (+ the minutes of talking time, of course).
Not too shabby.
You probably know Slack.
Slack is the reason we talk about Channels and not Inboxes.
Slack gives you access to real-time conversations with all your colleagues. It's the glue that holds the team members of a team and, simultaneously, all these teams together. 
This communication tool is all about agility and transparency. It helps us stay productive. At the same time, it helps maintain human connections between us. Furthermore, Slack integrates with many other apps – from Zapier to Google Drive.
Which brings us to the next tool in our working remote tools.
Slack is great and everything but what do we do with our meetings and video conferences?
Since the majority doesn't seem to enjoy meetings very much, it makes it a little better when we do it from the comfort of our own home. And Zoom makes meetings a smooth sale.
From starting and booking a meeting to sharing content, Zoom makes our remote working lives a lot easier.
The quality of sound and image is unmatched with HD Video and high-quality audio.
Zoom integrates nicely with Office 365, Exchange, and Google Calendar.
Speaking of which, let's take a look at the next remote working tool we use these days.
But of course. How could Google Calendar miss from a remote working tool list?
The way we use Google Calendar is simple: 100% transparency.
Anyone can take a look at the (professional) Google Calendar of any other colleague. And so anyone knows anytime when a fellow colleague is available.
It works in our remote scenario as well as it worked back in the office!
No one likes data breaches. That's why we have a clear desk policy. But now that everyone is working from the desk of their home we have nothing to worry about. Well, close enough.
We still need to keep an eye on our hard drives. Nonetheless, to avoid that altogether we also have a policy of not storing anything in our hard drivers.
Everything is on the cloud: google docs, sheets, collaboration documents, playbooks – everything.
We love Google Drive and Google Drive loves us back.
Last Pass is the sole reason why none of us needs to remember any password ever again. And neither should you.
In case you don't know about Last Pass it's a browser extension. This extension saves and remembers all your passwords. It also allows synchronization between all browsers and devices.
Additionally, Last Pass features Security Notes. This is a highly protected digital notepad where you can store important documents like insurance cards, memberships, etc.
If marketing automation is our religion then Active Campaign has to be the priest. 
Active campaign is the platform we use not only for our email campaigns but also for nurturing leads.
Both our marketing and sales teams use it more than they will admit.
Marketing loves it for creating automations for the customer's journey and building growth funnels.
Sales create new deals automatically. Active Campaign can create a deal when a lead takes a certain action – like submitting a form or downloading a lead magnet. There is also lead scoring based on the lead actions, according to which you can target and message the most engaged leads (yeah, automatically).
ActiveCampaign integrates with more than 250 other apps, too.
In case you still aren't convinced how much we like automation we also use Calendly.
Scheduling meetings with people outside your company is not very easy.
Different schedules and time zones make it even harder. What Calendly does is that it creates a link that you send to the invitees. That link contains specific time slots that you set and they have to choose one of the options you give them in the first place.
Calendly also integrates with the most popular calendar apps (Google, Outlook, Office 365 iCloud) so I and Sales are never double-booked.
It's a fantastic tool for bigger sales teams, too. Get this: it distributes leads automatically (and evenly) to the entire team according to the capacity of each member. Cool, right?
Last but not least, it works with Salesforce, GoToMeeting, and Zapier.
Teamwork is a project management tool that allows you to break projects into tasks and layers of subtasks, so nothing slips through the cracks. At the same time, everyone knows what to do and
when it's done.
It has all the advanced features including task management, instant chat, time tracker, and profitability report. Teamwork helps you communicate with colleagues and clients in real-time without having to switch platforms.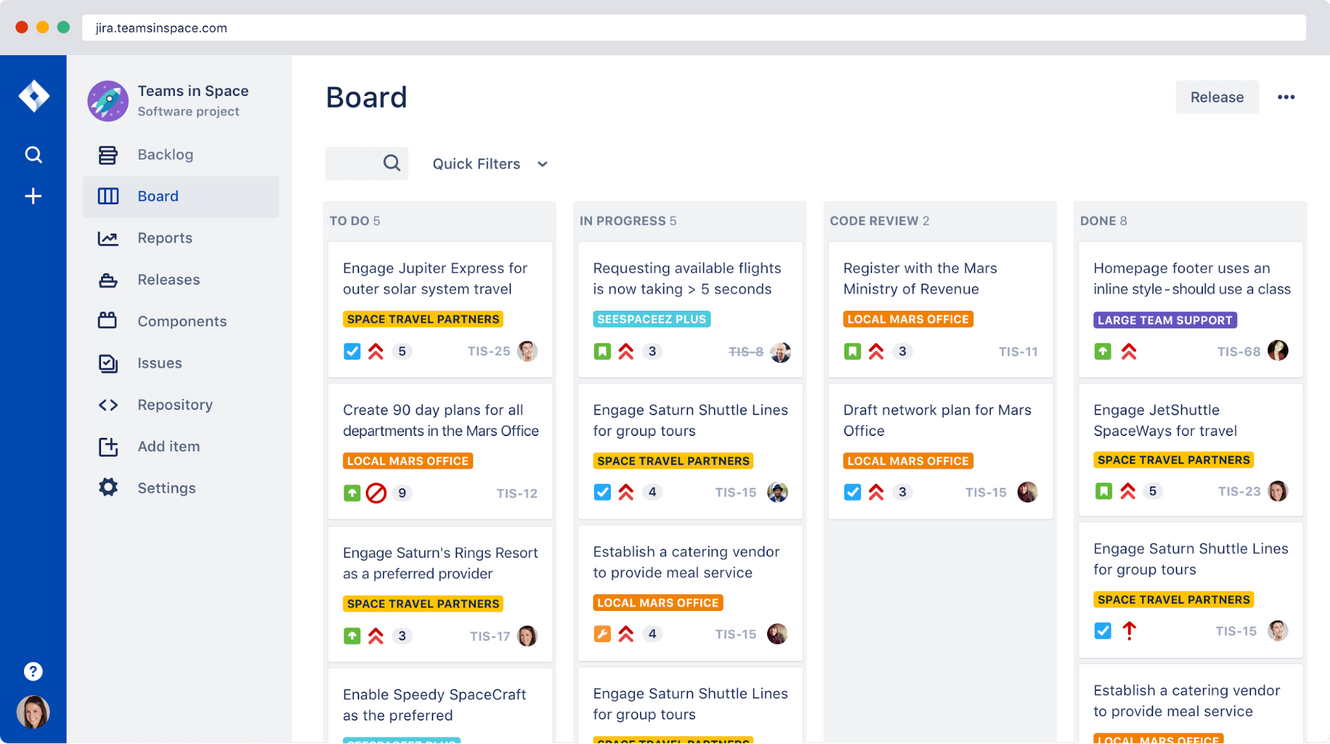 What's more, the templates of the tool will help you automate your workflows and cut out manual, repetitive tasks. Finally, you can integrate all your favorite tools you're already using and run everything in one place.
Honorable Mentions
Just because this is a top10 list doesn't mean that we only use these 10 tools.
Here are a few honorable mentions of tools we and our clients love to use.
Fyle is an AI-powered spend management software that helps businesses automate pre-accounting from end to end. No matter where anyone from GrowthRocks is (all over Europe) or what device they use, expense reporting happens with one click.
With its recent integration with Visa, Fyle completely surpasses banking integrations to give bring real-time spend notifications, insights, tasks and reports right to the dashboard.
And with its tight-knit integrations with accounting software like QuickBooks, NetSuite, and Sage Intacct, Fyle has completely automated our expense management process!
Not all tools for remote work are blessed with a backup feature. If you don't have a backup solution yet, consider NAKIVO Backup & Replication. This solution offers all-in-one data protection for physical, virtual, cloud, or SaaS environments.
Nakivo provides us with ideal security for our remote work thanks to its incremental data backups, strong encryption, and several recovery options. What's more, the NAKIVO data protection tool allows us to reduce security risks during remote work.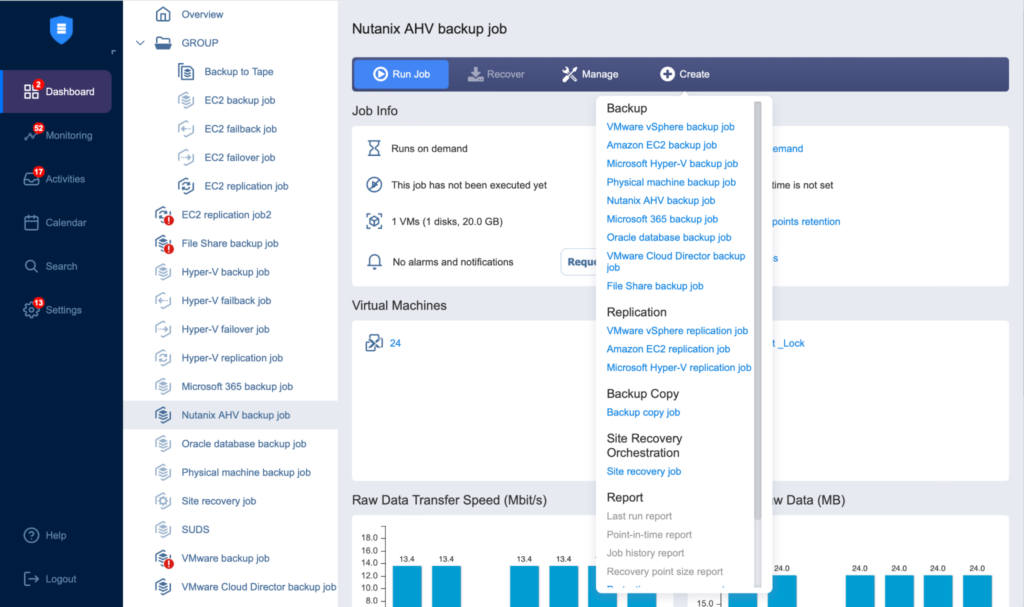 You can back up Windows and Linux physical servers and workstations, VMware vSphere, Microsoft Hyper-V and Nutanix AHV virtual machines, Amazon EC2 instances, Microsoft 365 apps, and Oracle Database.
Here's our last tool: a nice small remote working tool and a widget.
WorldTimeBuddy (WTB) is a time converter world clock. WTB allows you to easily pick the best time to schedule calls, webinars, and online meetings.
You can simply pick two or more locations and compare multiple time zones at a glance.
It features more than 20,000 locations and time zones, as well as location renaming. And it has its own app on AppStore and GooglePlay.
Remote Working Tools – Conclusion
So, these are some of the most important remote working tools we use daily here at GrowthRocks.
Out of all the remote working tools you use for your remote work, which are these you can't think your remote working life without? Let me know in the comments!
Keep in mind that besides the right remote tools, you will have to tweak your onboarding process. You also need to know how to remain effective with remote work.  Many remote companies are looking to find the best remote employee engagement activities for their needs and incorporate them to keep their employees engaged.
And other times, they incorporate de-escalation training to help emotionally escalated employees and coworkers.
Until next time, have a great day – be remote & productive!
Theodore has a 20-year experience in running successful and profitable software products. During his free time, he coaches and consults startups. His career includes managerial posts for companies both in Greece and abroad and he has significant skills on intrapreneurship and entrepreneurship.