In marketing, there is not a one size fit all approach.
B2B marketing is different from B2C marketing.
Product marketing is different from services marketing.
And SaaS marketing is different from eCommerce marketing.
It shouldn't come as a surprise then that the email marketing strategy of Zoom is very different from the email marketing strategy of Starbucks.
So, are you looking for a solid marketing campaign specifically for your SaaS company?
Here's everything you need to keep in mind.
How is SaaS Email Marketing Different?
The basic difference between SaaS email marketing and other types of email marketing lies in its subscription model.
For example, a customer of an eshop may make a one-time purchase and never look back.
Be it a simple and cheap household item like a pillow or a complex electronic like the motherboard of a PC, many customers will purchase the item from the shop that has it at the lowest price.
They will make the purchase and that will be the end of it. And, the next time they will need something else, they will start their customer journey all over again.
On the other hand, subscribing to a SaaS is pretty different.
Subscribing to a SaaS means, by definition, building a relationship.
As a result, SaaS email marketing campaigns are not only lengthier but also more complex.
Let us not forget that SaaS marketing changed the marketing landscape through growth hacking. Accordingly, SaaS email marketing takes into consideration many of the growth hacking principles and tries to serve every stage of the growth funnel.
SaaS email marketing is also known for making the most out of the many email marketing automation tools there are out there.
And it's also known to be very profitable. For every $1 SaaS marketers spend on email marketing, they receive $40 in return, according to Litmus.
But that's enough theory for now. Let's see how some of the most successful SaaS companies make the most out of their email marketing campaigns.
6 Emails for 6 SaaS Email Marketing Purposes
1. Welcome them
Every SaaS email marketing automation should probably with a welcome email. Although you can be as creative and friendly as possible, and welcome your new subscribers with open arms, it's always a good idea to play by the rules.
The rules being in our case – the rules of GDPR.
According to these rules, all businesses must get confirmation before start sending emails. Once your business has the green light, you can then start sending your recipients your emails and newsletters.
Regarding the email design, use one relevant, clear CTA button. Avoid distracting the email receiver with multiple CTA and excessive information on the email message. 
2. Give them Options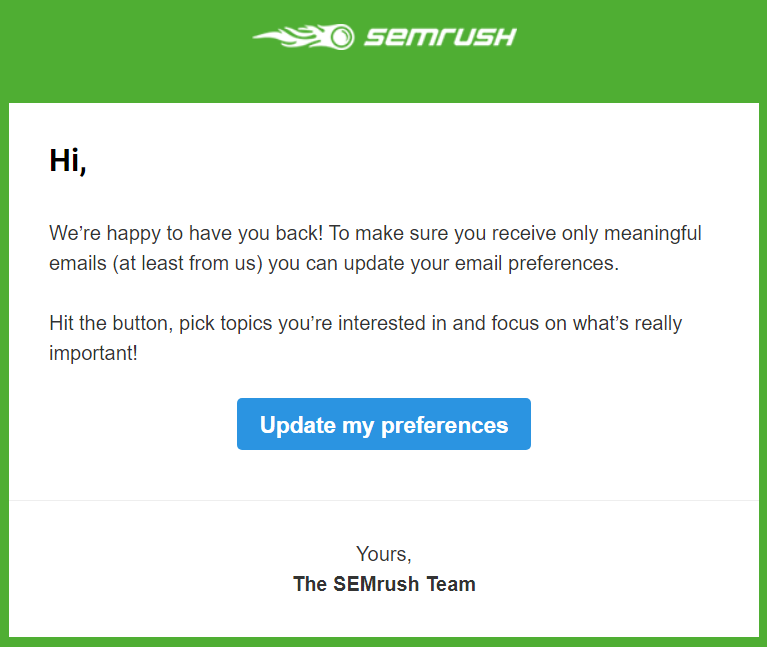 Maybe you have set up many marketing automation for your SaaS email marketing strategy. And maybe you should. What you should also do, however, is give your recipients the option to choose what kinds of campaigns they want to be receiving and what kind of content they want to be reading.
In the email subscription, allow your subscribers to decide why they want to receive your email.
In the case of SEMrush's email, those are the options it gives its subscribers. Once you press the 'Update my preferences' button, as shown above, you have more than a few options to choose from.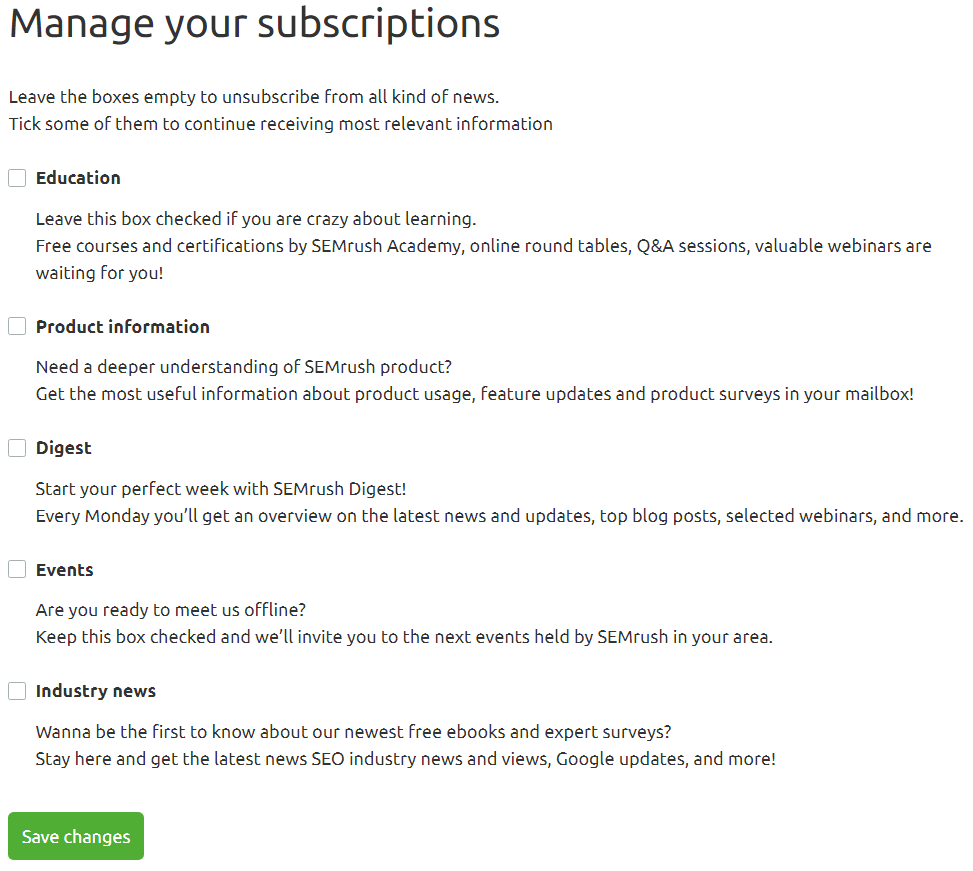 Giving them that kind of option shows that you respect their time and their needs.
3. Educate Them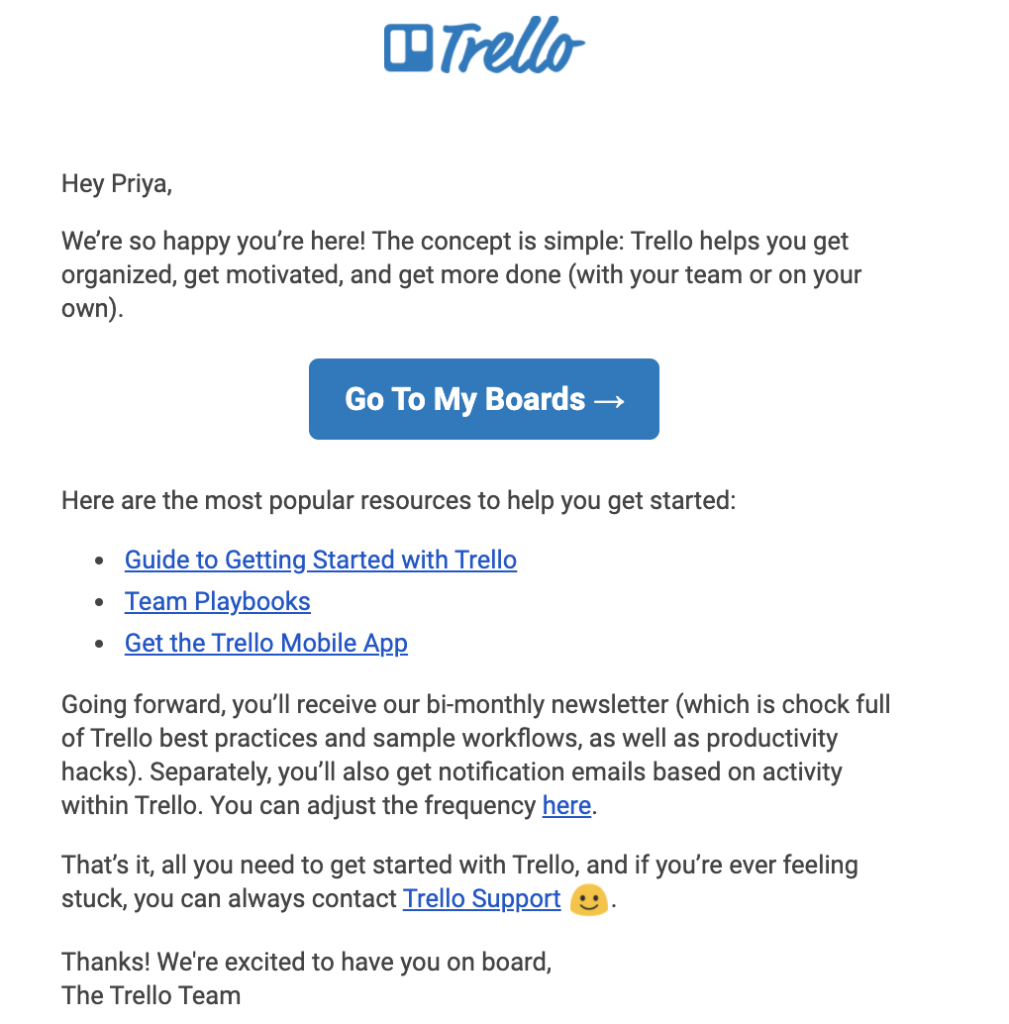 A SaaS is more complex than most of the purchases a customer makes. After all, in the case of SaaS, the customer is also a user. Accordingly, the users need to know how the SaaS we speak of works.
To make that happen, you will need to share a lot of content with your users. Email marketing is the perfect channel to distribute said content and educate your users.
In these kinds of emails, explain how your product works. You can also start doing so immediately, i.e. in your Welcome Email. Or you can do so later on, there is no right or wrong choice here.
Giving them a product walk-through or a tutorial video on how to use your SaaS are both great options. You can send relevant emails every now and then, sharing useful tips, tactics, and know-how.
4. Convert free trial users into paying customers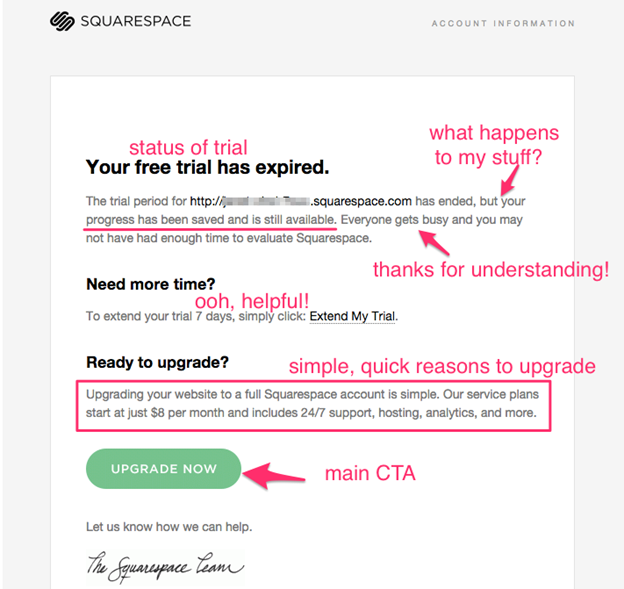 A free trial exists in most SaaS pricing models. However, very often many of these free trials won't become paying customers by themselves. Sometimes, they need a little push. And that push can come from a very specific email created for this very purpose. 
To convert the free users into your paying customers, you need to understand that most people don't sign up for trials just for the fun of it. They actually believe that your SaaS offers them value.
On your part, you will have to show the value your product offers and exactly how it will help your user.
In these kinds of emails, it's a good idea to include phrases like "Need more time? Or "didn't get enough of a chance to check out our premium features?".
5. Re-engage with your audience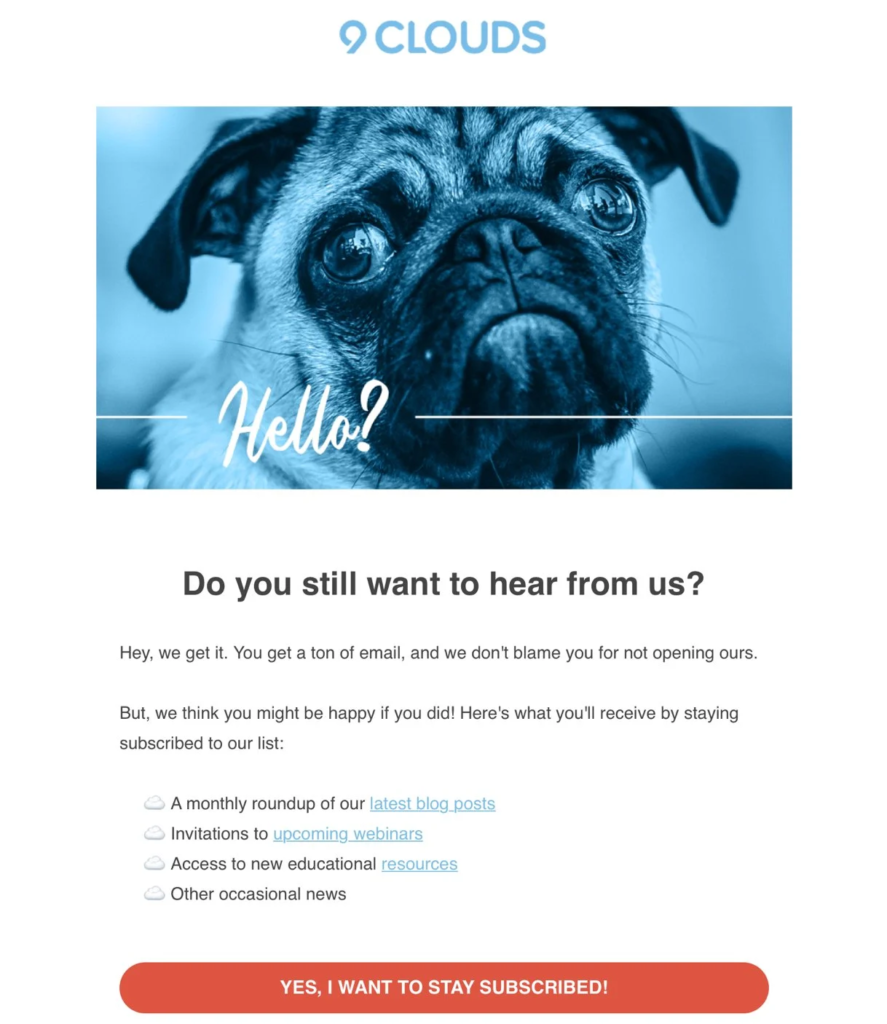 Never give up on your inactive subscribers -they might just need more time before purchasing your product. Try to re-establish contact with them so that you can remind potential customers about what makes your product so great. 
Here are some of the most successful ways to re-engage with your inactive subscribers: 
You can give limited-time discounts or other incentives to entice users to re-subscribe. 

Through the email, your brand needs to remind them why they have signed up for your email in the first place and offer new content that addresses their interests as well.

Make surveys and ask the right questions to understand why the inactive subscriber is no longer engaging with your business emails.

Analyze the subscriber's past activity and understand their purchase history and interest in your product. Based on the customer behaviors you can tailor the content accordingly.
6. Make your relationship important
Celebrate with your email subscribers by sending out anniversary messages. Send something creative and personal.
These anniversary emails help them connect personally with your brand. They are also the perfect opportunity to be creative and playful. You can't go wrong with these kinds of emails.
Above is the email Grammarly sends to celebrate the 1-year anniversary with one of its clients. If your anniversary also marks the end of your client's subscription, it's the perfect time to remind them that they will have to renew their subscription if they want to continue using your SaaS.
Enticing them with a big discount on top usually does the trick.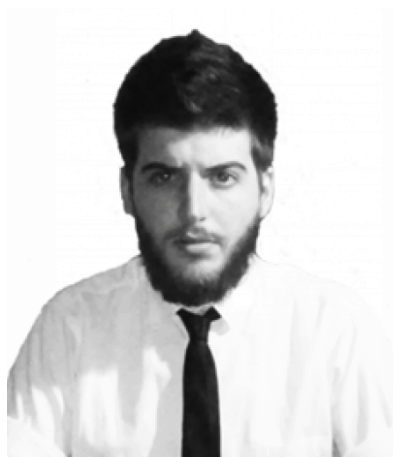 I write for GrowthRocks, one of the top growth hacking agencies. For some mysterious reason, I write on the internet yet I'm not a vegan, I don't do yoga and I don't drink smoothies.