Growth hacking tools
are the bread and butter of growth hackers and digital marketers who want to make their life easier.
While there's a huge number of such tools, we often forget about another set of tools that exist in our web browsers. Namely, Chrome extensions.
Many Chrome extensions are so useful that the value they offer is on par with stand-alone tools.
But there are so many! And let's not forget how much RAM they take up. So we got to be selective. And a bit picky.
Hopefully, you will find this list of our favorite Chrome extensions useful. We split them into 4 categories: Development, Content/ Social Media, Email/ Lead Generation, SEO and Productivity.
Development
One of the must-have growth extensions for everyone working with Analytics. Block Yourself from Analytics ensures that you don't mess up your analytics data every time you decide to get back to your landing page to see if everything works as it's supposed to. Or to have one more look at what you are developing.
The extension is not meant to block Block Yourself from Analytics script for all websites, Rather, it's meant to be used by webmasters who are looking to block their own visits to their websites.
Similar to BuiltWith, CSSViewer is granting you the inspecting ability, but this time regarding CSS, the programming language. It provides the necessary CSS information of what you are looking for quickly.
The way it works is that it provides a panel that gives you the identity of the section that the mouse is over. The information you will get includes font, text, color, positioning, and effects attributes, among others.
Most digital marketers aren't developers. And most likely than not, you aren't a developer either. But sometimes, when you visit a website, you just like what you see and you also want it for you or your clients. This is where BuiltWith comes in.
BuiltWith lets you know what a website is built with, with a simple click. The extension can give you all the information you need regarding gadgets, frameworks, content management systems, web servers, and more.
If you work in digital marketing you've probably heard of "Go mobile or go home".  In the last years, mobile-friendly design has really become mobile-first. So you need to make sure that everything you create on the desktop appears as should on mobile and other devices, too.
The fastest way to run such tests is with Windows Resizer. This extension re-sizes your browser's window and emulates various resolutions. The resolutions list is completely customizable as are the global key shortcuts it features. Lastly, there's an option to export your settings and import them elsewhere.
Content/ Social Media
Not everyone is a National Spelling Bee champion, and that's ok. But most of us do more mistakes than just spelling. Inaccurate grammar use, wrong punctuation, inappropriate tone; the more we write, the higher the chance to make a mistake. Grammarly comes to save the day while being one of the most popular free Chrome Extensions – and for a good reason.
When you write an email on Gmail, a blog post on WordPress, or a post on Instagram, with Grammarly you can be confident that your writing is fluent enough, saving you from embarrassing moments. While for many professionals those embarrassing moments would include just their readers, if you are a digital marketer, those also include your boss and/ or your client.
BuzzSumo was built with content performance in mind. When you visit a page, this Chrome extension reveals certain metrics such as the number of social shares, and the number of backlinks to a certain page.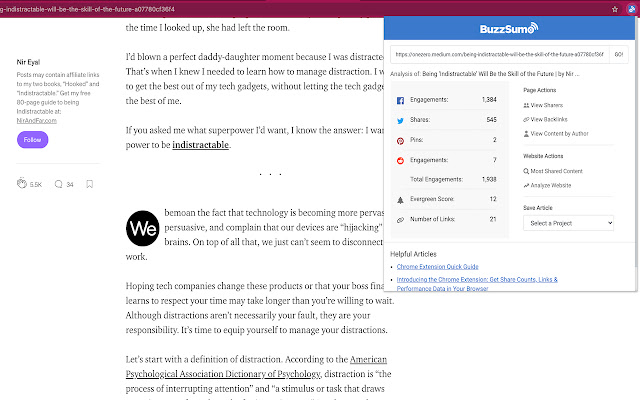 BuzzSumo is an excellent tool to see how much engagement your content is generating or even the content of your competitors, as it can help you perform competitor analysis and uncover strategies that might make your content more shareable.
If you already work with social media, Buffer needs no introduction. The Buffer Chrome extension in particular a fast and easy way to share your content to your social media channels.
Post the articles you find while browsing directly to social media, or to your social media queue for future scheduling. Buffer integrates with Facebook, Instagram, Twitter, LinkedIn, and Pinterest.
According to advertising legend David Ogilvy, "80 cents of your dollar should be spent on writing headlines". It may sound like a hyperbole, but considering this: if a user doesn't click on the headline they see on their newsfeed, they won't read anything else.  This is why crafting an effective headline is so crucial.
Headline Studio is a Chrome Extension made by CoSchedule that improves your blog headlines wherever you write them, from WordPress to Wix. The tool scores your headlines instantly and provides data-driven suggestions, so you can outperform your competitors.
💡 Read: 28 Content Marketing Tools to Grow Your Business
Email/ Lead Generation
What tool are you using for your email marketing campaigns? Probably Active Campaign, Mailchimp, Sendiblue, and the like. Now, imagine this. What if you were sending your email marketing without leaving Gmail? With the Gumbamail extension, you can quickly send mailing campaigns to your contacts and subscribers without leaving Gmail. 
Gumbamail creates a simple platform for your campaigns within Gmail. The extension allows you to create professional designs with its template editor and send them to your contacts, lists, and newsletter directly. It also merges with your Gmail contact groups and Google Sheets directly.
Find email addresses from any page on the web, with just one click. Hunter's Chrome extension reveals the email addresses related to a domain and lets you know who to contact when you visit a website. Alternatively, if you already know the name of the person you would like to contact, you can search for them this way.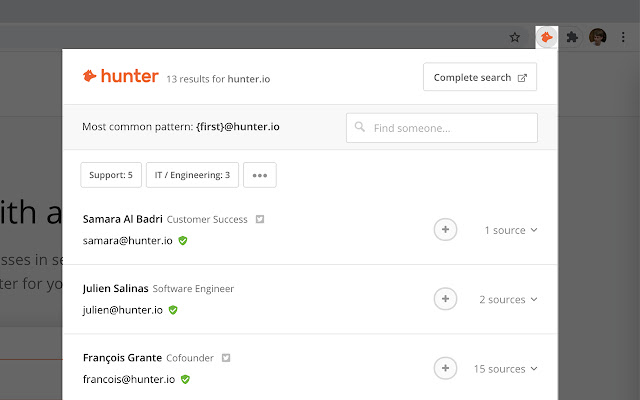 What's more, there is an option for list building. You can send email campaigns to your leads or even save them to your CRM.
Downloaded by more than 1 million users, Boomerang allows you to arrange emails to be sent in the future automatically. It helps you spend less time scheduling meetings while you can focus where you should focus, without the usual constant email distractions.
You can schedule meetings right from your inbox, schedule emails to be sent later, track responses, set up recurring emails, and use AI to write better emails.
This Chrome extension is a multi-tool for your email & email marketing needs. HubSpot Sales brings email tracking, CRM for Gmail, and sales productivity tools to your Inbox.
Furthermore, it gives you the option to share email templates with your team and lets you know which of these templates are the most effective in your campaign. And it also syncs with your Google calendars for seamless scheduling.
SEO
Formerly known as PageRank Status, Open SEO Stats is a handfulSEO Chrome extension that gives you access to valuable SEO stats such as traffic stats, cache, pages indexed, and backlinks.
What's more, it gives information on Whois, and Geo IP locations. The extension currently supports 30 languages.
SEOQuake is an extension that can help you with many of your SEO endeavors. When visiting a website, this powerful SEO toolbox for your browser reveals useful information like backlinks, traffic, ads, keywords difficult, and other metrics, including Google Index, Bing Index, Yahoo Index, and Facebook likes.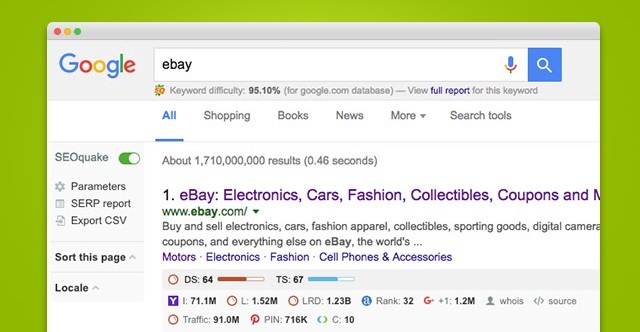 Additionally, SEOQuake features other useful tools, such as the SEO Audit tool, the Keyword Density report, Internal/External Link analysis, and even social metrics.
Ahrefs SEO Toolbar is the Chrome extension of the popular tool Ahrefs. This SEO extension combines page-SEO report, broken link checker, ink highlighter, redirect tracer, user-agent switcher, and country changer for search results.
Additionally, if you have a paid subscription with Ahrefs, you also get SEO metrics for the pages you visit and for the SERP results (with export).
Are you involved in off-page SEO? That means one thing: backlinks. Majestic Backlink Analyzer is a fast way to see the power of any web page based on its backlink database. 
Get instant link counts and see who is linking to the page you are browsing. Majestic has its very own crawling bots; the data presented come from the same extension and it doesn't use any third-party app.
Productivity
Possibly the single best extension for your productivity. Rather than assisting you in your current tasks, StayFocusd prevents you to partake in other "tasks", so you can actually get on with your current tasks. Brilliant, ain't it?
StayFocusd is limiting the amount of time that you spend on time-wasting websites, protecting you from any impulses,  such as: checking your email, Tweeting, Redditing, and NotWorking in general. It's highly a configurable extension, allowing you to block entire sites, or specific subdomains, paths, pages, and even specific in-page content.
Somedays, you take a look at your watch, it's 1 p.m. and you're wondering what on earth you've been doing all this time. Because you simply haven't done anything that you should have done. Enter RescueTime. RescueTime keeps track of how much time you spend in the active tab or a particular Chrome window. 
This provides you with a clear picture of what you were doing all day long, allowing you to manage your digital life effectively. It also reports your productivity status. That way you're never going to ask yourself again where you've spent your entire day.
You don't have to be a project manager to have to know how much time it takes for your tasks to be done. The Toggl Chrome extension puts a timer into any web tool and allows quick real-time productivity tracking.
Toggl integrates with more than 100 tools, including Trello, Slack, Asana, Jira, Motion, and Todoist. Also, it features some advanced features like Pomodoro time, Idle detection, and Tracking reminder.
Does this list offer more Chrome extensions for marketers than you can handle? No worries, we've got you covered (with yet another extension)! The last extension of the list is created for those who have too many extensions installed on their browser.
With Extension Manager, you can enable and disable extensions quickly with one key, group your extensions however you like, save your extension setting according to the different websites you visit, and more.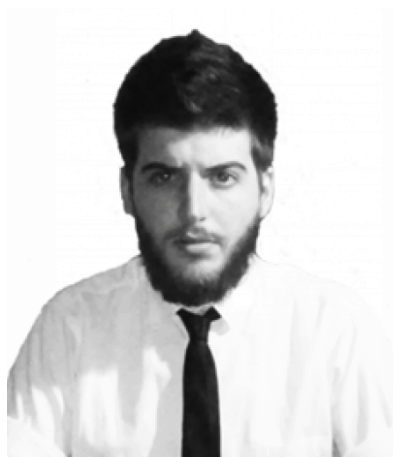 I write for GrowthRocks, one of the top growth hacking agencies. For some mysterious reason, I write on the internet yet I'm not a vegan, I don't do yoga and I don't drink smoothies.