It's official: The next big Google update will be all about speed. Thus, businesses spending money and resources to optimize their site speeds will be rewarded by Google. 
On the contrary, sites that do not pay any heed to site speed will be impacted negatively. If there is one factor that can have a significant impact on your organic rankings, it is website speed.
So we wrote this article to prepare you for what's coming and introduce you to some of the best free website speed test tools.
Before moving to the tools per se, let's see first why fast websites are essential and how to improve your speeds.
Ready? Let's begin!
Why is a Screaming Fast Website Essential?
Have you ever been on a website that was so slow you had to check your internet connection? How about a website that doesn't load forms and other elements that you needed? It can only get worse than encountering a 404 page not found error.
I guess you quickly left that website and opted for a faster website that provided the required information. It doesn't matter whether you were looking to buy a product or just browsing, slow sites don't elicit the best of feelings. 
If you run/own a website, slow speeds kill user experience (UX). Besides, page speed has a direct correlation with better rankings in search engine results pages, of course, keeping other factors constant. 
If you run a sluggish website, you will leave a lot of traffic (and money) on the table, considering organic traffic is one of the best types of traffic you will ever have.
Offering your users and search engines a faster website is all about providing a better user experience. 
Human visitors can easily find the content they need, and search engine spiders can quickly index your content.
But if your competitor outshines you as far as speeds go, they'll take your spot. 
How to Improve Your Website Speed
The best way to improve your site speed is to use tools to check the speed of your webpages and implement the suggestions offered by them. 
Apart from that, there are a few universal site speed improvement suggestions that every website should implement.
Here are some suggestions on how to improve your website speeds: 
Start with a great web hosting company

–

A good web hosting company

guarantees you fast speeds, security, and fantastic customer support. And for Pete's sake, you cannot expect world-class performance from a web hosting company that charges $0.99 a month.

If you use WordPress, delete plugins and themes that you don't use – Not only do they pose a security threat but also slow down your website since your server loads them every time a user visits your site. Some plugins are notorious for eating your server resources as well.
Reduce HTTP(S) requests to your server

– The lesser the requests, the faster your website

Optimize your images for fast loading

– Heavy images will take a lifetime to load. If you need a 600 x 300 image, for instance, don't use any other dimension. Also, eliminate EXIF and metadata that adds to the weight/size of your images.

Here are some plugins

to optimize your site images.

Leverage the power of content delivery networks (CDNs)

– A CDN can significantly improve the website's speed.

Here are some of the top CDN providers

for easy comparison. Besides, enable GZIP Compression, take advantage of the latest caching technologies, and defer the loading of scripts.
7 Free Website Speed Test Tools to Test Your Website
Now that you know the importance of good website speed for your business website and some tips to keep your site faster let's move on to discuss the top free tools to test site speeds.
Here are the best website speed optimization tools:
Probably the best site speed test tool that you should use is the Google Page Speed Insights.
The importance of Page Speed Insights is already increased because of the upcoming Page Experience Update.
This tool provides suggestions to improve LCP and confirm whether your site passes the Core Web Vitals test. 
Enter your page URL (yes, you can enter individual URLs of your site and check the speed of every page using this tool) and click on Analyze.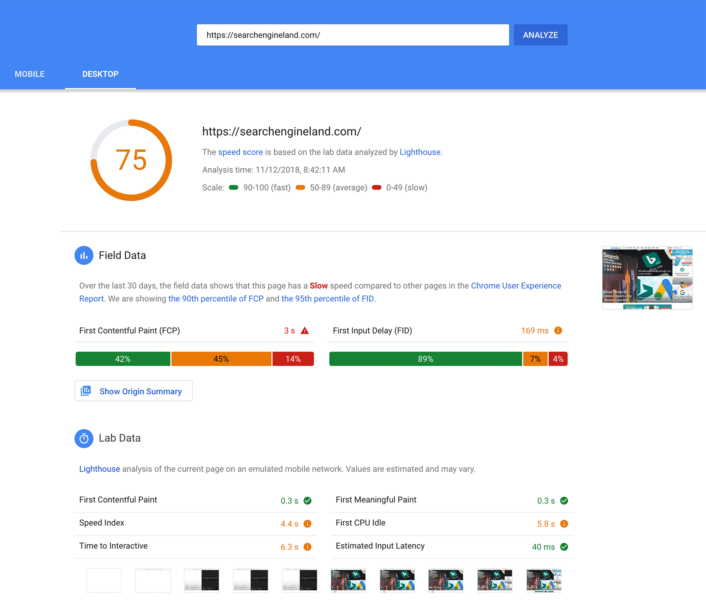 Page Speed Insights tool will display the total LCP, FCP, the time to interact, and the full blocking time.
You will also see a column for opportunities that will offer suggestions to help your page load faster.
Consider implementing every advice suggested by the Page Speed Insights tool. 
Pingdom Tools is a fantastic website speed test tool to check site speed.
It uses 70 global polling locations to test site speed and offers useful suggestions for page speed improvement.
You only need to enter your website URL and choose the location where you want to check the speed.
This tool will display a performance grade and offer a list of suggestions to improve page performance. 
Carefully analyze all the suggestions offered by the tool and take the help of your developer to implement as many suggestions as possible.
Interestingly, you will get different results on different tools.
Hence, it is better to test your site using a combination of tools so that you don't miss any opportunity for speed improvement.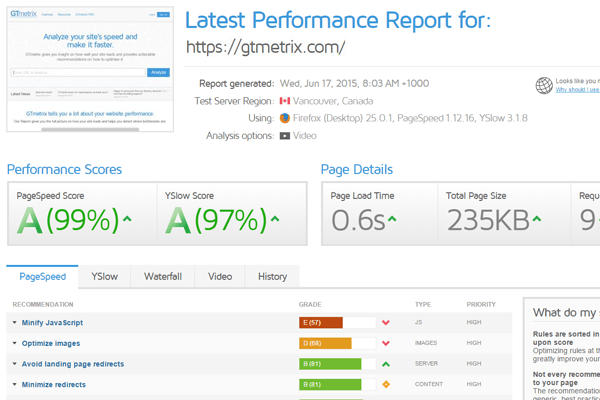 GTmetrix is an advanced website speed test tool that offers a performance report and a speed grade.
The Waterfall model is beneficial where you can see the resources used by individual elements on a web page.
Furthermore, the YSlow recommendations and Page Speed recommendations are worth implementing. 
Web Page Tests is another free speed testing tool with many interesting and advanced features.
Unlike other tools, it gives two different views of the report – First view and Repeat View.
At first, when URL is entered, the "First View" report is displayed, and when "Re-run the test" is clicked, another page is added with three test results. It helps to diagnose the report in-depth and with better understanding.
Besides, it allows you to choose from 40 unique locations and 25 browsers, including mobile phones.
Grading is done between F to A, depending on different testing parameters. It tests compression, caching, FTTB, effective use of a CDN, etc. to the website performance report.
You can get six segments in the report, which includes summary, performance review, details, content breakdown, plus screenshots.
For beginners, there can't be any better tool than IsItWP's free Web Page Speed Test Tool.
The tool is designed to produce a quick result, run tests multiple times, and give detailed reports to analyze the causes of slow website performance.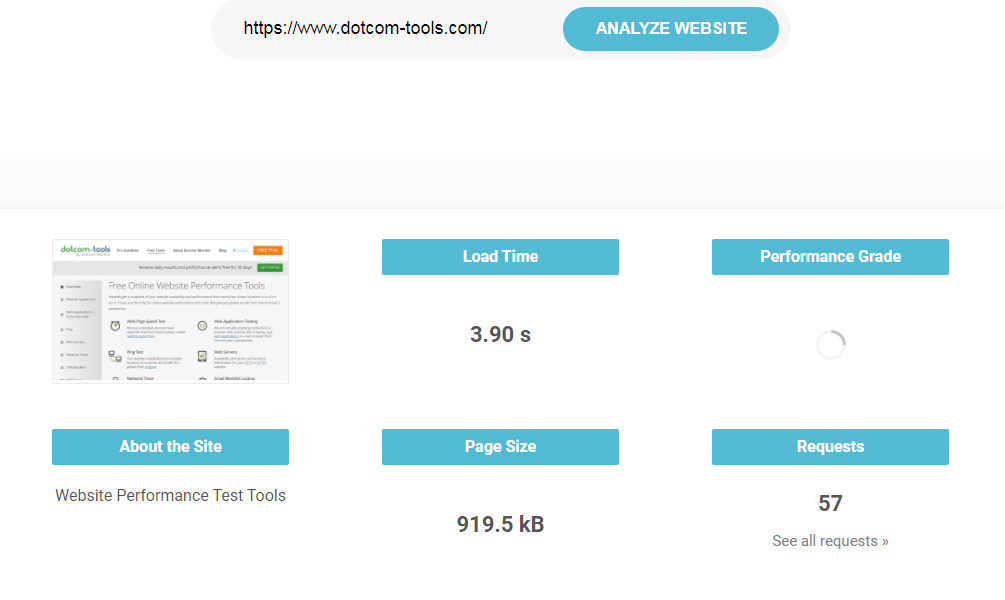 You also get advice to improve the site speed. Click on the given categories and resolve the speed issue.
What's more, server uptime monitoring is another useful feature to explore in this tool.    
The image size is one of the primary determining factors for the web page speed.
The Web Speed Test Tool measures and analyzes the website's performance based on the images used on the website. It is a dedicated image analysis tool powered by Cloudinary. 
The tool provides detailed optimization insights by testing the site's performance beyond a simple compression check.
It can dramatically improve page load speed by helping you know the ways to change image size, format section, encoding, and quality.
Dotcom-Monitor's free website test tool is one of the most effective free tools.
It provides browser-based load time testing of all page elements, reports from nearly 25 global locations, and detects slow or missing elements.
It can also test via web browsers like Chrome, Firefox, IE, and mobile web browsers, including iPhone, iPad, and more.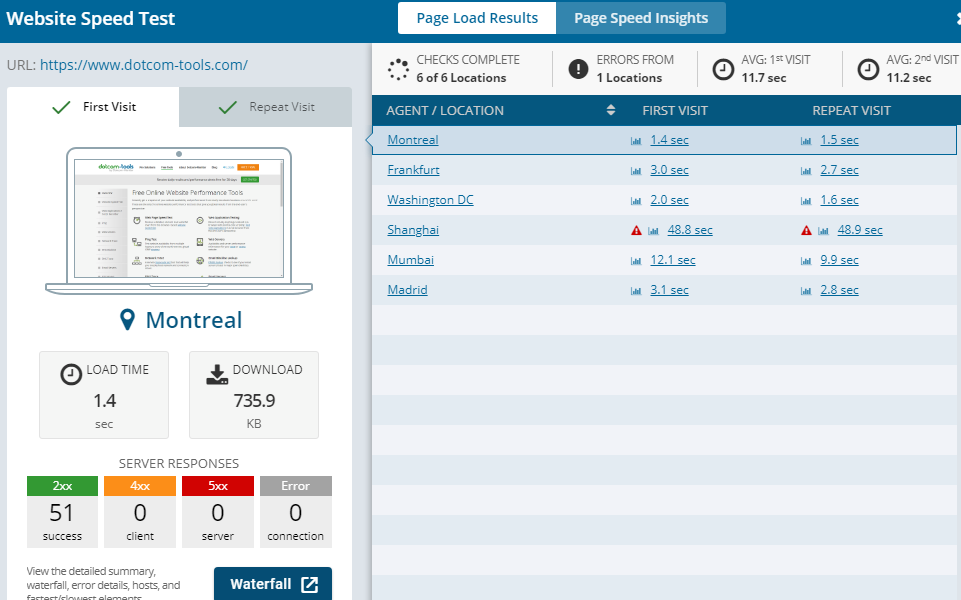 Plus it displays a complete waterfall report, charts & graphs to analyze the report in-depth.
It is a comprehensive tool to help users, developers, and webmasters to improve their site's performance and upgrade their page experience for the visitors.
Free website speed test tools – Conclusion
A fast loading website is a highly essential asset for your business.
Before you pull your hair out, try any of the above tools to check areas that need improvement. After that, don't sit back and daydream; get down to work and fix whatever is slowing your site down.
Which is your favorite website speed test tool? Did I miss your favorite tool? Let me know!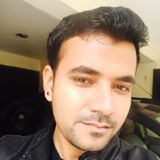 Joydeep Bhattacharya is a digital marketing evangelist and author of the SEO blog, SEOSandwitch.com. He has over 9 years of experience in helping businesses make the most of online marketing. Content writing is his passion and he is a regular contributor on sites like SEMrush, Ahrefs, Search Engine Watch, Smartinsights, and others. You can reach him via LinkedIn.