In the past, we made a few similar comparisons, like
Weebly vs Wix
and
Wix vs Squarespace
,
WordPress vs

Drupal
,
and
WordPress vs Joomla
.
Now it's time for Wix vs WordPress.
Although Wix is a website builder and WordPress is a content management system (CMS), they still have a lot in common, as you are going to use both for the same need: to build your website.
Hopefully, with this article, we can help make your decision a lot easier.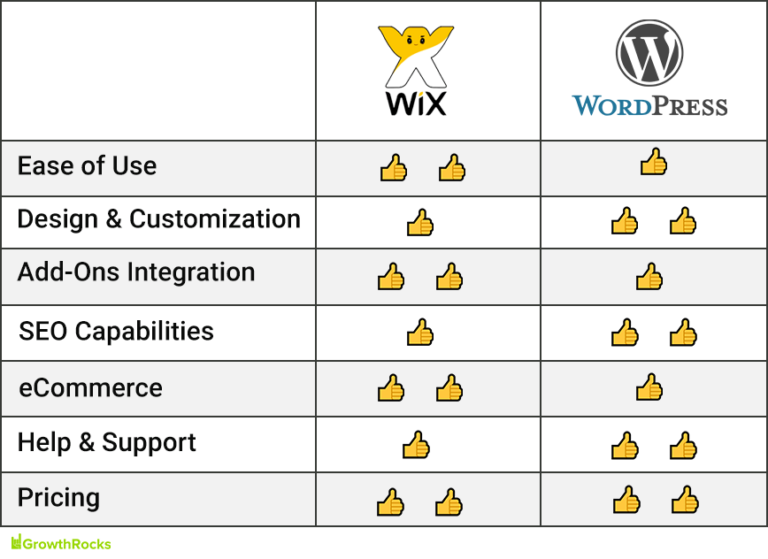 Wix vs WordPress – Platforms Overview
As a quick overview to get you started, it breaks down like this. 
Wix advocates love the freedom and flexibility when it comes to usability and design. Although, most agree it doesn't make full use of add-ons for SEO and eCommerce.
WordPress users love the endless capabilities for customization it gives, as well as the add-ons, and the community support. But, the truth is that you can't get the full benefits unless you have a little bit of tech-know-how.  
Let's jump right into the details so you can decide which one will work best for you. And of course, we'll share with you our own opinions on each part, too.  
Ease of Use
Wix is simple to use. 
It has a sidebar on the left that displays each element, and you drag and drop from there onto your page. 
There are no limitations to where you can put them, including layering them on top of other parts. As soon as you make a change, you can see the results right away on the page. 
WordPress works a little differently. You still have easy functions to use, but their menu isn't as neatly displayed as Wix's, and it requires a few extra steps. 
Whenever you add or change something, like the color on a button, there's an extra step. You have to 'publish' and 'refresh' to see the change in action. 
But WordPress is starting to catch on. It has plenty of 'live builders' (as well as a native one) that allow you to do the same thing as Wix. 
Most notable amongst these is Elementor. This code-free WordPress website builder offers built-in WordPress hosting features, as well.
However, this feature is relatively new. It's a bit more volatile without having direct customer support.
In the end, WordPress does come with a steeper learning curve when you're first getting started. So if you're looking for something simple to use right away, for us the choice is clear.  
Winner: Wix 
Design, Customization, and Flexibility
Both Wix and WordPress have plenty of themes to work with. Each theme comes with its own special add-ons and options. A restaurant theme will have menu options, for example.
Between the two, WordPress is unrivaled when it comes to themes and customization. The problem is that sometimes you need to know a bit of coding or CSS to get the exact changes you want.  
Wix has a tool called Wix ADI. A design-assist bot that asks you questions about your site and design preferences. Then, make changes for you on the spot. 
It's great for people who aren't too concerned about customization or who don't have the time. While the ADI is convenient, sometimes it results in a "canned" feeling to the sites.  
It's true that Wix is the easiest to use for those who are new to website building or don't have a lot of time. 
But, we love the option to customize anything and everything. Your website should be able to be stylish while maintaining a professional edge. 
We'll have to go with WordPress for this one. 
Winner: WordPress
Add-Ons
Wix offers a massive library of app add-ons built right in. They're displayed on a side menu, and you select your add-on and use it right away. The add-ons are all made and approved by Wix themselves, so they're reliable for use and quality. 
WordPress is an open-sourced platform, which means that anyone can jump in and use or change the code. It also means the selection for third-party add-ons is endless. In fact, there are over 55,000 plug-ins available for WordPress.
It's impressive. But the problem is that anyone can build a plug-in. This includes coders with very little experience. There's no way for you to know if what you're downloading will work the way you need it to. Another factor is any kind of conflict with existing plugins.
We love the sheer number of options for WordPress add-ons. But we can't help but think Wix's reliability with quality and consistency makes them a better choice. 
Winner: Wix
SEO
For a builder that's so big on customization, SEO is where Wix falls short. They have a built-in SEO wizard that optimizes your site for you. It sounds great, but you're very limited with customizing your own metadata, titles, and URLs. 
For WordPress, you have to add a plug-in called Yoast, which is the number one SEO plug-in used on WordPress. There's a free and premium version – and both are good – but the premium version gives you the most flexibility. 
With Yoast premium, you can: 
Edit metadata

Get internal linking suggestions

Automatic redirects

And more
Freedom for customization and tracking capabilities are way too important for SEO. They're essential to maximize your ranking potential. That's why for us, WordPress is a much better option. 
Winner: WordPress
Help & Support
Moving on with our Wix vs WordPress comparison comes Help & Support.
First of all, WordPress's user base is massive. 
That means that besides their own customer service, there are:
Countless forum posts

Articles and guides

And videos tutorials
All made by users and developers that can help you with any issue. 
Wix also has plenty of user-based help available. But the difference is that they have a dedicated support team, as well. 
When you need support, they offer you their own help articles or video tutorials. These can get you pretty far. But if you need more help you can call their phone number to get in touch with a person.  
With WordPress, unless you're hiring a skilled developer to help you with your website, you're on your own. Your only option is to do your own research. 
For this reason, we can't help but think that Wix is a bit more convenient when it comes to customer service. 
Winner: Wix
eCommerce
Wix has eCommerce features built-in when you sign up for one of their premium eCommerce plans. 
They're designed to support mostly physical retail products. They include basic, standard add-ons. 
You'd be happy using Wix for eCommerce if you're selling a product here and there or if you have a smaller store. But not if it's the main feature of your site or if you plan to scale your selection. 
As expected of WordPress, there are plenty of options. There are countless plug-ins available that help you get the most out of eCommerce. The most popular one is WooCommerce. With these plug-ins, you can do almost anything you would need to sell and manage your products. 
Transaction Fees and Cart Abandonment
If cost is an issue, you'll be happy to hear that Wix doesn't have any transaction fees. They also have a cheap abandoned cart recovery add-on for $23/month. 
Many of WordPress' eCommerce plug-ins are free to us. But  WooCommerce does have transaction fees involved. 
If you're building a website for eCommerce. you'll benefit the most from WordPress' choices. The plugins shine in quality and flexibility. While it's true with the most trusted plug-ins you'll have to pay a bit more, it's worth it for the security and flexibility. 
Winner: WordPress
Pricing
After you've weighed all the pros and cons, often the deciding factor is the price. Plenty of people prefer using Wix because you can make an entire website without spending a dime.
Yet, if you want to get more features and add-ons with Wix, they offer 7 premium pricing plans. Four are for websites, and three are for eCommerce. 
With Wix's pricing plans, they include almost everything for you. Depending on the plan. So you may not have to pay for a lot of add-ons.
WordPress is also free. But to get it going, you have to pay for more.
Your domain

Hosting service

Necessary plug-ins

Attractive theme (their free ones are generally pretty basic)

Customizations if needed by developers 
If it's a matter of pure cost. With the simplicity of plans and add-ons, we can't deny that Wix is the most cost-effective of the two. 
If it's a matter of value. WordPress takes the cake. Although you have to pay a bit more, you own it. And the quality you get in return is worth it in the long run. 
Winner: It's a tie!
Wix vs WordPress: The Verdict
Here's what it comes down to. 
If you want to have the most: 
Usability

Simple setup

Simple visual design

And low prices
You should consider using Wix for your website. 
If you're in it for the long haul and you want:
More eCommerce options

Advanced customization

Don't mind community support

Want endless add-ons and features
Then you'll love using WordPress. 
Despite the steeper learning curve, WordPress provides a lot more long-term value for any type of website you're trying to build. 
In a way, it's like comparing 2D vs 3D animation; you may need more time to make a character in the latter, but once you do, you have more movement options, more possibilities, and the ability to reuse the model.
Hopefully, we shed some light on the Wix vs WordPress issue and you now know what to go for.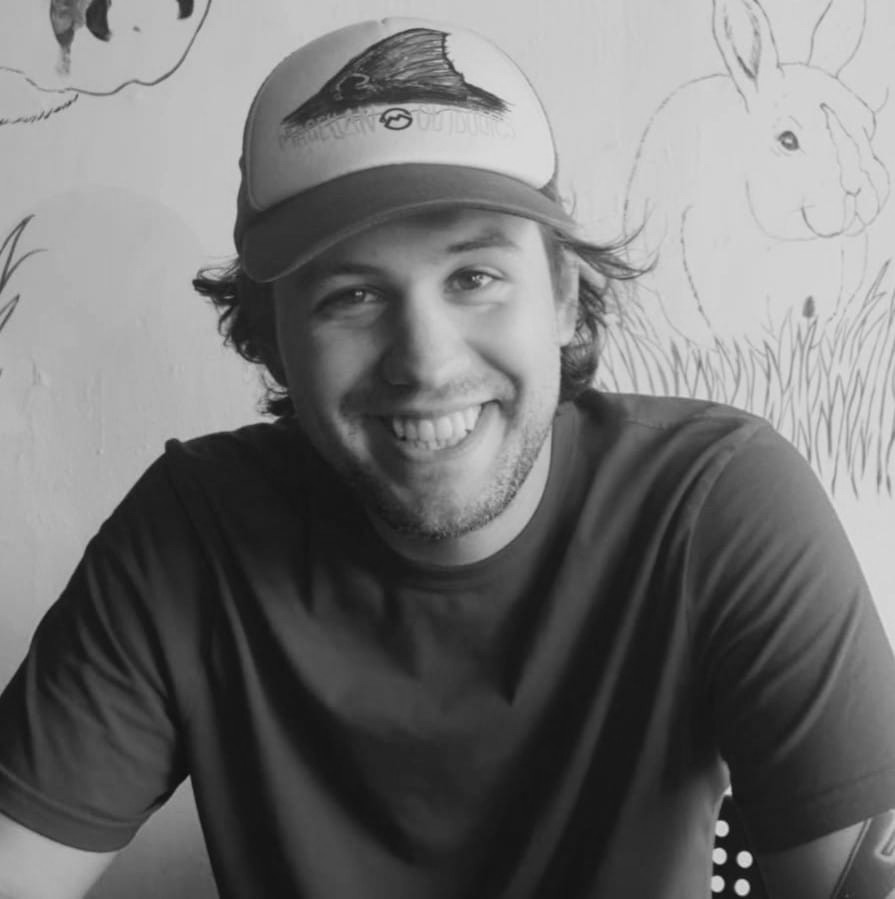 Austin Kelly is an e-commerce copywriter specializing in email marketing campaigns that increase conversions, win back abandoned carts, and make more sales for his clients. He is also a B2B writer specializing in e-commerce, marketing, and lead generation. If you need stellar content for your business, check out LimeProfits.