Imagine not having to worry about your sales and marketing investments. Where you don't have sleepless nights over your marketing budgets.
Well, there's no need for imagination because that's becoming a fast-growing reality in the digital marketing world. 
In this article, we are going to explore what performance marketing is all about. You will learn what are its benefits, about basic KPIs and performance marketing metrics, as well as what it takes to become a performance marketing specialist.
What is Performance Marketing?
Performance marketing is the branch of marketing that is based on Return of Investment (ROI).
Brands set the desired action and only dispense funds when that action has been taken.
Performance marketing specialists make use of the following paid marketing channels:
Affiliate marketing

Native advertising

Sponsored advertising

Social media advertising

Search engine marketing

Pay per Click (PPC)
These channels enhance the possibilities and success of performance marketing.
What Are The Key Performance Indicators For Marketing?
Key performance indicators (KPIs) should be selected based on marketing goals.
For example, if your marketing campaign goal is to increase conversion rate by 3% then the right KPIs include lead to customer ratios, conversion rates, shopping cart abandonment rates, etc.
KPIs will reveal if you are the right direction and if you are any close to achieving your goals. As the name implies, it indicates the performance of your marketing efforts.
KPIs help you improve and make adjustments to your marketing actions.
You might wonder about the difference between metrics and KPIs.
There's actually a difference – all KPIs can serve as metrics but you can't refer to all metrics as KPIs. 
Because KPIs are major evaluation tools that businesses pay the most attention to gauge their marketing performances. 
Put simply: Businesses can do without certain metrics but they can't do without their marketing KPIs.
KPIs are more ultra-specific as you only focus on the most important while metrics are not as specific. The following are some KPIs:
1. Customer Lifetime Value (CLV)
This KPI showcases how valuable your customers are if they are just one-off or returning customers. 
Measuring your brand's current CLV will give you insight on how to improve your customer services and experiences to achieve customer retention/loyalty.
CLV reveals the amount of revenue a single customer can generate for a business over the course of time.
So how do you calculate your CLV? Here's the calculation:
Firstly, you will need the average purchase value multiplied by the average purchase frequency rate. This results in customer value.
Secondly, you will calculate the average customer lifespan which means the aggregate number of years a customer makes purchases.
Finally, you then multiply the customer value to average customer lifespan to get your business CLV.

The most effective way to improve CLTV is by strengthening your relationship with existing customers, this way you reduce churn.
2. Customer Acquisition Cost (CAC)
How much does it cost you to acquire a customer against the number of customers actually acquired? 
This KPI will enable you to prepare your budget accordingly. It is the total sales and marketing costs of acquiring a new customer.
This is measured to compare the cost of acquisition vs the number of customers actually acquired.
Additionally, CAC is also a pointer to the effectiveness of your marketing performance because a profitable marketing strategy will require a low CAC whilst a slacking marketing strategy will attract a high CAC.
A company's CAC should be low on value for more efficient use of resources and higher returns.
3. Sales
This is where the impact of marketing efforts is truly felt, the amount of sales or revenue generated is the main KPI of marketing success.
Because measuring this KPI indicates business growth and profitability. For example, a significant increase in sales means there's a high level of ROI. 
This KPI helps in future marketing planning as its results serve as proof for what worked and what didn't.
4. Landing Page Conversion Rates
Your landing page is your selling point, it is the make or break to your conversion success. So it's either speaking to your target audience or driving people away.
Measuring this KPI will give you exclusive insights into how well your landing page is doing, how many visits turn into conversions?
Optimizing and improving your landing page to convince potential customers will lead to increased opportunities for a higher ROI.
Last but not least, make sure your CTAs are actually leading them to take action by making it irresistible.
5. Social Media Engagement and Conversion Rates
Social Media is now an inevitable part of a brand's marketing strategy and most marketers make huge investments in social media marketing.
Therefore, measuring the level of engagement and interactions on your social media content is important.
And not just the engagement rate but as far as the conversion rates, the likes and shares are not enough, how many people actually take action from your social media content?
You can track this KPI by using the social media platforms analytical tools or trusted third-party tools like Buffer and Hootsuite, to gain insights into your marketing performance.
What are the Benefits of Performance Marketing?
Businesses are in a dilemma of investing tons of money in marketing and getting unimpressive ROI. Less than 25% of marketers are reporting how campaigns are impacting revenue.
However, performance marketing is changing the narrative by delivering proven ROI and operation based on certainty. This is a win-win situation for businesses because they no longer need to take uncertain actions, the outcome now determines their actions.
Only 61% of marketers believe their marketing strategy is effective. Even though many marketers doubt their strategies, they're still pouring massive spend into digital advertising.
This is where performance marketing comes in.
The vital benefits of performance marketing are:
1. Low Risk
This is the most obvious benefit of performance marketing. Since brands only pay when their aim is achieved, it's a win-win situation. Money and effort don't go to waste instead it is only geared towards getting results. 
You don't get to spend and be at a loss at the end, it's either you gain your desired results or nothing.
2. Trackable and Measurable
The core of performance marketing is to get desired results, as a result, a lot of optimization, tweaks, and changes are applied to strategies.
In fact, 40% of marketers say proving the ROI of their marketing activities is their top marketing challenge. 
Despite allocating large portions of their budgets to various PPC ad platforms, many digital marketers are unable to fully gauge their results.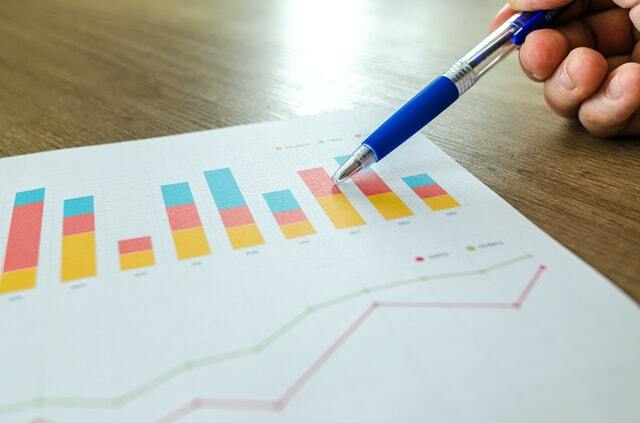 For these tweaks to take place, metrics tracking needs to be done, because tracking gives exclusive insights on the performance of marketing actions.
Since the ROI of every marketing activity needs to be measured, it makes performance marketing trackable.
3. Growth-Oriented
The goals set in marketing strategies are meant to enhance business growth. 
One of the major features of performance marketing is it's attention to ROI. The more returns from business investments the greater the business growth.
How to Measure Marketing Performance? (Performance Marketing Metrics)
The first important step to take is to set your marketing goals. Only then will you be able to gauge your marketing performance and also direct your efforts towards areas that matter most to your brand growth.
The setting of SMART goals is the key to a successful performance marketing evaluation. SMART goals are Smart, Measurable, Attainable and  Time bounded.
There are certain metrics to measure your marketing performance. These metrics will outline the success of your marketing efforts.
Through the setting of goals, you will be able to determine your KPIs and relevant metrics for use.
Metrics help in monitoring the progress of your marketing performance in alignment with your business goals.
These metrics provide valuable insights into the fruitfulness of your marketing efforts. They provide you with valuable data to analyze and maximize your ROIs in marketing.
The most crucial performance marketing metrics to measure are:
1. Conversion Rates
This is the estimated percentage of site visitors who take specifically designed actions(CTAs) like making a purchase, grabbing a lead magnet, or subscribing to site membership. 
It's basically the number of site visitors that become customers or potential customers.
A high conversion rate means you are doing something right on your site. On the other hand, a low conversion rate implies that there are some problems that you need to address.
Conversions mean different things to a brand depending on their campaign goals. For example, for a business whose goal is membership, getting a subscription will be a conversion.
However, for a brand that just launched products, the number of sales is what will count as conversation.
For example, in Google Analytics to measure your conversion rates, you will use a feature called conversion tracking.
Here's how the conversion tracking in Google Analytics tracks your conversions.
How to add Conversion Rates in Google Analytics
Step 1: Log into your Google Analytics account, go to admin, which contains three different column options: the account, property, and view.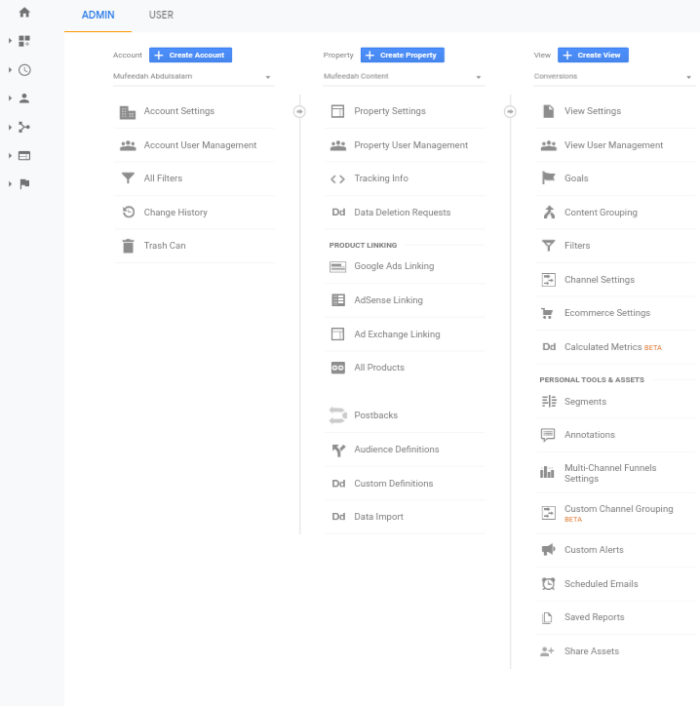 Step 2: Then, go under the view column and click on goals.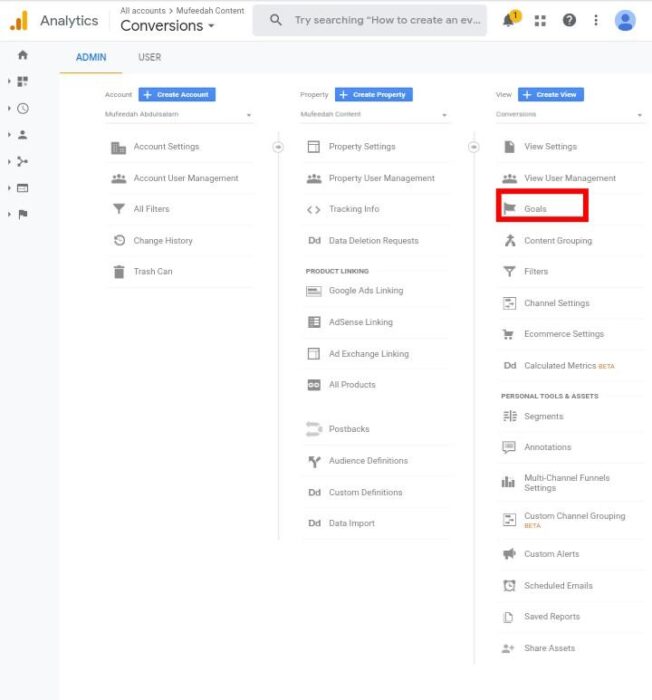 Now you will see an option to create a new goal.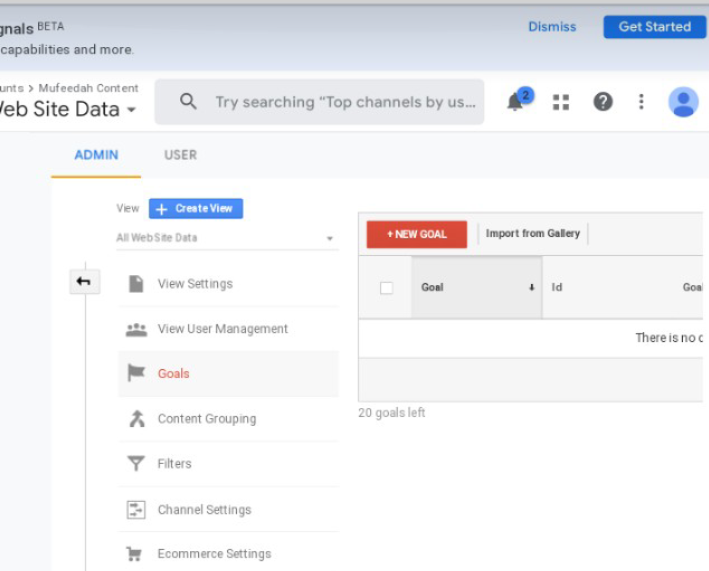 Step 3: You can choose from the four different category templates available:
Revenue

Acquisition

Inquiry

Engagement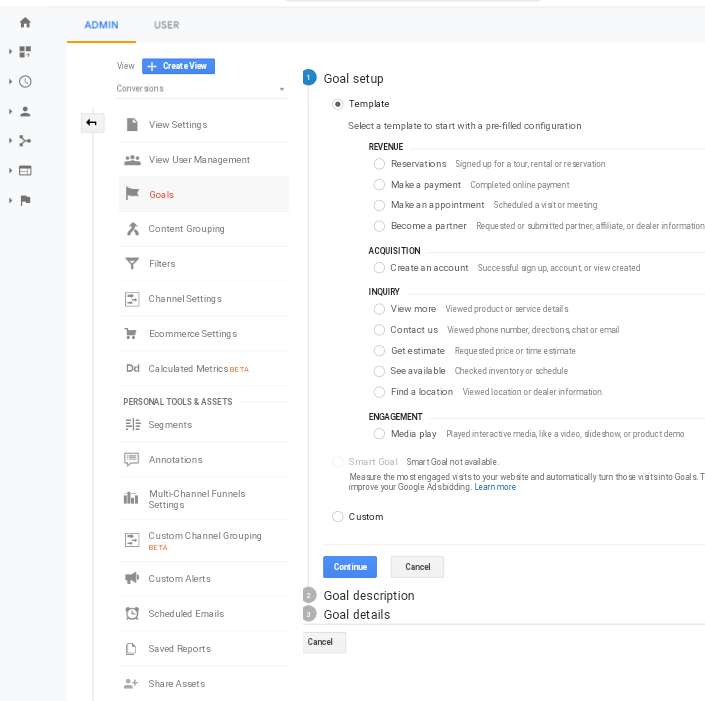 Step 4: Next, select any from the above four that defines the conversion you are aiming for:
Let's set a goal for Inquiry. Say you want site visitors to visit your contact page, and that defines a conversion for you.
You'll have to clock on Contact us under the inquiry category.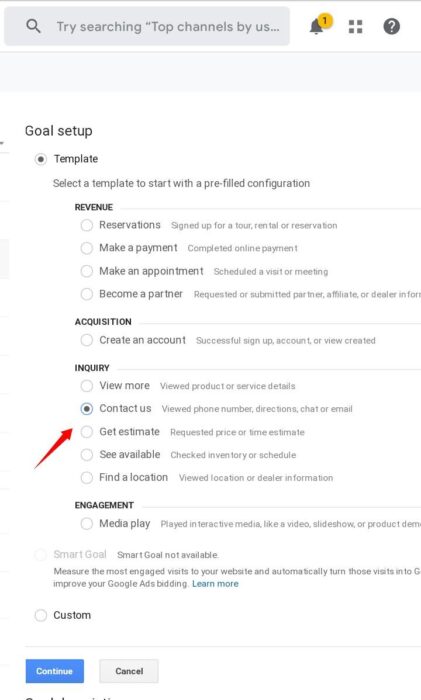 Step 5: Next, you have to fill in your goal detail. Here you will enter your goal description and goal type.
I selected the destination option for my goal type.
Step 6: Then, click Continue to move to fill your goal details.
You have one major value and two other optional value boxes. The destination, value, and funnel boxes.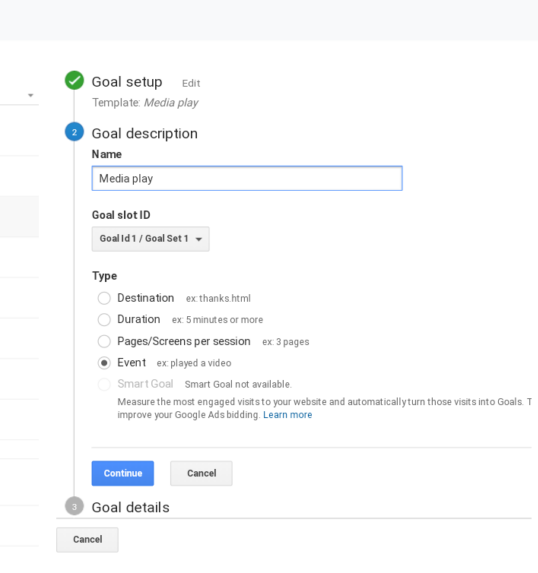 Step 7: In the destination box, you will insert the URL to the page that represents your conversion.
Remember, don't insert the complete URL.
That means that instead of www.seosandwitch.com/contactus, simply insert /contactus.html 
For the value box, you can decide to insert the monetary value of this action.
The funnel box represents the sequence pages you designed for a visitor to visit that determines a conversion.
Step 8: Finally, click on the verification button at the bottom to evaluate your goals.
Assuming there's a similar conversion goal that exists prior to this one, it will reveal an insight into the percentage conversion rate value.
Then go ahead and save it.
You now have a conversion goal in motion.
How to add Engagement Goals in Google Analytics
Let's set another type of conversion goals. This time I am selecting the Engagement goal category.
For example, you have a video you want site visitors to watch.
Playing it serves as a conversion for you. This feature will help you track the video views.
Step 1: Firstly, click on the engagement category: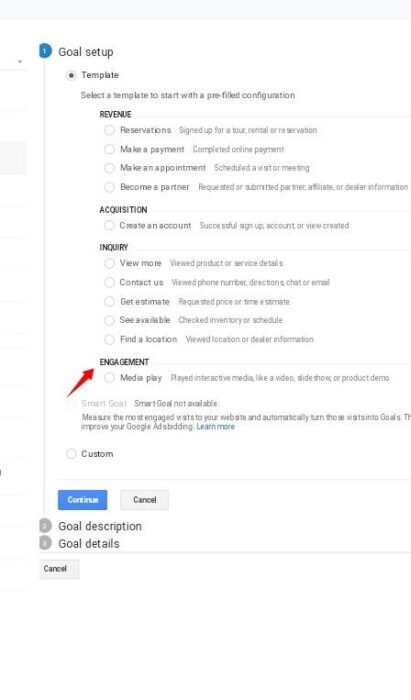 Step 2: The next step is to enter your goal details. The default name is media play since it's a video. It's tracked as an event under the goal types.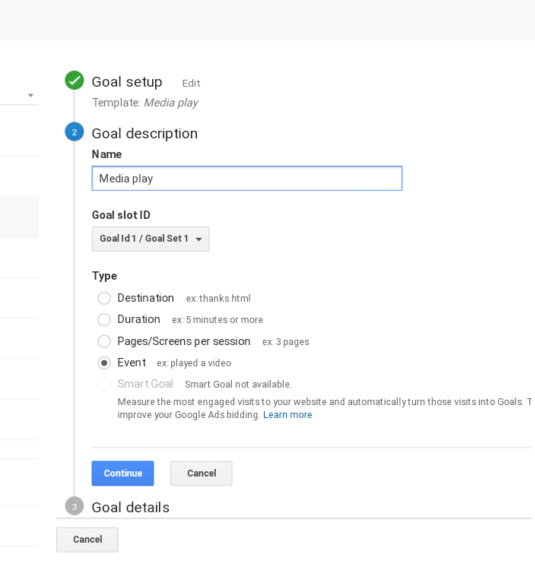 Click continue.
Step 3: The next action is to set event conditions that only if triggered will count as a conversion.
The three main categories are:
The category stands for the name of the event you are tracking, in this case it's a video. 

The action required to be taken to confirm a conversion, which is to play a video in this example.

The label explains what the event is about, the details of the event. You will insert the video title here as the label.
After filling in those details, it is recommended that you choose yes in the events value option. Accordingly, the event values will be synced to the goal values.
Step 5: Finally, go ahead and save the goal. You now have two conversion goals to track.
To get an overview of how your conversions are performing, head back to the main Google Analytics page.
Go to the sidebar menu on the left. Click on conversions. Under that, select Goals and then click on overview.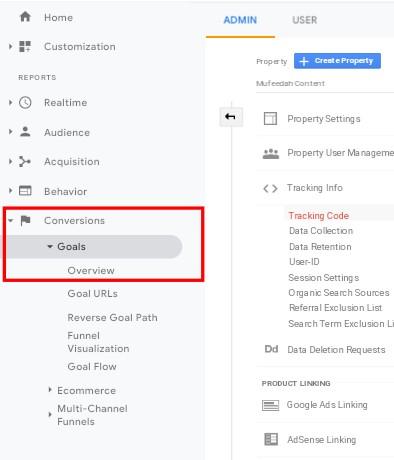 You will be shown the results of how well your conversion goals are performing.
The graph on the image above is flat and data-less because this is just an example.
But yours will give you insights on the performance of your conversions with curved graphs and data reports.
Remember, these insights are just pointers. You are to use this information to optimize your performance marketing plans and work on increasing conversions.
Measuring conversion rates will help in evaluating the performance of your marketing efforts.
2. Bounce Rates
The bounce rate is the percentage of people who leave your site without visiting any of your site pages. 
They bounce right away without paying attention to your other site content for various reasons like a page taking a long time to load or irrelevant content.
Making your offers more compelling and relevant to site visitors reduces the level of bounce rate.
Measuring your bounce rate gives you a signal if there's a need for a website redesign or changes to content.
Bounce rates are not entirely bad. While good bounce rates mean that you are only attracting your target audience. 
3. Lead Generation
This is the percentage of the number of people a brand attracts as potential customers to convert into loyal customers. 
Your number of leads gives insight into your level of sales opportunities. 
Leads are generated through the brand's designed lead magnets, a great no of leads indicates more conversion opportunities. 
4. Customer Retention/Loyalty
This is the number of repeat business that customers perform from the impact of marketing. This metric shows the long term value and relevance of a customer to a brand.
Net promoter score tools are helpful in tracking recurring sales/purchases.
5. Website Traffic and Sources
Website traffic metrics portray the percentage rate of traffic your website is getting and the sources of the traffic. 
This metric will show you if there's an increase in traffic due to marketing changes on your site.
Knowing the source that contributes the highest traffic to your site will lead you to focus on optimizing the source, narrow your focus, and spend it on where matters most.
They can be from ad placements, organic search, socials, referrals, etc
This can be done with the use of Google analytics.
6. Engagement
Engagement metrics track the level at which your target audience engages and interacts with your marketing campaigns and overall content.
Metrics like duration on site or pages, consistent site visits, social media impressions, etc. 
This metric highlights how enjoyable and interactive a company's content is.
7. Exit Rates
The Exit rate metric gives you a more specific insight on which page a site visitor left or the point they lost interest altogether.
The difference between the exit rate and bounce rate is that the former happens after a visitor goes through your site content while the latter happens after just a page view
This metric will help you optimize your site content and pages to retain interest.
8. Search Engine Traffic
This reveals the fruitfulness of your SEO strategy marketing efforts. This metric helps you measure how much of your site's traffic is coming from the search engines.
If the percentage is 40 or above then your marketing efforts are yielding great results.
Google Analytics is your friend for tracking the amount of traffic your site gets from search engines.
These are some of the many metrics that you can evaluate your marketing performance on. The relevance of each metric to your marketing campaign is dependent on your goals. 
Therefore, carefully analyze the metric that is of value to your brand to track and measure for a greater chance of increased ROI.
How to Become a Performance Marketing Specialist?
A performance marketing specialist is one who is able to foresee and guide all marketing strategies and activities to achieve specific actionable results.
To become a performance marketing specialist, you have to be very detailed and ROI focused. Because, getting results is at the top of the bar for you, as no results equate to no compensation.
A performance marketing specialist should be:
Experimental

: The only way to find what really works in practice is to be willing to experiment with both conventional and unconventional ways to accomplish marketing goals. Therefore, as a performance marketing specialist, the ability to try out different strategies is vital.

Analytical

: Analysing a company's marketing history, weaknesses, and strengths to determine the best marketing strategy is crucial. You will need to analyze and make estimates for efficient budget allocations and selection of right KPIs.

Flexible

: As you move to get ROI, you will need to constantly optimize and make improvements to your marketing strategies for more effectiveness. You should be able to make quick and subtle adjustments without disrupting your entire plan.

Current

: Staying updated with marketing trends and new breakthroughs in the industry is a vital characteristic of a performance marketing specialist. That way they won't be unaware of new developments to be adopted.
Below are some of the best performance marketing courses to help you become one.
Performance Marketing Courses
There are no dedicated "performance marketing courses"; performance marketing is a mix of marketing analytics and data science.
Accordingly, here are a few such courses:
Analytics Academy [Google] 
Analytics Academy by Google should be one of the first steps every aspiring performance marketer should make. The Analytics Academy includes 4 Google Analytics courses, 1 Data Studio course, and 1 Tag Manager course.
This course will teach you all about Google's (free) measurement tools, how to collect data, and analyze it.
Marketing Analytics [Coursera]
Marketing Analytics is a 16-hour course by Coursera, designed for beginners.
The course teaches aspiring performance marketers to measure and analyze marketing performance to maximize its effectiveness and optimize return on investment (ROI). What's more, you'll learn how to use marketing analytics to predict outcomes and systematically allocate resources.
Marketing Analytics is packed with assignments and has flexible deadlines.
This is what you will learn from this course:
The Marketing Process

Metrics for Measuring Brand Assets

Customer Lifetime Value

Marketing Experiments
Digital Analytics for Marketing Professionals: Marketing Analytics in Practice [Coursera]
Another one from Coursera, the instructor of Digital Analytics for Marketing Professionals is Kevin Hartman. Kevin is the Director Of Analytics for Google's Consumer, Government & Entertainment sector.
Digital Analytics for Marketing Professionals lasts for 4 weeks but there is also a self-paced learning option. 
The syllabus includes 4 main lessons – one for each week:
Course Overview and Marketing Analytics Process

Data Collection

Data Analysis

and Data Visualization
The Data Science Course 2020: Complete Data Science Bootcamp [Udemy]
The Data Science Course is one of the most in-demand Data Science courses of Udemy.
More than 300,000 students have enrolled in the class which combines Mathematics, Statistics, Python, Machine & Deep Learning.
The duration of the course is about 45 hours. The program is made of 7 main parts, a few case studies, and a bonus lecture:

Introduction

Probability

Statistics

Python

Python – advanced

Mathematics

Deep learning
Marketing Analytics [eCornell]
A lengthier online course, Marketing Analytics by eCornell lasts for 3 months.
This certificate program will teach you everything you need for marketing research using data, and analytical tools. Additionally, you will learn to determine the most relevant data for improving sales, market share, and margins.
Marketing Analytics by eCornell includes:
Measuring Customer Preferences

Analyzing Segmentation and Targeting

Using Data for Positioning Brands

Predicting and Managing Customer's Lifetime Value

Market Response Modeling

Optimizing Digital Advertising with Analytics
—> More data analysis and growth hacking courses.
Performance Marketing – Conclusion
Performance marketing is a budget savior and a hyper-focused type of marketing.
Many businesses prefer the ROI nature and of performance marketing and more often than not end up using some performance marketing services.
Don't be afraid to get started with performance marketing and see how it works out for you.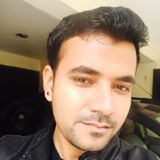 Joydeep Bhattacharya is a digital marketing evangelist and author of the SEO blog, SEOSandwitch.com. He has over 9 years of experience in helping businesses make the most of online marketing. Content writing is his passion and he is a regular contributor on sites like SEMrush, Ahrefs, Search Engine Watch, Smartinsights, and others. You can reach him via LinkedIn.