If you aren't new to SEO, you probably know that SEO is made up of 3 things:
Technical SEO, which is about site structure, navigation, crawlability, indexability, and page speed.

On-page SEO is about content optimization (text optimization &

image optimization

), meta-data, and UX signals.

Off-page SEO is mostly about one thing: backlinks. Finding ways that other websites will link to yours; a process known as link-building.
The main difference between the first 2 types of SEO and off-page SEO is that they take place on your website. You are 100% responsible for creating a fast and well-optimized website with great content and UX.
However, when it comes to off-page SEO, building links is something you do outside the borders of your website. Thus you don't have complete control over the process.
This is what makes link-building pain in the a**.
To overcome this, SEO professionals have systematized the link-building process. And thus two different schools of thought were born. White Hat SEO & Black Hat SEO.
White Hat SEO vs Black Hat SEO in a Nutshell
The easiest way to distinguish between white hat SEO and black hat SEO is this: If Google is ok with it, it's white hat SEO – if Google is not ok with it then it's black hat.
Accordingly, white hat link-building methods ensure that you use legitimate and valid techniques to rank in the search engine results. White hat link-building techniques function within the rules and expectations of search engines and users. In Google's case, white hat means that they follow Google's Webmaster Guidelines.
On the other hand, black hat link-building refers to a set of practices looking to exploit loopholes within the search engine algorithms. Using such techniques means risking earning a Google penalty. Black hat SEO has "beating the system" in mind rather than providing value to the user. 
Speaking of which, let's start with Black hat SEO.
4 Black Hat SEO Link-Building Techniques
Like we stated earlier, black hat SEO can cause you trouble and can end in a penalty for your website from search engines.
Of course, we practice what we teach. As a growth hacking agency that offers SEO services, none of our SEO packages include black hat techniques (link-building or otherwise). That said, we'd strongly advise you against using any of the following black hat tactics.
With no further ado, here they are.
1. Buying/ selling links
The act of exchanging money for a backlink. Buying or selling backlinks is considered a link scheme and it's something Google is not very fond of. What this means in practice is that you can receive a Google penalty that will result in the loss of your SERPs rankings and organic traffic.
According to Google's guidelines, buying or selling links that pass PageRank includes:
Exchanging money for links, or posts that contain links

Exchanging goods or services for links

Sending someone a "free" product in exchange for them writing about it and including a link
There are a few ways you can buy links such as paid guest posts (i.e. "sponsored" posts) or buying links from bloggers.
Although buying and selling links is a 100% black hat link-building tactic, many SEO professionals and marketers don't shy away from using it. It's come to the point where buying and selling links has become a market on its own.
To find more about this, Ahrfes conducted a study to find out the cost of buying links. And so it reached out to 450 sites across 9 niches and expressed its interest in buying a backlink from either existing content or a  new post.
The results? When the outreacher was making their buying intent clear, the average cost of buying a link was $361.44. When they were asking for a guest post, the average cost of publishing a guest post was $77.80.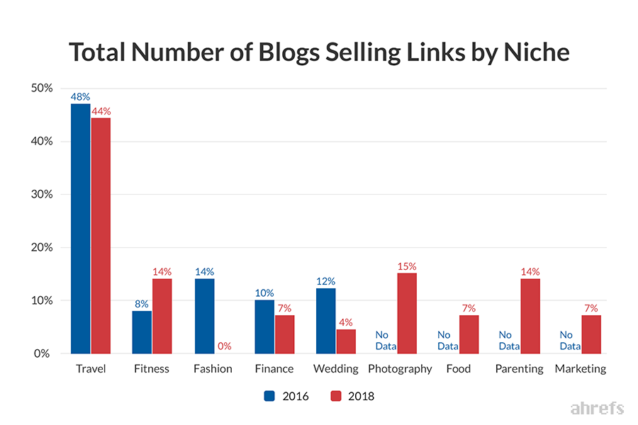 It should be noted that no matter the price or niche, buying (or selling) backlinks should be avoided. It's not only risky and expensive but many paid links are low quality and they don't offer you and your website any real value.
2. Exchanging backlinks
Yet another form of a link scheme, exchanging backlinks include "Link to me and I'll link to you" tactics as well as partner pages exclusively for the sake of cross-linking. It has many names like "link exchange", "reciprocal linking," and "2-way linking".
Exchanging links was a popular link-building technique in the 90s – and effective, too. However, since then Google has made it clear that reciprocal links are against Google's Webmaster Guidelines and still are.
According to the last interview of John Mueller, Google's Webmaster Trends Analyst, regarding backlinks exchanges:
"If you're doing this systematically then we think that's a bad idea because from our point of view those are not natural links to your website.
They're only there because like you're doing this deal with the other site."
In all fairness, reciprocal links happen naturally. Just because site A links to site B and site B links to site A doesn't mean that both sites should be punished. For example, in this post, I included earlier a link from Hubspot (the one about Google Penalty in the Buying/ selling like section). We've also linked to Hubspot a few times again in the past, as Hubspot is a relevant and trustworthy source. At the same time, Hubspot linked to us when it used one of our images and mentioned GrowthRocks as the image source.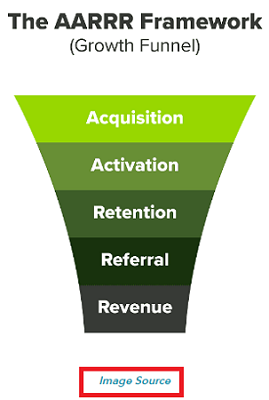 Aaand now we just linked back to them since I'm mentioning their page as the source for the above image. But we don't worry and neither should you. Google is not going to penalize us for doing this – and especially not Hubspot. However, if link exchanging was our go-to tactic, then it's possible that Google's algorithm would pick that up and give a penalty.
Lastly, it should be noted that exchanging backlinks also includes indirect link exchanges, such as three-way or four-way link exchanges. 
3. Blog commenting (spamming)
As with link exchanges, blog commenting was a common tactic in the past. For some reason, however, some SEO "specialists" insist on using it.
For example, there are still link builders that are trying to build links by commenting on posts on our growth hacking blog. If you have a blog yourself, you are probably familiar with this: 

But thanks to anti-spam plugins (we use CleanTalk for WordPress), you don't have to worry about these spammy comments too much. 
While this is considered to be a black hat tactic, blog commenting can actually be useful. Although no PageRank is passed when a link is posted as a blog comment, as it's nofollow by default, a comment that includes a link can bring you traffic. If your comment is relevant and useful, and users believe that your link provides valuable information, then you can expect traffic from that link.
3. Private Blog Networks/ Link farms
Private Blog Networks, known as PBNs, are groups of blogs or sites often controlled by the same person.
The "Private" in PBN doesn't mean that they can't be visited by the public but rather that accessing them isn't the purpose of their existence. In an ideal PBN, each domain is hidden from the others in the network and by design, a PBN makes it impossible for anyone to locate other domains forming the network. 
Usually, the PBN owner acquired those sites by purchasing expired domains that had already established domain authority. Then, the owner starts linking these websites with one another. But most importantly, it links every one of them to their main site, also known as the money site. This way, they generate a big number of backlinks from many high-authority domains.
Unlike many other applications of black hat SEO, PBNs work, and this is why many SEO professionals still use them. Still, if Google finds out, it will most likely penalize the websites from the PBN, as well as the money site.
4 White Hat SEO Link-Building Techniques
Now that you know what you shouldn't do, it's a good idea to tell you what you should do.
White hat techniques may take longer than black hat to implement. However, they are still one of the best ways to increase your website's position on the search engines and increase your organic traffic
Also, the white-hat SEO community has created many SEO tools to help you with your link-building endeavors, among other SEO activities.
1. The skyscraper technique
The skyscraper technique is one of the most popular white hat link-building tactics. The tactic was created in 2015 and since then it has taken the SEO world by storm. The man behind the technique is Brian Dean, a well-known SEO specialist in the SEO community.
The technique is about reproducing existing popular content, making it bigger and better, and then replicating the backlinks of the already-established content.
Here's how this works in three steps:
Find content with many backlinks

Create an even better content

Reach out to those who link to the original content
Let's break those points down a bit.
1. Find a relevant piece of content with many quality backlinks
There are many ways to find relevant content, the simplest one being -of course- googling. 
Once you find relevant content, it's time to ask a pretty important question: does this piece of content have many quality backlinks? To answer that, you will most likely need an SEO tool. We like Ahrefs.
Ahrefs has three functions that help us dig out what we are looking for:  Site Explorer, Content Explorer, and Keyword Explorer. All three are used for advanced search operations. Accordingly, you can find the exact number of backlinks a piece of content has, the kinds of domains they get these links from (authority, relevance), and so on.
2. Create bigger & better content for the same topic
"Bigger and better" content covers three basic points you will need to improve upon:
Length: If the existing content is a listicle with 15 points, make those points 20.
Depth: The depth of content usually defines its quality. In-depth content is usually actionable and at the same time, it doesn't contain much fluff.
Freshness: Even the most evergreen content needs to be updated every now and then. From the sources, it uses to its screenshots and images.
3. Reach out to those that link to the original content
This usually happens through email or LinkedIn.
First, you make a list of the websites that link to the original content from the first step. Then you should understand and find who is the best person to reach out to.
For example, a legitimate first target is the author of the original article. After all, they wrote the article and they probably care about their content. But what if the author is a guest blogger? They probably don't have any editing power regarding their published content. Or what if they are the CEO of the company? They probably don't have time for that.
Sometimes, you will need to throw more than a few darts if you want to hit your target. Some of these targets can include different people/ positions in the same company.
Content author 

SEO specialist

Content Manager/ Editor
This is where LinkedIn can truly shine as through the company profile you can find the right person to reach out to.
Finally, you will have to find what you are going to tell these people. Your email/ message should be short, sweet, and to the point. The email copy should include:
A very brief introduction.

The reason for the outreach.

How your content is better than the original content.

A CTA asking the recipient to link to your content instead.
Since the time the Skyscraper technique first came out, Brian Dean has also created Skyscraper technique 2.0 which is mostly about helping you maintain your ranks by figuring out user intent. 
👉 Further reading: Skyscraper Technique 1.0
2. Broken link building
The Skyscraper technique was about swapping an existing backlink for a backlink with better content. In this case, the broken link-building technique is about swapping an existing backlink that doesn't work (broken link) for a link that works. Furthermore, it's one of the most popular white hat SEO techniques for link building.
The techniques look alike and use similar steps. Accordingly, we can break it down into three steps:
Find broken pages with many backlinks: There are many places to look for pages with broken links, such as your competitors' broken links or pages on competing websites, resource pages, or a certain topic.  Again, to use this tactic properly, you are going to need an SEO tool.
Create a replacement page: If you don't have a similar page already, you will have to create one. You can find what the original page looked when it was still live with the WayBack Machine. It will also help you understand the user intent and try to match it. What's more, you can improve upon the original page. 
Reach out to those who link to the original content: As with the skyscraping technique, you have some outreach to do. The email copy will most likely be very similar, except you are asking for a swap because the link is broken rather than of lower quality.
👉 Further reading: Broken Link Building: The Complete Guide
3. Stolen images
Yet another white hat SEO tactic, albeit for older companies that have already put their content out there.
Creating original content takes time. High-quality content often means that you will have to create your own images which -you guessed it- takes time. Since content writers don't have all the time in the world, and most of them aren't graphic designers, in their articles or blog posts they include images they found elsewhere.
Which is totally fine. However, proper etiquette suggests that you mention your sources. But proper etiquette can sometimes be far from reality. It's not uncommon for writers to overlook adding the source of the image they used in their content.
This is where this tactic comes in. 
First, you reverse google search for the image.
Second, you reach out to the blog/ website that uses it.
For example, we haven't created an original image for this very blog post you are reading. But this is not the case for other posts, such as GAFAM: The Big Five Tech Companies Facts (FAAMG), where we have created an infographic. 
If I reverse google search this infographic right now, I will get tons of results: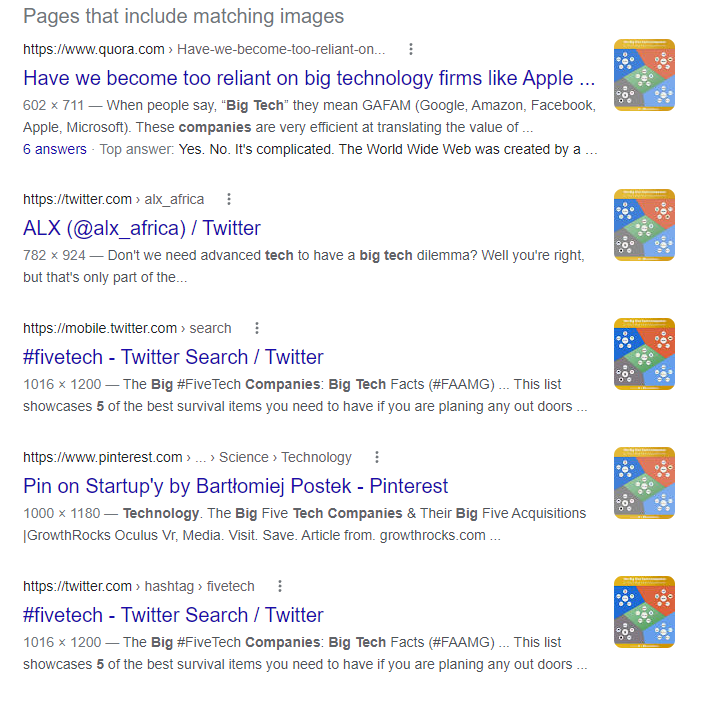 Then, I will have to write down the websites that use the infographic and don't link to us as the Source. Like with any other outreach, I will have to filter the results so I don't spend time reaching out to low-quality/ authority websites.
And voila – there's a chance that some of them reply positively to my request and give us a link.
4. Guest blogging
Guest blogging, also known as guest posting is a popular white hat SEO tactic where a writer creates a blog post for a blog different than their company's.
For example, I'm the copy-content guy here at GrowthRocks. However, if I decided to write a guest post, I'd do so for a different domain. Like I did in the past for bigcommerce.com: 10 Essential Growth Hacking Strategies for Your Ecommerce Store
If you take a look at the guest post, you will notice that it includes links that lead back to our website. And that is the purpose of guest posing. You are effectively trading content for SEO.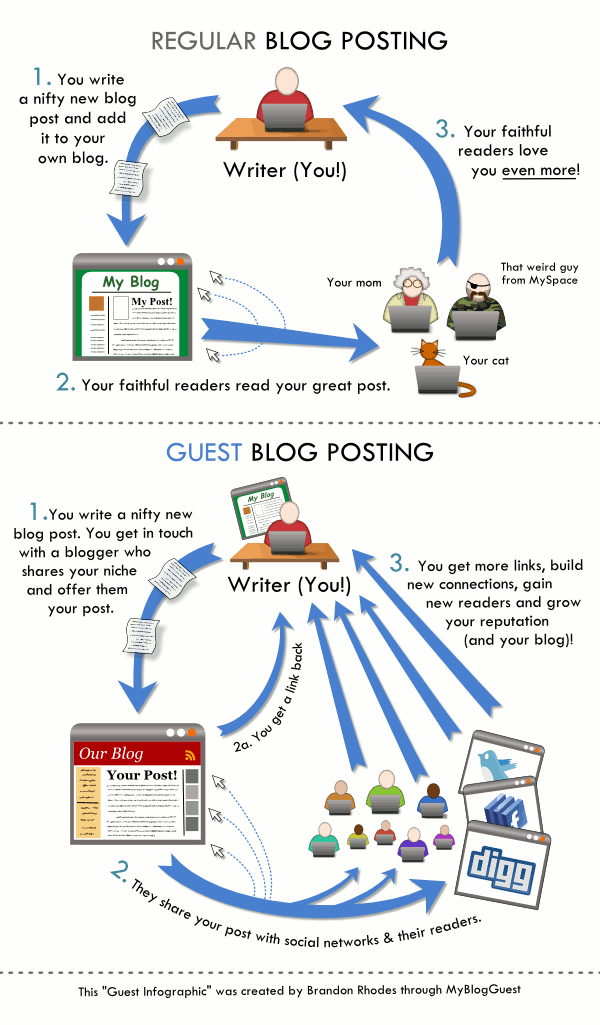 As it usually goes with link building, the more relevant and higher authority domains you gain the backlink(s) from are, the better for your SEO. For example, when I'm looking for a place to write a guest post, these are the criteria we follow: 
SaaS or Marketing (dedicated) blog

DR > 60

Organic traffic >1k

Spam score ≤ 1%
Depending on your industry or niche, you may have different criteria. Those requirements can also change with time. For instance, now we prefer guest posting for blogs that have a Domain Rating over 60, because our DR is 65. But when we had a DR of 46, our standards weren't as high.
Finally, it should be noted that Google has issued a warning on guest posting for links. According to Google's John Mueller:
"The part that's problematic is the links — if you're providing the content/the links, then those links shouldn't be passing signals & should have the rel-sponsored / rel-nofollow attached. It's fine to see it as a way of reaching a broader audience."
Essentially if the link is within the guest post, it should be nofollow, even if it's a "natural" link you're adding there.
FWIW none of this is new, and I'm not aware of any plans to ramp up manual reviews of this. We catch most of these algorithmically anyway."
Nevertheless, link-building through guest posting is considered a white hat link-building tactic when done right.
White Hat vs Black Hat: Conclusion
Both white hat and black hat SEO link-building tactics have the same end goal: to improve the search rankings of a website or particular page. 
At the end of the day, black hat SEO is focused on "hacking the system" whereas white hat is focused on offering value to the user.
SEO has a long history and in the beginning, black hat SEO was thriving. However, year by year, Google was optimizing its algorithm to serve the best possible result to its search engine users. And it did so successfully. Especially after the release of Google Panda and Google Penguin updates, we've come to a point where most black hat techniques are now irrelevant.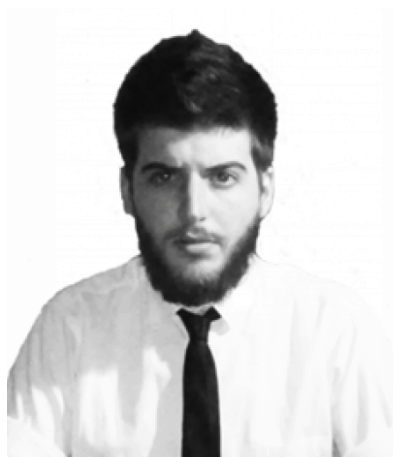 I write for GrowthRocks, one of the top growth hacking agencies. For some mysterious reason, I write on the internet yet I'm not a vegan, I don't do yoga and I don't drink smoothies.