At GrowthRocks, we put a big emphasis on
training our talents
: webinars, courses, one-on-one training; investing in our people is part of our business strategy and one of our main priorities.
Developing our employees through a Zoom course is one thing. Developing them through a side-project with tangible tasks is a different beast.
The name of the beast? GrowthJunkie.
The Background
Who we are
We have a genuine love for martech, product-led growth, and tools. We also have a soft spot for no-code development.
What we need
First and foremost, developing our internal talent. Also, catching up with no-code trends and carrying out various tests around the PLG initiative. Lastly, the ever-present need to break free from the "business as usual" tyranny.
What is our mission
Creating a directory of business & marketing digital tools.
What is the cost
20 hours in core development (our core developers spent that amount of time in developing based on our specs)
$500 in tools
$40,000 in internal resources (not dealing with chargeable projects) 
The Project
The nature of the project was technical in itself. We had to constantly be assuming the needs of our audience and target personas and then trying to find ways to fulfill said needs.
Speaking of target personas, here they are:
Marketers (searching for tools)

Business founders (searching for tools)

All kinds of professionals searching for tools (project managers, IT consultants invsestors)

Tools owners (searching for directories)

Tools founders (searching for competitors)

Media Buyers (searching for ad space)
According to the needs these personas and users of the directory would have we had to invent/ build/ incorporate/ optimize many elements in our directory. Here are some of them.
Full-text Search & one-click Navigation: Navigation in a directory is a big UX factor. You want users to be able to find what they are looking for. A user can be looking for many things such as tools, collections, categories, tags, marketers, and so on. At the same time, synonyms, stopwords, and relevant keywords are only making the search process more complex. And thus technically harder for us to deliver the desired result.
So we had to find a way to serve the information they are looking for from a single search bar. And that's exactly what we did: we created a search monster.
Dynamic Open Graphs: The directory lists hundreds of tools. Every tool needs its own unique data inserted. This data includes:
Name

Logo (image)

Short description

About section

Features section

Media (videos, images)

Type of category

Type of tags

Website URL

Social media URLs
This data alone takes time to insert. Therefore, you can only imagine the sum of the time needed for the number of tools we have. Also, let us not forget that this is a side project and that our resources are more limited than usual.
However, we couldn't overlook the power of the open graph. An open graph improves the visibility of your page and helps attract more clicks. But creating an open graph takes time as well – time that we couldn't afford. The solution: dynamic open graphs.
A dynamic open graph pulls information from data you already have (name, logo, short description) and is created automatically. But the same applies for 
Marketers

Collections

Universities

Every other entity
Tool submission: As we said, data entry takes time. So, we started experimenting with ways tool owners/ marketers can submit their tools to the directory.
Besides submitting just the URL of the tool, we now give them the option to do the data entry themselves. The reason? We give them the power to include the kind of data they want (About, Features) and they save us time from the data entry. Needless to say, we still put time into editing, enhancing, and optimizing this data.
Automations that take care of everything: Our system is fully integrated with Active Campaign, the popular marketing automation platform. Through this integration, we were able to support a set of dynamic automations for user communication, and segmentation when submitting, updating, and communicating with the platform. Here are some examples of automations that are helping users and our engineers:
A reminder will be sent if a user doesn't verify their email address

A reminder will be sent if a user doesn't finish the submission of the tool

An email will be sent to the user when their tool is live on the platform with the URL of the tool.
"A specialized email validation tool as an integral part of the registration process."
Email Validation: For privacy reasons and GDPR compliance, we have added a two-factor authentication mechanism when users get subscribed. In various web applications, that's a trivial feature. But not in the case of WordPress.
We searched all the available plugins, which were not that many and we concluded that they don't have the features we wanted. We then created a new plugin that is fully flexible, creates a security token, supports shortcode and resend functionality, and also comes with a customizable set of emails. BTW, it will be soon available at a very discounted price on marketerstash.com, under the name of Email Verification. 

Speed: It comes as no surprise that speed is one of the most critical aspects of a website and GrowthJunkie makes no exception. We managed to optimize the site speed, with the results being a score of 97 on desktop and a score of 75 on mobile.
Curated content: Creating content from scratch is probably the most time-consuming task in digital marketing. Although we created a blog with relevant content, we couldn't possibly publish high-quality content every week. But what we could do every week is curate high-quality content from relevant sources.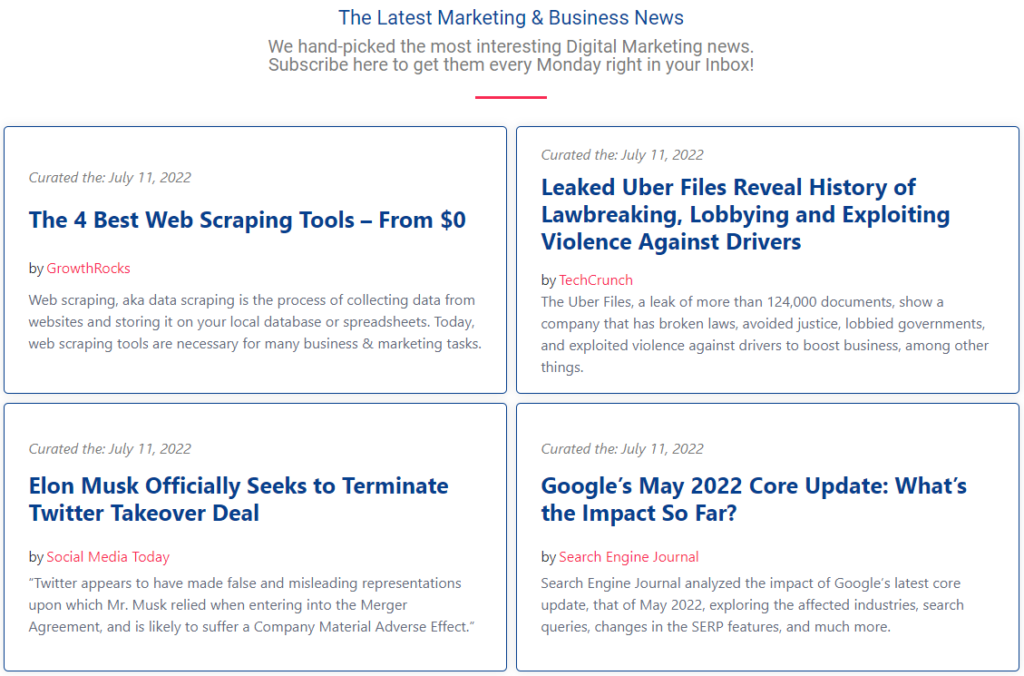 Newsletter: The content we curated is also included in our newsletter. Every Monday we send a newsletter where we share this content along with 3 tools from our directory we suggest.
Pagination's SEO extension: Pagination is a vital element of SEO. If it's not properly configured, it can lead to orphan pages or duplicated content. When it comes to simple page pagination, WordPress supports it with no problem. But what happens when you have more complicated environments such as Jet Engine (Elementor plugin) and custom listings?
There is no out-of-the-box support for that. Therefore, you need to develop a custom extension that does the trick for you. The extension should be developed with the SEO plugin you already use on WordPress. We usually use  RankMath and Yoast. In the case of GrowthJunkie in particular, we use Yoast.
So, we had to develop a Yoast Extension that works very well when both Jet Engine and Yoast SEO Plugins are installed and activated.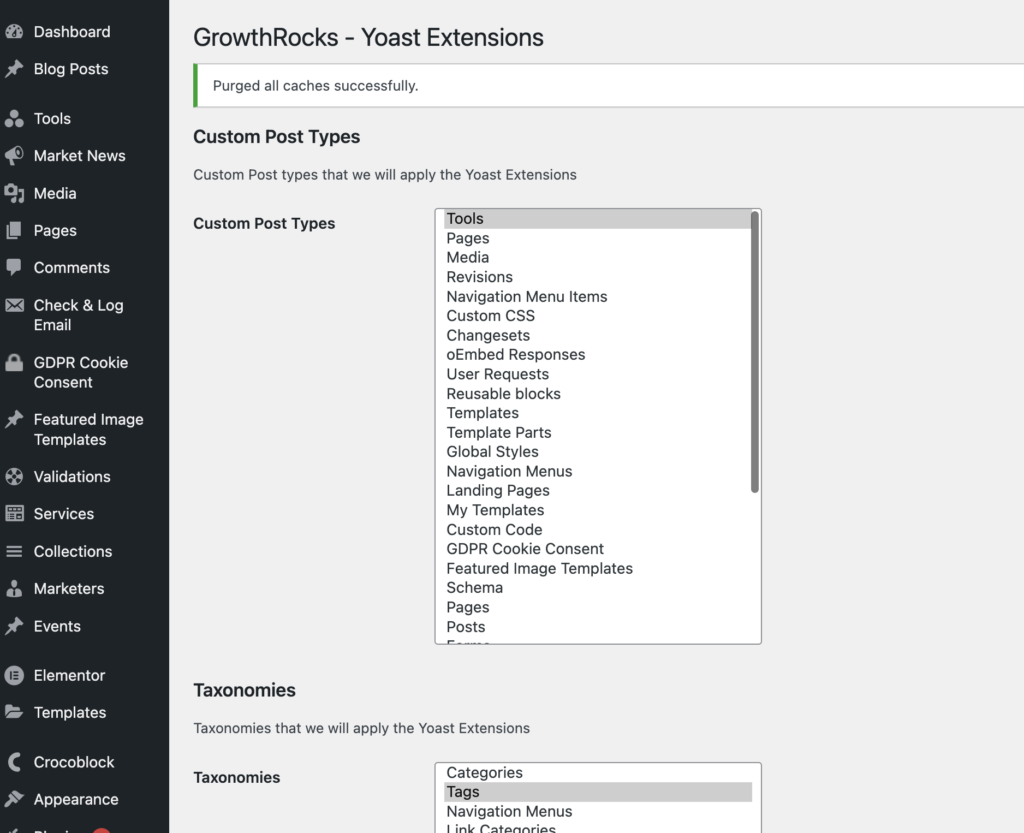 Outcome
Since the beginning of the project -since its MVP stage, we:
– Kept curating content with care every week.
– Never missed a weekly email during the last 2 years, even when our subscription database was 10 people.
– Kept updating tags, categories, and tools all the time to make sure we are delivering value to our users.
The results?
2 tool submissions per day
10k newsletter subscribers
An increase in week-over-week traffic by 283%
A bounce rate of 32.60%
A long average session duration of 00:06:51
Creating an audience with a clear focus on digital tools
Closing deals with tools that are looking for promotion through GrowthJunkie
Lessons
We re-developed the platform three times. We hosted it in three different domains. Then, we got penalized by Google when we moved them to their final location (from a subdomain growthrocks.com/tools to the main domain). We learned the hard way that not selecting the proper tech stack is fatal. We developed new plugins, processes, methodologies, and playbooks that we have already started implementing for our customers.
Of course, we solved really difficult technical issues. We learned a ton of things that now all our clients will benefit from.
My advice
Giving value and solving problems can get you very far. Your karma-based marketing efforts (as we call them) are about building trust with people. And these people are your potential customers and colleagues. When you help people as humanly as possible with genuine care, often good things happen. I see that happening all the time.
My kudos to the team for pushing things forward for a side project with the same force they do for our most lucrative clients
Theodore has a 20-year experience in running successful and profitable software products. During his free time, he coaches and consults startups. His career includes managerial posts for companies both in Greece and abroad and he has significant skills on intrapreneurship and entrepreneurship.