Visual branding is the sum of many things.
Visual elements can give your brand a unique identity as well as can drive you to make great decisions in your eCommerce marketing strategy. It can even bring an increase in revenue, which can reach up to 23%. 

Visual branding is a great tool for attracting visitors who tend to become potential buyers, with the help of marketing tactics.
So here are 10 Do's and Don'ts that can help you with your visual branding.
1. Pick Brand Colour
As a marketer, you may think that brand color is a secondary component in brand success.
However, brand color is pretty important for your brand identity. You can express the desired emotions of your brand through a great choice of colors. Good marketing gives much importance to color choice as it can have an impact on the decision-making of your potential customers and buyers. 85% of buyers will make their product choice taking into consideration the color of it.
2. Pick Proper Image Types
Selecting imagers in terms of quality, relevance, etc, does play a role.

Will it play a fundamental role?

Of course, it will. Images and photos are an inseparable part of visual branding and can create a tough consumer-business relationship. In the world of digital marketing, image choice is known as a great-working strategy, which can promise you high conversion rates and sales. 
"Choosing your theme is also as important as the images that you will upload so it's important to make good use of existing preset templates to make a uniform content theme that you would like to showcase."
User experience can have a very important role. If you do not manage to make a good choice of images it can ruin your business performance. Some important points that you need to pay attention to are:
Image Quality

Relevance to your Brand

Engagement with a

"call to action"

button

Right size, format as well as SEO Optimization, like image alt attributes and small size
3. Set your Brand apart from your Competitors
The huge choice in the online marketplace makes the process of leading a successful business a little tricky and challenging. What is the solution?
Competition is not something that you need to avoid. Of course, no. Just the opposite. You need to make that competition work for you. Making a competitive analysis will help you to build a stronger Brand Identity than your competitors. It does not mean to do the exact way that successful competitors do.
You need to be unique in your strategies and be different from your competitors suggesting new ideas and lead your business differently from them.
4. Have a Unique and Distinctive Brand Style
Your brand style can encompass a great number of important things and it can be a "winning tool" for your business development and growth. You need to pay attention to all the specifications that make your business different from others. It should be a strong "visiting card" for you in the online world. Research shows that if a website is not visually appealing and interesting, users will stop interacting with it and will leave a certain website.
In short, your unique brand style is strongly connected to your sales and conversions.
As visual information is available to the brain 60,000 times faster than other components, you need to leave a good impression on your customers about your business.
That starts with establishing a consistent brand aesthetic, which can boost revenue up to 23%. You can accomplish this by using a creative toolkit like Instasize to dramatically improve the quality of your content, and keep it that way. By applying similar editing styles to high-quality images and videos through filters, processing sliders, borders, or text overlays, you can create themed looks for your visual content to keep them on-brand.
5. Pick Relevant Logo
Does it seem like an easy and effortless process? It may seem, but it is not. It demands much attention the logo is the first impression of your business. A logo can play a fundamental role in your sales success, conversion rate, and brand awareness. Statistics show that good logo design can increase your brand recognition by a lot.
This shows that you need to think in detail and choose the most relevant option for your brand. Many marketers do not look at it as a priority in their digital marketing strategy, however, they should, as it can grab people's attention and creates a good first impression. Either way, creating a business logo thoughtfully will pay for itself.
6. Avoid Copying the Visual Branding of others
What can bring success to your competitor may work opposite for yourself. Using your competitors' strong points to build your own business is one thing, but when it comes to copying, it's a waste of time, resources and loss of your brand reputation and brand image.
By copying someone else's ideas you send the wrong message to your customers; besides, you lose your own brand identity. Your business should wholly express your own objectives, goals and give relevant information about your own business. False or copied information will seem suspicious and will harm your business.
7. Define the Core Values of your Company
Sharing your company's core values with your audience will help to better identify your company and its goals. People usually choose a business, which seems to be trustworthy and expresses some important values. If you do not manage to succeed in your business, one of the reasons can be undefined and weak core values. 
Your core values should be relevant to how your company behaves in different situations. Any company will outline some values, but if they have nothing to do with your company, it will be useless. You can choose your core values according to your objectives and the strong points of your company. 
8. Speak Visually
Your business should "speak different languages". It means that your business should be impressive not only structurally or with great marketing trends but visually as well.  This is a key to success for many businesses. 
A strong example of successful visual branding is the case of Sonos. Sonos has cultivated a strong strategy and has managed to greatly outline their audio-centric brand identity, and thus create connectivity, consistency, and accuracy, which greatly express their brand. Your visitors should make a positive impression from your website visuals, including text size, colors, images, etc.
9. Avoid Overusing Marketing Trends and out-of-place Visuals
Any digital marketing company gives much importance to using additional visuals in their marketing tactics. This is not new in the online marketplace, but it continues to receive more value and massive use. Any piece of written content should ideally have an infographic, a video or an image to enrich it.
However, overuse can harm your business. They should strengthen your content or brand itself, and express value. If you do not use the right type of visuals suitable to your brand, it will have no effect or even a negative impact on your brand.
10. Design with Customers in Mind
The quality of visuals and your overall website optimization for search engine ranking are fundamental, as the search engines will penalize your website. However, when designing a website, you need to put your users first. Customer-centric visuals can bring you many sales.
According to statistics, every $ invested in UX can give you a high return on your investment.
Your Buyer Persona can give you a general idea when starting with this. Then, you can make improvements based on future reviews and analysis.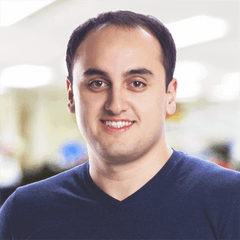 Tigran is a marketing and creative content specialist at Smarketa with a primary focus on SEO, PPC and customer satisfaction for eCommerce business. Being a true humanist he draws inspiration from the simple thing as everyday life and the matters one come across on a daily basis doing his best and above to help everyone around.