Joomla VS Wordpress; a topic that sparks debate amongst dedicated fans worldwide.
These two CMS platforms have made it considerably easier for those with little-to-no technical knowledge to build a professional website. Both platforms offer users a diverse range of tools to enhance their sites.
But which one is better? And better in what? Let's find out!
Joomla vs WordPress: An Introduction
Joomla
An OpenSource CMS, Joomla free and available for anyone to use. The platform was launched in 2005 with the intention of providing users with a scalable means of building their own websites and applications, without any knowledge of coding.
The CMS connects websites to a MySQLi, MySQL, or PostgreSQL database so that it can be easily managed by the site owner and navigated by its visitors. If you are looking to choose MariaDB over MySQL for enterprise applications, then although official support is not provided by Joomla, it is still an option that many web hosts choose.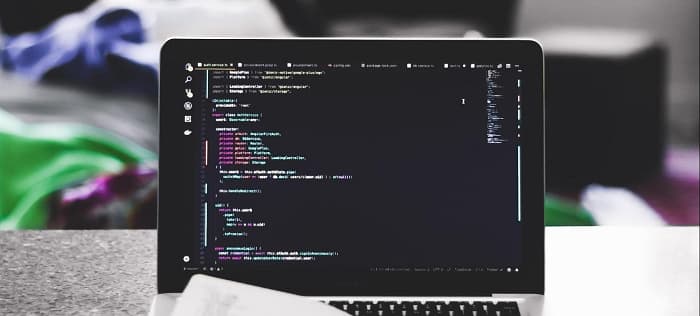 Here are some popular sites that use Joomla:
Linux.com

Harvard University

United Nations Regional Information Centre

U.S Federal Court of Appeals

Holiday Inn Express
Joomla powers around 6.6% of websites around the world and is seeing continuous improvement and development. The 4th version of the CMS is set to launch in 2020, which will be able to support more recent technological developments. 
WordPress
WordPress started life as a simple-to-use blogging platform.
Since those days, it has risen in popularity and now enables users to create professional, powerful, and fully-functional websites that contain an enormous amount of optional themes and plugins. To that avail, around 76 million websites are now powered by WordPress. 
WordPress software itself remains free to download, although a domain name and hosting is necessary to install and use it. However, there are a number of low-cost WordPress hosts on the net to keep your costs down. 
Here are some big names that use WordPress:
Microsoft News

TechCrunch

Vogue

AMC

New York Post
The future of WordPress is likely to see even more expansion in its functionality. It's also set to become even more user-friendly to appeal to a wider user-base. 
Ease of Use
WordPress is well-known for its ease-of-use, with many users opting for it over other CMS platforms. But, how does it stack up when comparing it to the likes of Joomla? 
Both WordPress and Joomla are aimed at beginners and tech-savvy individuals alike. But, despite this intention, their simplicity and ease-of-use is not quite on the same level. 
Both are easy are to install, with many hosts allowing their customers one-click installation. However, the similarities end when you get to the control panels. The layout and customization in the control panels is what sets these two CMSs apart. 
WordPress is a straightforward choice, with the control panel being simple from the get-go. Most beginners will be able to pick up at least the basics in no time at all.
Joomla, on the other hand, is laid out entirely differently and may require more patience if you're not familiar with technical terminology. If you take the time to learn the ropes, Joomla can prove a big asset to a company but it will take more effort and brain-power to get there than WordPress. 
Result: WordPress is the winner.
Website Security
Being the most popular CMS in the world, it's little wonder that hackers often set their sites on WordPress websites. Most vulnerabilities for both Joomla and WordPress come from one of two factors; out of date platforms and entry points that are made from adding third-party plugins and extensions. Such plugins and extensions account for 56% of said vulnerabilities existing on websites. 
Both WordPress and Joomla offer something similar in terms of protection and support, including security-based extensions and plugins, along with regular updates. However, Wordpress, being a more widely-used CMS, has many more staff working behind the scenes to keep it secure. Joomla provides a lot of useful information for users but encourages them to take on the bulk of the responsibility when it comes to website security. WordPress, on the other hand, has many more options for automatic updates. 
WordPress offers a paid-for service called WordPress VIP where they dedicate a team to carry out an in-depth code analysis of a website to identify any weak spots in the code. Joomla does not have the staff to carry out this kind of support. 
Result: WordPress is the Winner.
Plugins & themes
Plugins, themes, and extensions are what turn a plain website into a unique one. As well as making your website look great, they also have a big part to play in your website's SEO, speed, security, and functionality. These tools enable unique customization and are essential for creating professional-grade websites. 
Since its inception, Joomla has grown both in popularity and functionality, with passionate contributors adding to its selection of tools, extensions, and themes. Likewise, WordPress is well-known throughout the net for its tens of thousands of plugins freely available to install.
WordPress, unsurprisingly, has considerably more plugins than Joomla has extensions. WordPress offers just under 55,000, while Joomla is way behind with just under 8,000. 
Result: WordPress is the winner.
Speed
Both WordPress and Joomla have plugins and extensions available for caching, although, as previously stated, WordPress has a larger range of plugins available.
This means that users have more options for optimizing the speed of their websites. Additionally, WordPress has a larger team working behind the scenes and so is more likely to keep all website aspects up-to-date, therefore, keeping it as speedy as possible. 
And that's not all. WordPress requires less computer power from servers in general, and so it's naturally faster than Joomla. 
However, Joomla does have a speed advantage over WordPress when it comes to larger and more complex websites. It has better scalability and will require less server usage than a WordPress website of the same size. 
Result: WordPress is the winner.
Flexibility
Flexibility can be a big deal when it comes to building your own website and ideally, you want to be able to customize it to your preference. Using Joomla, you can incorporate multiple themes across your website. What this means is that Joomla customers can have different themes for different pages. You can switch up styles and templates if, for example, you want a different theme for your blog than your main website.
In contrast,  one of the common WordPress problems is that users can only work with a single theme per website, which can limit creativity and functionality. 
In addition to this, Joomla is more capable of handling multiple, or more complex forms of content, where WordPress can find it difficult to keep up. Certain WordPress plugins that cater to different forms of content have been known to run into technical problems because they simply can't handle it. 
Result: Joomla is the winner.
Learning Curve
WordPress is perfect for those wanting to get up and running relatively quickly. Its basic features, themes, and plugins don't take much to get to grips with. Most of the plugins are well-explained and many themes enable you to customize pages according to personal requirements. A lot of users won't need to watch tutorials or wrap their heads around long, technical articles. It's more of a "learn as you go" experience. 
Joomla, on the other hand, may require more commitment to learning the ropes. It is more complex for non-developers than WordPress is, but not massively. With the help of some tutorial videos and articles, users can learn how to build their websites effectively. 
Result: WordPress is the winner.
Joomla vs WordPress: Conclusion
The Joomla vs WordPress comparison is fat from a tie, but they are not all that different from one another. WordPress is the winner in our comparison and is ahead of the game, but not by far.
Both platforms are set for major developments and Joomla is gaining traction all the time.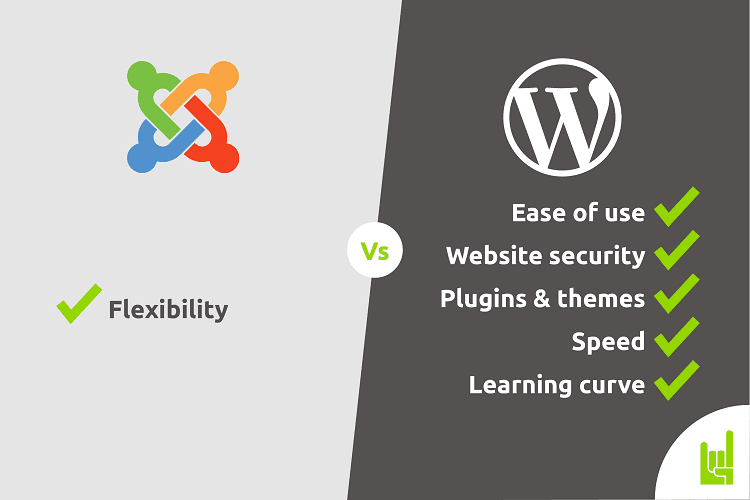 To decide which CMS to use, you need to consider your website's purpose. If you have some tech knowledge and are looking for a more flexible CMS that allows you greater creativity in your design, Joomla may be for you.
However, if you're new to website-building, or are not concerned about the potential theme and content limits that WordPress can pose, then WordPress may be your better option. 
Besides Joomla vs Wordpress, don't forget to take a look at the other CMS comparison we wrote, Drupal vs Wordpress.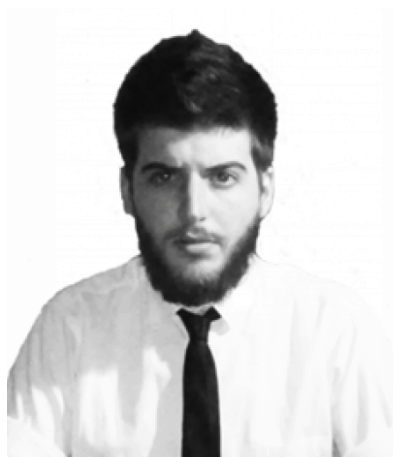 I write for GrowthRocks, one of the top growth hacking agencies. For some mysterious reason, I write on the internet yet I'm not a vegan, I don't do yoga and I don't drink smoothies.