TikTok or Instagram?
Today there are more social media users than ever before. At the same time, there are more social media platforms, and therefore options, than ever.
Two of the most popular social media platforms for videos are TikTok and Instagram. Users love them. Marketers, love them, too.
But how are the two platforms different? And what do they have in common? Let's find out!
Why Video Marketing is More Popular than Ever
Video marketing is one of the newest types of digital marketing. And it's more popular than ever. But what made video marketing so popular?
There was a time when internet users would mostly consume text and images. But as internet connections were becoming faster and faster, the bandwidth-demanding video was also becoming a viable media format.
And since users were now also consuming video, digital marketers added the format to their arsenal. Because that's what marketers do – they want to be where the eyes of their users also happen to be. So now it's come to a point where marketers use video even in their email marketing. It's just that popular.
At the same time, the cost of video production started decreasing dramatically. Today, video-making technology and equipment are better and cheaper than ever. And very often, many businesses don't even go so far with equipment; they just film video with their smartphones.
The outcome of all that is that video has become an excellent tool for marketing. So much so that 9 out of 10 businesses now use video in their marketing.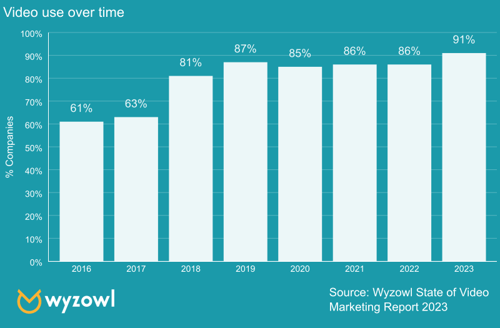 TikTok in a Nutshell
About
First, there was Musical.ly. Musical.ly was a social media app with its main focus and content being short lip-sync videos. In a short time, Musical.ly managed to make a name for itself. In 2016, the app had over 90 million registered users. By the end of May 2017, the app had reached over 200 million users. 
In the meantime, Bytance, a Chinese Big Tech company, was developing an app similar to Musical.ly, called Douyin. However, in 2018, ByteDance acquired Musical.ly and combined it with Douyin. The end result was TikTok.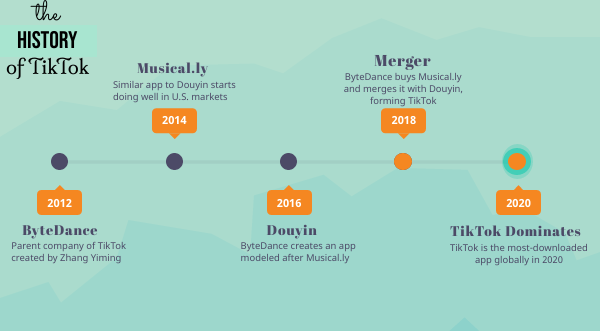 2020 was a pivotal year for TikTok. In October 2020, it surpassed 2 billion mobile downloads worldwide.
Now, TikTok is not anymore the lip-syncing app for early Chinese teens that it used to be. It is a global social video platform, competing head-to-head with industry giants, like -in our case- Meta's Instagram.
Numbers & demographics
TikTok has over 1 billion monthly active users. With 672 million downloads, it was the #1 most downloaded app in 2022, according to Business of Apps. 
Moving on to the platform's demographics, TikTok has more female than male users. More precisely, 54% of its user base is female, with the average user spending 95 minutes daily on the platform.
TikTok is mostly used by younger audiences. As a matter of fact, more Gen Zers use TikTok than Instagram. At the same time, only 60% of TikTok users also have a Facebook account and 37% of them have a Twitter account. (Source)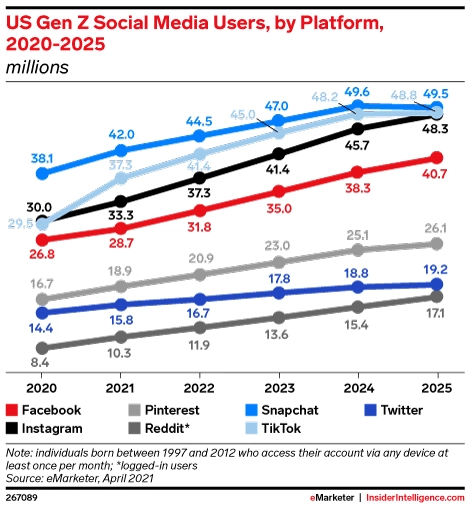 TikTok's content is based on funny and entertaining content. Music is also becoming a big part of TikTok. Three-fourths of its users say they discover new songs on the app, and associate specific songs with TikTok.
Advertising on TikTok
There aren't many social media platforms with an audience as responsive to advertising as TikTok's. This fact, combined with its demographics, is what makes it the perfect platform for advertising to younger audiences.
More precisely, TikTok is a great social media platform if you want to advertise products such as 
Jewelry (less expensive)

Health products & make-up (less expensive)

Budget cosmetics and perfumes

Video games

Novelty products
Regarding the content of the app, keep in mind that you usually want to make the ad look as native as possible, similar to what a UGC (User Generated Content) would look like. If there's one thing that TikTo users don't like that's stiff corporate-like videos
Instagram in a Nutshell
About
Instagram launched in 2010 for iOS and gained traction quickly. It hit the 1 million user mark in only two months and the 10 million user mark in just a year. In 2012, Instagram was acquired by Facebook for $1 billion. By 2018, Instagram had 1 billion users. 
Instagram started as a photo-sharing app and people loved it for that and its filters feature. In 2013, video capabilities were also added to the app. A couple of years later, the app rolled out Live Video. After a while, Instagram doubled down on video and introduced IGTV – videos up to 15 minutes long. The latest video feature addition happened in 2016, called Stories, in the form of short clips. The less formal and ephemeral nature of Stories was a blow of fresh air to the platform.
Today, Instagram continues to grow and it's become one of the most popular social media platforms across all ages and locations.
Numbers & demographics
At the time of writing, Instagram has 2.35 billion monthly active users. It's the 4th most used social media platform, if we count WhatsApp as one.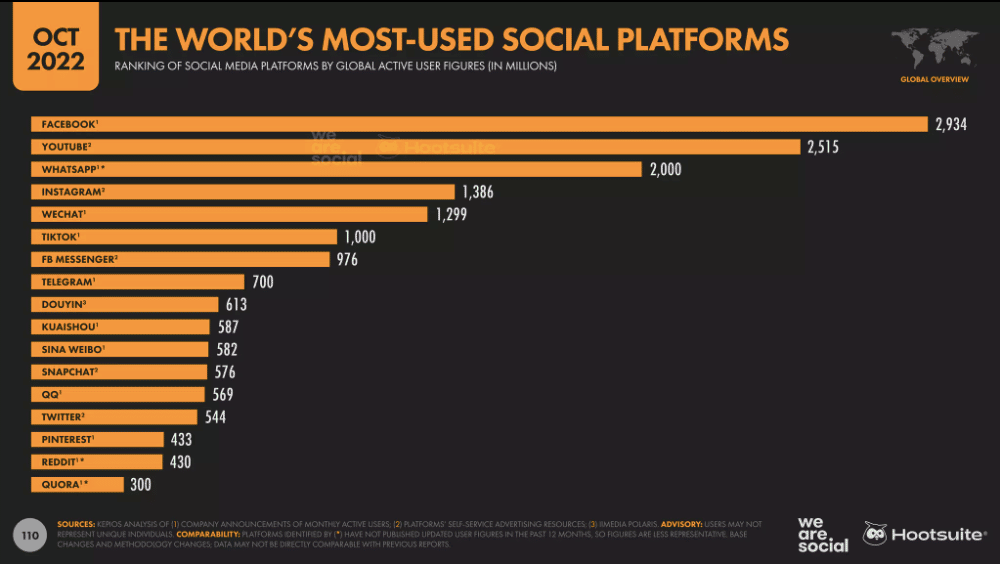 Notably enough, and in contrast to TikTok, all Instagram users (99.9% of them) have an account on another social platform as well. 83% of them are also Facebook users, 56% of them are also using Twitter and  52% of them also use TikTok.
The majority of Instagram users are millennials, with half of its user base being 25-24 years old. On the gender side of things, just a few years ago, the platform used to be slightly dominated by women. However, things have changed and now there are about as many men as women, if not more.
Regardless of age and gender, the average user spends daily 30 minutes on the platform. 
Advertising on Instagram
Instagram is less homogeneous than TikTok. First, in contrast to TikTok, Instagram is not female-dominated. Second, millennials are the most prevailing age group but ages are more equally distributed overall.
Instagram is better for selling higher-ticket products than TikTok. Therefore, it's an excellent platform for promoting products such as:
Jewelry (more expensive)

Health products & make-up (premium)

Furniture

House decor

Clothing
TikTok vs Instagram in a Nutshell
To help you get the whole picture of TikTok vs Instagram, we made this TikTok vs Instagram infographic.
TikTok vs Instagram: Conclusion
TikTok and Instagram have become great forces in marketing. More and more marketers and advertisers are using them to reach their audience. 
Both social media platforms have young audiences (35 and under) with high engagement. And more, importantly, those audiences are ready-to-buy and easy to market to. Therefore, they are both good choices for promoting your product or service.
If this is your first time experimenting with those two platforms, we'd suggest you try out both of them. For the first month, you can split your advertising between TikTok and Instagram and see what works best for your product or service.
And if you're looking for extra help or have any questions about how you can promote your social media account, don't hesitate to contact us. We'd love to hear from you!
💡 Read next: TikTok vs YouTube: The Better Choice for Your Business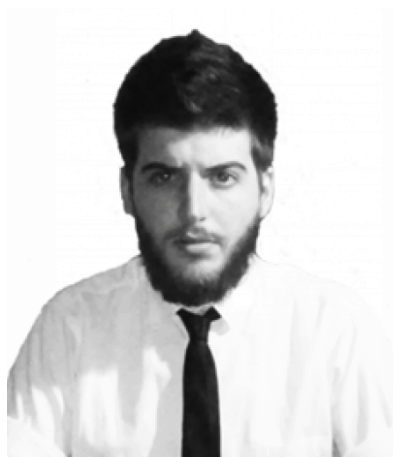 I write for GrowthRocks, one of the top growth hacking agencies. For some mysterious reason, I write on the internet yet I'm not a vegan, I don't do yoga and I don't drink smoothies.