Last Updated: 23/11/2018
Many brands might think that Snapchat is not the right platform to communicate their message from.
This is where they are usually wrong. If your product or service is a nursing home or dentures then sure, you can go ahead and skip Snapchat marketing. If not, chances are that many of your customers and clients are young Millenials and Gen Zers.
Snapchat is a platform that can help you reach this young part of your audience.
How did Snapchat become such a big success?
Snapchat is a multimedia messaging app popular in North America and Europe. The social media app became a success right from its launch in 2011. The user base grew significantly in the first year of operation, with the number of daily snaps sent growing to 400 million by November 2013.
Snapchat grew in popularity because of its feature and unique selling proposition: the content posted on the platform disappears after someone watches it. This was a true revolution in the mind of many social media users. "Facebook is for old people" has long been a mantra among teenagers.
Users aged between 15-24 needed to have a space on their own to post their content without parental interference and with the freedom of an ephemeral post can bring. They could post silly videos, funny photos or their day-to-day reality without feeling so exposed.
This concept of My Story was later replicated by Instagram when it introduced Instagram stories. In August 2016, there was a huge buzz about this new feature as it created some doubts about the future of Snapchat and how the platform react.
How is Snapchat doing today?
The general sense is that Snapchat nowadays is like the Titanic where everybody is abandoning the platform ASAP.
The truth can be found in numbers, and numbers say that Snapchat is not growing at the moment; quite the contrary, it's shrinking. However, it's too early to draw a conclusion about the social media app.
Meanwhile, Facebook is losing younger users at an even faster pace than previously expected. This is a general trend for Facebook as millennials are preferring other social media platforms. Facebook's bet was that they would mostly move to Instagram and, thus, keep them engaged to one platform of their network.
Nevertheless, their plan seems not to work as expected.
According to eMarketer's latest forecast that was released in February about social network usage, Snapchat may now be syphoning away more users.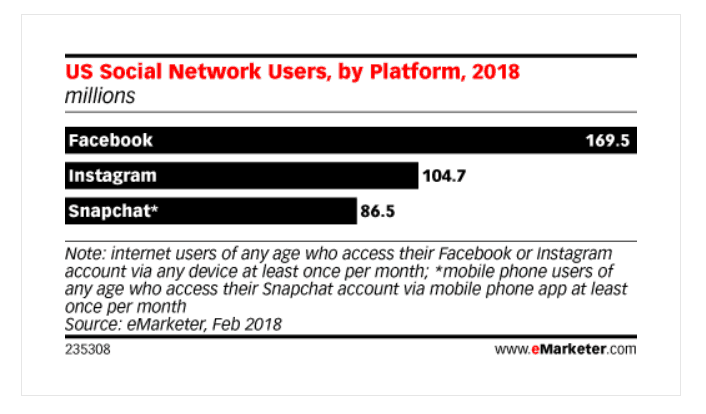 Another study conducted in April 2017 by Piper Jaffray found that Snapchat edged out Instagram in monthly usage and was the favourite social platform among teens in the US. Snapchat saw both numbers rise, while Instagram held steady with usage and fell as a favourite.
Furthermore, eMarketer predicts Instagram will add 1.6 million users ages 24 and younger. Snapchat, meanwhile, will add 1.9 million users in that age group. Snapchat will continue to have more users ages 12 to 24 compared with that of Instagram.eMarketer predicts Instagram will add 1.6 million users ages 24 and younger. Snapchat, meanwhile, will add 1.9 million users in that age group. This leads to the conclusion that it will continue to have more users ages 12 to 24 compared with that of Instagram.
Νο matter the bad publicity Snapchat attracted this year following the "Rihanna incident", the platform is still a good place for marketers aiming at young ages in the US.
Rihanna said Delete Snapchat. So guess what app I just deleted? pic.twitter.com/tjTec3aRMN

— Astasia Williams (@AstasiaWill) March 15, 2018
Now, let's dig into some of the BEST Snapchat Marketing cases that will inspire you on what you can do!
The following branded examples are some of my personal favourite Snapchat Marketing case studies that drove results and got social media users excited.
Mission Impossible: A Self-Destructing Message
This campaign comes from the film studio responsible for the blockbuster Mission Impossible: Rogue Nation, Paramount Pictures. The concept would last for a month, the 'Mission Month'. Fans were set 24-hour time limit challenges via the app, from the protagonist himself, Tom Cruise.
The key ingredient of the concept was that those messages were self-destructing. Top submissions were showcased across social media channels and the best entries rewarded.
What made this mechanism so successful is that it uses the very same mechanism Snapchat is built upon!
The campaign drew about 65 million total impressions across various social media formats.
This is what it looked like –
Snapchat as The Face of HR at McDonald's.
This one is from Australia. It happened when the McDonald's marketing team decided to find the next McDonald's recruits from the Snapchat app.
What they gave to their potential employees was a McDonald' Snapchat lens, which mimicked the employee uniform, and 10 seconds to pitch why they would be suitable for the position. OK, not an actual pitch, more like sharing their enthusiasm.
The campaign was a success.
Only on Day 1, 2,818 'Snaplications' were sent. According to convinceandconvert.com, McDonald's saw a 35 per cent increase in application flow and a 30 per cent traffic increase to the careers page. Not only that, but the initiative generated global interest and attention and made the headlines of various channels and publishers, such as CBS, Fox News and The Sun.
Sephora Snapchat Takeovers
The queen of Snapchat for me was Sephora right from the beginning. Sephora was one of the first brands to try it as a marketing platform. When they created their account, the posted on other social media "We just launched Snapchat. What do you wanna see? #SephoraSnaps."
In this way, they got feedback about what the audience was expecting from their content. Sephora was one of the first brands to give celebrities and make up artists access to a branded account for 24 hours. Influencer takeover was not a trend back then as it is now.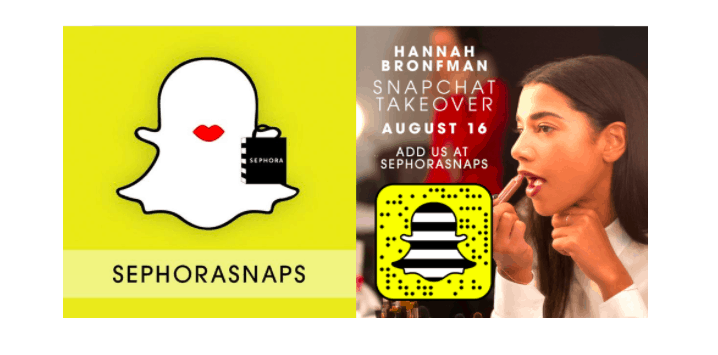 Cosmopolitan Snapchat Discover Stories
Another great example of Snapchat Marketing is how Cosmopolitan started driving traffic to their articles from the app. As pointed out by Cosmopolitan editor-in-chief Joanna Coles: "If you go on , it's really fun, really great. There's no question that our readers spend a lot of time on Snapchat for short and long-form journalism. It gives us the opportunity to do both."
The truth behind this successful case study is based on this statement. Amy Odell, the editor of Cosmopolitan.com, told FIPP via email "the addictive nature of Cosmopolitan's content and Snapchat's platform makes the brands a perfect fit for one another."
Cosmo's Discover stories were shared up to 1.2 million times daily back in 2016 and Cosmo was getting 3 million readers.
16 Handles Snapchat Coupon
When it comes to Snapchat marketing, one of the best tried-and-true tactics is advertising coupon codes on the platform. A lot of brands have posted limited-time offers only for their Snapchat friends and secret Snapchat promos.
Sixteen Handles made Snapchat marketing history when they offered a coupon code in exchange for users sending them Snaps of themselves with the frozen yoghurt. The frozen yoghurt restaurant returned the snap with a coupon code, redeemable in store.
Red Bull Snapchat Takeovers
Red Bull is one of the best brands capitalising on this influencer network across. It utilises Snapchat to bring followers along for the ride and make them feel like they're truly in on the action.
In early 2015, the energy drink company gave the Canadian snowboarder and X Games champion Mark McMorris control of its Snapchat account to let users see inside his extreme sports lifestyle.  The idea behind this was to let "the star snowboarder bring us along for the ride of a typical Southern California day".
The story might have disappeared in the next day, but Red Bull made sure that is still accessible. So they used the snap videos and converted his day into a video for fans to enjoy.
Involving McMorris in the campaign also helped Red Bull reach the athlete's loyal fan base.
Talking about influencer marketing, you may also read later my other post, Influencer Marketing for Beginners: From Kourtney to Badoo.
Netflix's Gilmore Girls Snapchat Revival Campaign
When Netflix revived Gilmore Girls in 2016, they made great use of social media. One aspect of the Netflix strategy was a Snapchat Sponsored Filter campaign designed to engage Gilmore Girls fans and to promote the upcoming mini-series. Netflix launched an extraordinary publicity event in late 2016 which involved a free cup of coffee and a special Snapcode to unlock a hidden "Luke's Diner" filter.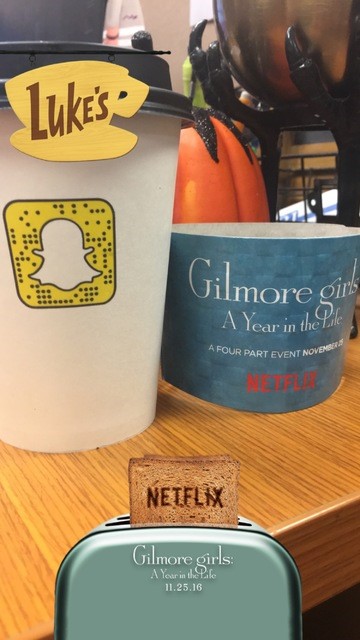 To excite Snapchat users and generate word of mouth, Netflix distributed 10,000 paper coffee cups with a scannable Snapcode to cafés and coffee shops around the United States. Users could unlock this Snapcode to gain access to an exclusive Gilmore Girls Snapchat Filter.
Fans of the show that showed up early at select locations received the special promotional cups, and – of course – photographed them and shared them online, letting others unlock the lenses; making more and more users aware of the relaunch and generating a huge amount of interest in Netflix.
The filter was viewed 880,000 times. As Snapchat told Adweek, the one-day marketing stunt reached more than 500,000 people.
To conclude
Snapchat is a great platform to tell stories about your brand. Snapchat stories, Instagram stories and messenger days are great tools. They can all be used as ways for posting exciting content, funny team moments, announcements and the everyday life of your office.
Keep in mind to always be authentic. Brands that share authentic content fare best on social media. Be yourself, and share your core brand values.
Snapchat is excellent for targeting your younger potential clients – Millenials and Gen Zers.
Do you like Snapchat? Do you have other case studies that you loved? I would be thrilled to hear about them!
Theodore has a 20-year experience in running successful and profitable software products. During his free time, he coaches and consults startups. His career includes managerial posts for companies both in Greece and abroad and he has significant skills on intrapreneurship and entrepreneurship.