It's time to look beyond cat memes and food images and start using Instagram growth tools. 
In this in-depth guide, you'll discover the top 12 tools for achieving dramatic Instagram growth. 
I'm talking about social media tools that will handle scheduling, analytics, hashtag tracker research, reporting, organic follower growth, advertising, etc.
Since most of these tools are free, it means you can get started right away. It's time to take your Instagram marketing to the next level and grow your business beyond Google.
Let's dive right in!
1. HashtagsForLikes | Use Trending Hashtags

When it comes to Instagram marketing, you need to use trending hashtags all the time. That's one of the proven ways to reach more people, get more followers, and create viral posts.
When you create an Instagram post, how do you choose the hashtags to use? Is there any secret to it or do you just choose whatever hashtag you can find?
HashtagsForLikes is designed to help you detect the most trending hashtags based on the topic you searched for. 
This Instagram tool also provides insightful data, analytics, and hashtag recommendations that you can use to get more traction on Instagram.
Here's a testimonial from Tamara Bowman, @tamaracameraphoto 30k+ followers:
"The changes were instant after I started using the HashtagsForLikes service. I love the lists the dashboard provides for me, whether I want to use Most Popular hashtags, Trending hashtags, or Related hashtags. HTFLS changes daily and that way your hashtags are never stale!"
If you want to record dramatic results from Instagram, you need to start using this tool. It's a must-have for any smart Instagram influencer or marketer.
2. InVideo | Edit Videos for Instagram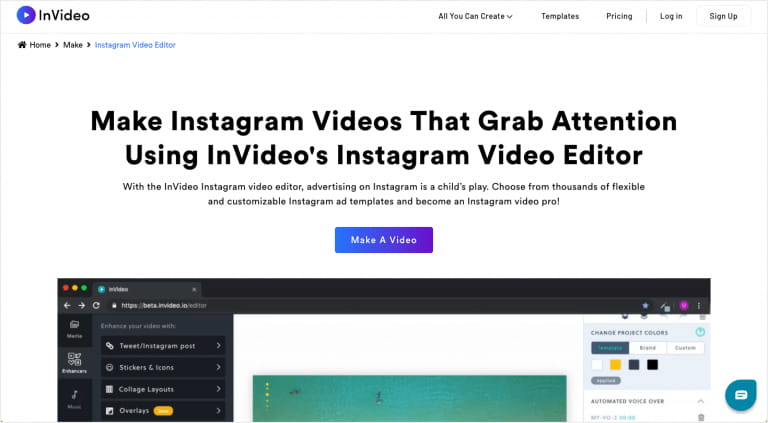 You shouldn't approach Instagram with a half-baked approach. Your videos need to be professional and engaging.
That's why you need InVideo.
InVideo is an effective video editing software for your social media campaigns.
InVideo is fast, easy to use, and has a clean user interface.
It's one of the best Instagram video editing tools out there. Also, let's face it: videos are taking the center stage in online marketing. As a result, you have to keep up with the industry.  
With the InVideo Instagram video editor, you can choose from thousands of flexible and customizable templates. Then, tweak your videos to suit your brand, culture, or message. 
About 75% of online traffic comes from videos. If you haven't fully embraced video content on Instagram, Pinterest, YouTube, and other social media platforms, you're doing your business a disservice.
Creating engaging videos for YouTube and embedding them on your blog posts can increase your search visibility. B2B brands and marketers are seeing dramatic results from it.
You can also use InVideo video editing tool to manipulate your photos and videos. 
Simply upload your videos and photos to the platform and select, choose editing style, add a soundtrack from the provided clips, and you're done.
InVideo uses a powerful digital technology. It's an AI-powered system that takes your clips and photos and creates a beautiful video for you. You can distribute this video as you want.
3. Planoly | Schedule Your Instagram Posts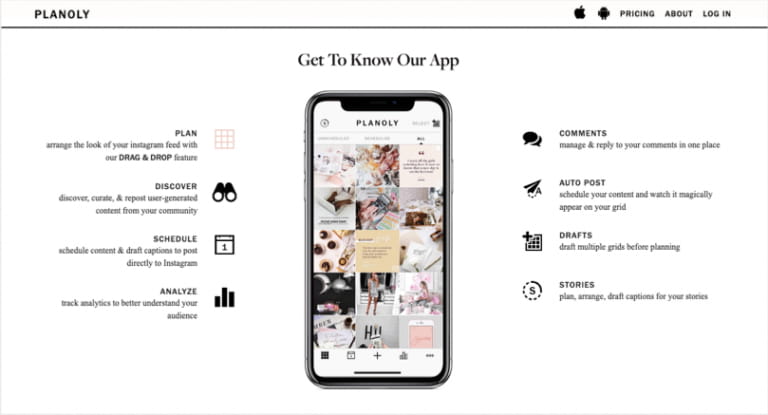 Sharing stories on Instagram can be a great way to engage your audience.
So how do you tell your personal or brand story without wasting time and effort on Instagram? It's simple. Use Planoly.
This Instagram tool is arguably the first visual Instagram planner. Now, you can visually plan out your content, instead of wasting hours on shiny objects.
Every influencer and marketer needs an Instagram Scheduler to stay accountable. With Planoly, it's easy to plan out your content and post consistently. You'll build a beautiful grid that looks irresistible to your target audience.
In the words of Madison Utendahl (@MUSEUMOFICECREAM), a happy Planoly user:
"Planoly has genuinely saved my life. I'm the only person managing social. Without it I would not be able to be here right now – I'd still be at my desk!"
For many businesses and online marketers, consistent posting on Instagram is the key to driving consistent traffic, leads, and sales.
There are better and more fulfilling tasks to do on Instagram. For example, answering questions, responding to comments, networking with people, and building relationships. 
So why not focus on these important tasks and let Planoly, an Instagram Scheduling tool handle the posting for you? I'm sure you will.
Schedule your posts to automatically get published on Instagram. Don't try to do it manually — it's a huge time waster. You'll never miss a post if you schedule with Planoly; a tool created by a designer and an editor. 
4. Buffer | Schedule & Track Instagram Posts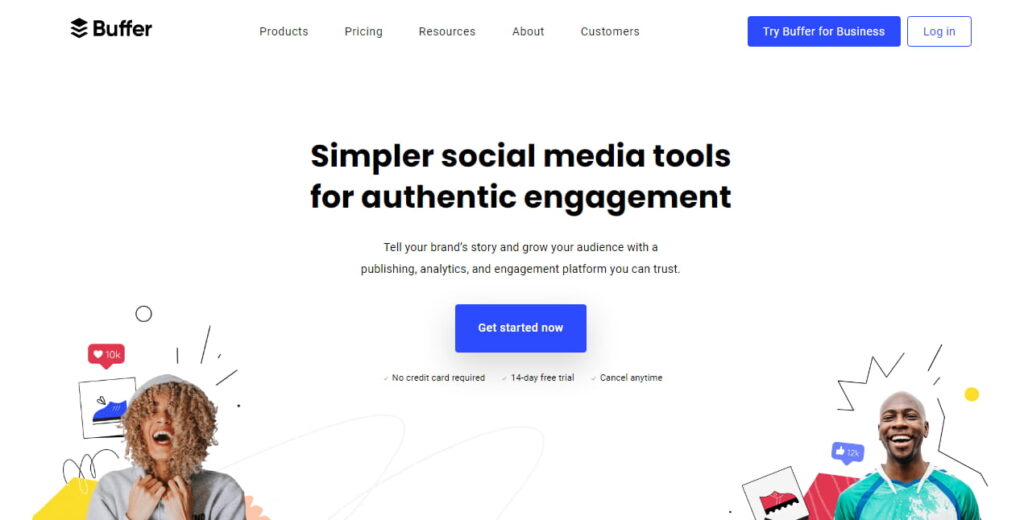 Buffer is a popular all-in-one social media management platform.
I have used Buffer for Twitter marketing and it's great.  
So whether you're starting a blog or an established blogger, Buffer can help you save hours of posting on social media networks.
When it comes to Instagram, you need to post consistently. You could do it manually — but who has that time?
Use Buffer to schedule Instagram posts in advance. This saves you time and ensures your grid is well-curated and active. 
Buffer keeps evolving and adding new features; so now you can schedule both single-image or single-video posts for your Instagram followers to enjoy.
If you use the free plan, you have the chance to plan your Instagram marketing using 3 accounts. 
Buffer for Business is ideal for businesses or influencers who have a team and wants to connect more Instagram accounts or get detailed analytics.
You can also use Buffer on your mobile phone. Download Buffer for Android or Buffer for iOS to help keep your Instagram grid functional while you're on the go. 
5. Tagboard | Bring Life to Your Stories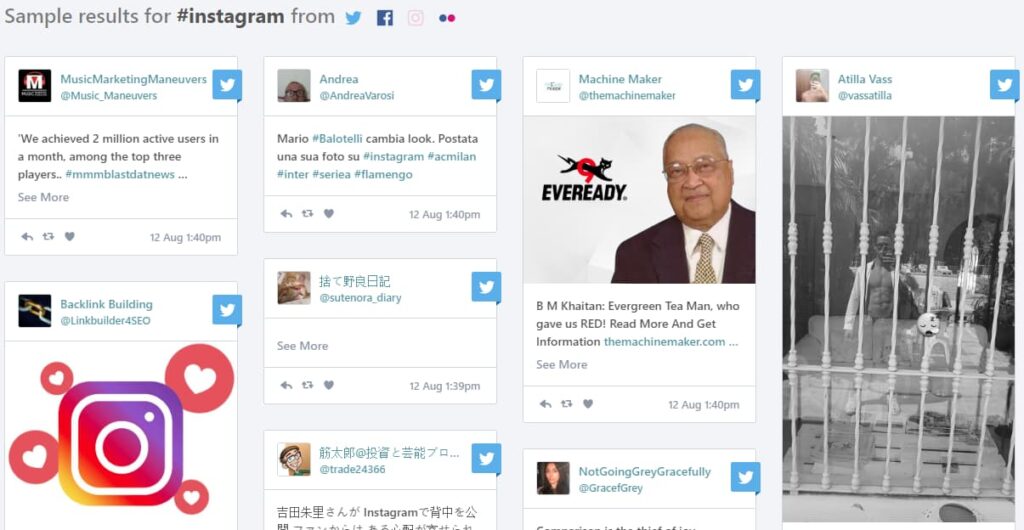 Your story may be great but if it's boring, it'd be difficult to leverage it as a marketing tool. You need to add interactivity to your story so that people can connect, relate, and participate.
Tagboard is an Instagram growth tool that helps bring your story to life. It makes it engaging, interactive, and of course social.
If you're running a User-Generated Content (UGC) campaign, for example, you'll often need relevant content and inspiration from time to time. So how do you stand out with your story?
Already, more than 95 million photos and videos get uploaded to Instagram daily. That's a sea of content to scour and choose the ones you like. The good news is that Tagboard makes it easy. 
Use Tagboard to sort through Instagram content based on specific hashtags to find laser-focused and high-performing photos and videos. 
Your results will be presented in a grid view for easy viewing. You can even filter out specific user accounts, so it's a lot easier to find the content that will inspire your next Instagram campaign.
6. Clipchamp | Edit Instagram Videos Quickly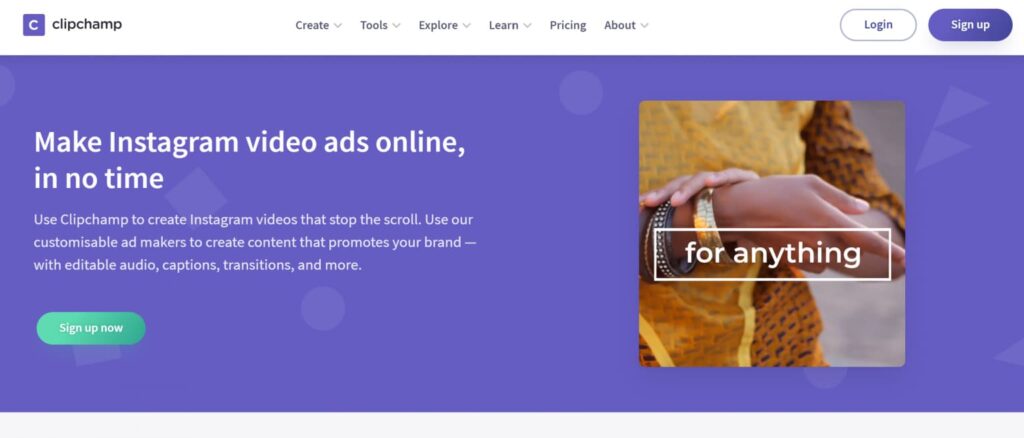 You don't need to be a professional video editor to grow your Instagram followers and your audience. 
Creating videos might be easy, especially with your smartphone or tablet. However, video editing is a different beast. 
That's where Clipchamp comes in.
Clipchamp is a professional online video editor that simplifies the process of sharing stories on Instagram.
Users get access to basic and advanced tools for video editing.
Basic features such as cropping and resizing videos to more advanced features like adding special effects, motion titles, green screen, and more are provided inside Clipchamp.
As a user, you can access a stock library of over 40,000 video and audio clips. Clipchamp is browser-based. Therefore, there is no need to download or install any app.
Clipchamp will get you excited about videos. When you realize how easy it's to edit videos, you'd prefer posting videos to static images. 
Not only is the video editor useful for converting videos into gram-ready ratios and resolutions, but you can also create instant ads using the Instagram ad maker.
7. trendHERO | Search and Check Instagram Influencers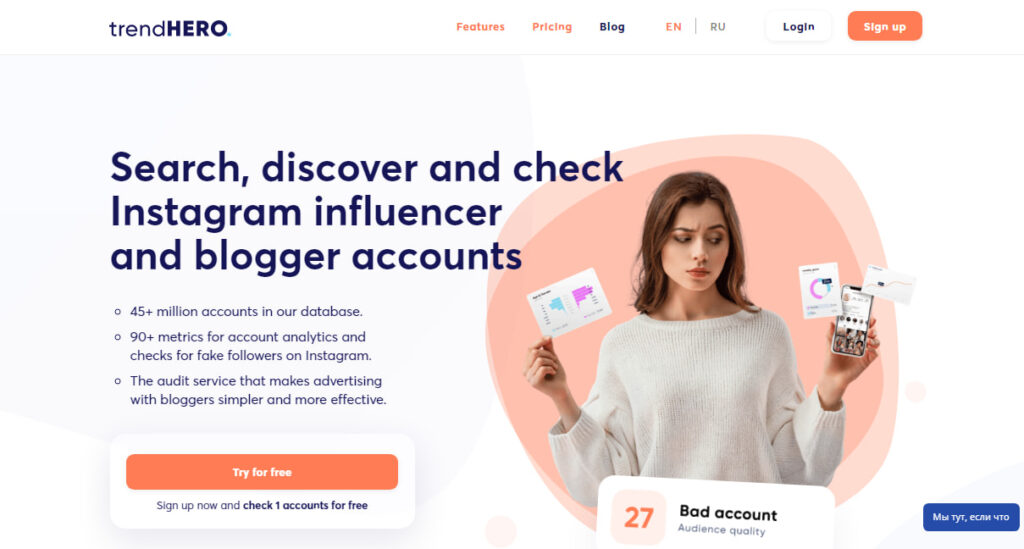 If you want Instagram growth and more Instagram followers (who doesn't?), you need to get into the conversation and find top influencers in your industry. This is kind of a shortcut.
You'll want to connect with them and ask for a promotion. It's the foundation of influencer marketing — regardless of the platform.
So what does this Instagram tool has to do with all these?
trendHERO is an all-in-one Instagram Analytics tool that enables you to collate a large Instagram influencers' list and quickly analyze them. 
A top brand like Smith Thompson, a home security company in Dallas, uses trendHERO to find Instagram influencers for its campaigns.
trendHERO already has a 45M+ database of accounts globally, keywords search functionality, and 13 different filters. You can view the engagement rate, audience type, geographic locations, interests, and so on.
All of these insightful data will help you to analyze and detect fake accounts (90+ metrics).  
trendHERO allows you to compare the audience type of followers and likers. This means you can find influencers in 3 simple steps and choose the most effective one for your promotion.
Here are some of the spotlight features you get with trendHERO:
Similar bloggers discovery

Competitor ads monitoring

Database of influencers' promotions (posts and stories)

Contacts (email and phone)

Report and list exports

Influencers list management

Growth tracking
To use trendHERO, simply enter an influencer's account name and the tool will gather 500 similar accounts with data about their followers. 
This tool will come in handy when you're getting started in a new niche or industry and wants to connect with the industry leaders. 
If you want accurate reports and scalability of your Instagram marketing efforts, you would want to give trendHERO a shot.
8. Canva | Design, Design, Design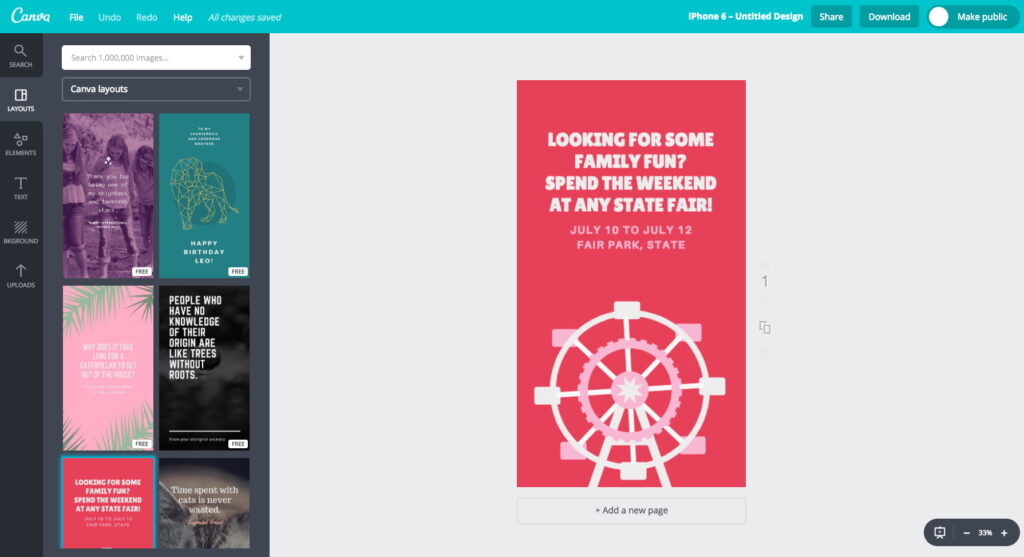 You probably know Canva.
Canva is one of the most popular online design tools.
Many Instagram influencers and marketers use Canva. It's a handy tool for creating graphics social media campaigns. It's also ideal for creating featured thumbnails for your online courses, images for blog posts, and graphics for white papers, infographics, etc.
One of the exciting aspects of Canva is the Instagram stories templates that you can customize. Yes, you just pick a template, customize it, and share it on Instagram.
What's more, there's no need to worry about dimensions, as these templates come in the ideal dimensions for Instagram. 
Just focus on the design and getting your stories out there, the aspect ratio and size are all on Canva's shoulder.
When customizing a template or designing from scratch, you have total control. So you can change the text, the image, add/change the background color or background image, and a lot more.
Would you rather create some designs from your smartphone? No problem, Canva has an iOS app. Better yet, use the app to download your designs directly to your mobile device.
Keep it in handy, you never know when you'll need some inspiration!
9. Tailwind | Scheduling & Analytics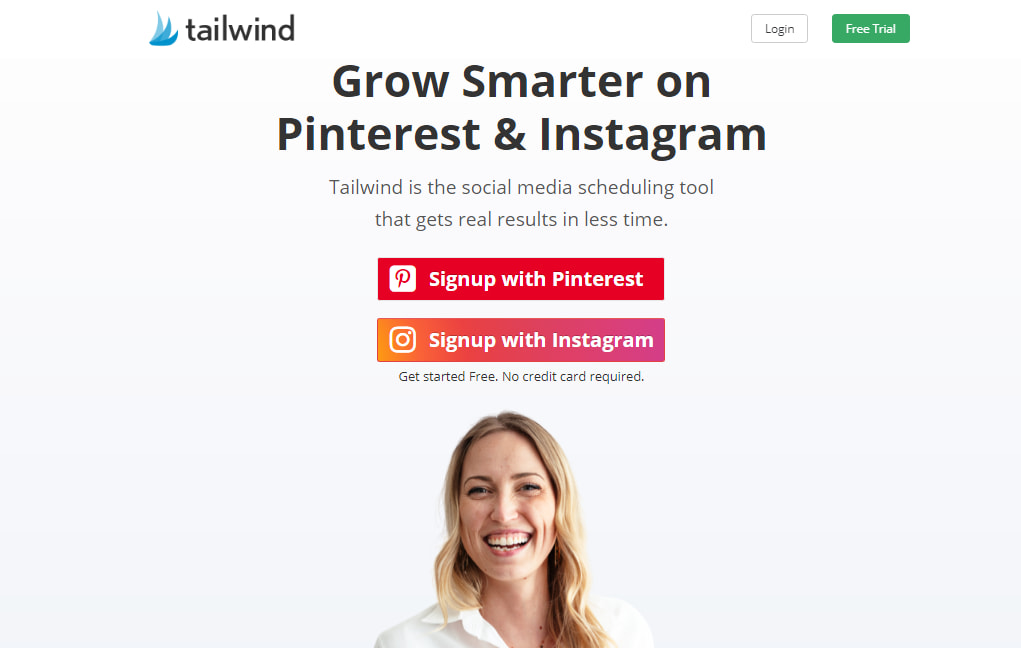 Instagram growth requires planning.
Tailwind is a scheduler and analytics tools for Instagram (and Pinterest, too).
This Instagram tool is designed primarily for visual social networks with all of the tools you need to manage and engage your followers. 
Using the Auto Post feature in Tailwind, you can schedule photos and videos. It's now easier than ever to multiply your reach with hyper-focused hashtags using the 1-Click Hashtag Suggestions tool.
Aside from being a powerful scheduling Instagram tool, Tailwind also offers strong analytics features, which consist of profile metrics, trend reporting, and virality & engagement benchmarks. 
Whether you're a SaaS business or a content publisher, Tailwind has all the features you need to establish a presence on Instagram.
Tailwind is one of the known Instagram partners. So you're in good hands when it comes to direct posting to Instagram with your business profile.
Although you can do a lot of the basic stuff with the free plan, the paid plan offers more features.
The hashtag recommendations and hashtag lists are cool features when you're looking for the best hashtags for your post or for inspiration on how to create yours. 
The Chrome browser extension is also recommended for 'regramming'
10. Adobe Spark | Design your Instagram Stories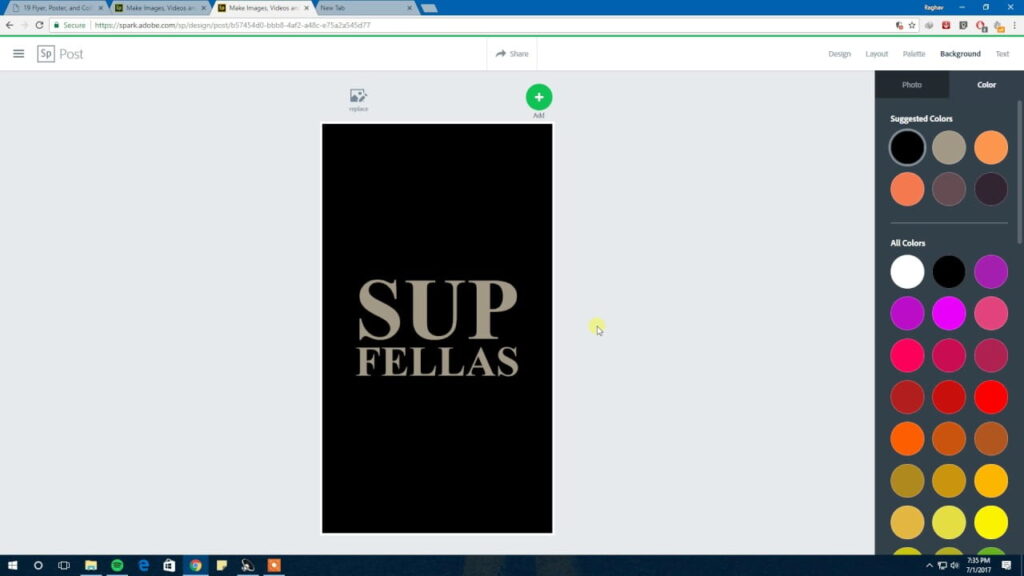 With Adobe Spark, you can design your own Instagram quickly.
Adobe Spark is a powerful design tool and video editor for graphics.
The beautiful part is the collection of professional Instagram Story templates you can choose from.
Remember that the ideal dimensions for Instagram Stories are 1080px wide by 1920px tall? Well, with Adobe Spark you don't have to worry about dimensions because all of the templates provided by Adobe Spark are properly sized with the ideal aspect ratio.
You can set your background color or image, edit your caption, and even download your Instagram Stories after polishing it on this Instagram tool.
Additionally, you can use the Stories mobile app to slice your videos into clips of 15 seconds. 
This happens to be the maxim duration of an Instagram Stories video. So with this handy app, you'll not have to manually edit your videos.
Popular brands such as ZipRecruiter, Preply, and TripAdvisor use this video editing tool to drive engagement on Instagram and other social networks.
Adobe Spark has all of the essential tools you need to add fun to your Instagram grid and increase your chances of getting more followers. 
11. StoriesAds | Create Instagram Stories Ads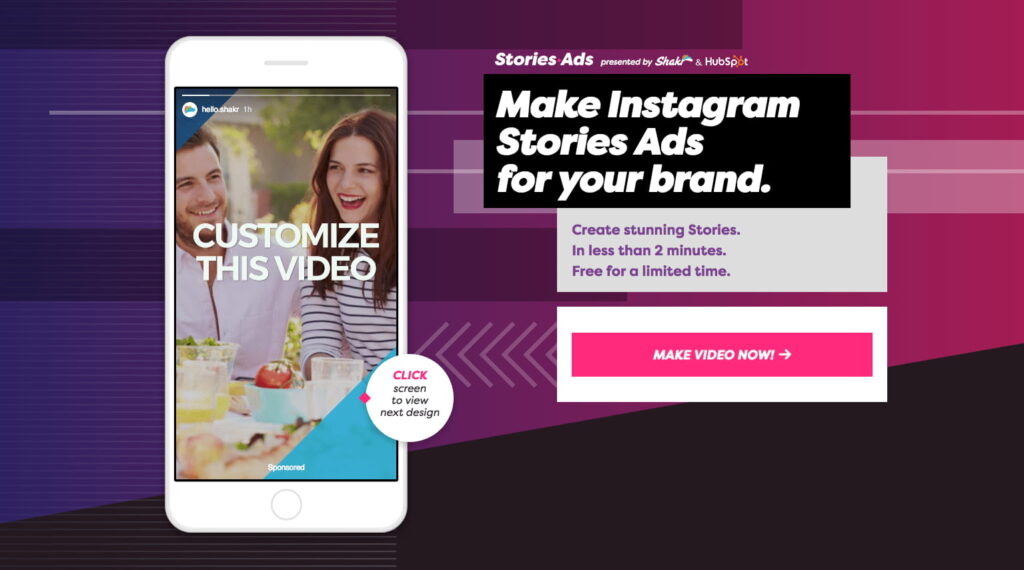 If you're ready to make Instagram story ads for your brand or product, you'll love this tool.
StoriesAds is an online platform for creating Instagram Stories ads.
It's mostly used for creating professional and vertical converting videos. 
With the StoriesAds tool, you don't have to create story ads from scratch. You simply need to choose a template from the huge library. Then, you can customize as you want. 
Add your logo, change text color and font face, background image/color, you have complete control over the look and style of your story ads.
The intuitive video editor makes customizing your video pretty fun. This tool is currently "Free for a limited time." So there's a chance you might have to pay to use it later.
12. Combin | Attract Organic Audience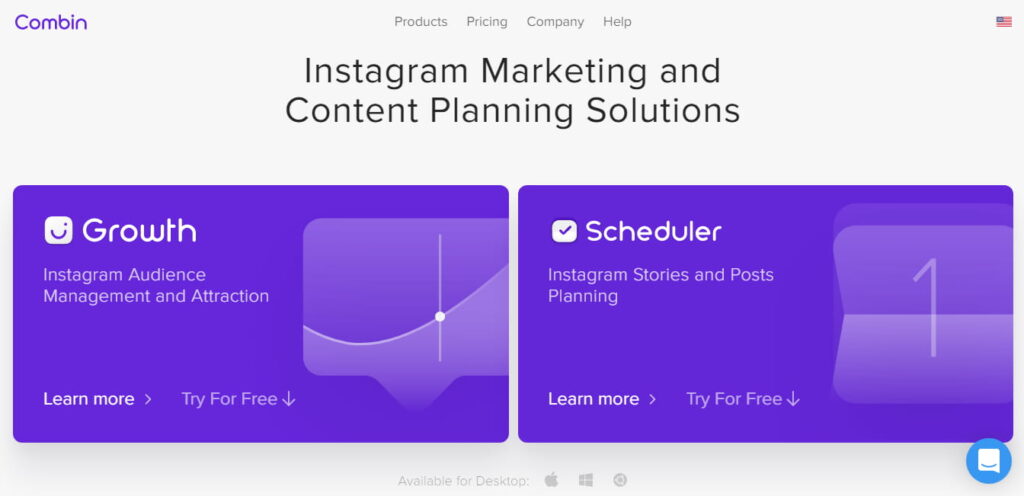 Managing your Instagram campaigns can be hectic. To make it easier, and also achieve Instagram growth, you can use Combin to plan and market your brand.
Combin is designed to help you grow your organic research and schedule your Stories and Posts.
Use this tool to find, analyze, engage, and grow your audience in less time.
It has powerful search functionality that enables you to find accounts and posts from your audience by:
location

hashtag

hashtag AND location

among followers  

commenters of your competitors.
With Combin, it's easy to perform single and mass actions for following, liking, commenting, and unfollowing. You can easily write multiple comments using different texts for specific accounts in a batch. 
13. HopeHQ | Plan & Schedule Instagram Photos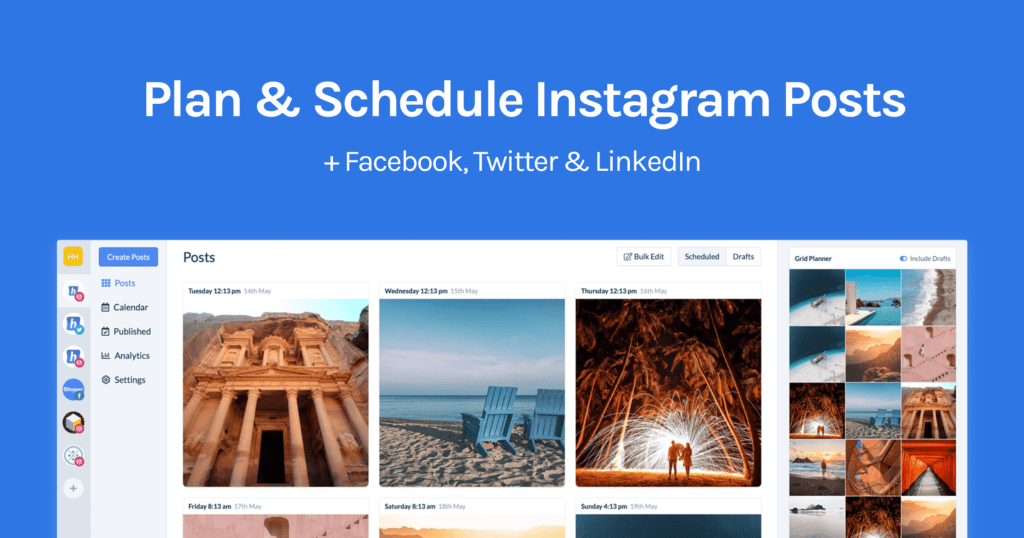 HopperHQ is created to assist marketers, small companies, and businesses in generating, scheduling posts across different social media platforms such as Instagram, Facebook, Twitter, LinkedIn. This is the best way for them to interact more with the audience or customers and, of course, improve engagement. 
Create, plan and schedule posts across multiple Instagram accounts. Hopper HQ's visual planning and editing features help social media managers increase the quality and consistency of their social media accounts whilst saving time.
Some of Hopper HQ's features include: post scheduling for Instagram, reposting, and complete image editing.
14. FlexClip | Online Video Editor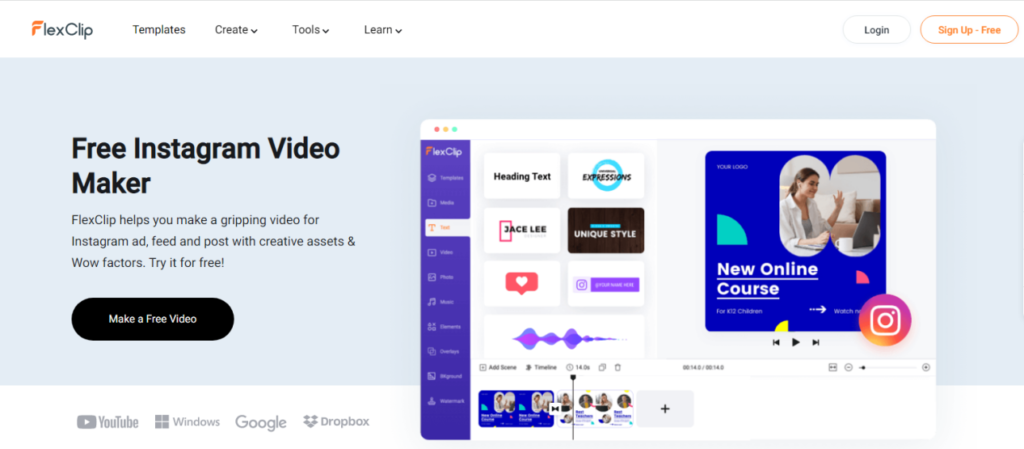 FlexClip is another video editing tool that enables you to create professional-looking Instagram videos. It has an intuitive interface with a full-screen preview and timeline for editing your footage.
Plus, it offers ready-to-use fancy Instagram video templates and a library of royalty-free video clips, music, and sound effects to help you pump up the visuals for your Reels. The best part about FlexClip is its cloud service, which allows you to access your work from anywhere and on any device.
You can create unique animations with its easy drag & drop interface. It also offers shape masks (to add shapes/logos), text overlays, transitions between scenes, and motion graphics.
Whether you want to trim, crop, join clips, add audio, edit texts, or add filters, FlexClip can do it all. This do-it-all tool also lets you record your voice-overs so that you can create your professional video for Instagram in minutes. In a word, FlexClip has everything you need to create professional-looking reels.
15. Crowdfire | Discover & schedule content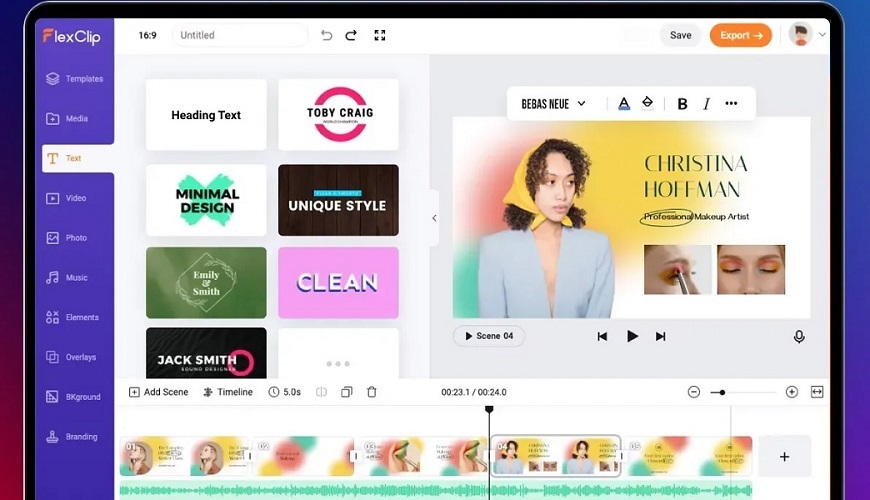 Crowdfire helps you discover and schedule content, and manage all your social accounts from one place.
Some key features include content publishing, bulk scheduling, article creation, image curation, hashtag recommendation, social listening, and post analytics. What's more admins can create customizable RSS feeds and preview posts before publishing.
This Instagram tool works with a ton of social media platforms, including Facebook, Instagram, LinkedIn, YouTube, Vimeo, Twitter, Pinterest, Wordpress, Etsy, Shopify, Medium, and 500px.
Automatically find and recommend articles and images your audience will love. Schedule all your posts in advance and post them automatically at the best times or at a time chosen by you. Take away the headache of crafting separate posts for each individual social profile and automagically customize your posts for all your profiles. Use the Chrome extension to share your favourite pages to all your social accounts.
Tools for Dramatic Instagram Growth – Conclusion
Instagram growth doesn't come easy.
However, with the right growth tools, you can make Instagram work for you and your brand.
Yes, you can build brand awareness, send traffic to your website, and make more money from establishing a strong presence on Instagram.
With many companies and online marketers making the switch to social media marketing, Instagram has the potential to become one of your major traffic sources and lead generation channels — if you spend time learning how to use it.
Are there any Instagram growth tools you use we didn't mention?
Let us know in the comments below!
Burkhard Berger is the founder of awesomex™. You can follow him on his path from 0 to 100,000 monthly visitors on www.awesomex.com. His articles include some of the best growth hacking strategies and digital scaling tactics that he has learned from his own successes and failures.
Feel free to follow him on Instagram, Facebook, and Twitter.