Facebook is a great place to advertise your business, but you need to know how to use Facebook Ads Manager effectively. Unfortunately, most people who start using Facebook ads don't think very hard about their campaigns; they just dive in and hope for the best. This is a mistake, and we're here to help you fix it. 
With some planning, you can ensure that you don't waste money or effort on your Facebook advertising campaigns. Here are seven planning strategies to help you make the most of Facebook advertising in 2022.
What is Facebook Ads Manager?
Facebook Ads Manager is a powerful, self-serve ad-buying platform that helps you create, edit, and analyze paid promotional campaigns on Facebook. You can also manage multiple ads at once and see how the ads are performing.
You can target your audience based on location, age, and gender, as well as behaviors and interests, and create ads that show up in Newsfeed on desktop, mobile, and tablet devices. What's more, you can manage multiple ads at once and see how your ads are performing.

To get started, go to Ads Manager and click "Create." From here, choose "Account Overview" > "Campaigns" > "Ad Sets or Ads." This is where you'll manage your assets or look at your results in customizable columns.
Considering that Facebook is used by a whopping number of active Facebook users — 2.91 billion+ — you can only imagine how many people you can reach using this tool.
Note: There is also a downloadable Ads Manager app for Android and iOS, but the mobile app features are limited. 
Facebook Ads Manager benefits
Facebook Campaign Planner is the ad management platform where you can create and optimize your Facebook ads. It is a robust tool containing a suite of features to help you manage your ad efforts on Facebook. There are many benefits of using Facebook's Campaign Planner as an advertiser.
Some of its main benefits include:
Easy audience targeting.

With access to over 2 billion users, you can reach a large audience and target them with highly relevant campaigns. 
Ad placements.

You can place your ad in different locations like Newsfeed, Instagram Stories, Instant Articles, etc., and integrate them with the right marketing mix to meet your business goals.
Robust analytics and optimization. You can access important Facebook metrics such as detailed insights and performance metrics to understand how your campaign performs.
Create custom audiences.

You can use your customer list or website visitors to create custom audiences and

segment your audience

for retargeting with highly relevant ads.
7 Classic Facebook Ads Manager Strategies
Here are seven strategies to try with Facebook Ads Manager:
1. Target Facebook Payments users
Facebook Payments is a way for people to complete purchases directly through Messenger during or after a conversation with businesses they're connected with.
With so many people using Facebook Payments, it makes sense for ecommerce sellers to find ways to reach them. What's more, those who use Facebook Payments tend to be loyal customers and advocates of the platform — in other words, they're likely to engage with brands and make purchases.
Another reason Facebook payment users are a good target is that their debit card information is already linked to the platform. Now that users can link their payment information to social media outlets, they can make purchases more quickly and easily than ever before.
2. Focus on big life events 
When it comes to growing your Instagram and Facebook audience, you can't just put it on autopilot. If you do, your audience will be stale and irrelevant.
If you're smart about how you grow your audience, however, you'll be able to increase your reach and conversions. You'll also maintain a strong brand reputation.
Focusing on big life events gets the most eyeballs on posts and ads for social media marketers. It's an effective way to grow an audience on Facebook or Instagram, whether that means increasing organic reach or impressions in paid ads.
So, what are "life events?"
Life events are things like getting married, having a baby, or moving into a new home. They're those big moments when people go online to update their friends, share news, and search for new products and services.
When customers are in the middle of big life events, they're looking for businesses that can help them through these changes and meet their needs at this particular time. And even Singapore social media statistics shows that people are looking for businesses on social platforms.
Here are seven strategies for growing your Facebook and Instagram audiences by focusing on big life events:
Create targeted ads around major events

Focus on new prospects

Target people with birthdays 

Focus on graduates 

Target people who have recently moved 

Focus on people in new relationships 

Tap into nostalgia
If potential customers don't respond at first, you can keep on retargeting them via retargeted ads and follow-up campaigns. 
3. Try retargeting
Retargeting is one of the most powerful marketing tools at your disposal, especially if you're an ecommerce store owner.
Why? Because it allows you to reach people who have already visited your site or viewed a product page with a targeted message that compels them to buy. You're reminding them of your brand and why they should choose you over a competitor. You can also use retargeting ads to keep your brand top-of-mind when customers compare products online.
For inspiration on retargeting, look at how Hawkers does it. According to a case study, the brand saw an overall 3X ROI for prospecting ad sets and 11X ROI for their custom audience via Instagram remarketing.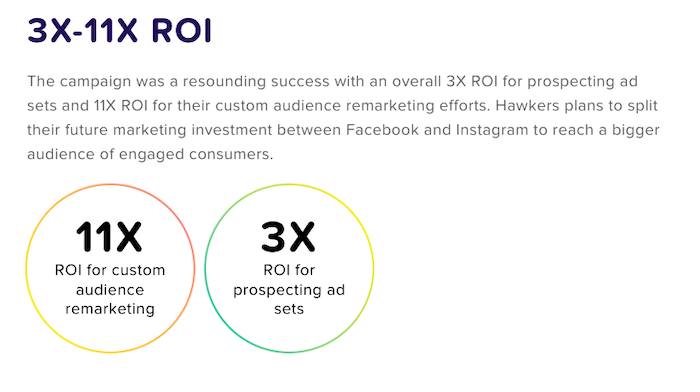 Hawkers ran a retargeting Instagram Ads campaign and offered discount codes that were the same ones they used on Facebook. 
The brand's goal was to create brand awareness and be the first sunglasses company to launch a significant Instagram promotion. They also wanted to collaborate with simultaneous campaigns on other social media to drive end-of-summer sales. As you can see from their results, it worked fabulously. 
One caveat: Because retargeting relies on the cookie stored in someone's browser, you need a fair amount of traffic to make it work well. So, consider using retargeted ads after you've built up some traction with more basic tactics like cultivating organic Facebook activity, posting in local Facebook groups, or writing relevant content on your blog. Additionally, optimize your retargeting using a social media management tool. 
4. Test multiple ad formats
Facebook and Instagram advertising has become a key part of brands' social media strategies. Both networks offer a ton of targeting options, along with tons of ad formats to choose from.
The challenge is picking the right format for your business. One option that often gets overlooked is testing multiple ad formats simultaneously.
The more you test different ad formats against each other, the more you'll be able to optimize your ads for success. Avoid the rookie Facebook Ad mistake of using the wrong ad format.
If you do not see the results you want with a single Facebook or Instagram ad type, try testing two or three different formats at once. This can help you see which one works best for your audience and goals. And then, you can use that information to optimize future Facebook and Instagram ad campaigns.
There are several types of social media ad formats, including image ads, product ads, carousel ads, collection ads, interactive ads, stories ads, etc. You need a test to settle for the right format. 
For instance, you can use image ads to drive traffic to your website. You can pair these with links to selected pages on your site. They work best on Instagram, Facebook, Snapchat, and Pinterest. 
According to the latest social media statistics, as many as 68% of customers want to engage with images compared to 50% who want to engage with video content. So, it will be worth using image ads.
Here's an example: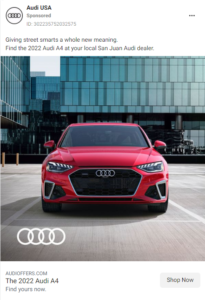 Carousel ads, on the other hand, are great if you want to tell a deeper story about your brand. You will be able to show more in this ad format and take your audience on an interactive journey. 
Here's an example of a product carousels ad format:
Most carousel ad formats will let you show up to 10 images or videos in one carousel, each with its own link and CTA button. 
5. Use Facebook Pixel data to your advantage
Facebook Pixel is a powerful tool that helps you understand the people who visit your website and those who buy from you. Facebook Pixel code helps you track events like page views, time on the page, scroll depth, cart history, purchasing, etc.
This helps you:
Understand the behavior of visitors and

map their journey

Confirm revenue

Gather data and analytics

Run retargeted ads smartly

Create better, smarter ads for future campaigns
Here are some ways you can use Facebook Pixel data to create more effective ads and grow your business:
Show ads to people who visit specific pages on your website

Target ads based on actions people take on specific pages

Show ads to people who've completed certain actions (or not)

Show ads that encourage people to complete certain actions

Create custom audiences based on website activity

Create lookalike audiences from custom audiences

Organize website events into conversion paths
Have a look at how Esprit uses Facebook Pixel to collect data. Here's one of Esprit's product pages with Facebook Pixel's code in the background:
The Facebook Pixel knows when you add the product to your cart:

If you leave the site without purchasing anything, the next time you log in to Facebook, you will see this: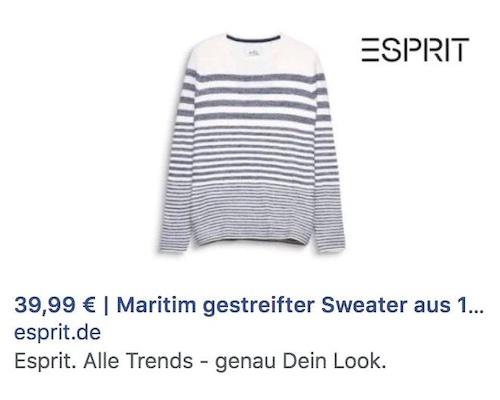 And then after a while, just to ensure you remember, Facebook shows you this: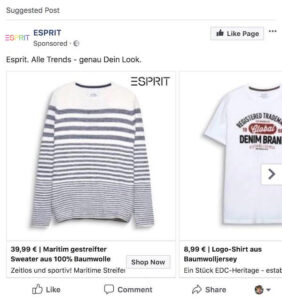 If this sounds too technical and convoluted to put together, it's best to hire a developer with database skills to build a database for storing data long-term. You don't want to get this strategy wrong. 
—-> Read: iOS 14.5 vs Facebook Ads: How Bad Is It?
6. Align your stories and feed posts
Sharing an Instagram post to your story can increase your posts' engagement, especially when it comes to user-generated content. At the same time, you can also share your Instagram posts as Facebook stories. 
Plus, you can turn your stories into clickable stickers and create a direct link back to your original Insta post. Viewers will be able to see the original poster's username clearly, which is a great way to credit the contributors of user-generated content.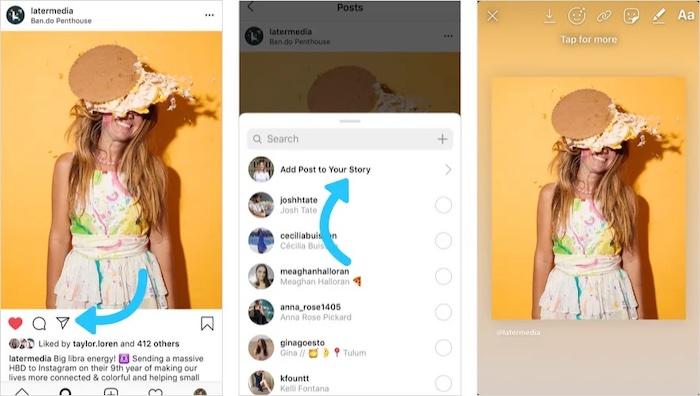 It is vital to manage both stories and feed posts effectively, and good planning plays a significant role in that. Consider using an Instagram tool to see dramatic Instagram growth.
7. Plan campaigns with multiple ad placements
Facebook offers you the chance to choose multiple ad placements. You can reach your audience with ads on Facebook, Instagram, Messenger, or other apps and websites in the Audience Network. You can also customize your campaign to get the results you want, no matter your advertising goals.
According to a case study, ASUS Poland was able to get a 2.4X return on ad spend, a 30% increase in cart activity, and a 44% increase in ASUS's site traffic after running a campaign that used automatic placements to deliver ads across Instagram, Facebook, and the Audience Network.
Their goal was to promote the Vivobook Laptop in Poland to people aged 18 to 45 who had an interest in PC laptops, music, electronics, digital trends, and technology using Facebook branded content ads.
Learn from ASUS's success — target multiple platforms with many ads. 
Get ahead on Facebook using Facebook Ads Manager in 2022
If you're like most businesses, then you have a Facebook presence. Whether you're organizing fundraisers, promoting your product or service, running a political movement, or building a fan page for your brand, you are leveraging the social media platform in one way or another. 
With its large audience and engaging format, Facebook is a great place to spread the word about your brand. But with so many options and ways to organize your content on the platform, you need to focus on what works best for you and your audience.
Mark Quadros is a SaaS content marketer that helps brands create and distribute rad content.  On a similar note, Mark loves content and contributes to several authoritative blogs like HubSpot, CoSchedule, Foundr, etc. Connect with him via LinkedIn or Twitter.