It's not you. Organic Facebook Reach is on a free fall for the last five years.
During this long and steady Facebook reach free-fall, the only question is: Is there a parachute? Or is your reach going to meet the ground – at point 0?
Bear with me to learn how you can make your very own parachute and increase your Facebook organic reach for this year to come.
Introduction
What is Organic Facebook Reach?
Before we move any further, let's take a step back and give a definition, in case you are not familiar with the definition.
In general, organic reach is the number of users who will see on their screens what you posted, with $0 spent on your side.
On the other hand,  paid reach includes the users who see your content as a result of paid promotions.
In our case, the number of users that your content from your profile reaches is the number of your Facebook organic reach.
Why is Organic Facebook Reach Declining?
Organic reach is steadily on the decline, and there are two major reasons for that:
There is more content than ever before. The size of content is now counted by the billions, the competition is high, and only getting higher day by day.
Facebook provides only the most relevant content to each user. To increase engagement and optimise user experience, the content shown is tailored to each user's individual interests.
Is Organic Facebook Reach Dead?
If I had to give one answer, then this would be a big No.
It's only maths – a small number does not equal zero.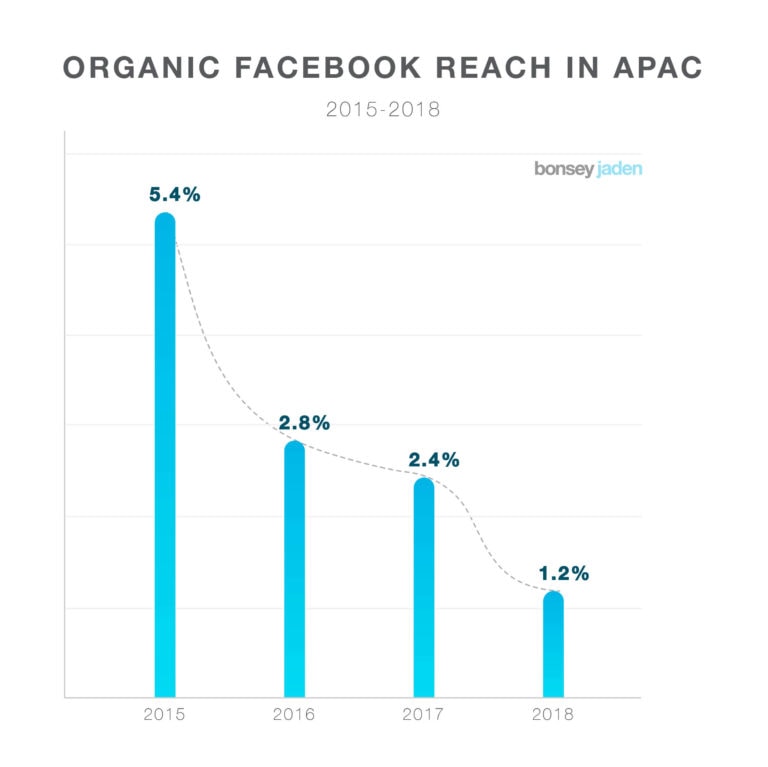 Should you care about that 1%-3% and how you can make that number bigger? Absolutely.
With 1-3% of your most engaged fans still consuming your content, there is still hope for organic content.
The 2018 Change
Now back to the algorithm change. One year ago, at the beginning of 2018, Mark Zuckerberg made a post on his profile about how Facebook's algorithm would be changing its News Feed algorithm. This change would prioritise content from friends and family over the content of businesses and corps. More than it used to do that is.
What does Facebook's algorithm changes practically mean?
If there is one thing social media platforms want from you, other than your data of course, is your time. But, according to Facebook, this has changed. It no longer cares how much time users spend on its platform, as long as that time is "quality" time.
Facebook doesn't want you to be a passive content consumer who is scrolling mindlessly and endlessly on their News Feed until they find something they care about. Facebook wants its users to be active. Thus it's promoting posts that promote active engagement and demotes those that don't.
Now, the purpose of this post is not to decide whether Facebook means what it says or not. It's about facts; so let's take everything Facebook says at face value, move on, and stick with our plan about how you will increase your Facebook reach.
Comments = Win
Mark Zuckerberg and Facebook deem "conversation" the most important outcome of this algorithm update. This is why posts that become the occasion for discussions through comments will be in favour. Replies to comments also are a proof for the algorithm that said post makes a good piece of content for its standards. What this means is that you want to be publishing content that inspires users to tag their friends in comments and start a conversation.
As a result, brands should create quality content, with the intention of sparking conversations between users. Try including questions in your posts, or writing about timely, relevant topics that users are sure to have an opinion on.
If one of your fans/followers comments on one of your posts, then it's more likely that the friends and family of the user will also see your post.
Now, there are possibly already some gears on your head spinning, thinking 'Hey, this is easy, I've seen, or even made, many posts where I ask my audience to leave a comment. I hate to break it to you, but this counts as comment baiting for the algorithm. And the algorithm is a machine learning.
To help the Facebook teams foster more authentic engagement, they have reviewed and categorized hundreds of thousands of posts to inform a machine learning model that can detect different types of engagement bait. Posts that use this tactic will be shown less in the News Feed.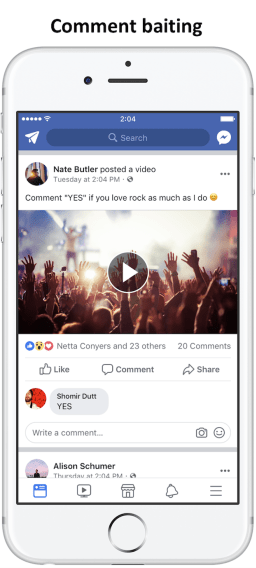 Love ❤️ > Like ?
Just as in life, to love something is rarer than liking something, thus it is more valuable. The same goes for Facebook's reactions. If a user puts in the effort to do something different than the default 'Like', this gives the signal to the algorithm that this post is not just another post and it creates more complex reactions from the users because it's interesting and engaging.
'Haha', 'Wow', 'Sad', and 'Angry', Facebook considers those "active" emotions and the kind of emotions you should create to your audience if you want to see your organic reach increase.
As with comments baiting, vote baiting and react baiting posts are going to be demoted as well, for the same reasons.
Messenger > Wall
Messenger, apart from its dominant role as an app, also plays a complementary role for Facebook's algorithm. A message counts as 'a meaningful interaction' because it shows that the user believes that the link they are sharing is in the interest of the recipient(s).
Enough theory for now, though.
Let's dive into what you can practically do to increase your Facebook reach.
1. Get verified
To begin with, there are two different types of Verification: The blue one and the grey one.
Blue Checkmark
As AdEspresso mentions, the blue checkmark indicates the confirmed authenticity of Pages, public figures, and brands. This checkmark indicates that the account it "decorates" is the official account for a brand, business, or person. Profiles and Pages alike can get the much-wanted blue checkmark. Obtaining Facebook verification for a personal profile is significantly harder, and to do so, you must have a ton of friends on your account and meet other requirements
Grey Checkmark
In theory, Grey check marks show a confirmed location for a specific business. A grey check mark is location-based is much easier to obtain than the blue one. But why did I say "in theory"? Because, as of January 2019, this feature is broken.
Only some types of Pages can be verified. Having a physical location helps a great deal since the grey badge is location-based and much easier to obtain than the blue badge. Local Business, Organizations, Companies, and Public Figures are all page types that can obtain Facebook verification.
This is what blue badges and grey badges look like in action. The American domestic retail colossus Bed Bath & Beyond has a blue badge for its Page and a grey badge for every physical store that belongs in the brand.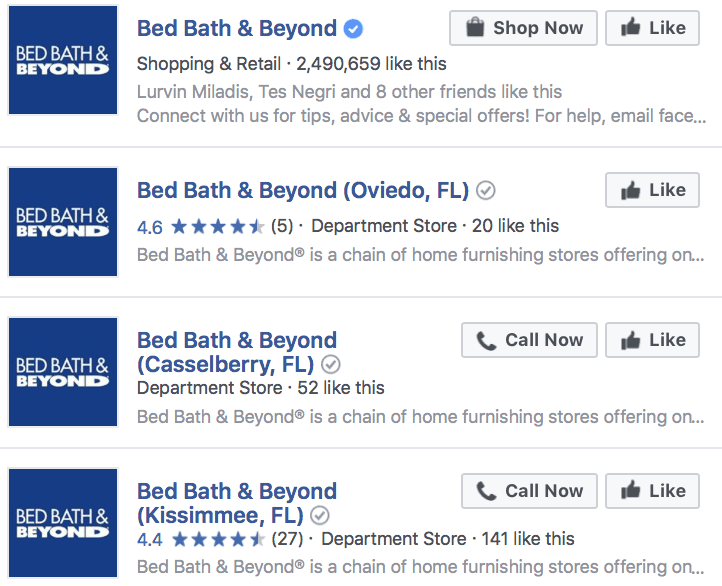 Can't get verified
Can't find the option to verify your business? You are not alone.
As of January 2019, don't bother trying to get the Grey Badge if your business doesn't belong in one of these countries:
Argentina, Australia, Austria, Brazil, Canada, Chile, Columbia, Dominican Republic, France, Germany, Indonesia, Italy, Japan, Malaysia, Mexico, New Zealand, Peru, Philippines, Portugal, South Africa, South Korea, Spain, Taiwan, Thailand, United Kingdom, United States.
2. Let your customers know they can hear more from you
What if your Facebook page was above the social media's platform algorithm? What if your posts could be at the top of your follower's news feeds? Except they can.
About three years ago Facebook decided to give its users more control over who and what they follow. Since then, all Facebook page followers have the option to 'See First' the posts of the pages they opt to. The average Facebook users don't know this. This is what it looks like: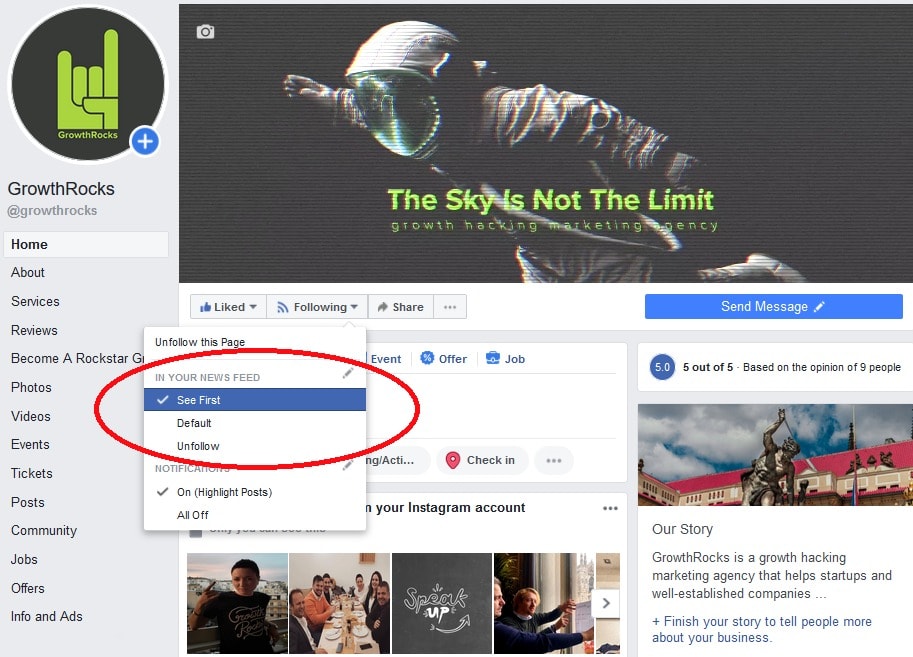 So first, your users need to make sure that they follow your page.
Second, they have to select the 'See First' option.
Again, the average user doesn't know about this so this is where you should come in by letting them know.
So, for example, in our case, we would make a post among the lines of: "Hey, if you want to hear more from our growth backing agency and never miss a post, this is how you do it."
3. Videos are Good
According to social bakers, Video is the best format for organic reach, when compared to statuses, links and photos.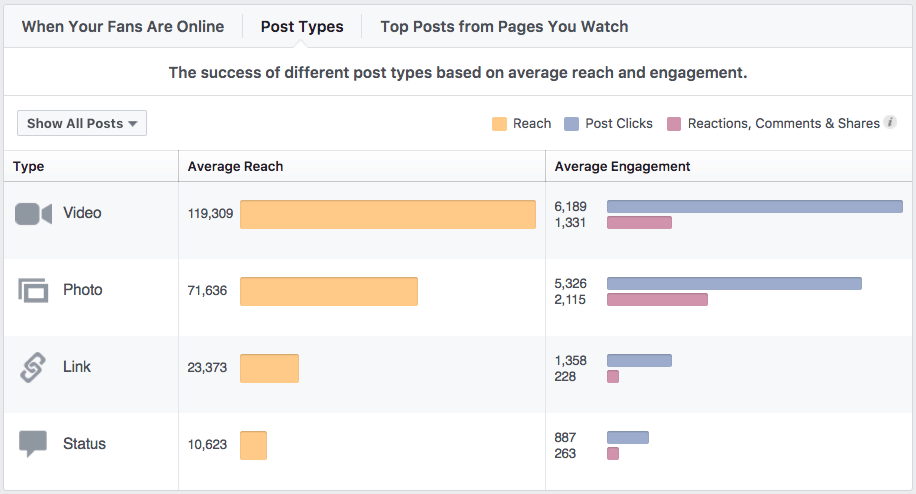 Videos on Facebook are engaging and make visitors more likely to stop, watch, and maybe even unmute when they spot them in the News Feed. Use videos with captions, animations, and engaging visuals to draw in Facebook users' attention.
Keep note that you should take the extra step and design the videos you want especially for the Facebook platform. Posting your videos from your YouTube channel just won't cut it.
A study from Quintly shows why native videos are flat out superior, compared to the linked videos from other video platforms such as Youtube and Vimeo:
Compared to YouTube videos, Facebook native video received on average 530% more comments.
Facebook native videos had on average a 477% higher share rate compared to YouTube videos.
Native Facebook videos have a 186% higher engagement rate.
In addition, they are shared more than 1000% more than videos linked to from other hosting sites.
4. Live Videos are Even Better
If Video is the king, then Live Video is the Emperor. Using live videos can offer you serious benefits such as:
Unique content: With Facebook Live, you are producing unique content the second you start a stream. This way you can provide an instant, real-time source of content for viewers, that's like nothing else.
Cost-effectiveness: A Facebook Live video is, more often than not, cheaper, compared to regular video production. This happens because a Facebook Live video usually doesn't need a high production value: a set, lighting, an expensive camera and editing come in second place, behind the live experience.
Direct Audience Connection: Engaging with your audience live, in public, brings a whole different level of connectivity. Live Q&A's and AMA's show that a business or brand has nothing to hide and wants to engage with its audience. According to Sprout Social, 90% of millennials and 79% of baby boomers say answering social media questions is 'cool instead of annoying'. Responding and engaging with your audience should be at the top of your to-do list.
A sense of importance: Just the word 'Live' on whatever is on the screen, makes the broadcast look important. Think of you and your good ol' TV. During your regular channel surfing, it was more possible to pause to a channel that was 'Live' than to one which was not.  Facebook Live implies a certain level of priority. If it's Live, it's important.
Agorapulse did an experiment regarding Facebook Live videos.
Their hypothesis was this: Facebook Live video will have a higher engagement as well as reach than uploaded videos.
Long story short, their hypothesis was correct, as they measured reactions, comments and shares from the Facebook fan page, comparing live to uploaded videos. In numbers, this looks like this;
Reactions: Facebook Live 431% higher

Comments: Facebook Live 7044% higher

Shares: Facebook Live 2538% higher
5. Try different post formats
Although this isn't proven, Facebook's algorithm tends to promote posts that use newer formats. The logic behind this claim is this: If Facebook doesn't promote its 'new cool features', then who will? The platform wants its users to know that 'it has created something new that they will like'.
So what's new right now? Facebook Live, and especially Facebook 360, is what you should be experimenting with to achieve greater organic reach.
6. Start a Contest
Although a lot of things have changed in the 'contest land' of Facebook, a contest remains a valid way to increase your organic reach in 2019. There are some things you should look out for.
First, you need to make sure that your contest isn't an engagement bait like in the cases you saw above. You also shouldn't make 'tagging a friend' a mandatory for your contest, as well as avoid by any means to ask from your audience to share your contest on their or their friends' Timelines.
Last but not least, your prize should be related to your products or services. If you sell tents, don't do a smartphone giveaway. Increasing your reach and engagement to people who don't really care about is a waste of time and resources.
If you want to learn more about Facebook's official policies on pages, groups and events, you can visit the official page here.
7. Don't buy any Likes
This is technically not something you should do to increase your organic Facebook reach but something you should avoid at all costs.
Here's a thought experiment: Name one of the benefits you think you'd have if you were buying Likes on Facebook (apart from having more Likes).
More Comment/ Shares/ Impressions/ Total engagement?
Less Cost per Action?
Higher organic reach?
No, no, and no (respectively).
Unless you are a social media manager and your boss wakes up one day and tells you "Listen, you either buy some Likes today or you lose our job", you should avoid buying Facebook Likes like the plague.
You know how much I like a good experiment over any piece of text, so here is the experiment from AdEspresso that measured the impact bought likes would have, compared to paid advertising. This is the second part of the experiment: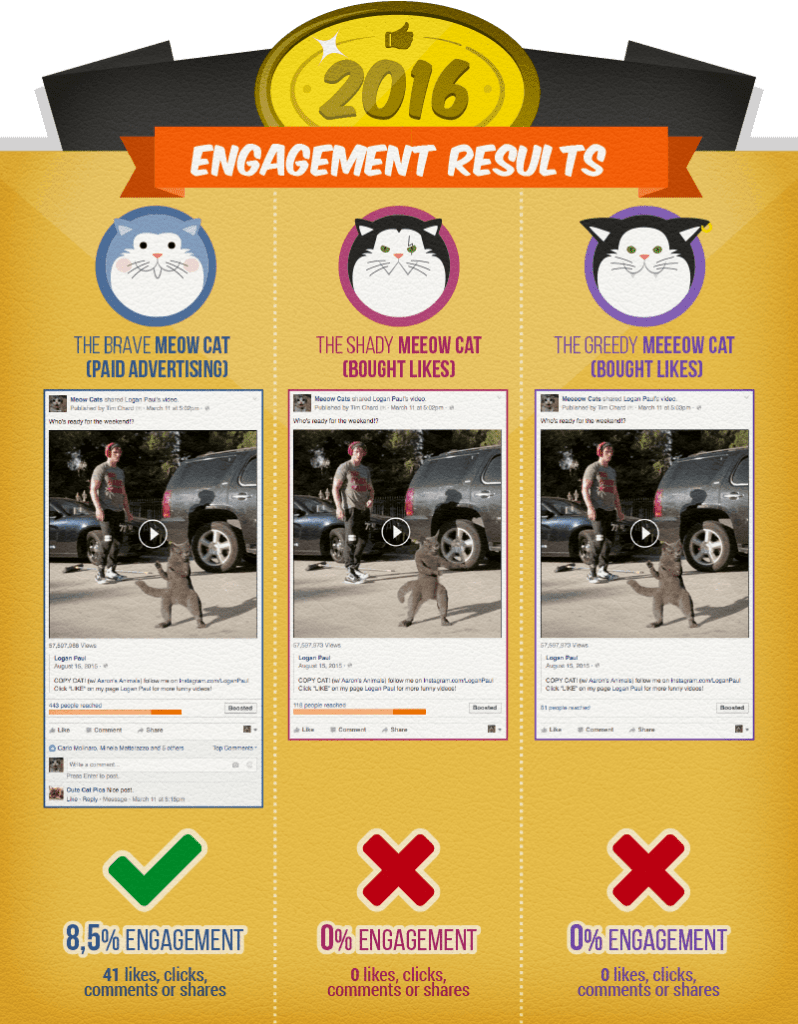 Genuine interest is something you can't buy, and one shouldn't be able to buy regardless.
8. Your number of posts
This is another instance when less can mean more. How often should you put content out there?
You can be the only one who can answer this question through experimentation. You can, for example, try posting as often as once a day and lessen your number of posts every few weeks until to the point when you post once a week.
Then, with the help of Facebook Business, calculate the average organic reach and the average amount of engagement per post. Which post performed better?
This is what AgoraPulse has to say about finding your perfect "post to Facebook" number:
Knowing your audience and adjusting your strategy to meet their needs is the number one thing that will keep you competitive today and through any future algorithm changes. Starting with 1-2 posts per day will allow you to create a good baseline and begin testing and experimenting with more frequent or less frequent posting.

External factors are going to influence user engagement so take time zones, national and regional holidays and current events into account when analyzing your data.

The most important thing is to never let your Facebook posting strategy stagnate. Using these tips should be a good way to keep things fresh.
9. Quality over Quantity
Less is More… Engagement
Spray and pray is not so much a tactic as the lack of one. Regardless, 'spray and pray' should not be considered as a possible option anymore. What you should be striving for instead is the highest possible interaction from a single post.
Keep in mind that each post published to a brand Page can be targeted to a specific audience regardless of whether it's sponsored or not. By experimenting with your targeted audiences can improve overall interaction with that post, among other people who are likely to find it more interesting and relevant.
10. Find the best time to post
According to Buffer, a few searches show the best times to post on Facebook.Thursdays and Fridays from 1 p.m. to 3 p.m. are the best times to post on Facebook
Thursday at 8 p.m.
1–4 p.m. late into the week and on weekends
Early afternoon during the week and Saturdays
Off-peak times are best
You guessed it right: there is no single best time to post on Facebook.
As Brian Boldan explains:
"On average, there are 1,500 stories that could appear in a person's News Feed each time they log onto Facebook. For people with lots of friends and Page likes, as many as 15,000 potential stories could appear any time they log on.

As a result, competition in News Feed — the place on Facebook where people view content from their family and friends, as well as businesses — is increasing, and it's becoming harder for any story to gain exposure in News Feed."
This is exactly why you should experiment on your own.
The simplest way to do that is this:
At your Homepage, click on the 'Insights'.
On the next screen, to the left, there is a 'Posts' button. Go there.

Now you will see something like this.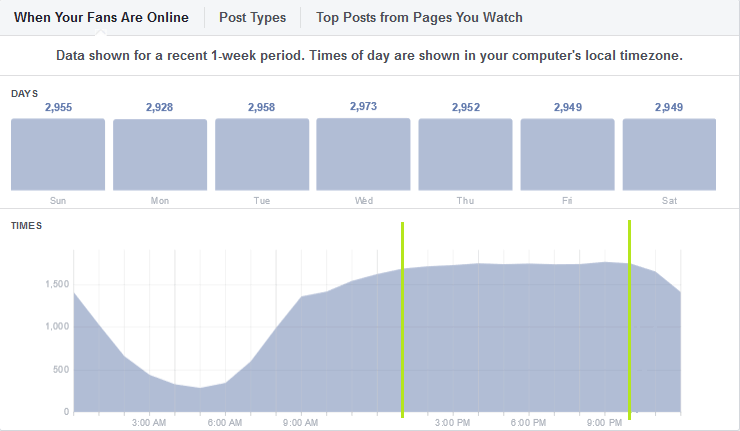 What this data shows now are the times our audience is online. In our case, the time most users are online is from 11 am to 10 pm, like my pro MS Paint skills indicate. Therefore we shouldn't post anything in the morning or at night. Which is what we do, as we usually post from 12 pm to 8 pm.
11. A simple Call-To-Action
Too often we overlook what's right under our nose.
Adding a call-to-action (CTA) can be as simple as adding a reminder to "Please Like and share" at the end of your posts.
Simple as that.
12. Edit and re-publish your content
Let me tell you this: Your content is valuable and deserves a second chance.
You waste a lot of time and effort to create your content. Occasionally, it takes more than one try for your content to shine. Not all content qualifies for republishing though. Due to their ephemeral nature, seasonal content, news, updates and trends shouldn't be republished.
Sometimes, the content itself is not responsible for a bad performance. Irrelevant visual, bad distribution choices such as time or day of posting or plain bad luck should be taken into account in the performance report.
Make some adjustments and republish your evergreen content to aim for organic reach.
Conclusion
Facebook reach is steadily declining, but this shouldn't mean that you shouldn't do something about it, because you can.
To sum up, here's everything you can do to increase it:
1. Get Verified

2. Suggest to your audience to 'Add First'

3. Prefer Videos

4. Even better, go for Live Videos

5. Try Different Formats

6. Do contests

7. Don't Buy Likes

8. Experiment with your total number of posts

9. Put an emphasis on Quality over Quantity

10. Find the Best time to post

11. Add a Call-To-Action under your posts

12. Give your content a second chance by re-publising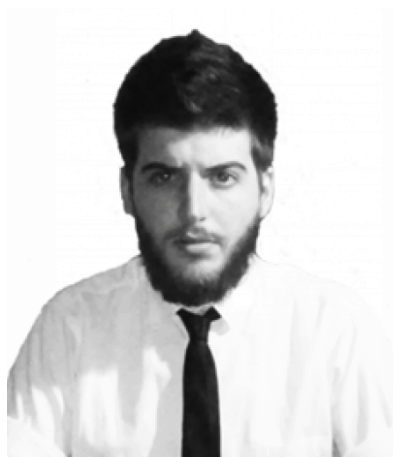 I write for GrowthRocks, one of the top growth hacking agencies. For some mysterious reason, I write on the internet yet I'm not a vegan, I don't do yoga and I don't drink smoothies.