It started with How to find anyone's email.
It now continues with how to find anyone's email address, email campaign creation, content creation, and social media boost.
B2B lead generation tools are in – playing the guessing game is out.
Today's tool:  Anyleads.
Intro
Like the name gives away, Anyleads promises to bring you one thing: Leads.

Anyleads is a lead generation infrastructure for small and larger companies. It's a platform that allows you to find emails, send drip campaigns, and sell more. With Anyleads, you can build a highly targeted database of contacts and prospect them. It allows you to increase your sales team productivity, generate more leads, and skyrocket your sales.
Anyleads includes three different categories: Prospecting, B2B Exchange, and Content Creator.
Prospecting
Through the menu of Prospecting, you can either go to your Inbox, Dashboards, Find Leads, Contacts, Emails, or Add rules for the Zapier integration.
On Inbox, you can import contacts and receive a notification whenever you have a new reply, based on the active filters.
Through the Dashboard, you can find metrics such as the number of your contacts, lists, campaigns and overall performance.
Contacts is a list of all your leads which can save and display a number of different data about them, such as company domain, job position, LinkedIn number of connections, etc.
Then comes the 'Find Leads' function.
Find Leads

Through this function, AnyLeads will convert names to domains.
Thus, if you upload a list with the names BBC, Unesco and GrowthRocks, you will get bbc.com, unesco.org, and growthrocks.com respectively.

This feature will make you feel like a real spy. And, all you have to do is type the URL of the company.
I typed in 'growthrocks.com,' so I got back info about us, the company's employers. Sixteen to be exact, which is a pretty good number, considering our company's size. Some of the essential data Any Leads retrieved is:
First name
Last name
Headline
Job title
Location
Business email
LinkedIn profile URL

This is where you will insert a company's domain, and the B2B lead generation platform will search only for emails that belong to the company's domain.
Company miner is a more focused and refined email retriever, as long as you provide more info. In this feature you can upload data files with 'First Name,' 'Last Name' with either a 'Company Name' or 'a Company domain' and you can get valid email addresses.
This Bulk email checker tool helps you validate emails from your API. And like with every one of these functions, you can export the final list to either CSV, XLSX or XLS.
Emails
Say you found the number of emails you wanted. Now what? Now it's campaign time!
First, connect your provider and select the sender you want to use.
For every App sender you have, you can send 2,000 emails.
It goes without saying that the more senders you have, the more emails you can send.
Once you connect your provider, you are ready for the fun part. This is where your drip campaign begins.
Drag and drop the trigger, which is going to be your list. Once it's on the grid, push the orange gear icon and select a list (in our case CEO USA Part1).
Now it's time to add some actions.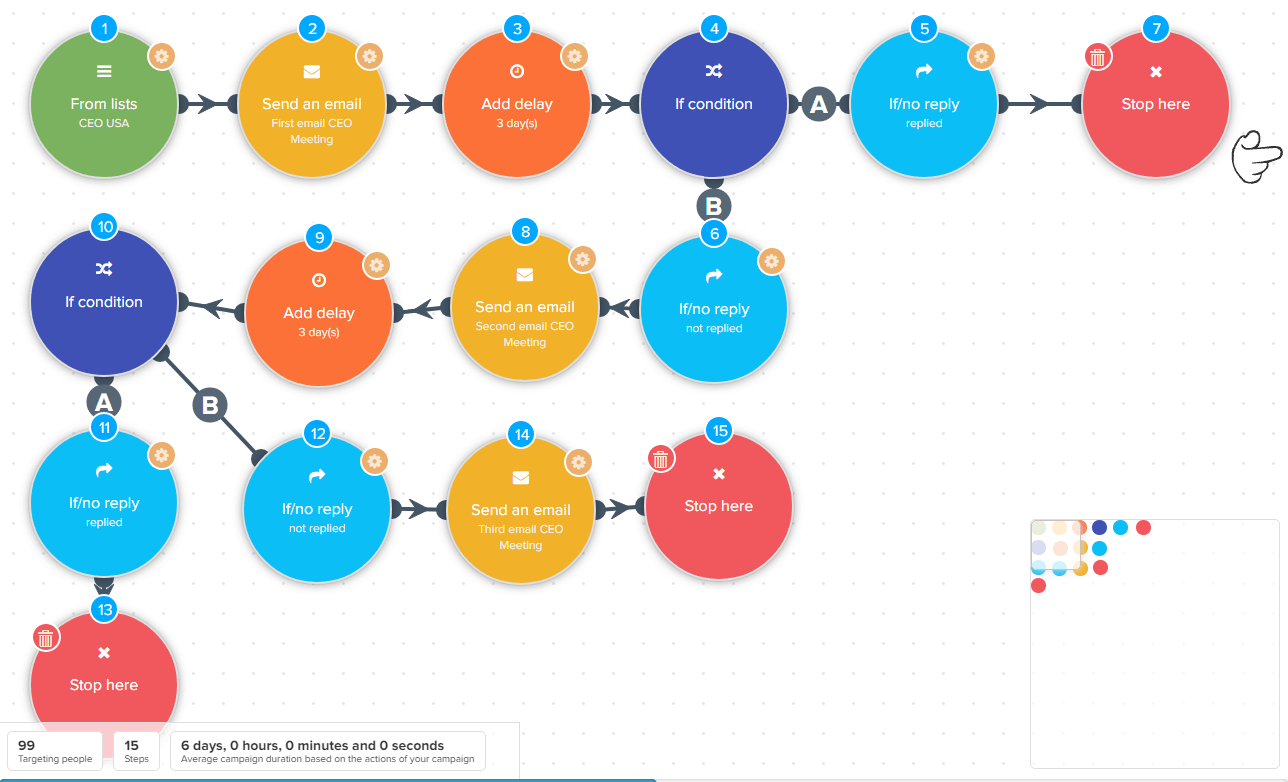 Once you are happy with your flow, you have to decide when you are going to send these emails.
Through the "schedule configuration," you set your custom range. You can also select the business hours per region.
Congratulations! You are ready to launch your campaign.
Once you do that, you will have a global overview of the campaign with a lot of information such as sent rate, open rate, click rate, conversion rate, reply rate, and bounce rate.
B2B Exchange
The B2B Exchange function is about getting LinkedIn virality.
But first, let's take a step back here and see why you should aim for LinkedIn virality in the first place.
According to Kissmetrics, LinkedIn is responsible for 80% of B2B leads on the social media landscape. What that means is that 4 out of every five social media leads come from LinkedIn.
LinkedIn's feed has its own algorithm and LinkedIn's algorithm beauty is this: as long as your post is performing well, it will keep showing up in the feed.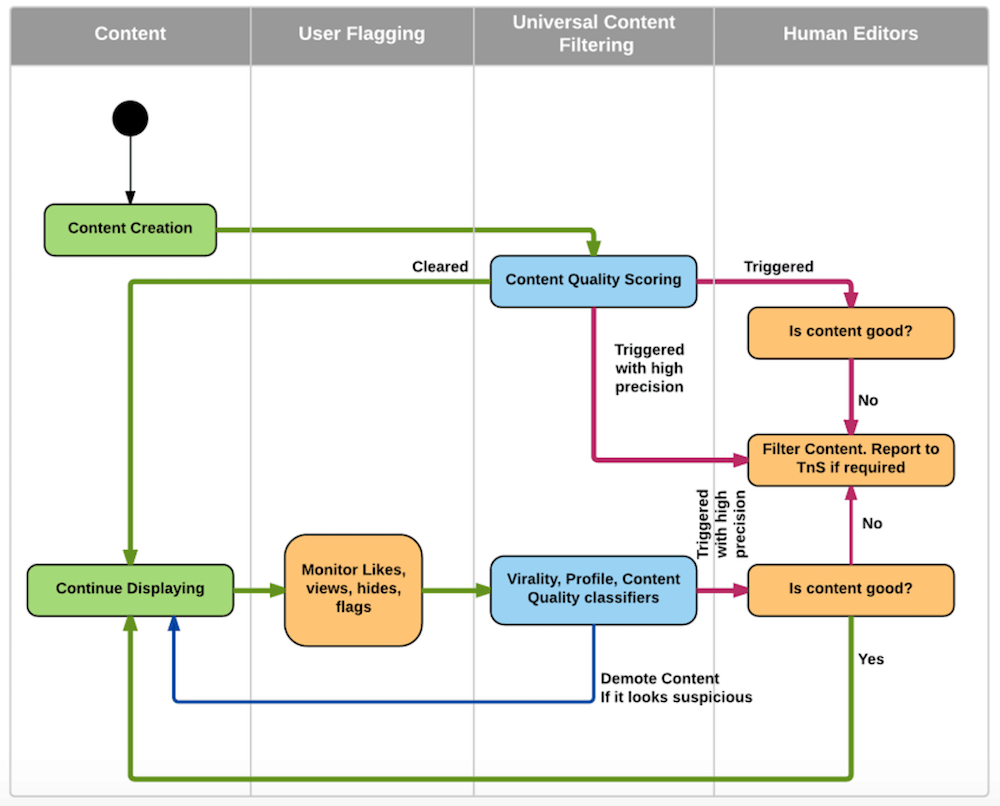 Part of the LinkedIn algorithm's uniqueness is that it uses real humans to filter through user-generated content and to learn more about what makes a post noteworthy.
This is the stage where those humans determine whether your post is valuable enough to continue displaying in the LinkedIn feed. If your post continues to get engagement, the cycle continues, and it keeps being shown. There's a lot of speculation that, at this stage, if your content is amazing, it may get a boost and reach more people. It might even show up on a LinkedIn Channel. However, it takes a lot of work, and even some luck based on what LinkedIn defines as good performance. No matter what, you need some initial traction.
Back to our B2B Exchange feature, you first have to add your LinkedIn status link to start receiving Likes and Shares from the Anyleads community. You may have as many as five statuses at a time.
I created mine 3 hours ago, and I've already received 100 Likes and 18 Shares.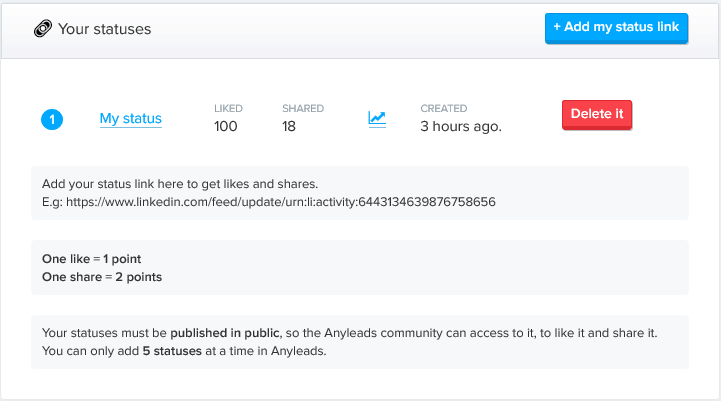 In the meantime, you should start liking or sharing, or both, the statuses of others as well. This is a community after all, so the fewer people engage, the less effective the community becomes. There is no reason not to do that anyway, as the procedure is automatic! The point system goes like this: For every Like, you get 1 point and for every Share 2 points.
Here, I open the LinkedIn Exchange system on a different tab and leave it to Like automatically the statuses of the rest of the community members every 30 seconds.
I can then return to whatever I was doing while the LinkedIn Exchange system does its thing.
There is also the option to create a group, where you can add your co-workers and friends from the B2B lead generation platform. As with everything with this platform, you won't have to click more than two buttons to make that happen: You can send to as many as 100 emails and invite them to your group.
Since this is your group, you also have the power to remove them if you have to.
Content creator
Content creation takes time. And most of the time, there are no shortcuts for this.
You either go for plan
You want high-quality content, so you have to spend a lot of time and resources to make it.
Or you go with plan
You simply want some content of lower calibre so that you can do something else with your time.
Of course, there is the cheap way – plan for C. C stands for copy-paste in our case, because this is what this plan is all about.
Besides any possible ethical barriers, one could have, Google doesn't like plan C. Through Google Alerts, Google Search Authorship, and tools like Copyscape and Trackback Notifications, both Google and the original author will know when someone is… lending some of their content.
This is where Anylead's Content Creator comes into play and introduces a plan D.
According to plan D, you start with the Create Content button. Then, you type your query and start your research. For this example, my query is: 'Why is it raining?'. So I now get the results and click on the headline I like the most. What I see next is the content I'm looking for, which is not indexed by Google – or anywhere else for that matter.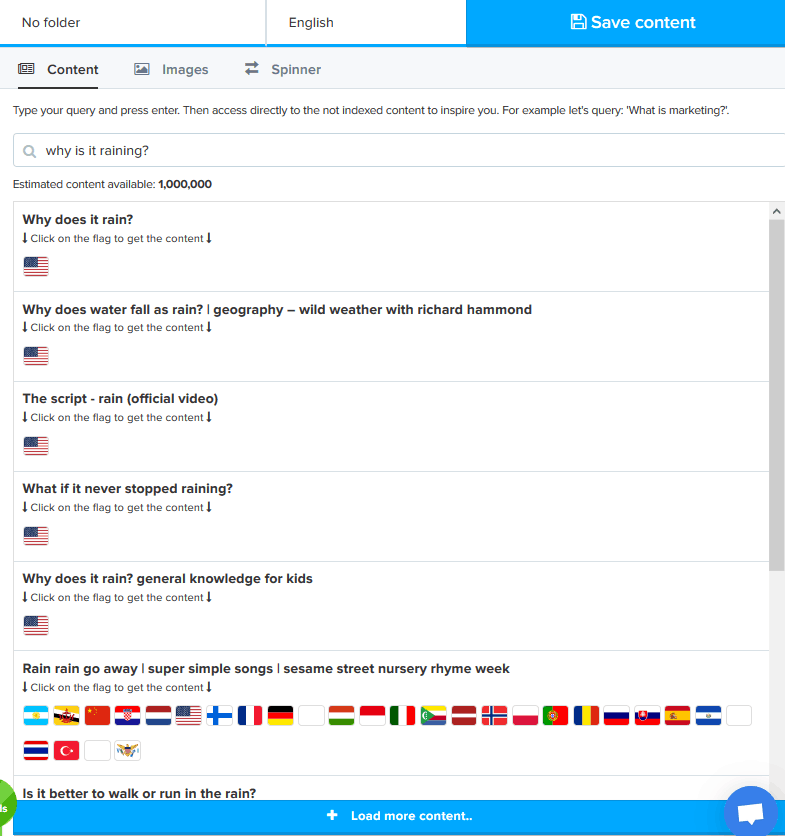 I can take this content as is, freely, and I don't have to worry about duplicate content issues.
I know what you're thinking: "Where does all this unindexed content come from"?
The answer is Youtube.
What Content Creator does is scraping YouTube for videos related to your keyword. Each video has subtitles, and those subtitles are what you will get.
In our case, this part of the text –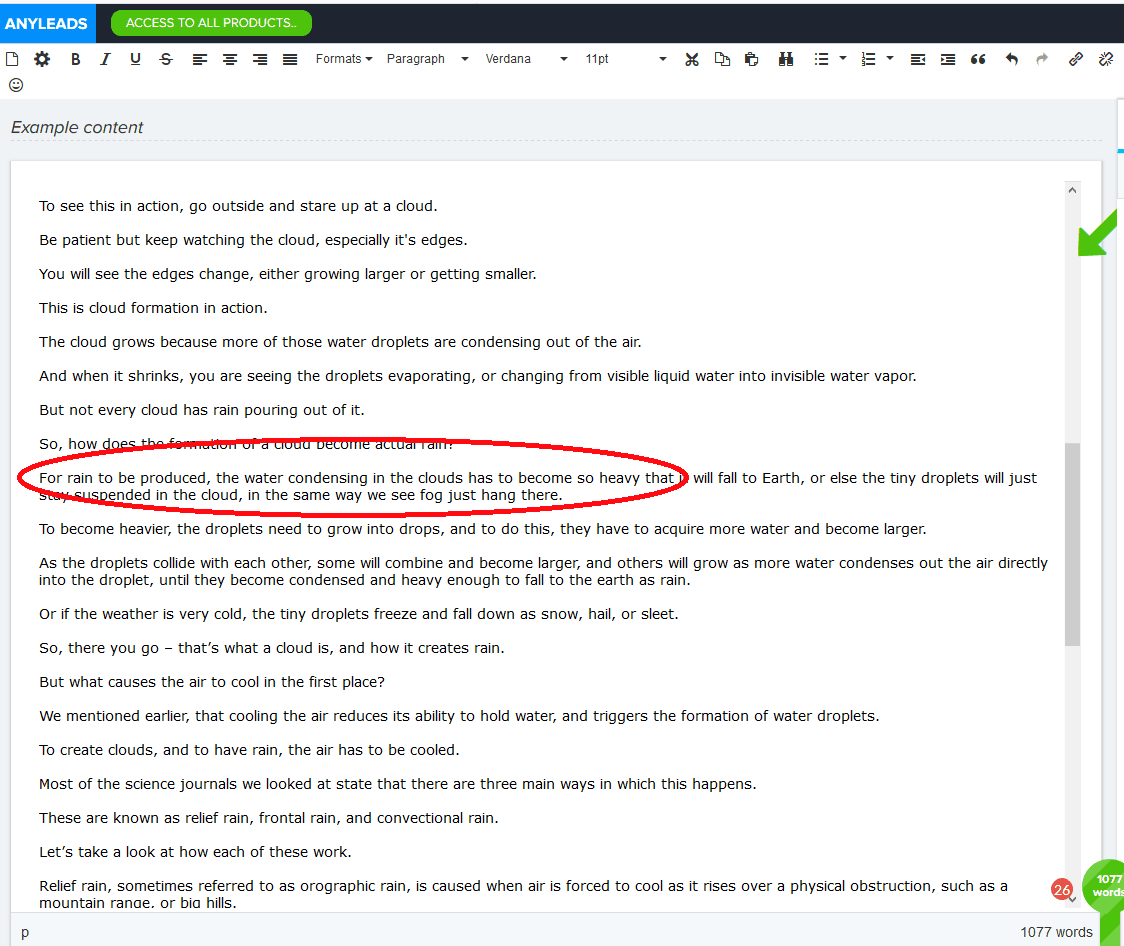 Comes from this part of the video:
Also, the editor has two more features.
With Images, you can copy-paste images from imgur and GIFs from giphy directly into the editor.
Here I'm browsing through rain gifs from giphy without leaving our B2B lead generation platform. Then drag and drop them to enrich my content easily.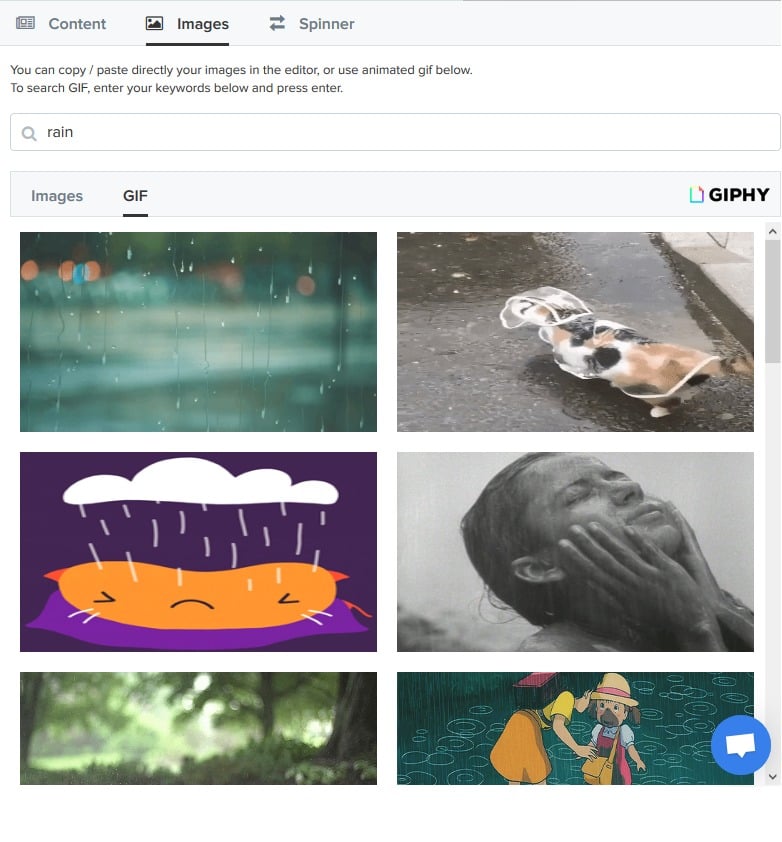 The second feature, Spinner, replaces a word of your choice with another. For example, let's say you are writing a piece of content about tornados. And you found a source which is American, but your audience is European. You can easily replace the words "miles per hour" with "kilometers per hour", every time they appear.
Anyleads & GDPR
So is everything you read about this B2B lead generation tool in compliance with GDPR?
Like Anyleads states on their site, they have 8 points. For each point, they explain how they handle their compliance for every one of the citizen's rights:
Information: Anyleads clearly informs its users about the use that will be made of their data.
Access: Anyleads' users can access all their data, without restriction.
Rectification: You can contact Anyleads anytime and process all your rectification queries.
Erasure: You can contact Anyleads and they will process all your erasure queries.
Processing restriction: Anyleads doesn't process the data of its customers (and their customers end-users).
Data portability: Anyleads' users may contact them anytime if they wish to get an export of their data (this may take time, however, as the data is fragmented amongst multiple isolated data-stores).
The right to objection: Anyleads handle all requests on this matter from their users and users' end-users.
The right not to be subject to automated decision-making including profiling: Anyleads doesn't do that.
Anyleads deals only with publicly available web data. Any information removed from a website is also removed from its database. Also, all of Anylead's data is held on servers hosted in the European Union.
You can learn more about Anyleads & GDPR or the tool in general on Anylead's website.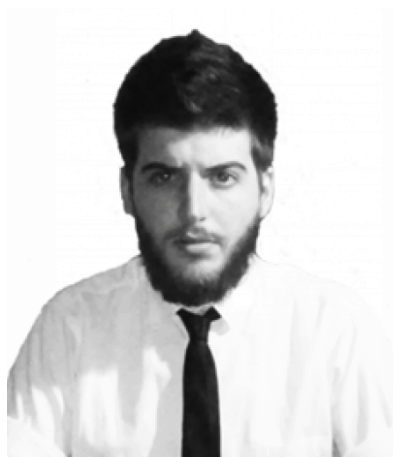 I write for GrowthRocks, one of the top growth hacking agencies. For some mysterious reason, I write on the internet yet I'm not a vegan, I don't do yoga and I don't drink smoothies.