People in GrowthRocks know my true nature. I'm not a growth hacker; I'm not a copywriter either. I'm a web-crawling humanoid. Just kidding but, everyone knowing me in person has experienced my obsession with discovering great articles, blogs and of course e-books.
Because of the competition out there, people are offering great pieces of advice for free, through their publications. Even though there's no such thing as a golden ticket in growth, you can derive inspiration from these publications and build your own tactics. I'm a lot into mobile apps lately, so I got kinda mad about finding great sources for mobile app growth hacks.
In my last web raid, I stumbled upon a friend from the past; Fabio Virgi. Fabio is Founder/Tech Blogger at Let's Talk Tech and Director of Growth at Paddle.com. For those unaware, Paddle's developer tools make it easy to sell & manage apps from a single dashboard. From payments and trial versions to in-app analytics for desktop & mobile, Paddle's tools leave developers with more time to focus on building great products.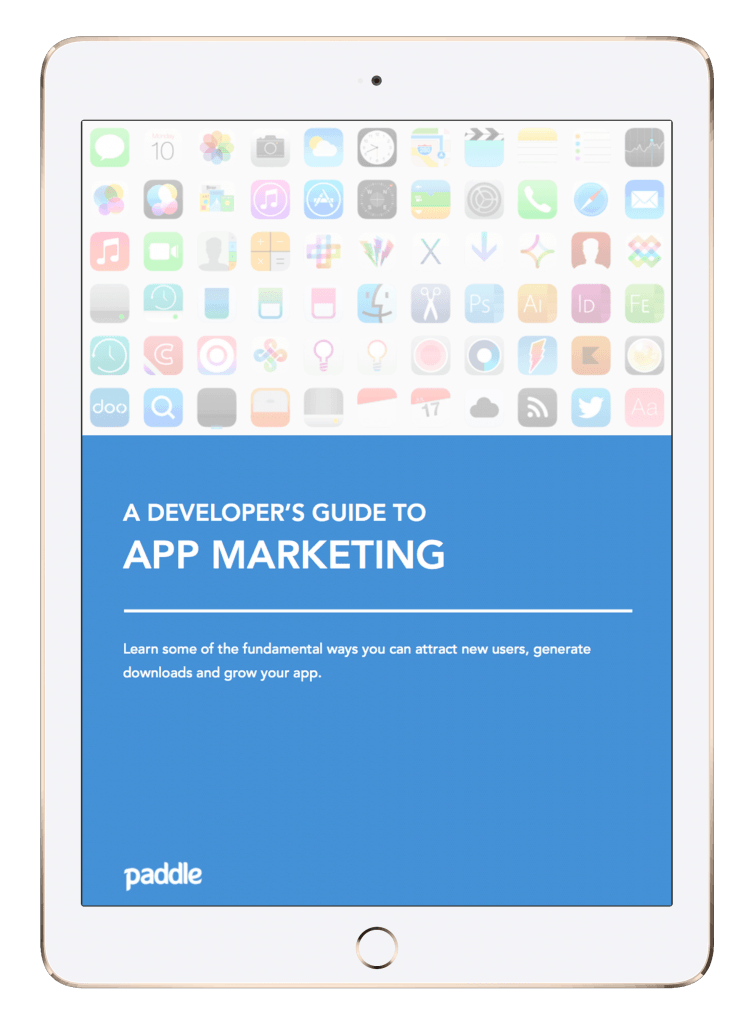 The "Developer's Guide To App Marketing", is separated in six sections:
1.Optimizing your website
Give your potential customers a chance to fully understand what your app is about; what makes it special and how it's going to improve their lives. Build pages depending on the message you want to communicate and also, use A/B testing to improve the user-experience and  copywriting. Learn how to gain your customers trust and leverage content marketing and SEO for your own sake.
2.App store optimization
ASO helps to increase your app's discoverability within app stores. Using the right tools allows you to find the keywords that are relative to your app and have the potentiality to bring traffic, thus downloads. Find out what keywords your competitors are ranking for and guide yourself to the right choice. Choose your app's title and description wisely, as it's the first thing users will see and your first chance to sell the app. Find out why ratings, great screenshots number of downloads can skyrocket your ranking in the app store.
63% of downloads come from general app store searches
 3.Media coverage
Although getting featured on sites like TechCrunch is a powerful way to drive up interest for your app, leaving out of the equation smaller blogs and websites in your niche can cost you in users. Try to book app reviews or give bloggers and journalists exclusive previews, so you gather feedback to tweak your app. Find out where your competitors are mentioned and try to get your app covered there too; use giveaways to lure people back to your website.
4.Social media & advertising
Cut through the endless noise of social media by conversating with people having problems that your app solves. Learn why offering your users prizes in order to share your app is crucial for your social exposure. What are the pros and cons of paid advertising/ sponsorships and how to choose the right platform to advertise your app. Is there a best practise?
5.Email Marketing
Email is one of the most direct & personal marketing channels. How to acquire emails through various campaigns and use them to personalized drip campaigns. You can lure people to give you their email in many ways, such as offering giveaways or unlockable content.
6.Bundles and promotions
Getting exposure in larger audiences by bundling together a number of apps & games and selling them for a discounted price. This is a great way to
drive up revenue and grow your email list.
Conclusion
Fabio really did a great job with this ebook. It's the perfect place to start marketing your app. This is something easy to read and understand, no matter your level of expertise. Newbies get something to start with, and the experienced some food for thought. Make sure to get your copy of "A Developer's Guide To App Marketing" now!
What techniques are you using to market your apps?
Apostle is a pure-blood Marketer. His job is to find a way when ostensibly there is none. Planning and executing A/B Tests, Email & Content Marketing along with alternative marketing techniques based on human psychology, all for the sake of customer success.