Last updated: 05/11/2019
The New Era Of Growth Hacking Automation
Remember the time you had to do everything by hand? The time you had to take all your customers from a spreadsheet and manually send them a personal email (a template you had to copy/paste and change the name, company, etc.).
Luckily, this era belongs to the past. Startuppers and people in tech don't have the luxury of time to deal with silly micro-tasks.
Not having an idea of coding could be disastrous if one wants automated processes. But life is hard, right?
NO, it doesn't have to be that way! Thanks to growth hacking automation.
Zapier introduced us into a whole new era of automation. The Homo Zapier era, as we call it in GrowthRocks. Zapier offers a chance for non-techs to build growth hacking automations, quickly and painlessly.
It took a little research to find out that, although there are a bunch of articles out there giving away great Zapier automations, there's not a single one that showcases a real scenario. That's why I decided to make an article about how we've initially built our growth hacking automations using Zapier.
So, in this blog post, I'll show you how to set up growth hacking automations for:
Sadly, some of the zaps included in this article are not ready-made, so you've got to give some time and understand how to build your own zaps. If you don't feel like it, there are digital marketing companies that can help you with software automations.
Lead Management
You probably already know how important lead generation is for a business. Actually, that's what everyone is after when running one; customers.
There are two types of leads: inbound and outbound. In this guide, we'll focus only on inbound as outreaching for customers is a whole different topic.
A lot of people use Wordpress or Joomla to build their websites, but that's not GrowthRocks' case as a CMS platform would limit us (and also our development geeks would be pissed off) at least for our main website. So, we went with custom HTML and a lot of .php and javascript.
As you may understand all the forms on our website are custom and written on a MySQL database.
In our early days, the problem was that every submission we got to the database (inbound lead) wasn't visible to anyone but the "database master". The database master already had more tasks than he could handle and we knew that.
We had to find a way to make things easy with growth hacking automation. However, our developers were too busy developing other tools, like Viral Loops. Sadly, I had to do it on my own, and I was kind of a noob with engineering stuff.
I gave this query on Google: "growth hacking automation." That's when Zapier showed up. And that's the reason I knew I had to try it:
I needed all the inbound leads to be imported in our CRM, so I decided to start our growth hacking automation from this.
For every new submission to our MySQL database, a new entry on Hubspot CRM was created.

But we also wanted these inbound leads to be added to our Mailchimp List, so we use a zap to create a new Mailchimp entry for every new submission to the Hubspot CRM.
By only using these two simple zaps, we managed to grow our lead gen conversions by 38% within a month and even better, nevr lose a lead again.
Lead Nurturing
In order to push people down in your funnel and maximize your sales, you have to know as much as possible about your potential clients. Generally speaking, what you usually get is their email and sometimes their first name, too.
A good way to learn more about those people is by gaining access to their info.
So how do you do this? The truth is that you actually might already have been through that process yourself many times. I know I have. For example, I subscribed to Hubspot's blog newsletter giving my email only. Some weeks later, I was asked if I wanted a super cool ebook.
"Hell Yes!", I said. But to take the book, I had to give my first and last name, my company's website, and my job description. The same thing happened with a webinar by KISSmetrics.
Surveys are also a great way to get that kind of information.
So, let's say we're running a webinar. You'll need a landing page (I use Unbounce) and a webinar platform (GoToWebinar is amazing).
If you want to learn more about how to plan & execute a webinar you should definitely give a look to my (awesome) step by step guide to webinars.
All in all, you'll need 2 Zaps:
One that takes all the information from the webinar's landing page and updates already existing or adds a new contact in your MailChimp list.

And another one that will take the information from the webinar's landing page and register the attendee to the GoToWebinar Platform.

I know that you may start grinning about how webinars are also a way of generating leads; I say that it's even better and smoother for learning more about people.
So, how do you nurture those leads?
When I started outreaching for outbound leads, I found Autopilot. Autopilot gets people from lists you create and puts them in different marketing "journeys," depending on the variable (e.g., type of company) for further segmentation.
Now isn't' that growth hacking automation or what? #growthhacking
Click To Tweet
I used to put there people who posted job openings for Growth Hackers so I could automatically pitch them our services. But after getting my hands on it more and more, I thought aboutusing it to get something from all these email addresses we had in our MailChimp list.
So, as long as your contact in MailChimp (or any other email platform that integrates with Zapier) is updated with the right information, you can use a Zap to get these contacts from MailChimp and add them to a journey in Autopilot. 

Content Marketing
Content Creation
I love creating content, but it can be a pain in the a**. And I think that this is the general opinion and not a personal statement. It's also true that:
Crafting great content is just 20% of the job. The other 80% lies in distribution. #contentmarketing
Click To Tweet
But this changes with growth hacking automation.
Although there's no Zap to create your new shiny blog post magically, there's a good bunch of them to help you with content distribution and curation.
The way I distribute my posts is pretty much traditional:
I publish the article
I notify our blog subscribers
Then schedule my social media posting using Buffer
I post the article on some communities relative to our niche
Email or tweet to people that I've mentioned in the article
But why leave out all the people that have shared and mentioned GrowthRocks in the past? These folks are not total strangers. Aren't they?
That's why I use a very popular and simple (yet genius), Zap.
Now, whoever mentions you on Twitter, gets instantly added to a spreadsheet.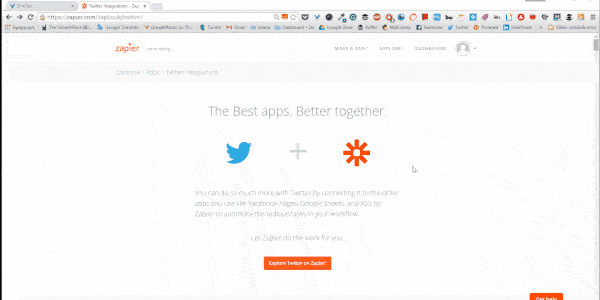 Content Curation
Next time you post an article you know what you have to do; Right?
But how many can you write per week?
One? Two maybe?
In order to stay active with your social channels, you not only have to write great articles and land them in as many relative eyes as possible; The most important is to become an endless source of great information for your audience. You have to share everything that is worth sharing.
How do I do it? Simple. I have my Feedly account set, following the best blogs about digital marketing, growth hacking, UI/UX, SEO & Content Marketing.
Using Zapier, I take the feed from Feedly and add it on a dedicated notebook in Evernote.
Every night I review all the articles and add the best in another dedicated notebook.
I have another Zap set, that takes the links from this notebook and adds them to Buffer Scheduler. It's magic!

I've also integrated Buffer with Snip.ly, in order to add a CTA to everything added to Buffer, directing straight to our blog; That brings a ton of traffic (you can see here how I do it).
Conclusion
Although Zapier isn't a silver bullet for growth hacking automation, it's an excellent place to start. You need as much time as possible off from micro-tasks, for you to focus more on things that matter. I'd love to see what zaps you're using for your growth hacking automation or questions on how we can help you to automate it, in the comment section!
Cheers 🙂
Theodore has a 20-year experience in running successful and profitable software products. During his free time, he coaches and consults startups. His career includes managerial posts for companies both in Greece and abroad and he has significant skills on intrapreneurship and entrepreneurship.