Why does everything about marketing have to be so hard? Link building, List building, SEO, Content, E V E R Y T H I N G!
Christmas is finally here, and all I want to do is like, snuggle up to my couch with hot choco and a dog. I still do not have one, though, but I would definitely go for a pug.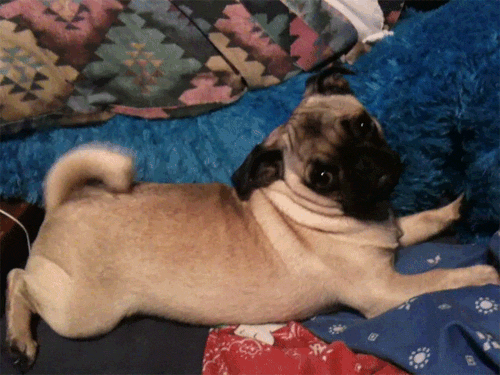 So one of the ways to ensure this fantasy for the following  year is a killer link building strategy. 
The need to understand and implement high-quality (link building) campaigns is essential if you're going to compete and thrive online, and that isn't going to change anytime soon, Paddy Moogan (Co-Founder, Aria)
So what are the things you need to know about list building? From the As to the Zs, we got you covered. Let's share some super growth tips, just me and you. *creepily gets near you*
You might want to skip to these list building sessions:
LINK BUILDING – SESSION I
The definition of Link Building is really simple. Moving from one site to the other is done by the method of hyperlinks (aka links). Link Building is the process of "building" hyperlinks to your site from as many other websites as possible.
I would have to say here that list building is in fact considered one of the hardest SEO skills to master. The reason for that is mainly because as a skill it is not purely SEO focused.
Content, User behavior, sales and much more other skills have to be coordinated in order to create fruitful links.
This is the structure a link should have and this is why we urge clients with weird URLs to fix them, as it will help them in the long term.
Type of Links
"Natural" Editorial links (Inbound)
THIS IS THE JUICE PEOPLE. Out of them, all these are the most important links. In a way, your SEO strategist won't have to do a lot here. These are, the links that other sites have generated on their own leading to your site.
Manually outreached links (Inbound)
This is the part where you suck up your huge ego and outreach to people, influencers, sites etc and ask them to link back to your website or piece of content. Of course, if you want them to aid you in your link building strategy you have to offer something in return. I will leave that up to you, but we might go over a few examples later on. Here you
Unnatural Links (Inbound)
These are not so good links and are usually associated with black hat methods. Some types are blog posts or generally purchased links. Even if you go for them they will not actually give you a huge boost.
Links from your own site to your site (Internal)
Links from your own website to other sites (Outbound)
A wise mixture of Inbound, Outbound and Internal Links will drastically boost your page authority
Click To Tweet
LINK BUILDING – SESSION II
For me, there are two main reasons why you should put focus towards list building.
1. SEO purposes
Google has made sure to upgrade itself once in a while making it frustrating for SEO players to actually do their job. So the SEO ranking factors may defer from year to year, but according to James A. Martin, one of the most crucial factors for 2016 were inbound links.
2. I am here and I ain't leaving bit…oopsie!
It is good once in a while to mark your territory and prove that you are part of the competition and here to stay. You can obviously do that by boosting your authority and this, in turn, is achieved by generating a lot of links.
Traditional marketing has of course changed but the thinking behind of it is still the same. Keep that in mind. Being featured in one of the most established sites in your industry is the new "magazine cover" goal.
LINK BUILDING – SESSION III
1. Make your content cool enough
Plot twist a marketer suggests good content as one of the main tactics. Sometimes for a successful link building strategy, you do not have to go far. 
And even if you put some thought into it, why would you ever want to link your site to a crappy piece of content. Well, ok it might be a fetish of yours, but let me reassure you it will not bring you money.
I have previously elaborated on two topics that might come in handy for you here.
I hope these will provide you with many fresh ideas for your content adventure. Also keep in mind the following and you will surely get a lot of backlinks.
2. Guest Blogging
Guest blogging is beneficial for your link building strategy in many ways. You produce unique content and spread it throughout the net.
This in return will boost your personal authority and the authority of the company you represent.
Keep in mind thought to always seek out high-quality blogs and blogs that are relevant to the industry you are working on.
In this guide, I made a while ago you will find more detailed tips and tricks on Guest blogging.
3. Pay attention to your internal linking
Although it might not seem like a huge boost it is, in fact, a good tactic and one of your primary link building methods.
Internal linking is a key factor to link building. DO NOT OVERDO IT THOUGH!
Click To Tweet
4. Reach out to Bloggers/Influencers
There are two things you can actually do here.
First of all one way would be to mention them in your piece of content. This has always been a huge help in the credibility of the statistics or quotes I provide within my articles. Then in turn you can outreach those mentioned and kindly ask them for a link back to you.
Second, and although this might not be as fruitful as method one, you can always just outreach them directly and ask them for a mention. What you give in return might differ, in most cases MONEY! TA DA DAAAA!
5. Be a "Broken Links" good samaritan
Although all people working in the marketing field will burn in hell. FACT, #SORRY_NOT_SORRY.
There are times like this one when you can outreach to web page owners whose sites contain broken links. You kindly contact them and inform them about the broken link.
Did I mention that you would always happen to have another link to replace the broken one?
AND THAT LINK WILL BE YOURS.
6. Get Social baby
I have been going on and on in all my articles about the importance of Social Media. There are not many things for me to add here. Continue doing what you do best.
A strong network around you that shares your content is exactly what you need in the case of link building.
7. Get some juice from "community" based websites
Some of these sites would be:
These are the sites you should aim for especially if you are a b2b business and you want to generate some kick-ass backlinks.
It is time for the good samaritan to shine again people. Once again keep in mind to leave a carefully curated answer and not just two crap sentences linking to your site.
Answers at Q&A sites become a permanent traffic source
Click To Tweet
8. Take advantage of Various Content forms
A video, a picture or even better an infographic could possibly be one of the best ways to generate thousands of links.
To be honest, infographics are a link treasure especially in mediums like twitter and Pinterest.
Funny thing is that infographics are considered one of the "advanced" link building tactics. The case is if you know a little bit of photoshop, then you are good to go and nail at this.
Sooooo
Things, as you have seen, are not so hard as other things we have gone through together, throughout the year. You should always have patience, try not flip tables or curse the people you outreach at the process of nailing at link building.
Today you learned what is link building, the value of links and what it takes to generate good ones.
I think that you should focus mainly on
SEO
Content Marketing
Social presence
Outreaching
If you do your work right, chances are that the links might start generating on their own after a while and you might not need to go through some of these processes never again. Do not forget to leave your comments below.
I try to constantly improve as a person and as a professional. I recently discovered the storyteller and growth hacker inside of me. Good research, commitment, and good visualisation constitute my work aesthetic.