Growth Hacker VS Digital Marketer
Excuse us but no matter how Hollywood-like this title might seem we do not aim at starting WWIII.
Our goal here is to clarify some things: what we actually do here, the mindset behind our every move and all the cool and fun stuff that come along with it.
Trying to explain Digital Marketing to people can be a real pain in the a**. Many old-fashion industry people are still struggling to keep up with the trends. But the face of even "up-to-date" professionals, when I explain to them that I am a growth hacker, is priceless.
My mother is the most demanding out of all people, and she still struggles to understand what I actually do, but I am almost there (WELL! I HOPE SO).
Defining growth hacking is not easy, even Sean Ellis (CEO growthhackers.com),  the one who came up with the concept thinks so too:
The definition of growth hacking was actually based more on the definition of what growth hacking is not
Here is some growth hacking food for thought, to get you hyped and to get us cracking:
And we could go on, but there is the time to dive deeper into the differences between a growth hacker and a digital marketer.
So close your youtube kitties tab and probably the porn one too. YES BOB YOU, WE SEE YOU. We got some serious marketing juice here; we need you 100% here.
Growth Hacker VS Digital Marketer – Definition

A growth hacker is, in fact, a marketer, but one with a different set of challenges to tackle and tools to work with.
Growth hackers utilize analytical thinking, product engineering, and creativity to significantly increase their company's core metric(s).
[clickToTweet tweet="The term growth hacker should be renamed Marketer 2.0 – @georgedeeb @forbes" quote="The term growth hacker should be renamed Marketer 2.0 – @georgedeeb @forbes" theme="style3″]
Although this should probably be the other way around you can easily grasp what is the point here. A growth hacker is like an imminent evolution of a marketer.
Marketing "Darwins" all over the cyberspace support that.
Is it the tools? The mindset? The product? What the actual f*ck distinguishes a growth hacker from a digital marketer. So from my experience here is brief but to the point definition about these two.
Growth Hacker
A marketer whose north is growth. The passion for growth pushes him towards testable and scalable methodology to skyrocket the desired metrics. His best tool is creativity and product experience data & analysis are his muses. He jizzes his pants when he comes up with repeatable growth strategies.
Digital Marketer
His key objective is to promote the brand. He uses various digital media forms in his journey to reach the consumer. Social media marketing, search engine marketing, and paid advertisement are just a small fraction of the marketing aspects he can work with. Dynamic customer interactions are what it makes them hyped.
As for characteristics, I think that the following table will clear out curiosities that might have been caused by these definitions.
The  bottom line is:
[clickToTweet tweet="A hacker is someone who focuses on the urgency of the goal rather than the process involved it." quote="A hacker is someone who focuses on the urgency of the goal rather than the process around it." theme="style3″]
Growth Hacker VS Digital Marketer


What tools does a growth hacker use?
Here is a laundry list of the primary tactics most growth hackers use: (Let me here those check sounds people)
Viral Acquisition:

Leveraging built-in product features to encourage existing users to share your product with new users.

Paid Acquisition: There are many types. To name a few, search engine marketing, aka Google AdWords; Facebook ads; display ads; mobile ads; radio, TV, OOH (out-of-home), and many others all can be part of one's arsenal – but they don't provide accurate enough source attribution for most growth hackers; and finally, affiliate marketing, or providing incentives to third-party marketers who then promote your product for you and take a cut of the revenue.
Content Marketing:

Leveraging blog posts, infographics, and viral videos to increase brand awareness and site traffic. Turn those visitors into users.

Call Centers / Sales Teams:

Surely building a sales teams does not count as "growth hacking," but recently a new trend is emerging: leveraging outsourced low-cost labor to help support a startup's efforts (usually in the Philippines, sometimes college interns). These workers can do anything from massively e-mailing your prospective customers to create hundreds of SEO-friendly pages. In these cases, I would consider it a form of "growth hacking."

E-mail Marketing:

If you believe a growth hacker's job is not just to increase new users/customers but also to engage them or encourage them to spend more money, then e-mail marketing is a significant part of their arsenal.

Search Engine Optimization (SEO):

Don't be fooled: what most mainstream SEO books and articles talk about is very different from what startups do for SEO. Startups that use SEO effectively build a scalable infrastructure that applies to tens of thousands or million of pages. Most of the SEO theory on the web is focused on ranking for just 5-10 keywords.

A/B testing and Analytics:

Though this is not an acquisition method, there is no doubt that heavy data analytics and A/B testing helps a growth hacker improve their acquisition and conversion funnels.

Be growth marketers – which means, you need to have turned ALL of your business efforts towards growing an audience through a specific channel.

Only care about the core one metric – either follows views, or most commonly email subscribers.

Be running a well thought out growth test.
Oh, wait! Growth Hacking or Growth Marketing?
So, growth marketing is the broader concept that you need to grow an audience and test various channels, whereas growth hacking is literally executing a specific tactic, on a specific channel, which grows that audience (and usually for a very low price).
Growth marketing is slow and steady, in a sense, and growth hacking is fast spurts of spontaneous growth: Tortoise vs. hare.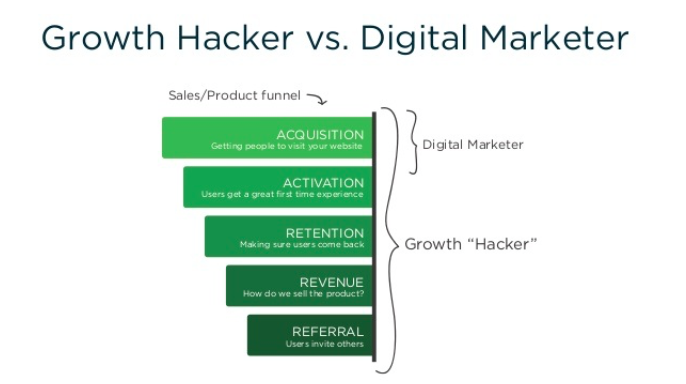 AT THE END OF THE DAY
Growth Hacking is for hustlers. People who think out of the box. Anything is feasible for them, and traditional ways of doing marketing do not apply for them. They turn them into their own unique strategies that will surely be the next business big thing.
Facebook, Uber & Dropbox did it!
Why can't you? 
I try to constantly improve as a person and as a professional. I recently discovered the storyteller and growth hacker inside of me. Good research, commitment, and good visualisation constitute my work aesthetic.