As content marketing gains recognition, as a valuable digital marketing strategy, businesses are producing content of all types at an accelerated rate. Blog posts, e-books, white papers, podcasts, webinars and many more have become common tactics for many marketers to create brand authority. But what good is compelling content if it can't be found? Optimizing your content is crucial!
Here comes SEO – Search Engine Optimization- to the rescue!
Your goal is to make sure your content gets seen. Otherwise, you have probably wasted several hours researching a topic to write your beautiful article, creating your new landing page or optimizing your press release.
Knowing how to optimize content for search engines is essential, but often easier said than done. After all, mastering the art and science of SEO is no small feat.
Nothing to worry about, though! You are about to learn the essentials of optimizing content and SEO practices.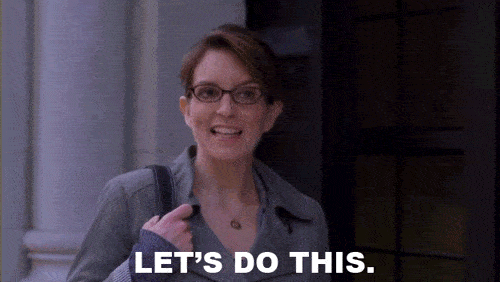 At its most basic, SEO is about tinkering with your content to make it attractive to search engines.
Optimizing Content for Discovery and Conversion encapsulates the idea of amplifying the overall reach and results of content creation. Your mission is to create compelling content that will be beneficial to your audience and that they will love to share it with their friends and colleagues. The only way to reach your audience is to make your content visible to the search engine.
What are the factors regarding SEO that you should be considering when optimizing your content?
Optimize meta descriptions
Even if the keyword you use in the meta description doesn't help in search rankings, it still helps in getting a searchers attention. A meta description can influence the decision of the searcher as to whether they want to click through on your content from search results or not. What is the meta descriptions?
Your meta description is the additional text that appears in your search results that lets you know what the link is about. Here is an example:
Best practices for meta description optimization
Include your main keyword within the meta description! Oftentimes, search engines will highlight in bold where it finds the searchers query in your snippet. Check out the following example for the keyword "Long tail keywords".

Write legible, readable copies. Make sure the description seems like a normal, human-written sentence. Consider starting your meta descriptions with verbs like "Discover", "Learn", "Check out" or "Grab", and follow it up with specifics of what exactly they'll get if they click.
Make the meta description as compelling and relevant as possible. The description must match the content on the page, but it should also appear appealing. The meta description will also often appear when people share your articles on other websites and social channels. Whenever you share a page on social networks like Facebook and LinkedIn, each site will pull either the meta description or the first sentence or two of the post as the wording of the description.

It is obvious that you should not deceive searchers and lure them to your site without having any relevant information.
Length: a meta description should be no longer than 135 – 155 characters long. Any longer and search engines will crop whatever comes after the maximum limit.

Try to avoid duplicate meta descriptions. As with page titles, the meta descriptions must be written differently for every page.
Internal Linking
Search engines assign each page on your website a score (page authority). The recipe for this score is kept a secret so that people cannot game the results. However, the most common signals of authority are links. Let's focus on Internal Linkin a bit more.
First of all, what is an internal link? It is one hyperlink that goes from one page on a domain and points to another page on the same website.
Internal linking, apart from reducing the bounce rate, also boosts your page's concreteness by providing valuable information. If you have any relevant pages or related articles to the existing page, make sure to include a link. That will not only help retain visitors on your website but also demonstrate the other relevant and authoritative pages to search engines.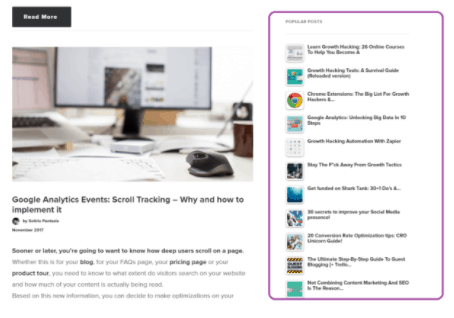 Besides using the tactic of internal linking in your text, there are other ways like:
Showcase your previous articles with a widget that features your latest or your most popular posts


Add links to the footer of your page

Add a widget right underneath your article with relevant links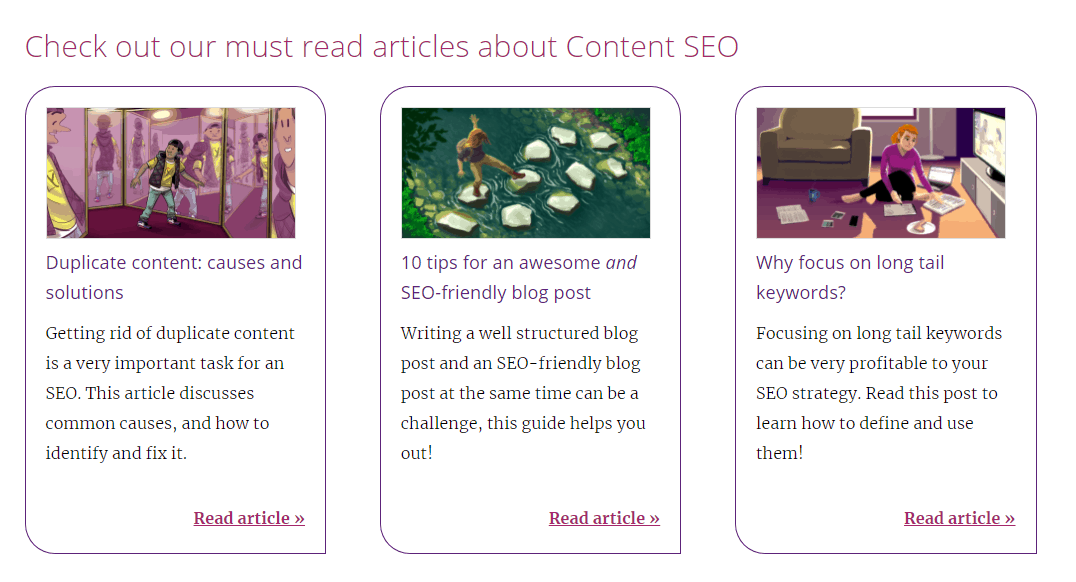 Yoast.com example
Keep in mind that you never know how someone landed to your blog and which article will be the very first they will interact with.
CoSchedule, the popular marketing platform, used the tactic to backlink to what they determined as the most important pages on their site from all of their new posts. In this way, "those pages that get linked to all the time are now some of our highest viewed and best converting on the entire CoSchedule website."
Content Structure & Length
Start the content creation with a clear structure. Every piece of content  should have:
some sort of

introduction,

in which you introduce your topic)

a

body,

in which the

main message

is written)

a

conclusion,

which should summarize the most important ideas or deduce some new idea)
One of the most frequent questions by content marketers is the optimal length of an SEO optimized blog post. A common question is "Is long-form content worth the extra effort?" It usually does.

As Neil Patel puts it in an article on the KISSmetrics blog:
"My number-crunching, data-loving self has come to the conclusion that search engines and people are really into long content. It converts better, shares better, looks better, and just is better."
Average word count per page about search page ranking. Credit: SERPIQ
What I propose is to make sure that every piece of content that you publish has a minimum of 500-800 words. Also, every blog post should be at least 1000 to 1200 words.
In the case of optimizing content, size matters.

Visuals
Images and visual elements are a great asset for valuable content creation. But it's not just the UX aspect but also the SEO value in them. When the search engine crawls your article's page, it looks for a variety of information that supports your content.
Visuals are a quit SEO influencer. If Google's web crawlers don't know what your visuals are about, you are missing the point of getting a higher audience reach.
This is how Google would look like if she landed on our website with no meta data information from our side.
Optimizing a website's underlying code tells the bots what the audience can expect from your video.
In order to help the Search Engine do its job in the best way possible, you should give a name to your Images. Alt (Alternative) text should be descriptive of the image. If the target keyword does not fit a specific image, don't include it in the alt text.
Fast-loading & Mobile-friendly content
When it comes to content, SEO has a heavy technical side as well. This means that you need to keep in mind a few technical aspects, too.
Speed is important for optimizing content. A fast-loading page is a SEO-friendly page. Speed is key, and according to Akamai.com, there is a strong correlation between a site's loading time and its bounce rate.
The three most noteworthy findings state that:
53% of mobile users abandon sites that take longer than 3 seconds to load

46% of consumers say that waiting for pages to load is their least favorite thing about shopping via mobile.

Comparing faster sites (5 seconds) to slower ones (19 seconds), the faster sites had average session lengths that were 70% longer and bounce rates that were 35% lower.
Since 60% of the average bytes loaded per page are taken up by images, optimising images on every piece of content you make should be a top priority.
As a rule of thumb, keep all your images below 150KB, below 1920px in width, at an average/medium/72dpi quality level.
In addition, make sure the size matches your usage and set the size for each page with the height and width. You shouldn't make use of scaling, especially from larger to smaller images.
Also, don't forget that Google is 'Mobile First', which means that when you make your content from your PC/ Mac screen, remember that most users will consume said content from their mobile screens. Therefore, your images, and content in general need to make sense and be visually appealing from a smaller screen, too.
Awesome tools to check out
If you're creating your content in WordPress, consider using the SEO Yoast Tool, which analyzes how SEO-friendly your content is. The tool gives you ratings of green (good to go), yellow (hold up, you can do better), and red (stop, you're off track!) across a variety of content optimization dimensions.
This is what the Analysis results of Yoast look like the moment I write this article:
It looks like I'm on the right track. The text has a big length, the SEO title is not too short, not too long and I've included enough outbound and inbound links. Furthermore, my keyphrase is in the slug and meta description, it has a good length, and I've also used it in the introduction. Yoast also says that I have one major problem – the keyphrase density is too low (should be 0.5% or above) and I also haven't written image alt attributes yet.
Choosing the right keyword for your page is essential, especially if you want to rank high in Search engine results. To do this easier, you can use Google Keyword Planner. Using this tool you can:
search for new keywords using a phrase, website or category

get search volume data, and trends

multiply keyword lists to get new keywords
Use Übersuggest to quickly find new keywords not available in the Google Keyword Planner. Take your keyword research to the next level with tons of keyword ideas for SEO, PPC, and your next content marketing campaign.
Answer the public is a tool that lets you discover country-specific search volume data on the keyword tool of your choice.
The Keywords Everywhere extension is your free keyword tool. This tool lets you get search volume, CPC & competition data in real time while you are on your keyword-planner tools like Answer the public, Ubersuggest, Moz, Google Keyword Planner and more.
Also, there is Nightwatch, an SEO performance tracker analytics tool.  Through Nightwatch, you can discover new keyword opportunities and track your results, among other things.
To conclude
The above mentioned are guidelines to follow and check before publishing your content. However, you shouldn't forget that the real value derives from the content itself! Focus on compelling, quality content.

Your business or brand should not deserve something less than the best. Just think for a second how you use and share content. The more awesome your content is, the more influential it is, and thus, the more it will be consumed.
Also, don't forget to keep up with the latest tips on SEO and content.
Theodore has a 20-year experience in running successful and profitable software products. During his free time, he coaches and consults startups. His career includes managerial posts for companies both in Greece and abroad and he has significant skills on intrapreneurship and entrepreneurship.