Messenger chatbots are hot and a big opportunity for all businesses that want to step up their marketing game.

There is a chatbot for pretty much anything you can ask for! Want a digital personal shopping assistant who can deliver an anniversary gift to your spouse? There's a bot for that.
Want to break up and can't handle the feelings or the stress right now? Technology got you covered!
Perhaps you want the weather forecast texted to you throughout the day? There's a bot for that, too.
Users now have many choices to get help and buy from now. Being a consumer has never been more efficient! And businesses and brands are turning to Facebook Messenger bots, in particular. Attracted by Facebook's enormous user base, companies can engage with and service their customers who use the platform.
In fact, more than 100,000 bots chat and help out people through Facebook Messenger every day.
Let's take a look at what bots actually are, some ideas on how to use them efficiently to help your business and marketing goals, and some examples of the most successful bots. Ready to dive in in the world of messenger chatbots?
What is a Messenger Bot?
A bot is like an app, but the interface is a conversation rather than a menu.
Chatbots are A.I. platforms that use instant messaging as the application interface. They are programmed so that they mimic human conversation. Their interactions are pre-programmed that allow users to interact naturally with the A.I.
Who uses bots? Does it fit my business type?
Businesses in the travel, finance, media & entertainment, health, and retail sectors, in particular, have all found success with these pocket-sized personal assistants.
For example, you can open up Facebook Messenger at breakfast and ask your weather bot what's the weather looks like. Then you can ask your local bot about your bus and when it is planned to arrive at your nearest spot.
Food and Ordering Industry
Pizza Hut
One of the most common reasons to use a bot is for taking orders. The list of restaurant chains jumping on the social media-ordering bandwagon continues to keep on growing. The first brand that announced a Messenger bot that allows ordering is Pizza Hut. The international franchise has been taking orders via its messenger chatbot in July 2016. The chatbot that was announced was a social ordering platform through which customers are able to order/reorder favorite or saved orders from any U.S. location by chatting directly with the Pizza Hut account on either Twitter or Facebook.

Dominos
Ok, this may seem like a mainstream bot idea! As it is expected, the Dominos messenger chatbot lets customers browse through the store find products, and then, with a few taps in a Facebook Messenger chatbot, find recipes for an upcoming meal.
What is so special about? The way it got released!
Dominos released the bot just in time for the Super Bowl Sunday. Super Bowl Sunday is one of the five busiest delivery days of the year for Domino's in the United States. On that particular Sunday, the company expected to sell 12 million pizzas – five times greater than a typical Sunday.
Whole Foods
Whole Foods, the Amazon subsidiary, also made its own bot.This is not a typical bot that just sends you a recipe. It is much more creative! Customers can select an emoji, like jalapeno or a banana, and then see recipes that involve those products.
The chatbot lets customers mix and match by typing a word, selecting a cuisine (like Tex Mex), and adding an emoji to the text chat. They can also select keywords and choose recipes for special diets.
This is clearly different from the mass of bots and available assistants!
Traveling and Tourism Industry
Planning a trip? Message a travel bot for flights and hotel recommendations, to rent a car, and more. As easy as that.
More and more companies use software for travel agencies to automate customer service on their websites or through a messaging platform such as Facebook Messenger to assist with booking of their travel.
Skyscanner
Skyscanner has created a really good experience for users to find flights and make bookings. Sending a Facebook Messenger message to Skyscanner will subscribe you to its messenger bot. Chat with the bot, and it will help you search for flights. In addition to giving you the ability to type a destination, departure airport, and dates to search for flights, it also gives you ideas on the cheapest destinations from your nearest airport.
The bot for Skype offers users the chance to search for flights, either individually or as part of a group, returning live prices and route options within Skype, before providing a link where users can go to complete the booking for their trip.
As David Low, the Head of Bots and Conversational Search of Skyscanner stated said: "Chatbots offer something truly revolutionary by bringing travel search within the very platforms. Users are already interacting with on a frequent basis.".
Claire
Claire is a virtual travel assistant powered by A.I., created by the startup 30SecondsToFly. It, or shall we say 'she', is all about business travel. The "bot" side of Claire is a virtual travel assistant who will communicate with travelers, helping them book policy-compliant travel within just minutes. Let your employees configure their own travel assistant. When they book, Claire applies your travel policies and reports analytics to you. Concerned about the duty of care? Claire knows where travelers are at all times.
Entertainment Industry
Josh Bocanegra, CEO of PersonaBots, once said that chatbots are a good way to get people excited about a franchise. This is 100% right. People are getting so enthusiastic when they feel that they create a personal and direct relationship with a celebrity or a persona.
The following examples demonstrate how cool branded bots can be in this industry!
50 shades of Grey
The Christian Grey messenger chatbot has to be one of the most iconic bots. When it first launched, it created such a buzz around the movie the very persona of the messenger chatbot as well. As a result, it gained massive exposure, and many articles were devoted to praising the marketing team of the "50 shades of Grey".
Fans of the books and the movies went absolutely crazy. This was their chance to talk to Christian, get into a relationship with him, a marriage even! Your conversations with "Christian" will be entertaining and, honestly, feel weirdly realistic.
During the conversation and the flirting, 'Christian' would ask you the following:
Watch the trailer for the new movie

Buy tickets for the movie at your local cinema

Buy the book

Listen to the Fifty Shades Darker soundtrack

Buy games related to the movies and the characters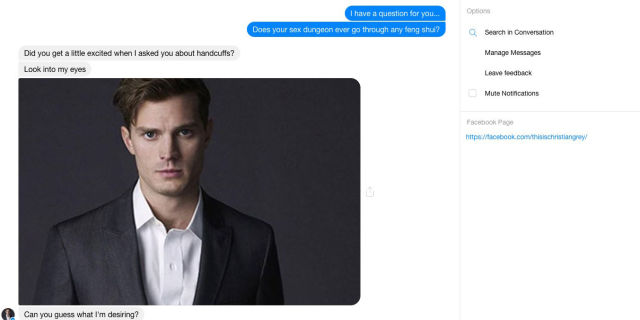 JWOWW Chatbot
We met her at the MTV Geordie Shore, and people loved her attitude and lifestyle. We are not here to judge, right?
With this messenger chatbot, users could "talk" to her and interact with her life. They can watch videos, shop at her store, check her Instagram profile and receive exclusive updates about her life or news!
This type of interaction is pretty cool for a fan and creates a sense of relationship and familiarity. Many celebrities, influencers, and bloggers have created their branded bot. Selena Gomez, Martin Garrix, and Lindsay Lohan are only some of the most famous bots online.
Is it easy to create messenger chatbots?
Yes, you can create a chatbot from scratch with no coding experience required. There are several platforms where you can create a chatbot for your service and manage your bot subscribers and live chat conversations.
Chatbot interactions are segmented into structured and unstructured interactions. As the name suggests, the structured type is more about the logical flow of information, including menus, choices, and forms into account.
This means that you need to set your conversational goals and design the expected dialogs. Based on this you can set the keywords, the answers and get your users where you want them to.
Speaking of which, this is the story of GrowthRocks' chatbot, Roxie.
Messenger Chatbots – conclusion
A frequent question from users and brands is "Will messenger chatbots replaces the apps and the phone support call centers? Will it be just a new hype that will eventually fade out?".
In my opinion, the answer is a no.
This not just a hype circle or a hot marketing trend. Bots, AI, and conversational marketing are parts of the future.
Users and consumers become more and more demanding, and they want to have an as easy and fun experience as possible. As the intelligence of machines is growing and technology give marketers possibilities to be even more creative, chances are there may be a hybrid world of apps, messenger chatbots and other bots, and devices.
Now, this is a real possibility.
If you are looking for inspiration for your bot creation, I would suggest visiting botlist.co. It has a huge list of bots, from Travel and Shopping bots to Cryptocurrency and Education.
Theodore has a 20-year experience in running successful and profitable software products. During his free time, he coaches and consults startups. His career includes managerial posts for companies both in Greece and abroad and he has significant skills on intrapreneurship and entrepreneurship.