"The modern customer" is a breed hard to tame
.
The customer has things to do and places to go. They can and will compare your product to dozens of others with just 3 clicks. They will expect you to be there for them whenever they need you. They will be demanding than ever.
They expect your best or else they'll find your replacement – and fast.
Like with every kind of relationship, it takes months, or years, to build a good relationship with your customer and a single bad moment to ruin it.
So how do you meet these expectations? What is it that you could be doing wrong?
What are the real reasons your customers don't like you?
1. You Make It About Yourself
Here's the cold truth:
Your customers don't care about you or your business. Here's an example.
Take a look at this banner:
Now take a look at this one:
Which one do you prefer? Which ice-cream seller would better convince you?
If you are like most people, you are probably thinking about the 2nd one.
The reason being that customers don't want to hear about you; they want to hear about how you can help them. You have to understand them, empathize with them, and then show how you and your product can help them.
Let me get one thing straight. It's fine talking about your business. But it shouldn't be your primary goal. Leave your romantic values for the end or for another time even.
There's no need to mention your 3-year industry presence in the Homepage banner, but do mention the 3-year guarantee you offer.
2. You Don't Inspire Trust
Are you Coca-Cola? BMW? If not, then your name, your logo -your business- don't mean a lot to the customer.
You have to think of ways in which you will earn their trust. Does your product or service have any certifications? Is it approved by any Health Organization? Are you a Google Partner? If yes, let people know. If not, maybe it's time to get third-party approval.
Can you provide guarantees and assurances? Build strong after-sales support so you don't leave your customers hanging.
A money-back guarantee is the single best thing you can do to create trust and credibility for your product and your business.
According to research, retailers can make a profit with money-back guarantees, under certain conditions.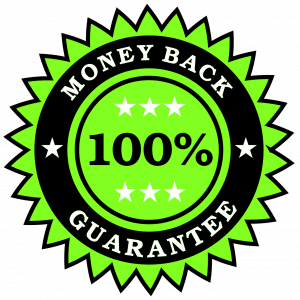 It's easy and effective – as long as you can deliver what you promised.
Which brings us to the next part.
3. You Don't Deliver What You Promised
I'm not talking about the now-classic "Red Bull doesn't give you wings" fiasco and the $13million lawsuit that followed. Because this is ridiculous.
I'm talking about everyday things that you could be doing wrong and as a result, your customers don't like you.
Your product may be delivered -not exactly- and your service could have long-lasting effects -not really-.
If this is the case, word of mouth not only will not be your ally, it will be your enemy. You can make sure that the loss of a customer means more than the loss of a single individual. Multiple such cases could cripple your business' growth.
Good thing we have a guide about How To Build Your Growth Plan.
According to Zendesk, when it comes to services, 95% of customers share bad experiences.
News travels fast. Bad news travels faster. In the digital age, bad news travels with the speed of light.
A good rule of thumb is to not over-promise. And if you can over-deliver, that's always a bonus!
4. You Are Not Accessible
Now, who doesn't want to listen to Beethoven's No.25 in A minor, on repeat, from his phone speaker, right? Well, no one! Not even those who do enjoy the classics.
The old ways are broken and, thankfully for you and them, fewer customers every day have to make a call when they want to talk to you. Long on-hold times are becoming a thing of the past.
If it is so, where can your customers find you nowadays?
Are you sure you have enough touchpoints to match your clients' ideas as to where they think it's a good idea to contact you from?  Is your contact information thorough and easily accessible on your website? More than half the customers say that in most cases it is not.
Different customers prefer different channels to communicate with your company.
Make it easy for the Boomer to find your email on your website or implement a live chat even. For the Millenial, make sure you are where they are: Instagram, Facebook i.e., and keep a minimum activity on all your social media accounts (an inactive account can send the wrong message).
5. You Are Not Transparent Enough
Being transparent is not about being 'friendly' or 'cool' anymore. It's a business imperative.
When it comes to your products and services, your customer wants to know as much as possible about them. How was your product made, what kind of materials did you use, where did you get these materials from, and so on.
Write everything you can about your product for anyone that could be interested. And 'anyone' means 'a lot' in this case. As millennials are the dominant consumer force, they expect from you to play along with their rules. And their rules dictate maximum transparency.
When a brand offers complete transparency, 94% of survey respondents are likely to be loyal to that brand. And when consumers switch to a brand in favor of increased transparency, they are likely to stay for the long haul. In fact, 56% said they would be very likely to stay loyal to a completely transparent brand for life. (source: Forbes)
The same philosophy should also apply to your business as a whole. Show them who you really are. Share your name, the faces of your employees, what's going on in your office HQ and in your storehouse. Make a "behind the scenes" video or a Live "Ask me Anything" on your social media.
Make them feel like they know you for a long time. Intimacy = Sales.
6. You Are Not Offering a Secure Payment
As if eCommerce wasn't growing fast enough, the COVID-19 pandemic acted as the perfect catalyst.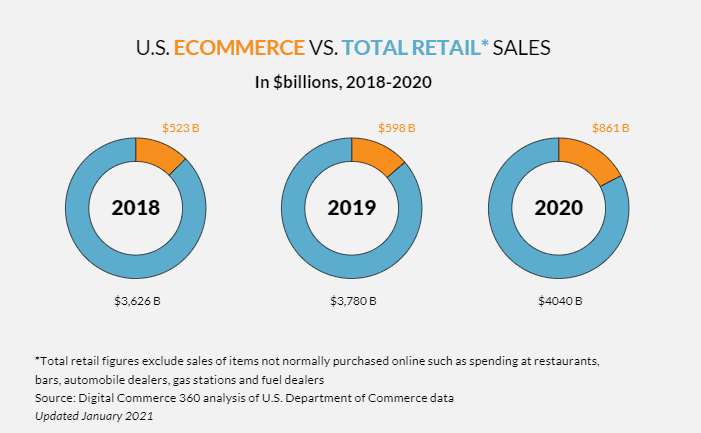 It's a shame if you can't have a piece of that pie for a lame reason like not offering a secure payment connection.
Likewise, offer an online payment method your customers know and trust. If you do business internationally, offer multiple payment methods that are recognizable worldwide.
You can't go wrong with MasterCard, Visa, American Express, PayPal, Google Wallet, and Apple Pay.
Another feature your concerned customer wants to see on your website is an SSL certificate.
An SSL certificate is the padlock you usually see next to the URL of a webpage.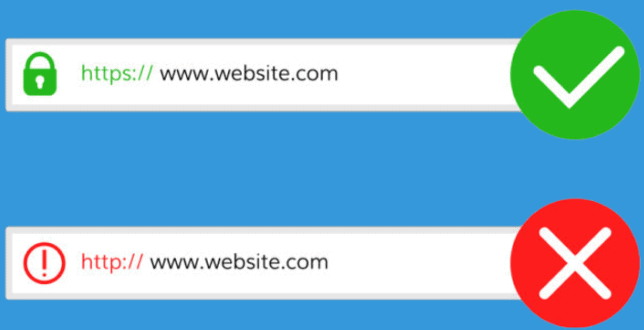 By seeing the badge, your customer won't have to worry about their credit card info being stolen and a customer not worrying is a customer you want.
If you don't have an SSL certificate, you can get one from an SSL certificate provider 0r install one for free. SSL Certificate Provider
Don't scare your new customers off with the lack of minor, yet essential, details.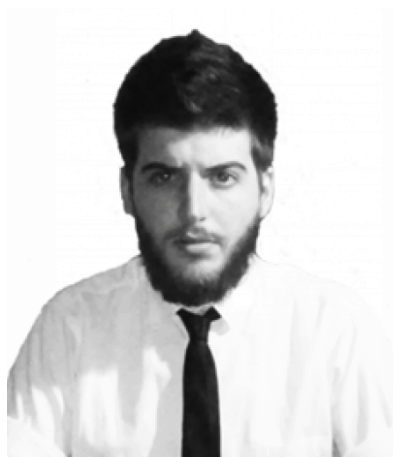 I write for GrowthRocks, one of the top growth hacking agencies. For some mysterious reason, I write on the internet yet I'm not a vegan, I don't do yoga and I don't drink smoothies.