Earlier in 2022,
Google announced
that on July 1, 2023, standard Universal Analytics (UA) properties will no longer process data and Google won't be supporting UA anymore, as it will get replaced by Google Analytics 4 (GA4).
It should be highlighted that GA4 is not an upgrade of the existing tool but a completely new set of tools which means. As if this wasn't enough, all historical data from Universal Analytics will be deleted beginning on January 1, 2024 .
All of this means one thing: Migration from UA to GA4 is inevitable.
But the big question remains: How different is the new GA4 from UA? Will you be able to apply the trackings and metrics you used to? And how does GA4 look like?
With no further ado, here are the 4 biggest changes.
UA vs GA4: The 4 Big Differences
1. Reporting interface
First things first, if something looks different then it might indeed be different. And GA4's new interface is pretty different.
Behind every thoughtful design, there is some -well- thought put into it. In the case of GA4, the thought was that data shouldn't be siloed. The new reporting interface is built to eliminate siloed data and bring data from your website, Android, and iOS apps together under a single interface. This will allow you to track your customer's journey across all devices.
On GA4's homepage, you can still see the side navigation bar. However, compared to UA's homepage, it has one less navigation tab, so the four tabs remaining are:
Reports – A set of default reports featuring the most common reporting use cases.
Explore – Uncovers deeper insights regarding your customers' behavior.
Advertising – Helps you analyze, and improve your online advertising campaigns.
Configure – It lets you customize events, conversions, and audiences, among other metrics.
What's more, the Reports section is visualized through the customer lifecycle stages – similar to the AARRR funnel. Accordingly, those stages appearing in GA4 are:
Acquisition
Engagement
Monetization
Retention
At first glance, when you take a look at the Reports and compare those from UA to GA4, not too much has changed.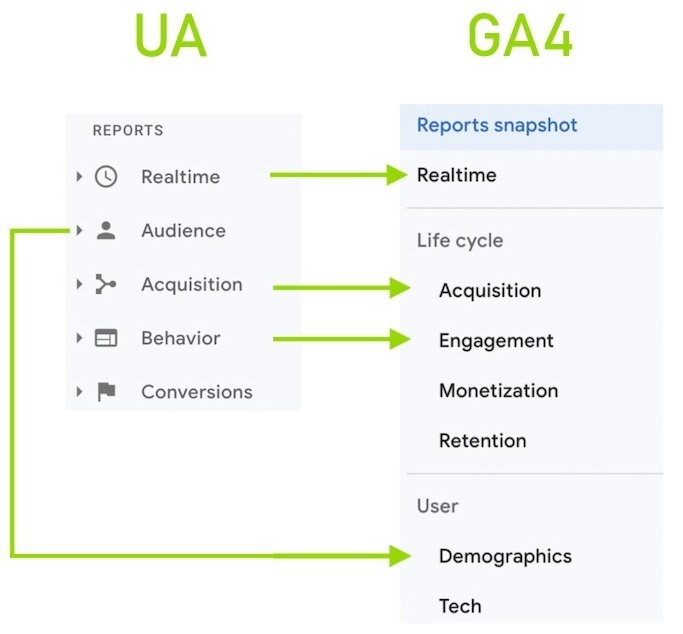 Accordingly, Audience now falls under the User section, Acquisition is still known as Acquisition, Engagement has replaced Behavior, and Monetization has replaced Conversions as well.
Of course, as was the case with UA, GA4 offers real-time reporting so you can know what's up the moment it happens.
2. Measurement Models
One of the most important differences between the two Google Analytics versions is their measurement models.
On the one hand, UA is using a model based on hits and sessions. A session is identified as a group of user interactions or hits that take place on a website over a predefined time frame. This means that within a single session, UA can record multiple user interactions such as pageviews, events, and transactions.
On the other hand, GA4 is using a model based on events and parameters. In this case, every user interaction is captured as an event. This provides more flexibility, as user interactions can be measured across different platforms and devices.
3. Data collection & User privacy
UA relies on cookies which are increasingly limited. However, GA4 is less dependent on cookies and provides a bigger privacy control. Some of these pro-privacy GA4 features include IP anonymization,  Data storage duration, Personally Identifiable Information (PII), and Google Consent Mode.
Let's examine each of them one by one.
A. IP anonymization
IP anonymization is a notable change in GA4. Prior to GA4, you could see every IP address that visits your website through Analytics. Now, you can no longer see or store any IP address. 
The process of IP anonymization in Analytics takes place within two steps in the collection pipeline: the JavaScript Tag and the Collection Network.
You can read more on the technical side of IP anonymization here.
B. Data storage duration
Until UA, you could store collected data for up to 64 months – or a little over 5 years. Now, with the latest version of Google Analytics and due to GDPR compliance, the data storage duration is much shorter.
In GA4 you only have two options for personal data storage: 2 months or 14 months, depending on your activities. That said, if you want to store data longer than that,  it is possible to do so using Google's data warehouses, such as BigQuery.
C. Personally Identifiable Information (PII)
Personally Identifiable Information, or PII, is not collectible anymore. According to GDPR Article 4: "Personal data means any information relating to an identified or identifiable natural person; an identifiable natural person is one who can be identified, directly or indirectly, in particular by reference to an identifier such as a name, an identification number, location data, an online identifier or to one or more factors specific to the physical, physiological, genetic, mental, economic, cultural or social identity of that natural person."
In other words, the PII you can no longer collect is:
name and surname

home address

email address such as [email protected];

identification card number;

location data (i.e. location data function on a mobile phone)

IP address

a cookie ID
Furthermore, personal data also includes:
race

ethnic origin

political opinions

religious or philosophical beliefs

genetic data

biometric data ( used for identification purposes)

health data

sex life or orientation.
With all this data not being an option, the question becomes apparent: What kind of data can you store then? These are the 3 basic categories:
company registration number;

email address such as [email protected];

anonymized data
Keep in mind that GDPR is not the only kind of regulation that prevents you from collecting PII. There are other active privacy laws you need to comply with, such as the EU-US Privacy Shield Framework, the Digital Services Act, and the General Personal Data Protection Law.
D. Google Consent Mode
Google Consent Mode was first introduced in 2020. This feature allows you to adjust how your Google tags behave based on the consent status of your users. If the user has given consent for specific purposes, Google's tags will dynamically adapt, to utilize cookies for those purposes.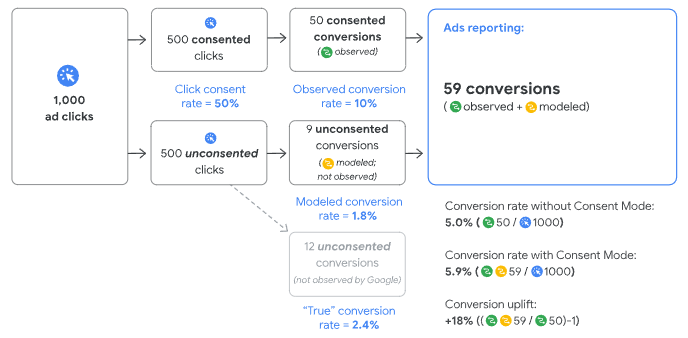 So now, with a new GA4 consent implementation, you can instruct GA4 to track users' behavior according to users' consent preferences.
5. Data Streams
As we saw earlier in Reporting interface, Google wants to provide an omnichannel experience where you can see how users interact with all your properties, regardless of the device they visit from. Data streams are the way you will achieve that in GA4.
Data streams are sources of data that are sent to a GA4 property which could be either from the Web or an App (iOS, Android).
And here's the kicker: Data streams replace views. Until now, views were more about filtering data, and determining what type of data you want to see in the reports for a specific view. However, data streams can act like different touchpoints between apps and websites in your user's journey. According to Google, data streams should not be used to separate data as you used to do with views because it defeats the purpose of tying users across different data sources, which is what streams do.
UA to GA4 Migration
Migration from UA to GA4 is inevitable. So it has to be done. But how exactly?
Here are the steps you will need to follow to migrate from UA to GA4 without losing any of your data.
1. Map your existing Universal Analytics account
Map everything in your existing analytics account, and put everything in a document so you can be sure that everything is migrated over to GA4. Keep in mind that some of the UA features do not exist on GA4 at the moment. So, at the time when Google creates new features, everything that is already mapped will be easy to be migrated on GA4.
2. Clean up your data
Migrating your data is important but keeping only what's necessary is equally important. For a successful migration, you will need to review, de-bug, and clean up anything that is unnecessary or wrongly implemented.
3. Do the full setup of GA4
Time for the real deal. A full GA4 setup includes:
Account structure

Data streams creation

Activation of Google Signals

Google Ads Integration

Google Search Console integration

Mapping of all custom events, goals, and conversions from all views and tracking them on GA4

Audiences migration

Migration of ecommerce data collection

Custom dimensions/metrics, referral exclusions, product link extensions, all the important bits and bytes to the detail

Data import (if necessary)
4. Tag Manager mapping and migration
This step includes everything regarding tags, triggers, and variables.
Depending on the time you can invest and your know-how, a successful migration can be really demanding. If this is the case for you, don't worry. We offer affordable GA4 migration services. If you need some help with your GA4 set-up and migration, just let us know!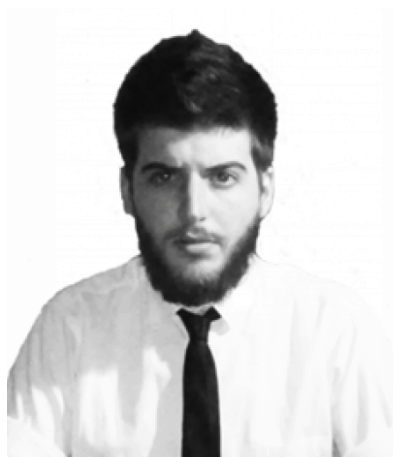 I write for GrowthRocks, one of the top growth hacking agencies. For some mysterious reason, I write on the internet yet I'm not a vegan, I don't do yoga and I don't drink smoothies.