People always want the easy way out. To get things, no matter what; always in the most risk-free and safe zone. If you're one of those people, then you should just close this tab/window/w.e. and move on to something else. Guest blogging isn't for you…
If there's one thing I've learned over time, is that people in business tend to work with folks that belong to the other side; those that take risks and always go one step further. It's those people that make the difference.
Are you one of them?
Why Is Guest Blogging Important?
I know that the perfect starter line would be about how Buffer managed to acquire 100,000 users from writing 50+ guest posts within a year, but that's not the case. You see, it doesn't really matter, as Buffer is Buffer and your company or personal brand is about YOU.
Does guest blogging, bring you closer to your goal?
There's no doubt that writing quality content for blogs bigger than the one you're running, can generate great backlinks to your site – who doesn't want that link juice? – but there's so much more in it. Links in most occasions are no-follow but what really matters is your face and name. I suggest
Links in most occasions are no-follow but what really matters is your face and name. I suggest you should write posts, so people have a face to relate to. Whatever the niche, it all comes down to the old school – Repetition.
That's your true goal when you start doing guest blogging. People are very similar to a pet dog; and as repetition helps a dog learn tricks, human wise it turns Kim Kardashian into a V.I.P.
What I'm trying to say is that leaving your personal mark in blogs around your niche builds your writing profile which, believe me, is going to generate those precious backlinks no matter what.
Note: This guide also applies for guest infographics or guest webinars!
Finding The G Spot 
Do you know who your customer is? Where he/she hangs out (on the internet, of course), whether having a lunch break or trying to figure out a quick way to get things done? Because that's where you should have your focus on. That's where you should put your face and name. That's the one side of the coin.
You can make your life a lot easier by just searching for blogs that your competitors have guest posted in the past. My opinion is to go for both sides of the coin. You don't know what works for you until you test it, right?
Google it!
There are many strings you can use on Google search that will help you to find places that could host your kick-ass post, such as:
"Keyword" + "write for us"
"Keyword" + "guest post"
"Keyword" + "guest article"
"Keyword" + "submit content"
"Keyword" + "become an author"
"Keyword" + "guest post guidelines"
And many, many more.
For the sake of the example, I'll try "growth hacking" + "guest post"
Here you go! Already one potential guest post; save it for later!
When looking for #guestblogging opportunities, be Lord Varys! Click To Tweet
Everyone who's aware of who Lord Varys is, have definitely heard him talking about his "little birds" that inform him for everything happening around the realm. As it seems, Varys discovered Twitter before everyone else on Earth.
Incredible things happen on Twitter and it's truly a magnificent chance for you, the aspiring guest blogging adventurer, to find some blogs to lay your content.
I'll use the same string on Twitter, as the one I did on Google search:

BOOM! SocedoApp had a guest post from Shiraz Hemani, meaning I have a chance getting on their blog too! YAY!
Get Your Guest Blogging Trello Template Now!
Know your enemy
Let's admit something. Everyone watches (even if it's just a sneak peek) how their competitors are doing. It's not a bad thing. As Sun Tzu states in his masterpiece, "The Art Of War":
"If you know the enemy and know yourself, you need not fear the result of a hundred battles."
Finding out where your competitors have written in the past, and you most likely, you'll find a place to write.
Open your competitors' blog.
Find the main author (or just the people that tend to write more)
Search for: "His/Her Name + guest post"
E.g. Let's say my competitor is Sean Ellis (tough one!). Finding where he contributed is just a search away.
Voila!
Now you have a starting point on finding blogs that you could unleash your guest blogging fury. You can try improvising on your search queries for better results. Don't forget to document all the blogs you'll find in the process; it will be easier for your to organize your efforts, especially if you're going for an extended outreach.
Getting In Touch for guest blogging
Most of the blogs and editorials that accept guest posts have a contact form for submitting your interest/idea. I don't like them. Probably you shouldn't too. Why?
First of all, it's something common. Common tactics, bring common results- You are aiming for extraordinary results.
In most occasions, after submitting your request, you'll receive an email informing you that someone from the editorial team will get back to you in the next 1-2 working days. They almost never do.
Guest blogging has risen as an SEO tactic, blogs receive tons of guest post requests per month while they actually post only 2 of them (probably from people they already know). Your goal should be to get them to know your name and face, and the only way to do it is to address them in person. You may ask yourself right now:
#GuestBlogging? "How the hell am I supposed to do this?" Click To Tweet
#1 Find the right person
I use three methods to do so, and till now it works like a charm!
Method #1
Act exactly as before, when you were looking for blogs your competitors contributed.
E.g. Let's say you are looking for an opportunity to have a guest post on GrowthRocks' Blog. You'll have to find who is the main author (that's me by the way).
It hard not to notice that almost all the posts on this awesome blog come from this lad: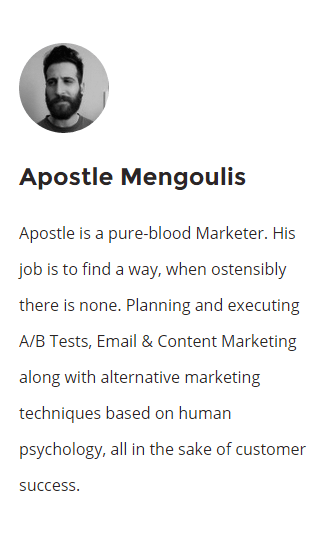 Method #2
Login to your LinkedIn account and search the company or blog name you're looking for. Your results should look like this:
Click the "See all" button: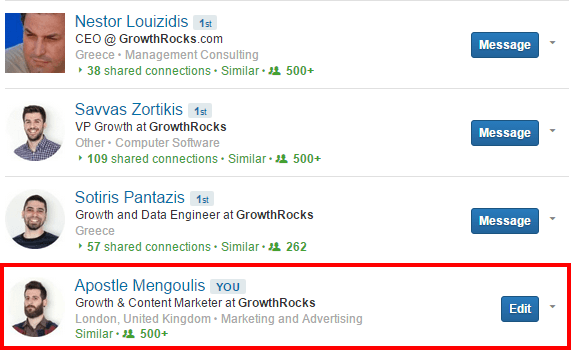 Looks like you've found the content guy! Now it's time to find his email address.
Method #3
The are plenty of outreach tools like Ninja Outreach , that you can use to find bloggers that can host your guest posts. I'm not going to get into more details about how you can use such a tool because my pal Marius Kiniulis already made a full guide on blogger outreach – Thanks for that Marius!
I will only say that you have to insert the right data and allow the tool to find the perfect candidates for your goals. Then you can use the email template I've included further down the article in order to deliver the right message to them!
#2 Finding the email address you need
Your goal here is very clear; find the company email address of the person that interests you. Contacting him/her in their personal email might be rude. Whatever method you've used to find their name in the previous step, you'll have to be on LinkedIn to find their email.
I've used many tools to find email addresses in the past, but nothing works for me as FindThatLead. Its free plan comes with 10 searches/day which is pretty cool, but in case you want more you should absolutely pay for it! I'll show you how it works.
Log in to your LinkedIn account and find the person that interests you. For this example, that person is Savvas Zortikis.
Go to his LinkedIn profile and use the FindThatLead chrome extension:As you see, it uses LinkedIn to auto-fill the fields.

Press the "Get Contact" button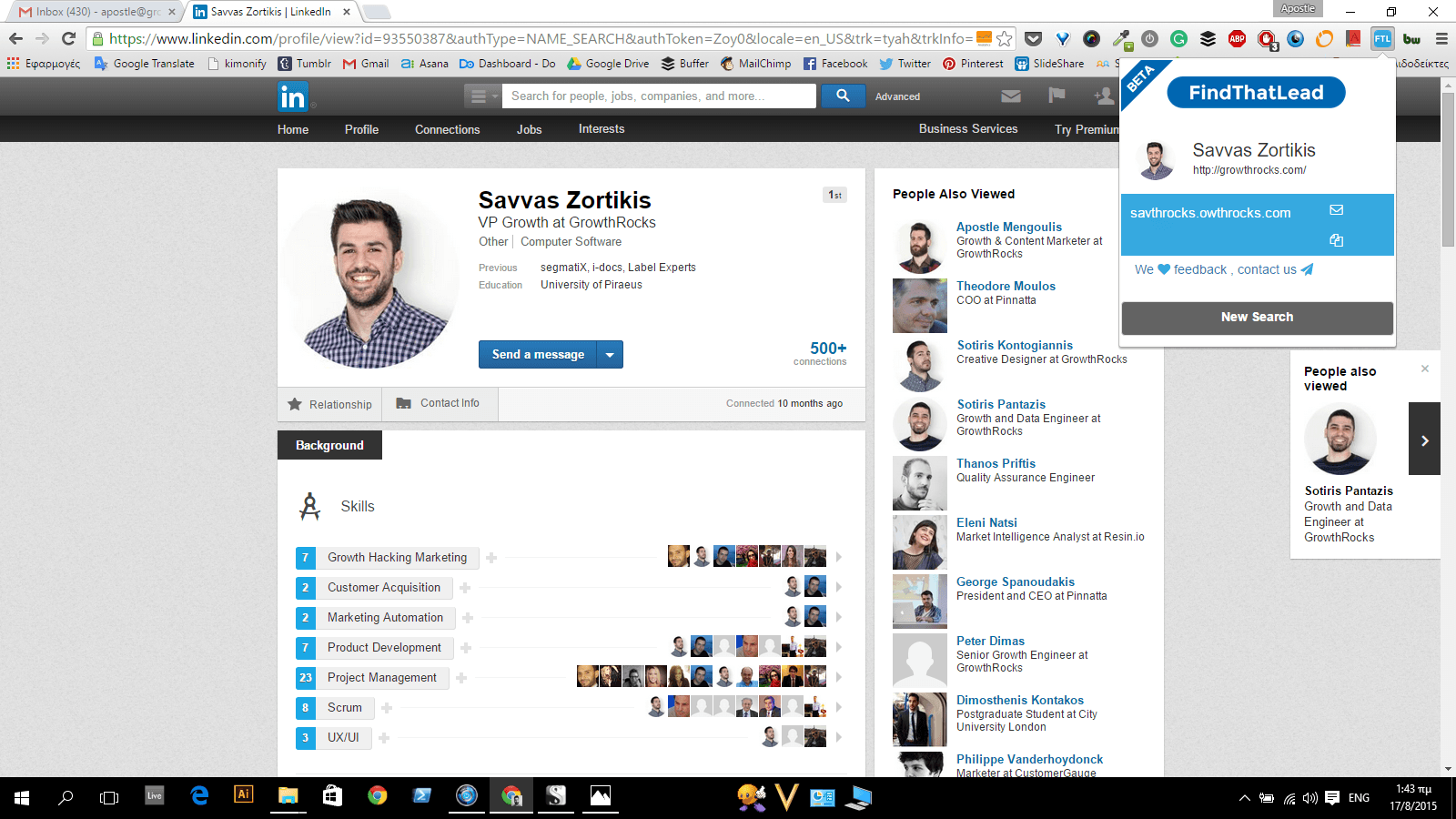 Well, there you have it!
Btw, the email address in the picture above is fake. I messed it up, in order for you to do the steps in case you want to pitch Savvas.
Get Your Guest Blogging Trello Template Now!
What To Say when Applying for guest blogging
Here lies the core of your pitching. As in most situations in life, success depends on what you say. I've tested a ton of emails; some of them were rather successful, but most of them were total disappointments. I've mentioned it before. Trying to find a general recipe that applies everywhere, is like trying to lick your elbow (whoever does that- you're a weirdo, bruh).
However with this recipe, I stumbled upon a goldmine. As it seems (numbers don't lie) a great guest blogging pitch email, consists of these 8 things:
A friendly greeting.
A brief on what your company is about.
A link to an article about your company from a 3rd party publication.
A little bit about your company's goal (having only one goal, shows determination and focus- people love it!).
The main reason you made contact (it won't hurt if you mention your appreciation for their work).
Your question/desire.
A ciao ciao sentence.
A P.S. note mentioning your last articles (or the ones you're proud of).
Here's an actual example:
 Hi [Recipients first name],
[Your Name] here from [Your Company]. Hope you're doing great!
Currently, I'm the [Your Position In The Company], writing about [Your Niche].
In case you are not familiar with [Your Company], you can learn more about us here:
http://venturebeat.com/2016/01/19/your-awesome-company/
We've worked closely with many [Your Target Customer] over the last X years and our experience lies primarily in helping [Your One Goal].
Lately, I started looking for great blogs and media publication companies, close to our niche in order to write some guests posts. [Their Blog] really cuts through the noise, so I decided to contact you and discuss the possibility of writing an exclusive post for you.
I've done our fair amount of research on [Your Niche] topics featured on [Their Blog] (that wasn't too difficult – I'm a fan) and I'd like to work with you and come up with a couple headlines that could resonate the most with your audience. I'll then use my resources to write a detailed post that will match your high-quality standards.
It would be awesome to hear your thoughts on my proposal, and even have a conversation on what more [Your Company], has to offer to [Their Blog] audience.
I'm looking forward to your response.
Cheers,
[Your Name]
P.S. You could also have a look, at some of my recent articles:
http://www.yourcompany.com/blog/How-I-Nail-Guest-Blogging-pt1/
http://www.yourcompany.com/blog/How-I-Nail-Guest-Blogging-pt2/
http://www.yourcompany.com/blog/How-I-Nail-Guest-Blogging-pt3/
http://www.yourcompany.com/blog/How-I-Nail-Guest-Blogging-pt4/
And here is an actual response:
We have a winner! This guy could ask me just to submit my request on their form but instead, he asked me to email him personally with my ideas!  Human touch is priceless!
That's what you have to get from this email template. Being human will make you skip the guest blogging queue and get you to the 2 spots of next month editorial.
No matter how many people you outreach and how many successful deals for guest blogging you get, if don't organize your efforts you'll find yourself drown in chaos. You see, outreaching and communicating 20 guest post can get really messy.
Once more, in order to nail it you have to prioritize everything!
In order to make it easier for you, I prepared a Guest Blogging Trello Template. This Template is kind of a CRM. Actually, you can do this job with any CRM platform out there, but mine is more fun (maybe because it's crafted using a love spell).
All you have to do is:
Add a Contact to "Bloggers To Pitch"

Copy the sample card
Add their photograph
Add their email and other trivia.

Move their card to "Contacted" after sending your first email.

Check the checkboxes for the tasks you've completed.
You can add a comment for you colleagues, informing them about the status of the mission.

When emailed back, move their card to "Responded"

You definitely must have completed some of the tasks till now, and check them checkboxes.
You also have to update your partners in crime about the mission's status.

When you shake hands, move their card to "Closed Deals"

Continue moving cards to the right, and close those damn deals!
How To Nail It!
Let's recap for a minute. Probably, until now you have:
Understood, why guest blogging is important.
Found guest blogging opportunities
Found the email addresses of the right people.
Got in touch with them.
Organized everything in the awesome Guest Blogging Trello Template.
Closed deals with some great blogs.
Now What?
Now you have to use the Force and destroy the Deathstar!
I know you may already struggle, with your blog's content; How the hell you're supposed to deal with all these guest posts? Writing takes a lot of focus, effort and exercise.
Keep in mind this: When you're doing #ContentMarketing, you don't have to be Stephen King! Click To Tweet
You have a business to run and content, even though being your thing, consumes more time than it gives back to revenue. Being a content marketer has nothing to do with being an author. It has to do with crafting compelling and quality content, that never fades through time.
If you think you can write 50 guest posts and 52-53 posts on your blog (considering you're doing one post per week) with the above characteristics; Good luck with that!
It seems that you either:
OR:
Conclusion
Now you that you have both the materials and recipe, it's time to cook!
#GuestBlogging isn't a piece of cake. Focus, Plan & Execute. Click To Tweet
I'd love to see your results, answer all the questions that may emerge and get your feedback on the Trello Template!
Cheers!
Get Your Guest Blogging Trello Template
Theodore has a 20-year experience in running successful and profitable software products. During his free time, he coaches and consults startups. His career includes managerial posts for companies both in Greece and abroad and he has significant skills on intrapreneurship and entrepreneurship.