There is a common problem in digital marketing. The problem of defining whether users who click on social media ads and land on a website are actually interested in buying what you have to offer. 
On top of that, people who land on product pages after clicking on a paid ad may not buy the product immediately.
This is where Facebook Attribution Tool comes in.
Facebook released the so-called Facebook Attribution tool last year. Its purpose is to help marketers understand the impact of ads across devices, channels, and publishers.  
The tool is supposed to help digital marketers to capture an overview of the full customer journey. Overall, the Facebook Attribution tool can help you shape your advertising strategy and know more about your leads and customers.
What is Facebook Attribution? 
First, let's define 'Facebook Attribution'.
Simply explained, attribution is the process of linking customer behaviour such as purchases to marketing channels.
Accordingly, the real ROI, as well as the performance of these channels can be determined with better accuracy. 
You probably know this well: the measurement of performance of online ads is critical to achieving the best possible outcomes. If you don't measure your Ads performance, you can't know if they generate any revenue.
The performance of ads is measured through such indicators as purchases and conversions. Attributing them to a specific source, i.e. identifying the source of conversion, is a complex task, especially if multiple ad platforms are involved. 
For example, let's say that you clicked on an ad on Facebook, went to the site of the advertiser, took a look at the product but didn't buy it. For some reason, you decided to postpone your purchase. A couple of days later, though, you saw the same ad on Google when searching for it, and bought the product after going to the advertiser's site. 
In this case, if you use two ad platforms – Google and Facebook, chances are high that both of them will measure the purchase as originating from them. However, the customer bought only one item, so the advertiser can't really understand the real source of an ad conversion. 
Identifying the source of conversion is not as easy as it seems to be. Facebook Attribution is designed to help you exactly with that. 
How can Facebook Attribution help you in practice?
The main purpose behind creating Facebook Attribution tool is to allow digital marketers to understand the full conversion path.  Doing so they can evaluate the real performance of your marketing across different devices and channels. This, in turn, would help them to get more precise data for the calculation of ROI.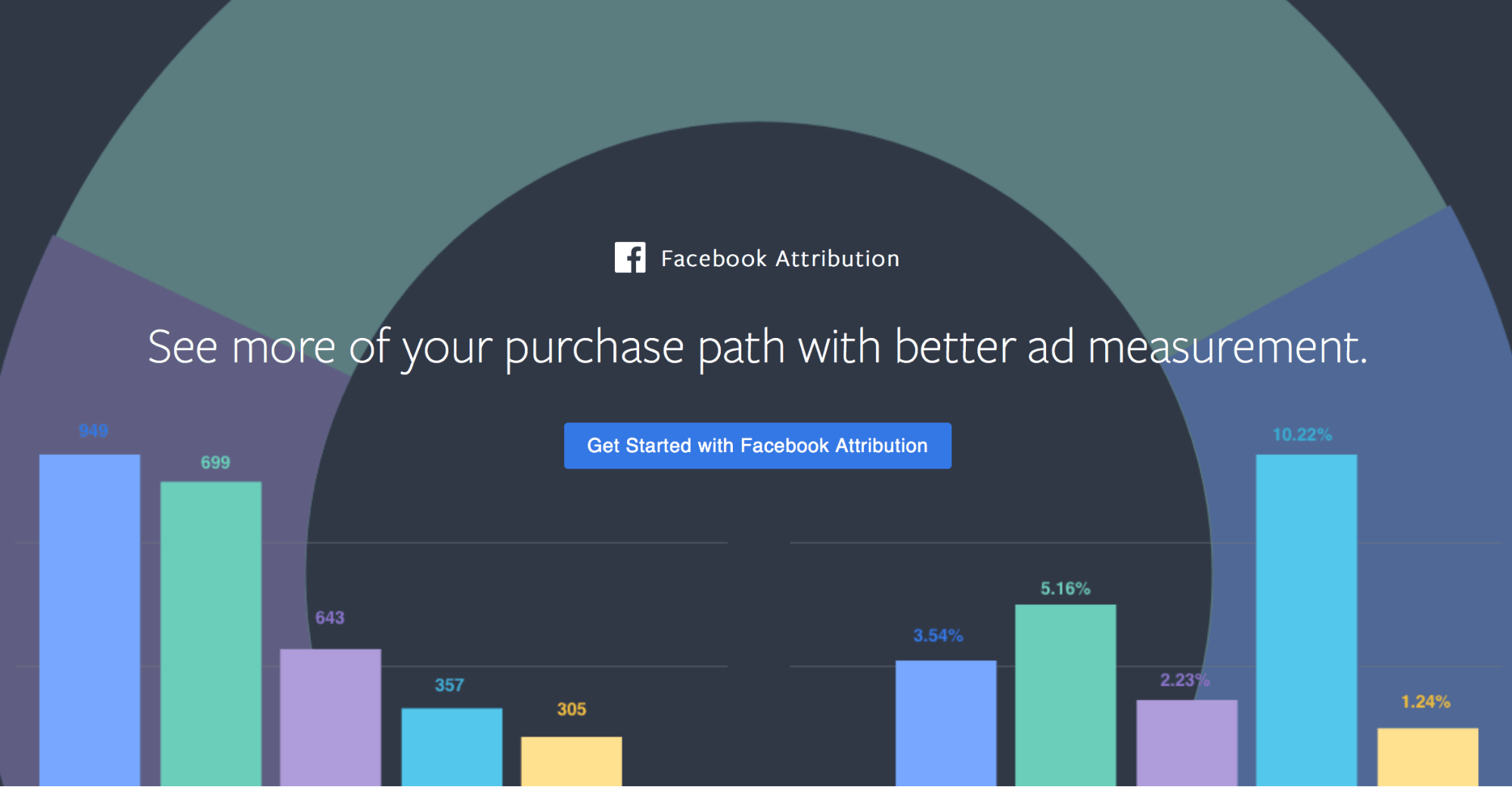 The beating heart behind the tool is machine learning algorithms and Facebook Pixel. These tools allow to track ads in Messenger, Audience Network, Instagram, and Facebook, and define how they perform beyond clicks and impressions. 
To define how to attribute results, Facebook relies on a single model called the Last-Touch Attribution. According to the official explanation from Facebook, this model provides "100 per cent of the credit for a conversion to the last click or visit that happened in a conversion path." By applying it, Facebook disregards the touchpoints that occurred before the final one, so the user could understand the importance of that last impression.
Also, if no clicks or visits occurred, the system will credit the last impression as well. The model can only credit the click if it occurred within one minute of a visit. In turn, the time between an impression and a click or a visit is disregarded if impressions are credited.
Here are some scenarios as examples:
The visit receives 100 per cent of the credit for the conversion in case of the following order of the conversion path: impression > click > visit

The impression receives 100 per cent of the credit for the conversion if the path doesn't include a click or a visit

The click and the visit receive the full credit for the conversion in case of the following order of the path occurred: impression > click > visit 30 seconds later.
Here are some more things to remember about Facebook Attribution modelling:
Attribution windows (the time between someone viewing or clicking on your ad and then taking action on your website) are limited to 28 days. In case of a conversion occurring outside this timeframe, it won't be included

While the attribution tracking for clicks is set at 28 days, the timeframe for views is only 24 hours

The latest clicked an ad gets the attribution to conversions.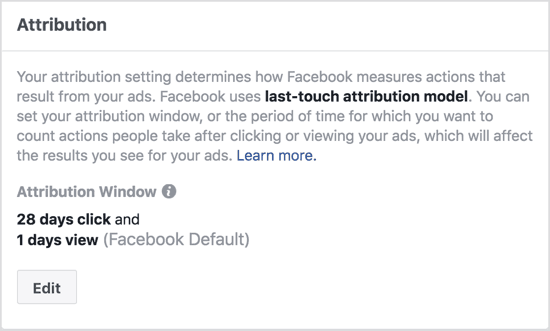 However, the system allows the user to change the attribution windows. For example, there are two options – After Viewing and After Clicking. Each option can be 1 day, 7 days, 28 days.
By using these insights, you can determine your best-performing ads, as well as identify the ads that your audiences consider the most interesting and engaging. As a result, you'll know how to adjust your campaigns to achieve maximum possible results. 
A report generated by the Facebook Attribution tool includes the following valuable information:
Insights into purchases both form direct and organic sources

The types of ads that received the most engagement 

Views by source

Conversion metrics.
In other words, you see the impact that your ads are making. Moreover, you get a much more holistic view of their performance, and how they're contributing to bringing you more business. 
Getting started with Facebook Attribution
To locate the tool, you'll need to go to a menu within Business Manager (you won't have the access Attribution tool if you're not connected to Business Manager). No additional setup is necessary to begin using this tool.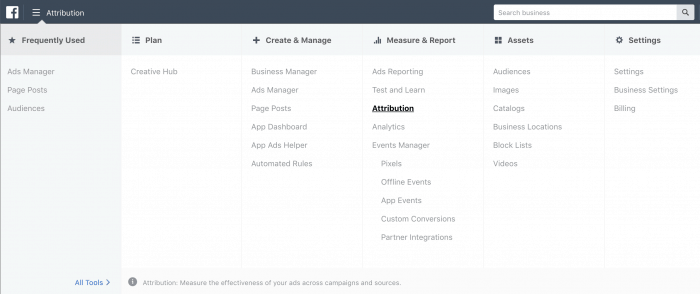 If you've never used the Attribution tool before, Facebook will help you with the setup.
For example, the first piece of information that you'll have to provide to Facebook regards the organization of your business (one business, multiple businesses, regions, agency, etc.).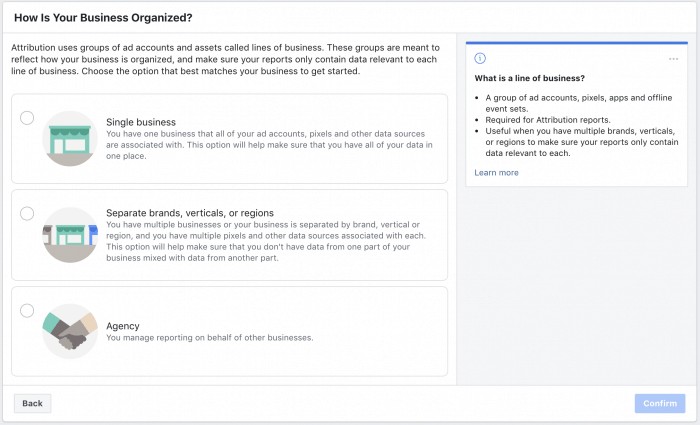 Since it's your first time using Facebook Attribution, the next step is to set up your line of business. And this is what you'll be seeing: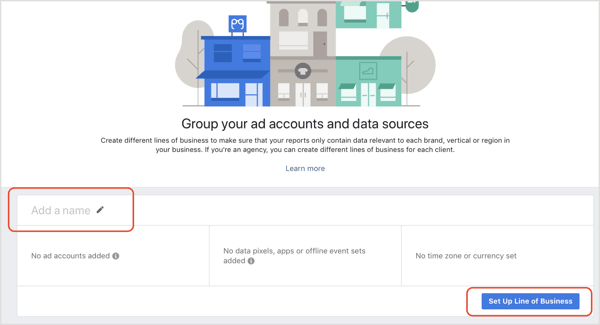 There are three steps you need to complete to set up the line of business.
First, you will choose your ad account from the list of accounts that are accessible to you and then choose.
Next, go the second step. There, you'll see the "Pixels, apps and offline event sets" tab where you also need to select the pixel accounts linked with your ad account. 
Then, click on Next to go to the last tab where you can set your time zone and currency. It's important to be thorough here because you can only configure these settings one time.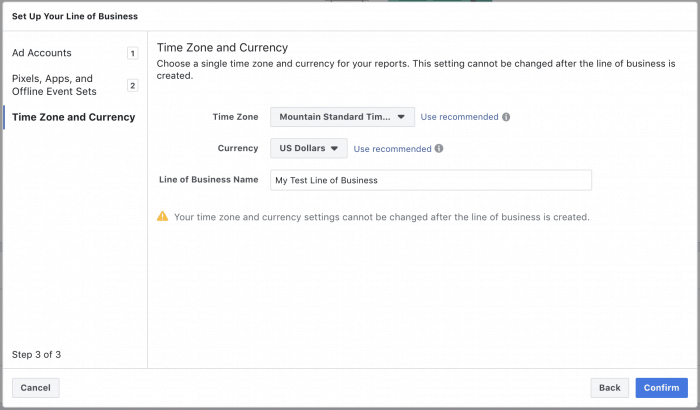 Confirm your selection, and Facebook will redirect you to the preview window with all the data you've just entered. Review the information and click on the Finish button to load your line of business. Then, the system will show you the window with the settings where you'll also see the progress of the setup process.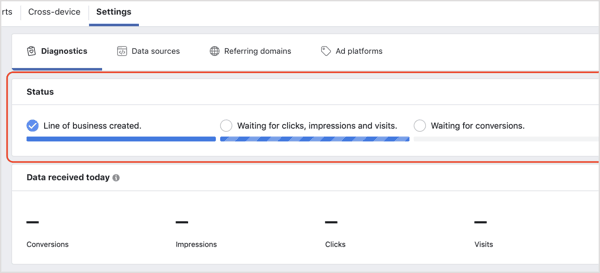 As you can see in the above image, you've completed only one stage of the setup process: the creation of the line of business. There are two more stages to finish at this point: "clicks, impressions, and visits" and "conversions." 
Receiving data from Facebook and your active campaigns will take some time after your line of business has been established. Typically, users have to wait for about 15 minutes.
After you've done with this, you need to set up the following sections:
Selecting Your Conversions.

In this section, click on the dropdown menu in the top right and choose the conversion you want to measure. Note: if you're not satisfied with the options the tool offers you, you can create a custom value in Events Manager.

Selecting Your Tracking Period

. Here, you should also click on the dropdown menu. Choose the timeframe using the calendar feature, and click on Update to complete the selection.

Selecting Your Attribution Model and Windows

. The values you choose here will be used to define how long the tool should look for touchpoints to provide credit. If you're happy with the default 1-day impression and 28-day click window, you can leave these values. However, consider the nature of your campaign and products before making the final choice. Click on Apply to save your settings. 
The next step would be to review the main settings. 
Just under the Settings tab, you see four sections called Diagnostics, Data Sources, Referring Domains, and Ad Platforms. These ensure that your Facebook Attribution has been set up correctly. For example:
Diagnostics

. Here, you can check the current status of your data collection from both Facebook and Off-Facebook sources (the number of conversions, impressions, clicks, and visits). Some options for troubleshooting pixel-related errors are also available in this tab if the tool detects some issues.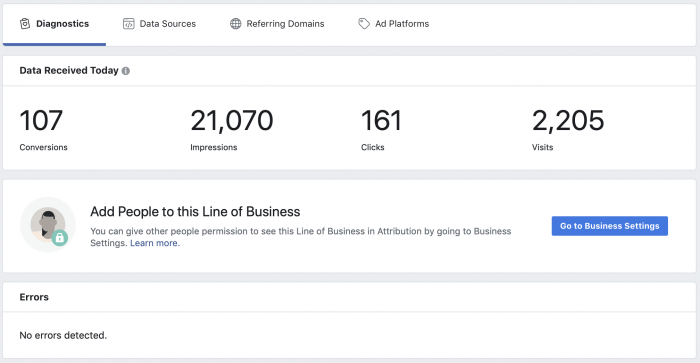 Data sources.

Here, you can check out apps and pixels linked to your business as well as other data sources used for attribution reporting.

Referring domains.

This tab has referring domains and allows you to exclude them from attribution reporting. When you use Referring Domains for the first time, you won't see a lot of information because the tool is still collecting data from your sources. However, as traffic and conversions accumulate, it'll display a list of domains (Google, Facebook, Yahoo, etc.) with the number of visits within the time pre-established time period. 

Ad Platforms

. Here, you can see the list of all ad accounts connected with the line of business you've set above. The tab allows adding non-Facebook ad platforms that contribute to your sales and traffic for those who advertise across multiple platforms. When you land on Ad Platforms for the first time, you should only see the Facebook ad account you've added above (see image).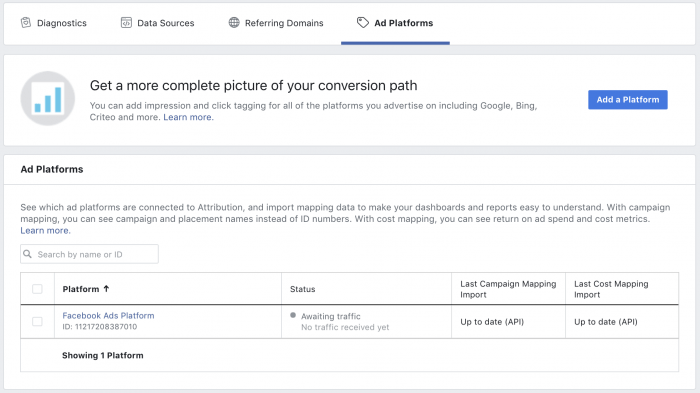 The main purpose of this tab is to allow the user to understand the real conversion path. By clicking on a specific platform, you'll get performance data and metrics that will be immensely useful for understanding the effectiveness of your effort. 
Understanding campaign data
The tool will generate detailed reports based on your settings so you could see how your campaigns are performing. The reports are divided into three main sections: Performance, Custom Reports, and Cross-Device. 
First, the Performance section contains the data you need to evaluate and compare the performance of your ads across direct, organic, and paid touchpoints.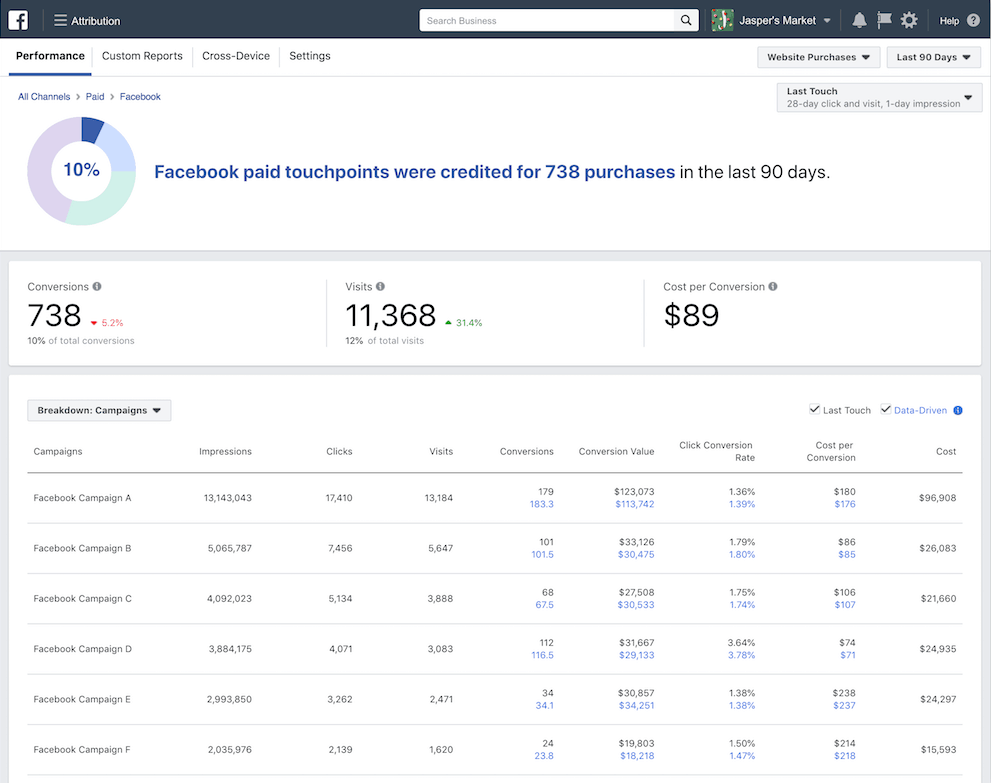 As you can see, this section provides an overview of the distribution of visits and conversions across organic visits, paid touchpoints, and direct visits. The Conversions number at the top of the tab indicates the number of times the event like a conversion occurred. Next, Visits indicates the number of times someone has landed on your website through any channel. 
Below, you'll see the breakdown of the data related to the performance of your campaigns. It includes impressions, clicks, visits, conversions, click conversion rate, cost, cost per conversion, and more. 
Next, the Custom Reports section contains even more detailed data about your conversion performance. To generate one for yourself, you need to go to Custom Reports. Then, choose the metrics you want to include (cost efficiency, conversion efficiency, performance in terms of clicks, visits, and impressions, etc.), and select one of the Presents in the Column dropdown menu in the top right of the table.
The report you've generated will display information and data as a table or graph. 
The third section on Facebook Reporting is Cross-Device. This one shows how people engage with your ads across devices, so you could analyze cross-device conversions. This is relevant for all marketers and businesses today because many people use different devices to make purchases. For example, a path to conversion could start on one device and end on another one. 
The analysis of these paths can help you understand what devices your customers are using when they see your ads. Also, what devices they're using to make a purchase more often. As a result, you can focus your effort on devices that are the most effective at driving conversions. 
Best practices
Here are some of the best practices recommended by Facebook for analyzing conversion path across devices:
Check the number of conversion paths on desktop and mobile. This data can help to understand how people use different devices to interact with your business as well as ads.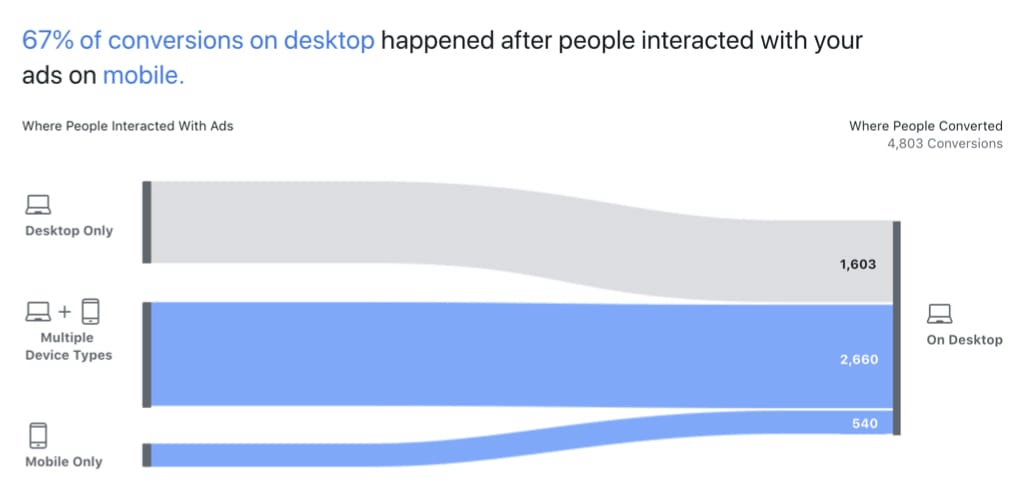 Analyze the percentage of desktop conversions that occurred after interacting with your ads on a mobile device.

This can help you to understand if desktop ads are effective at facilitating conversions. Besides, you can check the time it takes people to convert after seeing an ad on a desktop.

Analyze the percentage of mobile conversions that happened after seeing your ads on a desktop.

This may help to understand if you're providing a good buying experience on mobile. For example, you may discover that localized ads accessed by mobile visitors perform better than non-localized ones. This suggests that you should seek to translate and/localize your ads with tools like

The Word Point.

Optimize the advertising budget.

Facebook recommends this practice to help marketers to provide sufficient funding for ads that can provide the most benefits for them. For example, if the user of the Attribution tool notices that most conversions occur on a desktop after the first interaction on mobile, it would be a good idea to increase the advertising budget for ads on mobile devices. 
Drawing conclusions
Is Facebook Attribution worth trying?
Since its release, a lot of professionals have tried the tool. As Marketing Land reported in this article, many advertisers said the tool was able to generate a lot of useful data for them. 
For example, Facebook Attribution has been instrumental in providing cross-channel insights. 
"In one example, we work with real estate agents to better understand and measure the value of social media advertising — including Facebook — by leveraging attribution data to showcase how social interactions can help drive conversions across multiple channels, and how social media users don't exist in a silo, but instead, are interacting with brands through many different channels," Marketing Land quoted Andrew Becks, a consultant from SocialChimp, as saying. 
On top of that, the attribution tool also helped advertisers to "reinforce the need to look beyond last touch" for companies with long sales cycles, which was important to understand customer journey better. 
On the other hand, some advertisers didn't get as much value from the attribution tool as they expected. For example, Marketing Land reported that some businesses with small ad teams may not be able to use all the features of the tool to the full because they lack sufficient resources. 
Pros & Cons
So, should you use Attribution to improve the performance of your Facebook Ads? Let's explore the pros and cons of the tool once more to make a good decision:
Advantages of Facebook Attribution:
No cost. Facebook Attribution Tool doesn't cost a penny. For many businesses, having it would be certainly better than not measuring the impact of ads at all

It's perfect for Facebook, Messenger, and Instagram. It's safe to assume that a large part of a target audience of your business uses at least one of these platforms. Therefore, the tool can help you to get useful and relevant data about your customers regularly

Get access to a detailed breakdown of your paid, organic, and direct channels that drive real conversions for your business

Identify the features of the most effective marketing campaigns that drove the highest number of conversions

Understand cross-device conversion paths and find out how people interact with your ads on a range of devices
Disadvantages of Facebook Attribution:
The data is limited to Facebook, Messenger, and Instagram. This limitation can be problematic for businesses using Twitter and LinkedIn

Large data volumes. As mentioned above, some users of the tool reported not having sufficient resources to analyze all generated data
Wrapping up
Hopefully, this guide has given you the information you need to understand Facebook Attribution. As far as I'm concerned, it's worth checking out, because the data it generates can enhance your campaigns as well as wider marketing efforts. Besides, it's completely free and doesn't require any downloads and additional purchases. 
Overall, the main benefit is that it can help you to understand the full conversion paths. The path will reveal whether your ads actually bring you more business.
And even if the tool is not really heavy-duty, it's a perfect one to begin your attribution journey. So, hopefully, you'll get off to a great start!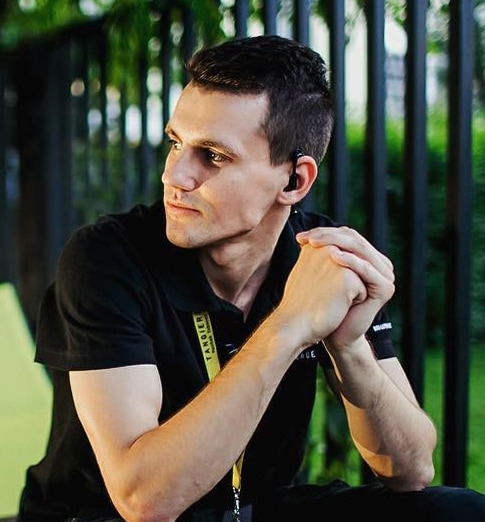 William Rodgers is a content writer who currently works for the international company The Word Point. As he speaks several foreign languages, William's main focus is writing  SEO articles for businesses that want to drive their brand in the international market. His goal is to continually help more marketers fill Google search results with content that really matters.