Discord.
Gamers have been using it for years.
Marketers… marketers, like sharks when they smell blood in the water, have already started getting their noses tingling.
Although Discord has a few alternatives, there are more than a few things that Discord excels at, and some interesting opportunities that it offers.
So what is Discord? What does it have to offer to businesses? And should you be bothered in the first place?
Here's everything you need to know about Discord and Discord marketing.
What is Discord?
Released in 2015, Discord is an instant messaging social platform.
Similar to platforms like Skype, Slack, or Teamspeak, Discord users communicate with voice calls, video calls, text messaging, and media. Users can exchange instant messages and files between them, one-on-one or in groups.
Furthermore, users can create their own public or private Discord server – a collection of persistent chat rooms and voice channels. The majority of the servers on Discord are private. Servers themselves can have public and private channels and threads within said channels.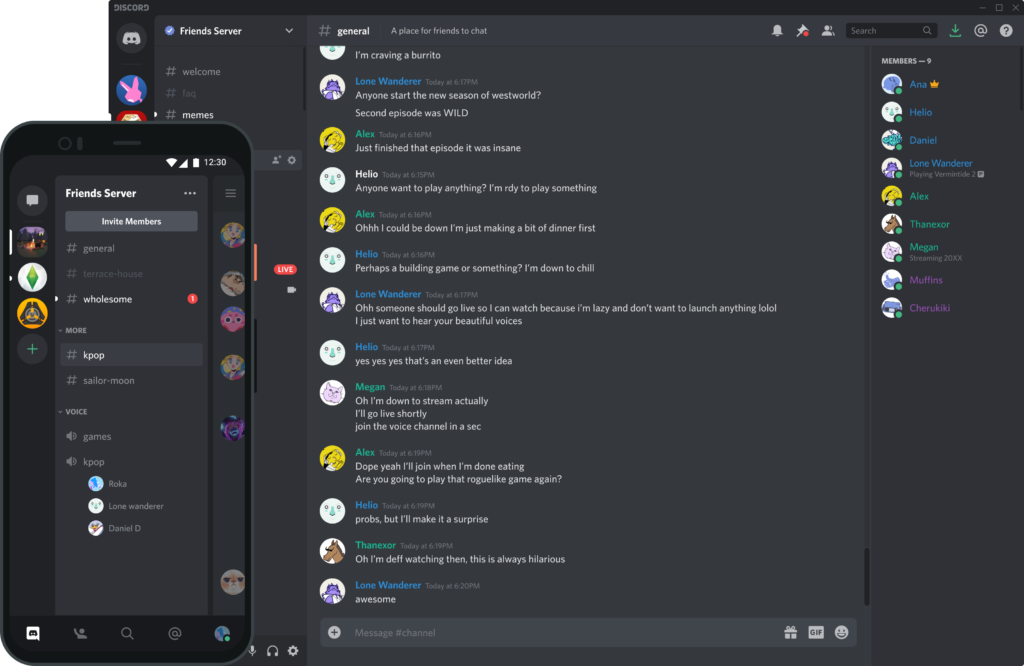 Initially, Discord was built as a chat platform for gamers. Since then, however, the messaging app has taken the world by storm.
Today, it is one of the dominant players in the online communications industry. It is a  platform with a healthy and stable source of income that refused to be acquired by Mircosoft, and desired to draw its own path. Discord is possibly looking forward to a potential public listing in the future.
Discord is free and works with a freemium business model. Accordingly, it has two subscription plans, at $49.99 and $99.99 each.
Discord Numbers & Statistics You Should Know
To know the platform a little better, we first need to know some facts & stats. We located those worth-mentioning, as stated by Discord, Statista, CloudWars, EarthWeb, and Bloomberg.
Here they are:
🧑‍🤝‍🧑 300 million registered users 
🏃‍♀️150 million active users
🏢 19 million active servers 
✉️ 960 million messages are sent on the platform every day.
💬 4 billion server conversation minutes every day
⌚ 280.6 minutes/ month average time spent on Discord
🔞 13 years old is the age restriction for users
🚣‍♂️ 78% of Discord users use the app mostly for non-gaming activities
🤑 $130 million in revenue was generated by Dicored in 2020
💰 $482.6 million is the sum Discord has raised in funding
💸 $12 billion was the rejected bid placed by Microsoft to acquire Discord in 2021 
💹 $15 billion is the price Discord is valued at the moment 
Why Try Discord for Your Marketing
Is Discord a marketing channel worth exploring for your business? Let's find out what it has to offer.
Who is Discord for?
Right off the bat, we should let you know that Discord is not a marketing channel worth exploring for everyone. Just as with TikTok, just because Discord is the "new, shiny thing" in the marketing world, it doesn't mean that it deserves your time or attention.
Having said that, you shouldn't ignore Discord if you are in one of these industries:
Gaming

Entertainment

Crypto,

NFTs

 

Blockchain

Retail

Tech/ Software
… or any youth-focused industry.
You need to keep in mind that the nicheness of Discord's servers and channels is what makes it highly engaging. Sure enough, when you post a message on Twitter, the whole world can see it. But on Discord, only users from the particular channel you posted can see it. But those who see it probably want to listen to what you have to say.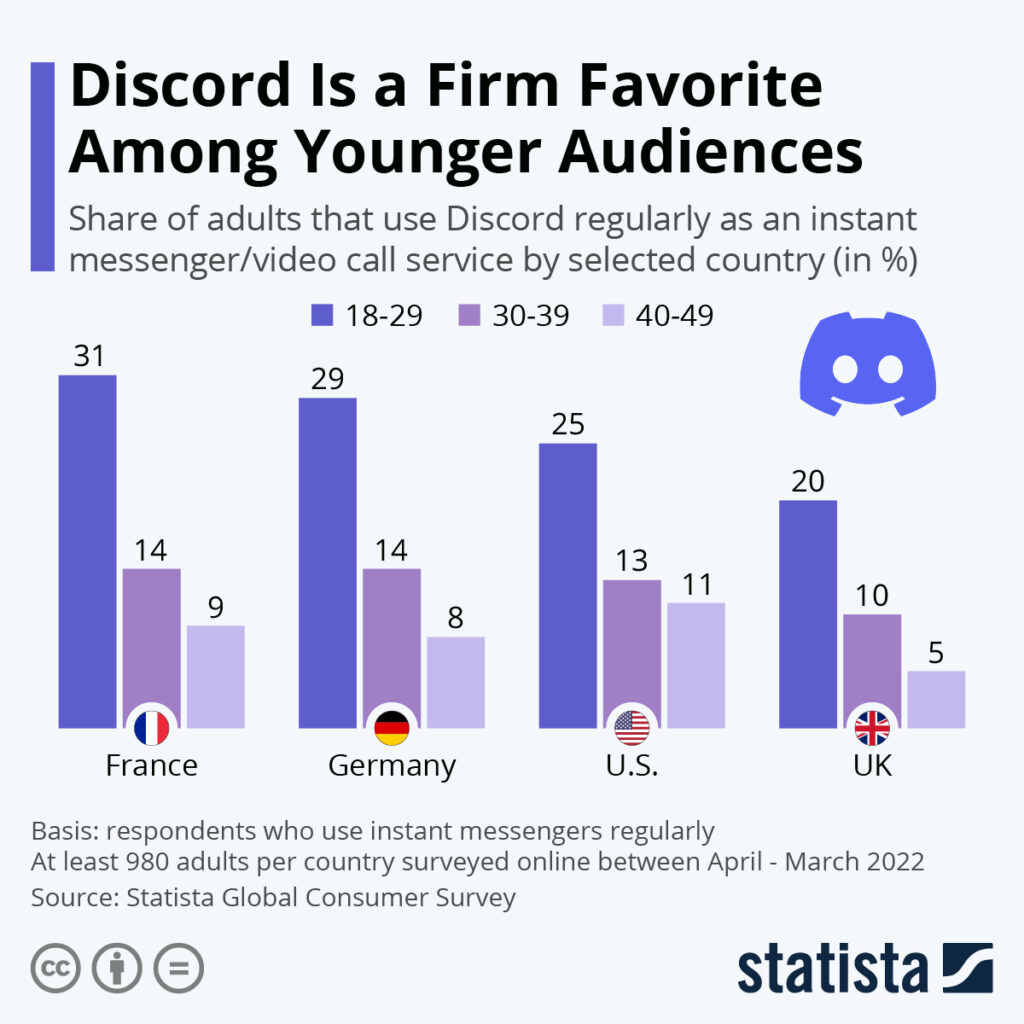 Discord is all about the community. And community is important.
The days when you were writing a social media post, pushed the Publish button, and then calling it a day are long gone. Communicating with your audience and fanbase doesn't work on autopilot.
Similar to Facebook's groups, Discord servers offer a space for like-minded people with similar interests to connect. These communities will organically build relationships between users are well as users and your brand, centering the group around your brand. 
With this out of the way, it's probably time to ask the 1 million dollars (or whatever your budget is) question: Can you advertise on Discord?
Can you advertise on Discord?
No. Not in the classic way, at least.
There is no digital real estate given for advertising purposes. Also, there are no native advertising tools like the rest platforms have.
Nonetheless, you can advertise your brand organically. Discord is an excellent platform if you are looking for people who enjoy using your product or service and want to engage in conversation. But more on how to use Discord for your marketing later.
What is Discord good for?
If you just found out that you can't advertise on Discord, you might be wondering: "so how can this platform help my business?" Indeed, sales and increasing your revenue might be your end goal but there's more to marketing than sales.
In growth hacking terms, Discord can make an excellent retention channel. 
In practice, this means that it's not a good channel for lead generation and finding new clients. But it can be a great marketing channel for fostering relationships and reducing churn. In other words, it can help you keep customers coming back to you or not lose them in the first place.
Making the most out of your Retention channel is vital for all SaaS businesses, or any kind of business that works with a subscription model.
How to Use Discord for Your Marketing
Know that you know more about Discord and why it could be a channel for your business worth exploring, how can you actually use it for your marketing?
Here are a few Discord marketing tactics.
Building a community
The essence of Discord is that of the community. A place where people with common interests can gather together, have fun, exchange opinions, connect, and fulfill many of their belonging needs.
Your goal here is to create a server that can foster the development of these connections. In simpler terms, a server that feels like home to the users. To make this happen, consider customing your Discord server. Here are a few tips:
1. Customize your Channel Name: Pretty self-explanatory. More often than not, the name of the channel is not just the brand name. For example, for its marketing campaign, Gucci named its server Gucci Vault, and Jackbox Games named theirs Jack's Late Night Discord. On the other hand, Samsung left it at that, and its Discord server is simply known as Samsung US.
2. Incorporate channels with different interests: A server can have multiple channels. And these channels can be more unrelated than you think; they don't have to be related to your product or service. Remember, it's more about the community than your business.
3. Add some user roles for easier management: Roles in Discord servers are essential, as certain roles can perform certain tasks. For example, you will most likely need to have a moderator, who will be responsible for filtering users and comments in your absence. A bot can also be a moderator. Speaking of which –
4. Add Discord Bots: Discord bots are AI-driven tools that can help you with many of your server tasks. First, they can help you automate tasks. Second, Discord bots make it easy to build a community that is active and engaged. They can welcome new members, or even ban users that don't behave accordingly to your rules. Lastly, Discord bots let you add games, music, memes, and other fun content.
5. Server aesthetics: You can customize your server multi ways, including setting a profile banner. Use the colors that work for you, according to your brand identity.
Content distribution
No matter how good your content is, if people don't see it, what's the point? The hardest part of content marketing is not creating content but distributing it effectively. This is where Discord comes in.
A Discord server can be a great channel for sharing your content. Articles, blog posts, tweets, memes – you name it. In contrast to other audiences you may have been trying to share your content with, users on the channel already care about your brand.
It's also a great place for people to share their own user-generated content.
Surveys/ Polls
The power of surveys and polls cannot be understated. They are some of the best marketing tools to help you learn about your audience. And now a part of your audience is located in one server. Ready to share their feelings and opinions.
What's more, you will find many Discord bots to help you with your surveys so you don't even have to leave Discord.
Many of them are highly customizable and some of them even have their own dashboard.
Collect insight 
Similar to polls, except collecting insight can happen not only through the power of numbers but upon further inspection of what people say.
Discord offers a great opportunity for quality and open discussion. An organic conversation can provide you with useful data you wouldn't get your hands on otherwise. 
Customer service
Remember that you can have more than one channel? Well, one of these channels can be dedicated to customer service. You can include a FAQ section there, too.
Customer service is all about speed. And the real-time messages of Discord can help you address your customers' problems on the spot.
Also, not everything has to be in public. You can easily have private conversations through direct messages.
Article continues after the form
Get Our Best Articles Weekly
Host events
Nothing brings people together more than an event does. Exclusive giveaways and discounts will probably make you stronger allies. Here are a few events ideas that you may find useful:
Giveaways

Daily polls

Competitions

Quizzes

Discussion nights

Collaborations with other servers
How to Get Started
Do you like what you read so far? Are you interested in starting your Discord marketing endeavor ASAP? 
These are the first steps.
1. Install/ Open Discord
First things first. You need to run the thing.
Naturally, you will need to visit Discord.

Discord gives you 2 options: You can either:
a. Download Discord
b. Open it on your browser.
Is one option better than the other? Here are their major differences.
Discord as an app is a must-have for gamers, as only the downloaded version shows what game you're currently playing and offers more options in general. It also has an out-of-browser push-to-talk function. What's more, the download version is considered to have better performance by most.
Discord's browser version, on the other hand, has a spelling checker. This feature alone can be enough for you as a marketer to make up your mind. And, since it's on your browser, you can also add various Discord Chrome extensions for some quality-of-life upgrades.
2. Create your server
After you set up your account, it's time to create your server.
In the app, find the plus (+) symbol on the left menu bar and "Add a server"

Click on "Create a server" to create a new server (duh)

Specify that you want to create the server "For a club or community"

Choose your server name and upload your desired avatar
That's it. Your Discord server is now ready to use!
You can make any necessary changes from the "Server Settings" in the top left-hand corner. It's now also a good time to let people know that you have your own Discord server.
3. Spread the word about your Discord server
Through the Dashboard, you can immediately start inviting people from the top left-hand corner.
Then, use your existing marketing channels to share your invite link. Spread the word on Twitter, Instagram, your website (through a banner), or your newsletter and email list. 
You can also give other members of your server the ability to invite others to the server or a specific channel, by creating their own invite link.
Invite links can be permanent or temporary. Temporary links can be used if you want to create urgency for your marketing purposes.
And, if you want to take it to the next level, consider creating an invite system, similar to referral marketing. With this system, existing will invite other users and get something in return.
4. Join other servers 
In addition to creating your own Discord server, you may as well join other servers for your marketing purposes.
When looking for a Discord server to join, consider the relevance to your brand. As far as the size goes, keep in mind that the smaller the server, the bigger the activity overall. Thus, the bigger the engagement.
5. Time for marketing
Discord marketing counts as organic marketing. This means that you shouldn't come off as salesy; you need to avoid being too spammy or pushy.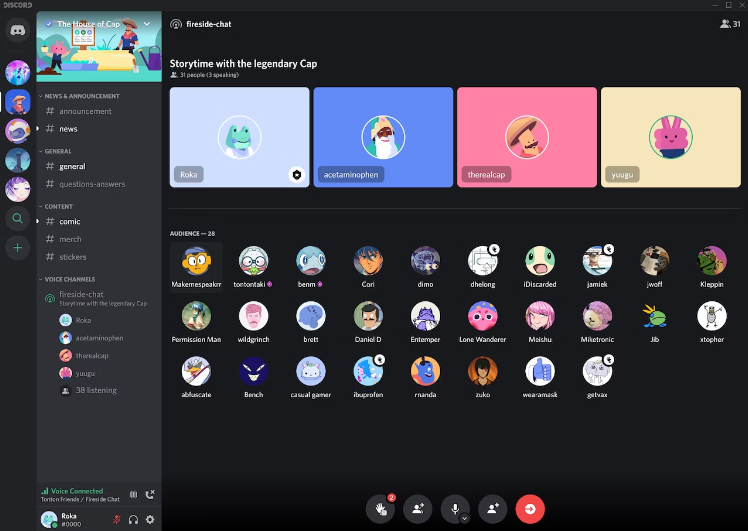 Half-baked marketing campaigns and messages you use on other social media platforms or ads don't work here. On the contrary, you should share with your audience helpful information, provide free trials and special discounts, and give away freebies and prizes – exclusively.
The keywords in your Discord marketing are authenticity, immediacy, and exclusivity.
Let this be your Discord marketing triptych.
Epilogue
At first glance, Discord is an instant messaging platform for Gen Zers and young people. However, upon further inspection, Discord can be one of the best ways to build a strong community around your brand.  It can be a legitimate marketing channel for brands and businesses. And maybe your business, too.
Discord is not an open social network like Twitter or TikTok. This closed and decentralized ecosystem of Discord means that what happens in Discord usually stays in Discord. People outside your server can't search or discover content. Furthermore, most of your marketing actions will begin and end in-server.
That said, the strength of Disord can't be found in quantity but rather in quality. A tighter, highly engaged audience can be as powerful as a bigger, albeit lukewarm, audience.
So, what do you think?
Are you going to give Discor marketing a try?
Effie is a data-driven marketer and a specialist in data-driven strategies to drive growth. At the same time, she is a firm believer that nothing can beat a great idea so there's no holding her back when it comes to creative, out-of-the-box concepts and delivering superior brand experiences. One of the things she enjoy the most is building and motivating high-performance marketing teams, like GrowthGirls' and GrowthRocks' teams of growth marketers and also teaching aspiring growth marketers at Growth Hacking University. She has helped big multinational organizations as well as innovative startups to grow by offering a full spectrum of digital marketing services, from the strategic approach down to technical bit and bytes of the implementations, always having a hands-on approach to any project with a 100% focus on results. She is sharing here time between Europe and the US working with companies around the globe.