Is your startup growing or failing?
For your startup to thrive in this ever-changing marketing environment, you need to build a brand awareness and become consistent at it. Remember that branding isn't a one-off thing, it spans throughout the lifetime of the business.
Every startup must go through the teething phase. It this phase, it's easy for the management to get carried away, and neglect what the target audience thinks about the brand.
In reality, what people think or perceive about your startup is more important than what you think or do.
Before customers can connect with you emotionally, you must have created a level of awareness for your brand. Imagine the level of connection that we all have towards Coca-Cola—although the brand isn't a startup today, they started from somewhere—from scratch.
Since getting the word out about your brand is critical, I want to show you the basic 7 steps you need to take to make it worthwhile.
If you're ready as I am, let's dive in…
1. Understand your ideal customer
The novelist Ian McEwan once complained lightheartedly about the experience of going out there to promote a new book after spending hours creating it. It's not an easy task.
Truth be told, promoting a new book, startup, software, or even a cause you believe in can be dreadful.
Here's the point: Unless you know and understand who your ideal customer is, reaching out to them with the aim of promoting your brand and idea will be difficult. If you know him, you'll devise means to attract him.
If you don't know who you're targeting, how on earth are you going to speak their language, connect with them emotionally, and persuade them?
Smart marketers simplify the entire process by mapping a buyer persona. Before they ever launch any brand campaign, these marketers must represent their ideal customer. Sadly, not too many startups have come to terms with this reality.
According to a study by ITSMA, a renowned institute that defines, builds, and inspires B2B services marketing excellence,
"Only 44% of marketers actually develop buyer personas before they launch their campaigns, and 85% of those people aren't using personas effectively."
Without meeting your ideal customer in person, a buyer persona will give you an overall outlook of the person, where they reside, their core needs, goals, challenges, demographics, and more.
Here's a typical example of a well-crafted buyer persona (source: HubSpot):
Once you're armed with this persona, it's time to do something with it. It would make no sense if all you do is feel good after knowing who you're targeting. You must take action.
2. Get into the conversation
Find out where your audience hangs out, join them, participate actively, follow the guidelines, read the questions and answers, then ask your own.
When you get into the discussion, be disciplined enough to listen more. Since you already have the solutions or your startup has the ability to proffer solutions, you need to give people the opportunity to speak their minds.
Creating a brand awareness that sticks in the minds of people isn't rocket science. It's doable, but you must be attentive. At the end of the day, your responses will be constructive and it will be based on the insights you've gleaned during the conversation.
Are you targeting audience more active on Facebook Groups, and don't like Tweeting? Then, don't waste time on Twitter. Don't ignore it totally, but pay more attention to Facebook Groups. You already know why, don't you?
3. Set a goal and determine your budget
Before you can allocate dollars to PPC advertising, for example, you need to set a budget.
To help you get started, if your goal is to reach 1,000 new users in a week, and you've developed a high-converting landing page that will generate up to 350 sign ups, you might want to allocate £500 on Facebook advertising.
In the same vein, if you want to reach 100 new people on Instagram, you could set aside £200 for advertising. From this analysis, you can see that your goal drives/influences your budget.
Make no mistakes about it, you can't successfully build a brand awareness without spending money. Be ready to spend both time and money. That's how startups can make an impact today and in years to come.
4. Establish social media presence
Facebook currently receives more than 2 billion monthly active users. As a startup, you can't afford to neglect this revolution (because it is).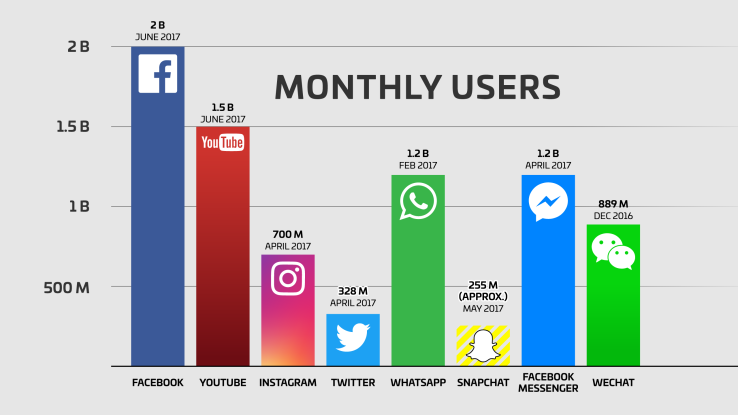 We all know that social media was designed to help us share, connect, communicate, and help one another.
That's the essence.
As a startup, what better ways can you utilize in order to help people, other than using your product, services, ideas, and your content.
Start building your Twitter following. Even if your prospects aren't active there, set the pace and bring them over. If you want your brand to appeal to businesspeople, you should have a strong presence on LinkedIn. It's never too late—you can begin today to build it.
5. Develop a strong value proposition
If you're just getting started with a £300 budget which you intend to spend on Facebook ads, for example, would you like people to click-through to your landing page and not take the desired action (i.e., subscribe to your list or sign up as a free trial user)?
I doubt.
The "element" that will make people take the desired action is your "value proposition."
Data from Newport Board Group found that:
"7% of leadership teams can articulate a common value proposition, while 85% of CEOs say their employees can clearly state their company's value proposition."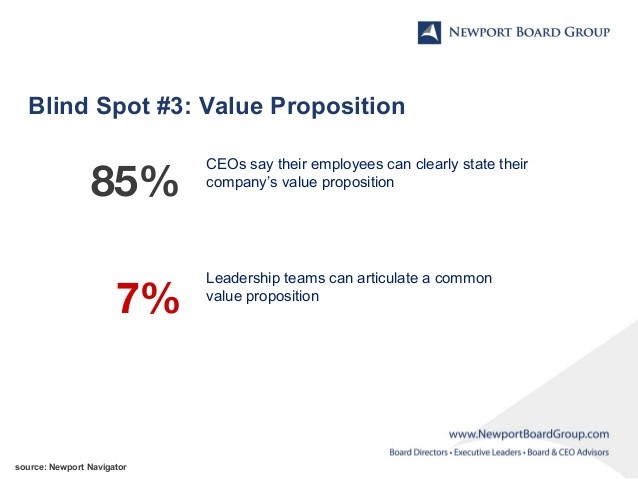 Here's how Peep Laja, founder of ConversionXL defined Value Proposition:
"Value proposition is a clear statement that. explains how your product solves customers' problems or improves their situation (relevancy), delivers specific benefits (quantified value), tells the ideal customer why they should buy from you and not from the competition (unique differentiation)."
I'm sure you've seen value propositions on so many startup websites. What you may not realize is that you are being influenced by them. Here's an example from Zapier, a startup website: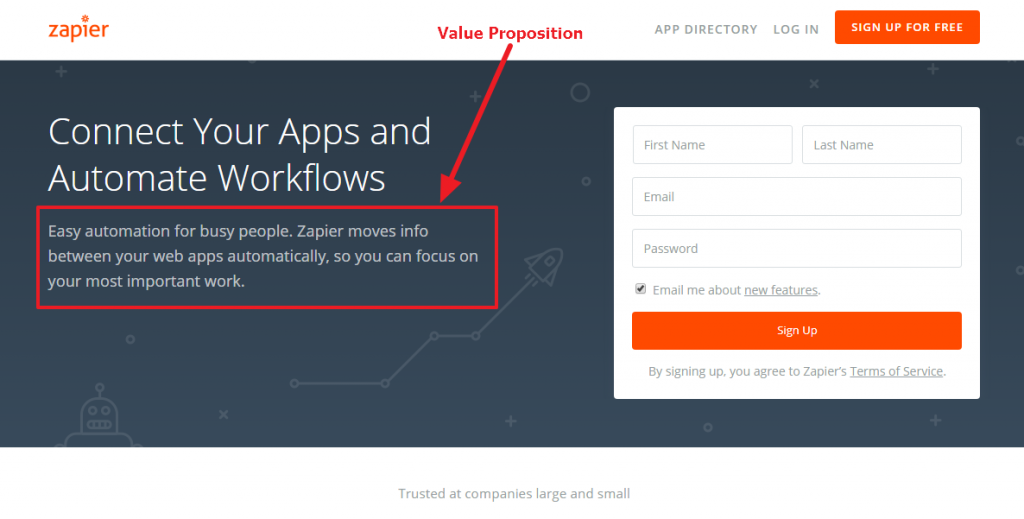 Note: The value proposition could be the headline (or contained in the headline). But for Zapier, the intended user will be drawn to the persuasive text beneath the headline—that's where the value proposition is.
Ensure that yours is clear, benefit-driven, and persuasive. If you do that, your conversions rate will increase as the days go by.
6. Outsmart your competitors
Do you have competitors? I betcha.
Find out what they're doing that you're probably ignoring. Funny enough, they might not be doing anything out of the envelope—but until you do it, you might not move the needle in your market, neither will your audience be impressed.
A quick one: If you want to know the top 5 competitors in the organic search for your primary keyword, here's how to use the SEMrush tool to find out.
Visit SEMrush.com and enter your website URL (e.g., Trello), then click on the "Start now" button at the right side:

Next, analyze your competition. How? Simply scroll down the results page and you'll find your top 5 competing websites in the organic search.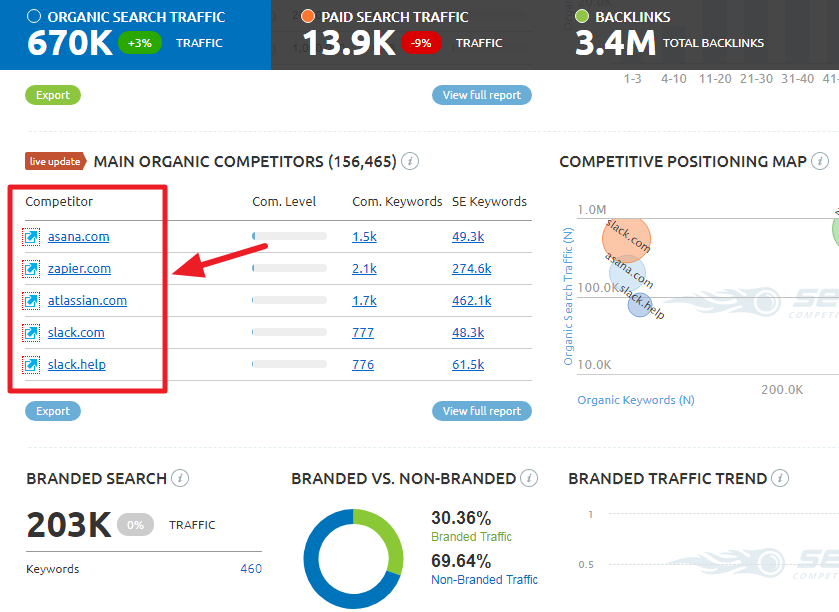 Last but not the least, your responsibility is to visit each of these websites and landing pages, study the value proposition, the visuals, navigation, page speed, among others. Then, use the insights and data to craft your own campaign.
If you can outsmart your competitors in ways that the target audience will appreciate, nothing will stop them from becoming your loyal customers.
7. Leverage content marketing
Content marketing has redefined the way startups build their brands. It's the quickest way to tap into search engine traffic. According to Newscred, 53% of marketers said that content marketing is the most effective SEO tactic.
Can you let you in on a secret?
The majority of startups like LeadPages, HubSpot, Zapier, Basecamp, Asana, and a lot more built their customer bases through content marketing.
For example, GrooveHQ reached their first 1 million people online by contributing invaluable articles to industry blogs.
But understand that content marketing goes beyond written content. Videos, podcasts, infographics, social media posts, PDFs, interactive content, and Slide presentations are some of the formats you can use for your content.
More importantly, you must promote this content. I believe that compelling content gets you loyal customers, but a consistent content promotion creates a strong and sustainable brand awareness.
Conclusion
On the web, your brand is your ultimate identity. In a virtual space where your customers don't meet you in person before transacting business with you, your brand must be trusted.
A single misstep could spell doom for your startup. The good news is that if you implement these simple and proven steps, you'll surely position your startup as a reliable resource for customers.
What else can you possibly ask for?
George has an 8-year experience in running results-driven digital marketing campaigns. Accustomed to gathering, analyzing and disseminating website analytics to optimize performance and drive business. His career includes managerial posts for companies both in Greece and UK.