Extended Reality (XR) vs Virtual Reality (VR) vs Augmented Reality (AR) vs Mixed Reality (MR)
Right from the beginning, we should clarify the differences between the many digital realities there are today.
Extended Reality (XR) refers to all real-and-virtual environments generated by computer technology and wearables. The 'X' in XR is a variable that can stand for any letter.

Virtual Reality (VR) encompasses all immersive experiences. These could be created using purely real-world content (360 Video), purely synthetic content (Computer Generated), or a hybrid of both.

Augmented Reality (AR) is an overlay of computer generated content on the real world that can superficially interact with the environment in real-time. With AR, there is no occlusion between CG content and the real-world.

Mixed Reality (MR) is an overlay of synthetic content that is anchored to and interacts with objects in the real world—in real time. Mixed Reality experiences exhibit occlusion, in that the computer-generated objects are visibly obscured by objects in the physical environment.

– Source
Even though the title of the article is about "virtual reality marketing", this post is actually about "extended reality marketing".
But since you most likely learn about marketing, not CGI, we are going to use the terms extended reality and virtual reality marketing interchangeably.
Virtual Reality Marketing Examples
Extended reality is an immersive technology that stands on three pillars, namely virtual, augmented, and mixed reality. This disruptive technology is changing the business landscape in more ways than one. XR has opened new avenues for marketers looking for an innovative way to engage with their audiences. It has offered a full spectrum of real and virtual environments, enabling customers to interact with new products and form a deeper connection with the brand. 
No wonder, most businesses in eCommerce, retail, real estate, media, and entertainment sector are making huge bets on immersive experiences. In fact, AR & VR in business is expected to grow eightfold by 2022.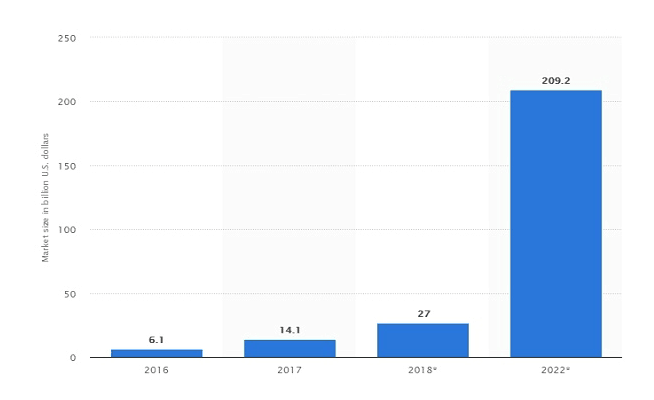 Extended reality is blurring the boundaries between fiction and reality, allowing marketers to offer incredible shopping experiences to their customers.
Read on to learn how this disruptive technology is all set to shake things up for modern marketers. 
BMW: Virtual Test Drive
In the current competitive scenario, marketers need to find effective and innovative techniques to attract the attention of their customers. Extended reality allows brand owners to improve their user experience and build an emotional connection with the audience. Furthermore, it offers a whole new spectrum of data points and in-depth analytics that you can use to create relevant ad campaigns that the audience will appreciate and consume. 
In other words, XR allows advertisers to promote their brand and create advertisements that resonate with users. For instance, a user can virtually interact with a true-to-form product like a virtual car instead of looking at a 2D banner on a website or a print brochure. 
BMW recently created an immersive app. This BMW app offers the user a virtual presentation of the car using the Oculus Rift headset.
The technology also allows users to take a test drive. What else does a prospective car buyer need? 
Matterport: Virtual Tour Guide
Similarly to the BMW case, in the real estate segment, XR is offering prospective homebuyers an innovative way to see properties.
Real estate agents can now use 3D walkthroughs and virtual staging to show the property to prospective homebuyers. 
Matterport, a virtual tour platform, allows real estate agents to create virtual guided and interactive tours of the properties on sale. Thus, it makes it easier for them to reach out to their potential clients and close a deal.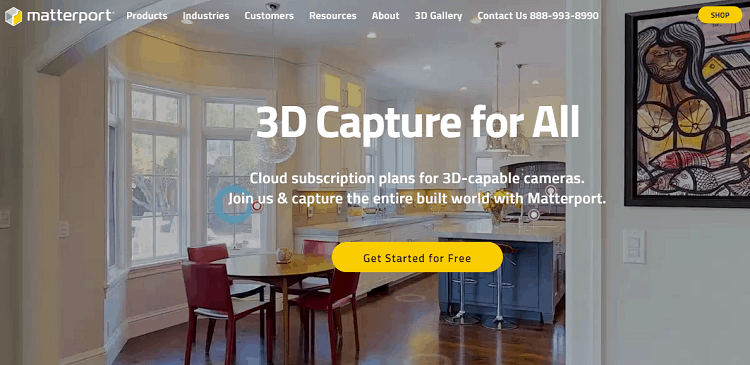 IKEA: A 360-Degree Shopping Experience
Virtual reality help marketers create awesome shopping experiences while reducing the overall cost. Several brick-and-mortar retail stores, for instance, are using 360-degree viewing to offer in-store navigation and virtual tours for their customers. Using this technology, the customer can easily find the products they are looking for along with the detailed information. 
Similarly, eCommerce stores can use immersive XR to drive repeat customers to their website and stay ahead of the curve. These technologies are allowing online retailers like IKEA, Amazon, and Sephora to offer intuitive, user-friendly, and satisfying shopping experience to their visitors. IKEA's augmented reality app, IKEA Place, is a hit among customers as it helps them virtually to try out furniture and home decor accessories in their home. This experience can help them a lot with their purchase decision.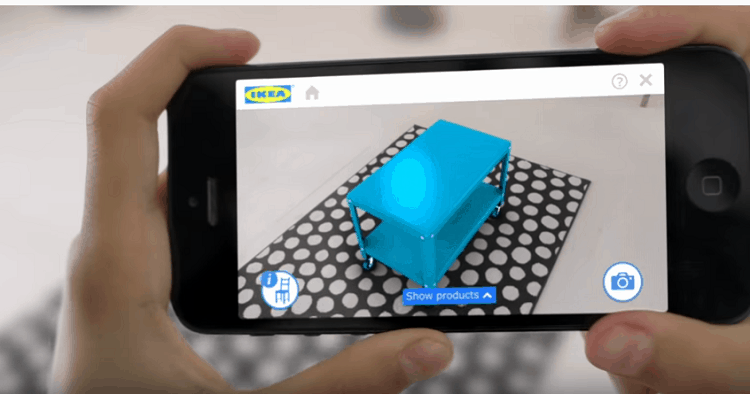 Nike's AR App: It Finds Your Shoe Size
Such sophisticated and interactive shopping experiences on the shop floor and online are bound to strengthen customer connections with brands. Nike has been able to successfully offer an engaging and personalized experience to its customers using AR and geofencing technology. The sportswear giant has been heavily experimenting with immersive technologies to engage its audience. It recently introduced Engadget, an app that helps people find the right sneaker size. This app hugely appeals to the sneaker-wearing community. 
L'Oréal's Modiface AR
Similarly, beauty brands like Modiface (now bought by  L'Oréal) have created AR apps that allow shoppers to virtually "try" products before making a purchase. 
According to Mobile Marketer, "Toronto-based Modiface is a key player in the world of augmented reality (AR) makeup try-ons, and before the acquisition, had worked with Estée Lauder, Sephora, Allergan, Unilever and Coty. By scooping up Modiface, L'Oréal​ grabbed the go-to solution for major brands, catapulting itself to the head of the pack when it comes to using AR in beauty — and forcing its competitors to use other, less-vetted solutions for AR."
Thomas Cook's Immersive 360-degree Videos
The beauty domain is not the only one using the 'try-before-you-buy' tactic.
The global travel group, Thomas Cook, may went out of business last year, but its legacy stays with us. Thomas Cook saw a whopping 190 percent boost in sales after it launched a series of immersive 360-degree videos.
London Natural History Museum: Interactive Virtual Tour
Without a doubt, content marketing is one of the most important tools marketers use to rule the online space. Virtual reality is allowing marketers to create interactive content that allows participants to explore extraordinary scenarios. XR can prove to be an excellent tool for creating engaging, relevant, and intuitive content that converts. 
Think about it! On any given day, a tech-loving audience would choose to consume immersive content to get a closer view and feel of the product over an image. 
Museums, for instance, are a perfect setting for implementing immersive technologies. The London Natural History Museum recently collaborated with Factory 42 to offer visitors a ground-breaking interactive virtual tour of the area. Visitors can get their hands on rare specimens and world-famous collections. Also, they can interact with the famous David Attenborough as he shares information about the rarest natural history specimens.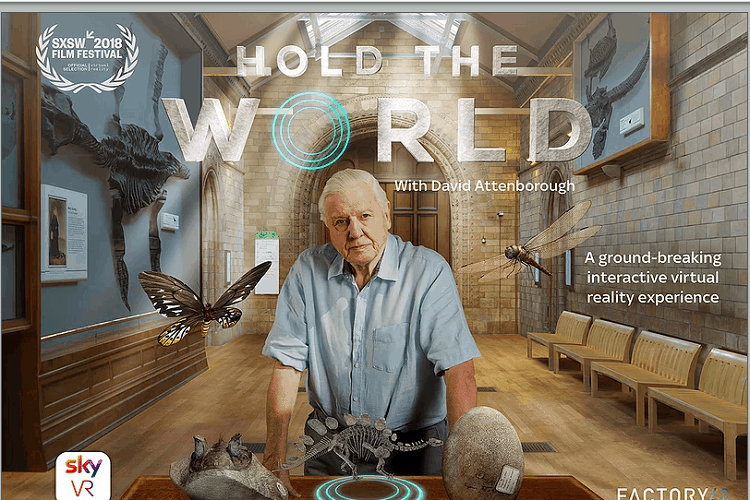 Sharing your brand story through immersive technology can boost emotional connections and ensure a deeper engagement. Hence, marketers should experiment with extended reality to create a brand story that stands out as an incredible piece of content. 
Virtual Reality Marketing: Personalized and Targeted Marketing
Personalization is the key to boosting customer engagement and conversions. Did you know, 79 percent of customers are willing to engage with a brand only if the promotional offer has been personalized to reflect their preferences and previous interactions? Therefore, businesses can no longer afford to ignore the power of personalized and targeted marketing across mobile, desktop, web, and in-store shopping platforms. 
Extended reality is enabling marketers to offer curated shopping options to their customers based on their preferences, thereby improving user engagement. Brands, such as Retinad are using analytics to track customer behavior on AR and VR devices. They capture valuable user data through the viewer's behavior, gaze, engagement, and affinity and use it to create personalized advertisements that are relevant to the audience. 
Thus, brand interaction with XR can now be tailored to each user in a natural and non-disruptive format, thereby improving the user experience and satisfaction.
Summing Up
Immersive technology is a hot field with new developments popping up every other day. Considering the world of benefits extended reality brings for marketers, businesses should consider investing in and adopting this technology to increase user engagement and get an edge over the competition. 
Most renowned businesses across industries have already started adopting and integrating XR in an effort to boost customer experiences and drive operational efficiencies. You too can find a way to harness the power of XR and virtual reality marketing. By creating a story around your brand, you are surely on the fast track to success. 
Pratik Dholakiya is the founder of Growfusely, a content marketing agency specializing in content and data-driven SEO. He regularly speaks at various conferences about SEO, Content Marketing, and Entrepreneurship. Pratik has spoken at the 80th Annual Conference of the Florida Public Relations Association, Accounting and Finance Show, Singapore, NextBigWhat's UnPluggd, IIT-Bombay, SMX Israel, SEMrush Meetup, MICA, IIT-Roorkee, and other major events. As a passionate SEO and content marketer, he shares his thoughts and knowledge in publications like Search Engine Land, Search Engine Journal, Entrepreneur Magazine, Fast Company, The Next Web, YourStory, and Inc42, to name a few.