Are you looking to hire a SaaS consultant to grow your app or tool?
Before doing so, you should probably have the answers to some questions relevant to what you do and what you want to achieve.
However, I should tell you right from the get-go that my mission here is not to give you these answers.
It's not that I don't want to – I just can't. And no one can for that matter.
Except you. You can!
And that's what this post is about: to let you know where you should look to find these answers.
Though, before reading about the 6 things you need to do before hiring a SaaS consultant, let me give you some context first.
Don't sweat over Acquisition yet
As you probably know, the lifecycle of every web app there are different stages:
1 — User Acquisition (or top of the funnel) is when users engage with your brand, meaning that they subscribe to your app or that they express their interest via an exit-intent or by adding an item to their shopping cart.
For the sake of this post, we will consider the first. Thus, subscribing.
2 — User Activation (or middle of funnel or conversion) is when users upgrade from the trial or the free version to a paid one. It is usually known as the moment that the users stick with a product or service.
3 — User Retention refers to the ability to retain a customer over time. The opposite of retention is churn. Churn is when an activated customer stops the subscription with the app after a short period of time, typically after one or two months.
So, before hiring a SaaS consultant to fix your user acquisition problem, you should take care of the user activation and user retention phases yourself.
In addition, nothing should stop you from doing one of the below which are the typical things to do to get initial and relevant traction:
Ask your friends and family to test your app.
Launch on Betalist or Product Hunt. Those communities can give you the initial audience you need to start testing.
Run some performance marketing tests (PPC campaigns) to bring in relevant traffic and see how these users perform.
Give a special offer that one cannot refuse to use your product.
Now, if you are looking for practical ways to get initial traction I'd suggest starting with these reads:
—> How we got 1000 upvotes on Product Hunt
—> How to get early traction for your product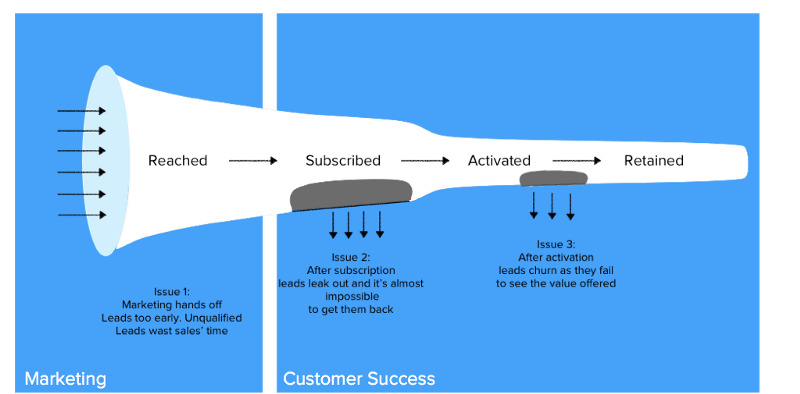 This article is about answering these questions:
How do I activate my customers?
How do I stop losing revenue every month?
The short answer to both questions is: "By knowing your customer and what's the definition of your customer's success".
Are you ready for the long answer?
Let's go!
1. Know your customer
Before hiring a SaaS consultant, you should know thy customer.
For good or bad, not every customer counts. You need to identify every single customer and answer the difficult question: "Is the customer the one that I want?" Every moment you spend with the "wrong" customer is a bad investment, and an opportunity cost you lose from addressing the "correct" one.
So how can you know who is the right customer?
To learn that, you can use API (Application Programming Interface) or application that will analyze the email or domain the customer used. After all, what you need is to collect all the information you need and get a well-informed decision. This is what we call "contact enrichment".
Here's a list of my favorite tools for that purpose:
Clearbit ― provides powerful products and data APIs to help your business grow
LeadMine ―find qualified leads and their email addresses in a matter of seconds
Lusha ― provides you with contact details about the social network profiles of your potential clients
Baremetrics ― an Analytics & Insights tool through which you get hundreds of valuable metrics and business insights
2. Identify where your customers come from
Do you know where your customers come from?
Before contacting a SaaS consultant, it's always a good idea to know that.
Which channel are they coming from? Do they come from Facebook campaigns? Have you made a piece of content that now brings organic traffic? Maybe through some PR actions instead?
The truth is that a lot of owners don't analyze their channels properly. Therefore, they jump to conclusions too early.
Also, remember that friends and family are not a suitable channel to measure anything; they will always buy your products (because they love you).
Your home market is not the best channel either, as the mere fact of knowing you can boost sales.
A small audience in your target country is usually the best place to start.
3. Know your product
Knowing your product is mandatory as it will help you with:
a) Identifying the metrics to qualify your customers
b) Measuring the value they get from your product
Here are some questions to ask yourself (and give an answer to):
How or where is your product adding value?
Which are the optimal user flows it covers in the best possible way?
What kind of usage will make the customer happy, making him to use it again and again?
What are the buyer personas you should target?
Is your product the kind-of-product with high churn rates by design? (i.e. a recruiting SaaS app is a service with a high churn rate)
Assuming you have 100 sign-ups, you should try answering these questions:
When your customers have an issue, do you know what they see in your app that will allow you to support them properly?
How often do they log in to your system?
How often are they receiving something from you? A slack or email notification for example? If so, what do they do with that? Do they engage?
This is important as you need to establish a communication channel with your customers. Assuming that you offer a lot of communication options (slack, chat, email, SMS) you need to identify the channel that works for the customer.
After logging-in what do they do in your system?
Do they use your web app properly? i.e. Do they create beautiful campaigns or widgets or whatever your product is about?
If there is a snippet to install, do you know if they installed it or not?
How many of the registered customers ask for support?
Out of those 100 that signed up, how many:
Installed your snippet?
Went live with your product/system?
Upgraded to the paid version?
User activation
In order to activate users you need to implement:
Impersonation (also known as session highjacking). When impersonating another user, the administrator has access to exactly what that user would have access to in your system, including the same menus, modules, and dashboards.
Remember, your system should record anything the administrator does while impersonating another user as being done by that user.
You should use this feature to test what different users can do in the system and to perform actions for them on their behalf as you will avoid questions like: "What do you see in the right corner of your screen?", etc.
Impersonation should always come with the user's permission as you need to
a) Inform them that you see the exact same things they see, and
b) Get their permission of doing so. Normally, this is happening via a security token that needs to be exchanged.
Concierge onboarding (also known as assisted onboarding) means getting on the phone/ Zoom/ Skype with customers who sign up for your product and helping them 1-on–1. It is most effective when your product is complex, expensive, or requires behavior change.
Remember when we talked about the "wrong kind of customer"? Now, just imagine the kind of investment for doing that for the "wrong" customer. For the customer that is highly possible to churn next month. What a waste of resources that could be, right?
Warning! Concierge onboarding should be used after giving a fair chance to the self-service onboarding. It is very common, usually out-of-fear, for start-ups to replace the signup button with an ask-a-demo button. This is a huge mistake especially for web apps that are meant for self-service as it's like accepting that your system is not good enough. Also, it creates two more problems:
It damages the perception of the customer about your app
It doesn't scale. Soon enough, you will not be able to grow unless you address the onboarding process properly and automatically.
Last but not least, there are In-app metrics, like those you can get from Mixpanel.
Crafting a dashboard while collecting the information needed without a suitable visualization tool is meaningless. The customer success department should have all the information necessary to judge and act upon.
An interactive dashboard is vital because it will allow you to separate the important metrics out of the hundreds of metrics you capture. Furthermore, by interactive, I mean the possibility to intervene by adding some flags coming from an insightful opinion, as a result of a smart "rating algorithm" or after contacting the customer. Proper flagging will allow you to separate the wheat from the chaff and keep investing in the "correct customers".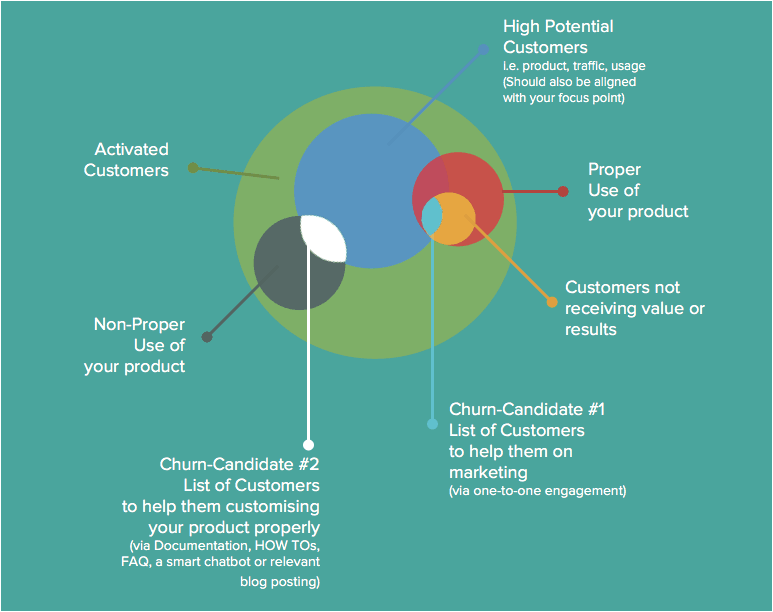 Now, it's time to identify those customers that are possible to churn.
Here are the questions about your customer's behavior related to the churn probability:
If they have multiple options, did they select a system that has the longest LTV (life-time-value)? If not, don't bother. Let them churn.
Is their campaign meant for success? Is the customer in a stage where utilizing your system will bring them value or did they select your system by mistake, while in reality, they were in need of another system?
How is their campaign performing?
Do they have reasons to be happy with your product?
Do they get the value they are meant to get?
Could you do something to increase their virality rate?
At this point, you should create a dashboard to collect the answers to those questions. Then, you should present the dashboard with the answers to the customer success department along with the information from the payment and invoicing systems.
Remember, a dashboard is just a tool. The idea is to find the "who" behind the total number. The "who's" (names, emails, company names, social profiles) will allow you to contact them and support them properly.
6. Collect feedback via Net Promoter Score
The last thing you should do before contacting a SaaS consultant is getting some feedback from your customers.
We all hate getting feedback, but there is no way around it. Feedback, when it comes from many customers, should be considered as an asset and it should affect the roadmap of the product.
Your app's net promoter score is the likelihood of a user to refer your app to someone else such as a friend, family member, or acquaintance. A ranking on a 1–10 scale is used to determine that likelihood.
For example, HelpScout defines the scale benchmarks with 9–10 as promoters, as in users who are most likely to recommend your app, 7–8 as passives, and everyone else as detractors.
You can calculate your net promoter score by subtracting the percent of detractors from the percent of promoters. Aim for a score of 50 or more, and keep in mind that your score can creep as low as -100.
So what can you do to increase that number?
To boost your net promoter score, you need to:
Make real-time customer support a priority and emphasize the sense of urgency in your response team
Focus on addressing the weak points of your web app. People will leave despite how good your marketing efforts are or how fast you support them. What they are looking for, first and foremost, is to maximize the value they get from your SaaS.
Hiring a SaaS Consultant – Conclusion
Whose job is to prepare the web or mobile app for growth and turning it into a growth-ready app? Well, it depends on the structure of the founding team, really.
In a fully structured team, I would say, it's the CTO that should overtake this task. Sometimes, the CTO could be a part-timer or outsourced. as the CEO might have no technical expertise. In this case, it's usually a good idea to come in contact with a SaaS consultant, a growth consultant, or a growth hacker.
Speaking of which this is what we do in GrowthRocks!
So, if you are looking for someone with expertise in SaaS businesses, feel free to contact us!
Before doing so, however, make sure that you have gone through this list.
We'd love yo hear from your regardless. 🙂
Theodore has a 15-year experience in running successful and profitable software products. During his free time, he coaches and consults startups. His career includes managerial posts for companies both in Greece and abroad and he has significant skills on intrapreneurship and entrepreneurship.