It comes with no saying that outreach is essential for any business. Business owners, sales experts and marketers alike have to learn
how to outreach like pros.
But what if I told you that you could also gain a superpower? The superpower to find anyone's email address.
With no further ado, I present to you Email Hunter (Hunter.io).
What is Email Hunter (Hunter.io)?
First and foremost, Email HunterEmail Hunter (Hunter.io) gives you a superpower: the power to find anyone's email address. This is the complete guide to Email Hunter. grants you the superpower of finding anyone's email address.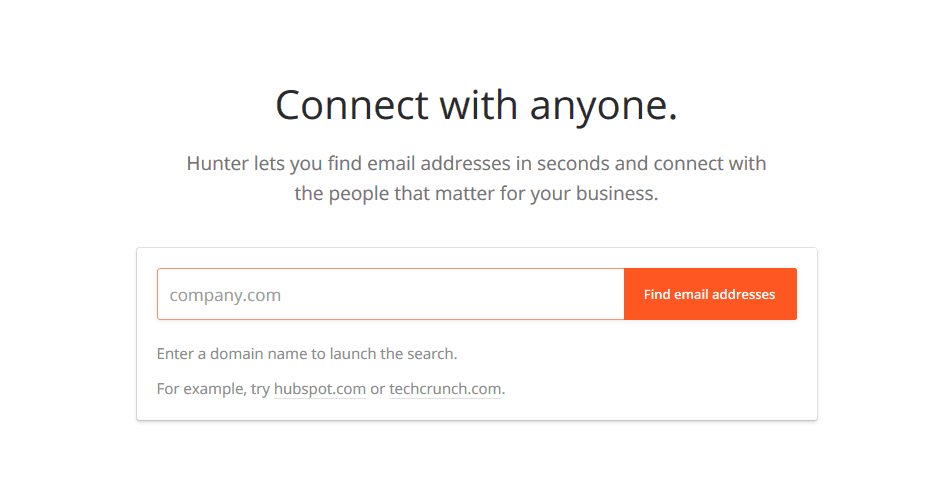 It doesn't stop there, though. This tool is offering many more functions to the user, with new features coming out as time goes by.

Currently, the main features of Email Hunter are:
Domain Search

, where you can track all the professional emails of people from a list of companies or websites.

Email Finder

, where you can track the email addresses from the professionals you are interested in.

Email Verifier

, where you can check if the email address you have on your list is actually valid.

Bulk Tasks, where you can search or verify lists of emails addresses in minutes.

Google Sheets Add-on, so that you can save directly and organize your search results right to a Google sheet.
Mail Tracker, where you can see if the emails you send are being delivered and get notified when they are opened.
Chrome & Firefox Extensions, which

let you find people behind a website, including:

Names
Professional email addresses
Social networks
Job titles
The public sources where this data has been collected
How do I get access to Email Hunter.io services?
To use Email Hunter, you have to create an account first. If you are a casual user, you can make 100 requests* per month for free. Otherwise, there are many options for you according to your budget on the rest 4 plans (Starter, Growth, Pro and Enterprise).
* For Email Hunter, a request is one of the below actions:
A domain search that returns the email addresses from a certain domain.
An email address found through search with First name, Last name and Domain name.
The verification of an email address to check if it is valid or not.
Tip: If you are looking for long-term use of the tool, consider choosing the yearly plan. A yearly plan grants you a 20% discount on the total amount!
 'Domain Search'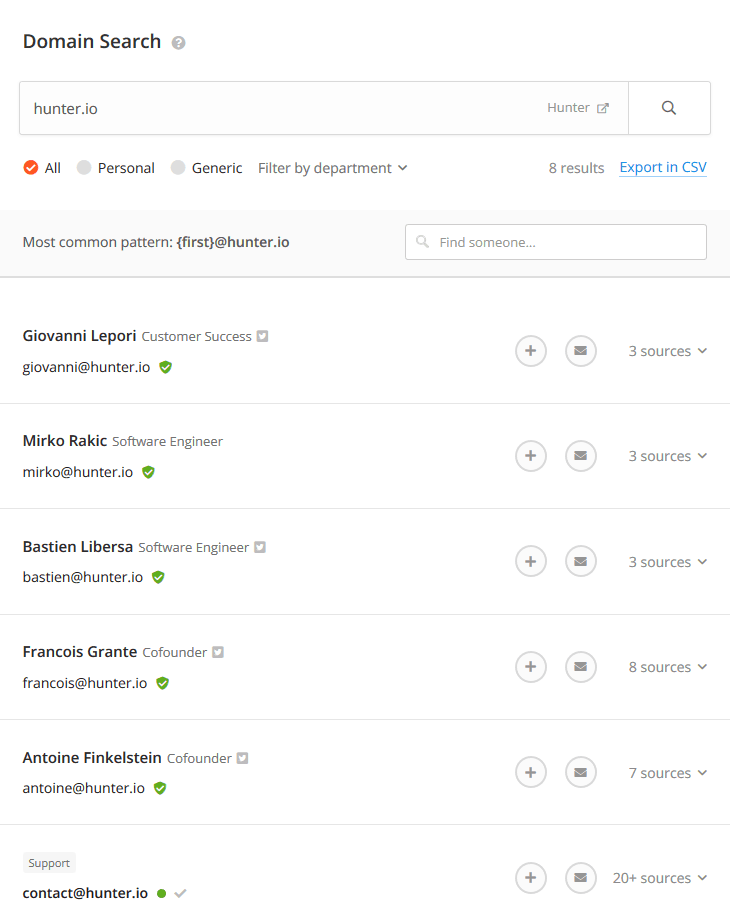 Domain Search allows you to find all the professional email addresses under a specific domain (e.g. growthrocks.com) and that are available in public on the web. The email addresses themselves are not the only info you can get through Email Hunter Domain Search.
By using Domain Search, you can enrich your list with additional information about each lead you got, such as:
Full name

Phone Number

Job Title

Twitter Profile

LinkedIn Profile
To make it easier for you, Email Hunter gives you the option to filter your search results to find specific people by typing their first and last name. Furthermore, you can choose to see the email addresses from particular departments of a company (e.g. the sales department), depending on the job titles appeared in the search results. In case you are not sure about the domain spelling, you can type some letter, and the tool will help you find the appropriate domain name through autocomplete.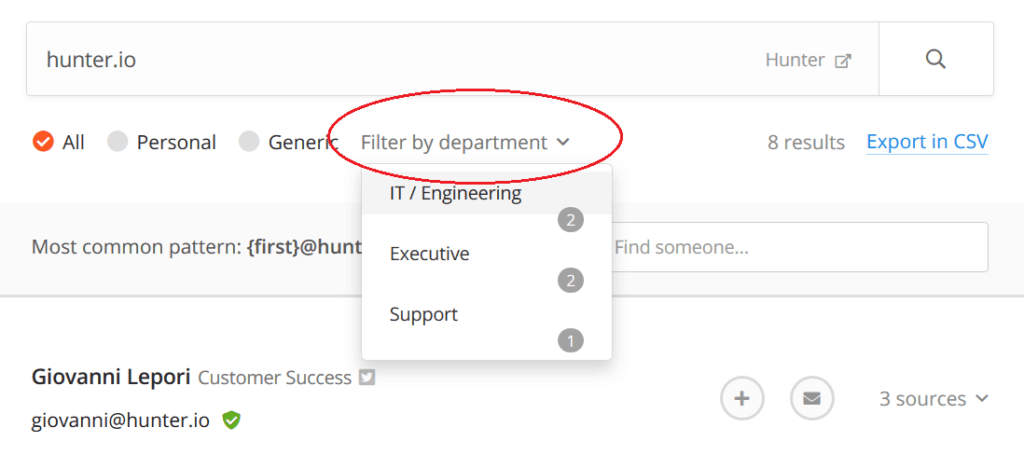 Nevertheless, there are also some restrictions on the tool usage that you should be aware of.
The first restriction is about the number of email addresses that are allowed to be extracted. There is a limit of 5000 email addresses per domain within the domain search option.

The second one is about the tracking of personal email addresses. As the tool is designed for professional use, it won't return your results with personal email addresses or other info.
'Email Finder'
With the Email Finder option, you can track specific email addresses without any particular searching and filtering. All you have to do is insert the full name of the person you are looking for and the name of their company. Within a second, you will see the results, provided they are available publicly on the web.
Keep in mind that you'll need to fill all of the fields to get your search results.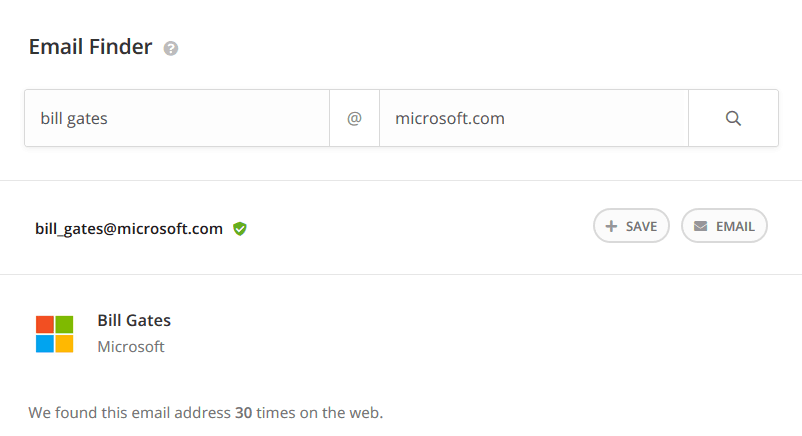 'Email Verifier'
To eliminate your bounce rates, the email verifier tool of Email Hunter will help you check if an email address is valid or not, by checking its deliverability. There are 8 factors that define if the email address you put on the tool, is reliable or not:
The email address format is valid and looks correct (e.g.

hello@growthrocks.com

).

The name of the email address does make sense, and it's not a random row of characters (e.g.

5454ge4ve54g@example.com

.

The domain name of the email address is actually used for temporary email addresses.

Check if the email address is running under a webmail such as Gmail or Hotmail.

Check if there are email exchanger records on this email address. It will let you know if there is a mail server authorised to accept emails under the recipient's domain.

Check the presence of Simple Mail Transfer Protocol (SMTP) server.

If number 6 is successful, then it checks the SMTP to see if it bounces or not.

Check if there is a catch-all domain, which means that the email sent will be received even if the domain is misspelt.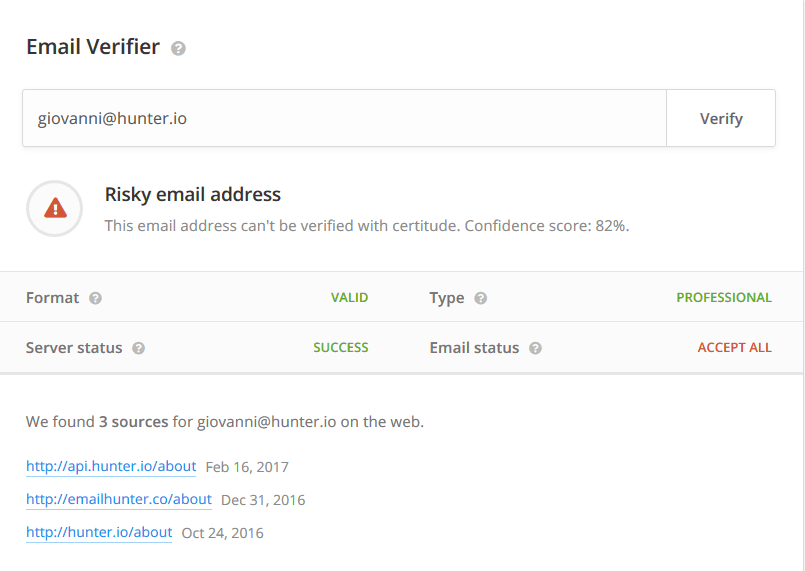 Keep in mind that the verifications are safe at a percentage of 95%. This means that even if an email address gets the checkmark from the email verifier, there is still a small chance of bouncing.
As with the Domain Search, Email Verifier comes with some restriction:

When it comes to a certain domain name, you can check up to 200 email addresses under the same domain every 24 hours.

As already said, the tool is designed for professional use only. This means that if you try to verify personal email addresses, you won't get any results.
'Bulk Tasks'
So what if you are not looking only for a certain company with one domain name and only? What if you have a list of companies you want to get their email addresses and additional info? With Bulk Tasks, you don't have to do the domain search separably for each domain name. This is where Bulk Tasks come into play. Bulk Tasks allow you to upload a CSV or TXT file, or copy paste the list of the domain names you are interested in. You'll end up with the email addresses of multiple domains at once.
Same goes with the Bulk Email Finder functionality, where you are allowed to find multiple email addresses from a list of names and companies or domains. As with the simple email finder, make sure that in your file, there is all the info needed for the search (Full Name and Domain or Company). Also, bear in mind that you are allowed to find up to 150.000 email addresses per file.
Bulk tasks couldn't go without including the Email Verifier tool. It's one of the best options you have if you want to verify a list of multiple email address coming from different domain names. The Bulk Task of the email verifier will perform various checks on each email address and will give you the final results. Also, you should remember that you are not allowed to include more than 200 email addresses that are under the same domain name
'Google Sheets Add-on'
One of the things I like the most about Email Hunter is that it helps you organise your search, from A to Z. Google sheets Add-on lets you save all the data you find right on a sheet on your google drive. So instead of making a list of domain names, or personal data in order to upload them to Email Hunter and do your search, you can simply make the integration, send the data and enrich it easier, faster and more organised.
The Add-on is available for free and the options you have depending on your plan (same with the extension).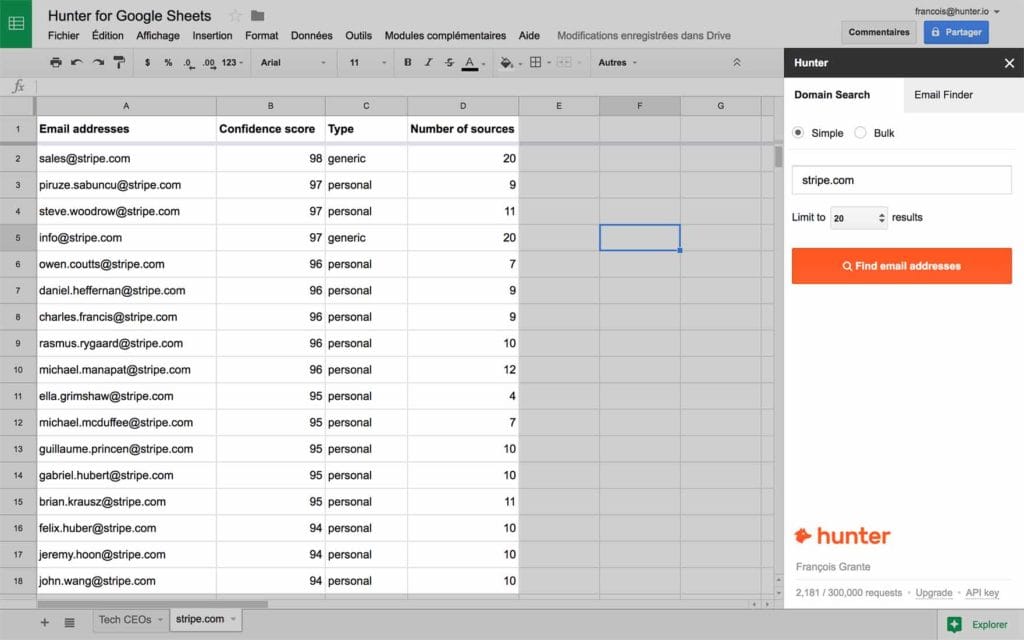 Things to keep in mind about Google sheets Add-on:
When you use the email finder, you have a limit of 500 rows. If you wish to do a bigger search, go with the Bulk Task option.

You have to provide the First name, the Last name and the company/domain name to get your result
Tip: If you use the domain name, you have more chances to get better results.
'MailTracker'
The latest tool of Email Hunter is the MailTracker.
Once you've installed MailTracker, the emails you send with Gmail are tracked. You can deactivate it when you want.
As soon as your recipients open your email, you'll receive a notification and can see the tracking details in Gmail.
With that information at hand, you can take some action if you so wish. When you are outreaching someone, you can now know for sure when it's the best time to follow up.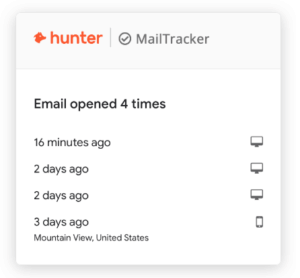 Browser Extensions
For Chrome and Firefox users, the extension allows tracking any email address of the website you are browsing at any given time.
Just click on the extension icon, and you'll have all the public email addresses under this domain right in front of your page.
The installation is for free, and the available requests you can use depend on the Email Hunter plan you have. If you use it for free, you have up to 100 requests per month.

Email Hunter FAQ
How does Email Hunter find anyone's email address?
Like Google, Hunter's bots crawl the entire web and index all publicly available email addresses. The crawlers continually update all the emails: new emails are added while publicly available and inactive emails are automatically removed or edited.
In the case of a website, Hunter returns all the email addresses using the same domain (i.e. finishing with @company.com) it has found on the web. The URLs where the email addresses were found and the date they were found are also returned in the search.
What if you want to find anyone's email address on LinkedIn? Using one of Hunter's browser extensions, these are the steps that it would follow to fulfil your request:
Email Hunter searches the website of the company the person is currently working for.
It looks for email addresses it has in its base, using the same domain name (i.e. all email addresses with @

company.com

)
It checks if there an email address from its database matches the profile. If there isn't one, it uses the most common pattern to the give you the most likely email address.
For more accurate results, Email Hunter uses SMTP checks to test the deliverability and score the quality of the sources (the pages where the email addresses are publicly displayed on the web).
Email Hunter, by design, works with professional email only. You aren't going to find any information about emails with domains such as Gmail, Hotmail, Yahoo, etc.
Teams use tools to make their life easier, so, it's okay if teams members share them with one another. That's how it works with Email Hunter, too! You can create your team and add your colleagues as team members. This way, you'll be able to share the requests of your subscription.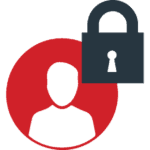 Keep in mind though that the requests will be only shared through the team members, which means that if you have for example 5K requests for a month, it will be 5K/Team Members and not 5K to each team member.
Is Email Hunter GDPR-compliant?
With one word – yes.
Hunter deals only with publicly available web data. Any information removed from a website is also removed from its database.
Even though the GDPR only applies to data from EU residents, Hunter made a step further: it applies the requirements of the EU regulation broadly. This means that except in some rare cases, it doesn't restrict any privacy-related feature based on the geographical location of a data subject. You can find anyone's email address through Email Hunter and be 100% GDPR-compliant.
For more info on the matter, you can read more about Email Hunter's GDPR Compliance, Privacy Policy and FAQ.
Epilogue
You now know how to find anyone's email address. And so much more.
With great power comes great responsibility. So put these superpowers in good use.

Maybe you already had the chance to work with Email Hunter. What was your experience? Have you used any other Hunter.io alternative?
If so, I'd love to know. Just leave a comment below!
Theodore has a 15-year experience in running successful and profitable software products. During his free time, he coaches and consults startups. His career includes managerial posts for companies both in Greece and abroad and he has significant skills on intrapreneurship and entrepreneurship.